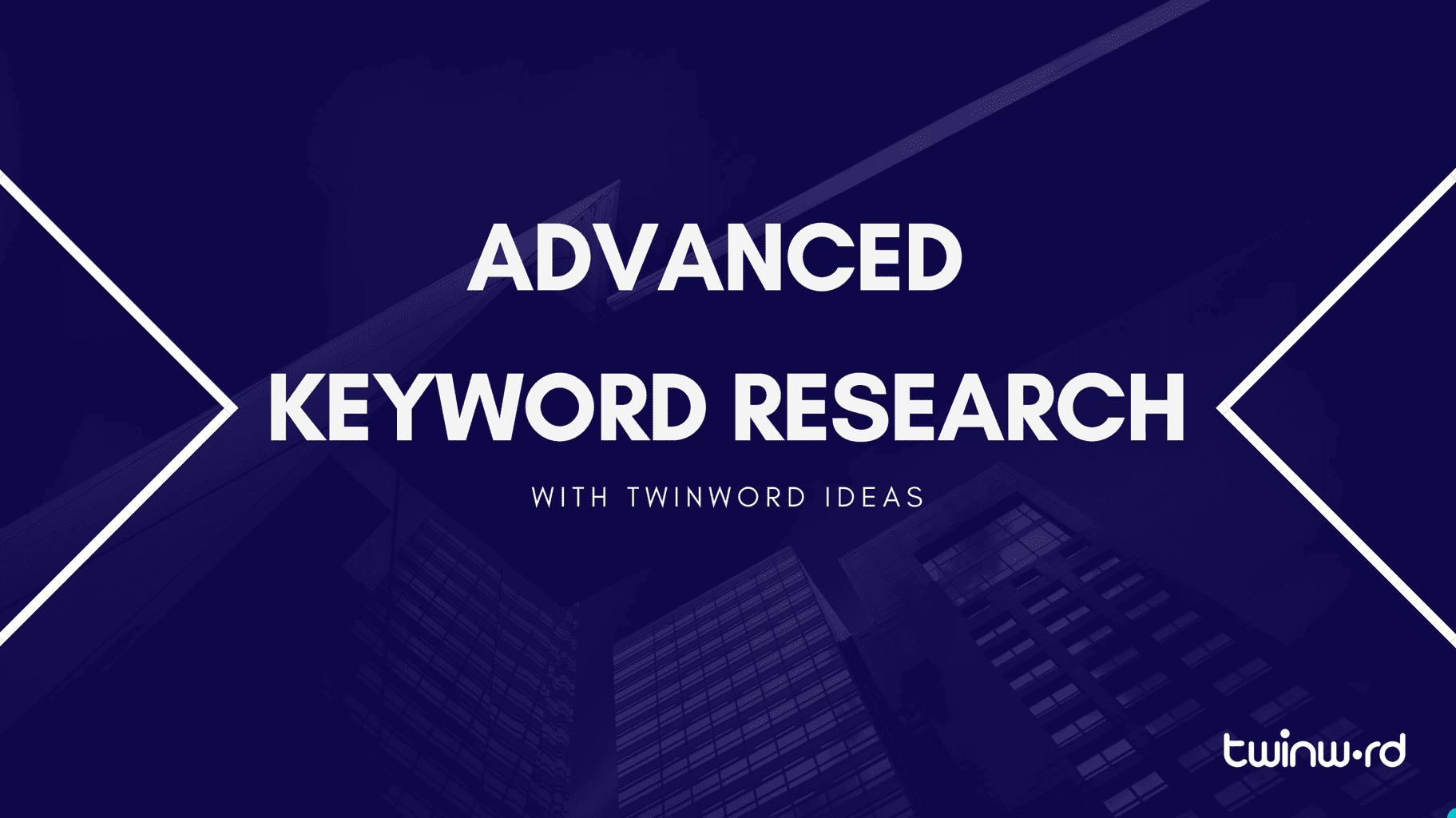 At the heart of SEO is the art and science of keyword research.
While numerous tools are available for this purpose, there's a growing demand for advanced keyword research tools that not only pinpoint high-volume and low-difficulty search terms but delve deeper, uncovering the nuances of user intent, contextual relevance, and semantic connections.
And while some platforms promise advanced features, they often come with a steep learning curve, making the process daunting for many.
Enter Twinword Ideas, an advanced keyword research solution that effortlessly marries sophisticated features with an intuitive user interface, ensuring that even complex tasks become streamlined and user-friendly.
To those who have yet to explore the capabilities of Twinword Ideas, it's time to shift from the traditional ways and experience a new form of keyword research, one where insights, accuracy, and user-friendliness intersect.
Beyond the basics: 13 advanced keyword research tasks you can perform with Twinword Ideas.
Twinword Ideas stands out as an advanced keyword research tool with an extensive list of unique and advanced features powered by modern AI technology. These include:
In short, Twinword Ideas isn't just another keyword tool. It's an all-encompassing SEO companion tailored to meet the diverse needs of modern content marketers.
For those keen on a deeper understanding, let's unpack each of these features below. We'll delve into the specifics and demonstrate how each capability can elevate your keyword research game.
1. Filter keywords by user intent
Understanding what users genuinely want is at the core of successful SEO. Are they looking to make a purchase? Do they need information? Or are they searching for a local business? Getting this intent right can mean the difference between bouncing traffic and converting traffic.
Merely targeting high-volume keywords without considering the type of user intent might bring in traffic, but not necessarily the kind that converts. This approach misses out on the nuances of users' actual needs.
Enter Twinword Ideas' user intent filter. With the help of AI, it categorizes keywords by intent, be it "know" (for information), "buy" (purchase intent), or "local" (local searches). This precision ensures you're using the right keywords to attract the type of audience you're aiming for.
Suppose your niche revolves around "skincare". A broad search may yield terms like "skincare routines" or "skincare benefits." However, with the user intent filter in Twinword Ideas, you can pinpoint more intentional queries like "purchase skincare sets" or "find nearby skincare clinics."
By incorporating such intent-specific keywords, your content is poised to meet users exactly where they are in their buying journey.
2. Discover popular topics around your seed keywords
It's one thing to create content; it's another to ensure it aligns with what your audience is actively seeking. Being in the loop with popular topics ensures that your content is always relevant and meets the needs of your readers. If you aren't tuned into these topics, you may miss out on multiple engagement opportunities.
Twinword Ideas doesn't just throw keywords at you; it gives you a strategic overview with its popular topics filter. Powered by advanced AI, this feature identifies and groups notable topics, providing you with a direct insight into subjects that are garnering attention. Once you perform a keyword search, the filter immediately presents an overview of all the significant topics associated with your search.
In situations when the topic you've planned isn't as trending as you'd hoped and doesn't appear in the popular topics section, Twinword gives you the power to craft your own popular topics filter by simply adding a custom topic. This means you're not just passive but actively shaping your content strategy.
Imagine you're researching the term "diet." While you could produce a generic guide, Twinword's popular topics might reveal hot subjects like "mediterranean diet" or "keto." This deeper insight enables you to craft articles that resonate with evolving diet trends, positioning you as a go-to source for fresh dietary insights.
3. Identify the best keywords to use in titles and content
Every content marketer knows that while quality content is the heart of any piece, the title is undoubtedly its face. A well-crafted title grabs attention, increases click-through rates, and sets the expectation for the reader. On the other hand, a mediocre title, no matter how good the content, could mean missed opportunities and lesser engagement.
Enter Twinword's unique scoring system. Rather than leaving you to navigate the SEO maze blindly, Twinword offers efficiency and title scores for each keyword idea. The efficiency score aids in determining which terms are best suited for your content, while the title score shines a light on which keywords can make compelling headlines.
Furthermore, Twinword's scoring is grounded in substantial metrics, balancing search popularity and relative competition. This ensures that you're not just targeting popular terms but those with a realistic chance of ranking, maximizing your content's potential.
4. Filter keywords by auto-generated patterns
While it's vital to target high-volume keywords, understanding the context and patterns behind those keywords can dramatically shape the relevancy and appeal of your content. Whether users are searching for "how to," "when is," or looking for the "best" and "cheapest" options, the patterns in which they search can provide a goldmine of insights.
Twinword Ideas taps into this crucial facet of keyword research with its pattern filter. By automatically detecting and categorizing the most prevalent patterns from the suggested keywords, Twinword equips you with a powerful lens to discern and align with user intent.
For example, For instance, if you notice a high prevalence of the "how to" pattern around the term "Mediterranean diet," it could hint at a demand for instructive content or recipes.
The tool's interface is intentionally user-centric and designed to display all detected patterns simultaneously. Further, you can configure your own keyword patterns as required.
Playing around like a mad man 😉 Intent filter and Patterns are great!

–  Stefan H. / Business Strategy Consultant
5. Pick your keywords based on data directly from Google
Reliance on inaccurate or outdated type of user intent can lead to misinformed decisions, wasted resources on targeting low-potential keywords, and missed opportunities with high-value keywords. In a world where everyone strives for the top spot on Google, operating without reliable data is a surefire way to fall behind the competition.
Twinword Ideas rises above the rest by sourcing its keyword metrics directly from the horse's mouth: Google.
By basing its search volume and paid competition data on Google's signals, Twinword Ideas ensures unparalleled reliability in its insights.
However, it's worth noting that while data is sourced from Google, we recommend relying on an average monthly search volume from the past 12 months for a more consistent measure.
6. Harness the power of AI-powered keyword relevance scores
Unearthing the right keywords isn't just about volume and competition. It's about finding terms that are truly relevant to your core topic, ensuring you address your audience's needs and interests.
With Twinword Ideas' AI-powered Relevance Score filter, you no longer need to manually sift through hundreds of keywords to find those most relevant to your core topic. This tool quantifies the closeness of each keyword to your search query, enabling:
High relevance searches: Perfect for when you need tightly related terms.
Broad brainstorming: You can explore various associated topics and ideas by targeting lower relevance scores.
Plus, Twinword Ideas recognizes the uniqueness of each project, allowing you to set up custom filters to refine your keyword hunt further.
For example, imagine your core topic is "vegan desserts." A high-relevance search might yield "vegan brownies" or "dairy-free ice cream," while a broader brainstorm might introduce terms like "healthy snacks" or "plant-based sweeteners."
Just wanted to tell you how much I am enjoying the relevancy score in Twinword it really is helping me outline my content a bit better.

–  Nate Writes Web / Internet Marketer
7. Unlock global opportunities with multi-language keyword research
In an increasingly globalized world, businesses and content creators often cater to diverse audiences that speak different languages. For SEO marketers, using an advanced keyword research tool becomes paramount to effectively research and optimize for keywords in multiple languages, ensuring they reach a broader audience seamlessly.
With Twinword Ideas, you can:
Explore 40+ languages: From French and Spanish to Swedish and Hindi, your keyword exploration knows no linguistic bounds.
Dive into 200+ regional settings: Specific regions can have unique search behaviors even within the same language. With Twinword, you can fine-tune your research for optimal local relevancy.
This ensures that your content is not only SEO-friendly but also culturally and linguistically aligned with your target audiences, wherever they may be.
8. Handle long keyword lists with ease
As SEO campaigns evolve, marketers often amass lengthy keyword lists, which can become cumbersome to handle, analyze, and optimize. Working through these extensive lists without the right tools can be time-consuming, hindering productivity.
Acknowledging the pressing need for SEO marketers to handle vast keyword lists effectively, Twinword Ideas has incorporated a stellar import feature in its advanced SEO keyword tool. It's straightforward: transition to the Import tool and effortlessly paste your keyword list into the expansive search bar – accommodating up to 500 lines. Couple this with the tool's array of filters, and you've transformed a tedious task into a streamlined process, quickly discerning the optimal keywords or titles for your content.
9. Tap into trending keywords at the right time
Failing to tap into trending keywords means missing out on potential traffic spikes and engagement opportunities. Your content may get lost in the vast expanse of the internet, while competitors who leverage these trends witness enhanced visibility and user engagement.
With Twinword, you can simply switch to the Trending tool from the header navigation and enter a seed term. The software furnishes a list of trending keywords sourced directly from Google News, all linked to your query.
What's more, you can even delve deeper by clicking on a keyword to uncover news articles explaining why it's trending, ensuring you have comprehensive knowledge before integrating it into your content calendar.
10. Identify competitor website keywords with the Site tool
Without understanding a competitor's keyword strategy, marketers may inadvertently miss out on valuable search terms or waste resources targeting keywords that don't offer a competitive edge. Essentially, you're flying blind in a game where visibility is everything.
Twinword provides a seamless solution to this challenge. By simply entering a competitor's domain or URL into Twinword's Site tool, users can generate a list of keywords that the competition is targeting. But that's not all. You'll get the usual range of metrics alongside each keyword, giving you comprehensive insight into the keyword's potential value and competitiveness.
11. Generate popular keywords for a search term
Diverse geographies have unique linguistic nuances and preferences for web search. SEO marketers often struggle to identify which keywords resonate most with specific regional or linguistic audiences.
With Twinword's Top keywords tool, marketers can effortlessly explore the most popular keywords segmented by language, geographical targets, and specific search terms. This granularity ensures the content is tailored and optimized for different audiences, respecting their unique search behaviors.
12. Visualize semantically related keywords to your seed term
Overlooking the inclusion of LSI keywords can limit the richness of your content, making it appear shallow or overly repetitive to search engines. This can impact rankings, as search engines might deduce that the content lacks depth or isn't comprehensively covering a topic. Moreover, failing to incorporate LSI keywords restricts the number of related search queries your content can potentially rank for.
Twinword Ideas trumps traditional keyword tools by visually mapping out LSI terms for every keyword you explore. With its unique LSI graph, you can instantly perceive how various LSI keywords interrelate and understand why they're semantically linked to your primary query.
For example, if you're crafting a piece on "travel bags," by utilizing the LSI Graph, you can find interconnected terms like "shoe bags," "laundry bags," and "toiletry kit."
13. Export all your keyword research data with zero friction
Researching keywords is just the initial phase of a comprehensive content marketing strategy. The real challenge often lies in efficiently mobilizing that data, Transferring it to content creators, strategists, or even for your future reference. Furthermore, manually transcribing or inefficiently exporting keyword data increases the risk of errors and omissions.
Recognizing the importance of seamless data mobility, Twinword Ideas empowers users to take their research data with them. With a user-friendly interface, you can effortlessly copy or download your keyword data, be it a handpicked selection or the full expanded list. Whether you aim to archive it for future use or dispatch it to your content team, the process is smooth.
Closing thoughts: Supercharge your keyword research process with Twinword Ideas
As search algorithms shift and user preferences transform, the need for cutting-edge keyword research tools is clear.
Twinword Ideas rises to the challenge, offering a blend of intuitive design and pioneering features.
Whether it is about decoding user intent with smart filters, employing AI-driven relevance scores, or diving into global trends, Twinword Ideas is reshaping the expectations from a keyword research tool.
Why not try the tool to see its capabilities for yourself?
Start a keyword research workflow with a seed term now for free.