Our Human Text Understanding APIs are now on Amazon Web Service Marketplace! You can now utilize them to build your applications, with no setup or training data required, and a simple documentation! While the Sentiment Analysis and Lemmatizer APIs are Free and Unlimited, the rest are on the simple pricing policy of Pay As You Go (with Free Tier)!
Searching for "Twinword" will get you a list of all 9 of our Natural Language Processing APIs namely,
Topic Tagging
Sentiment Analysis
Word Graph Dictionary
Visual Context Graph
Word Quiz
Text Classification
Word Associations
Language Scoring
Lemmatizer
For extensive usage, we have the Text Analysis API Bundle, which provides one API for all your text analysis needs.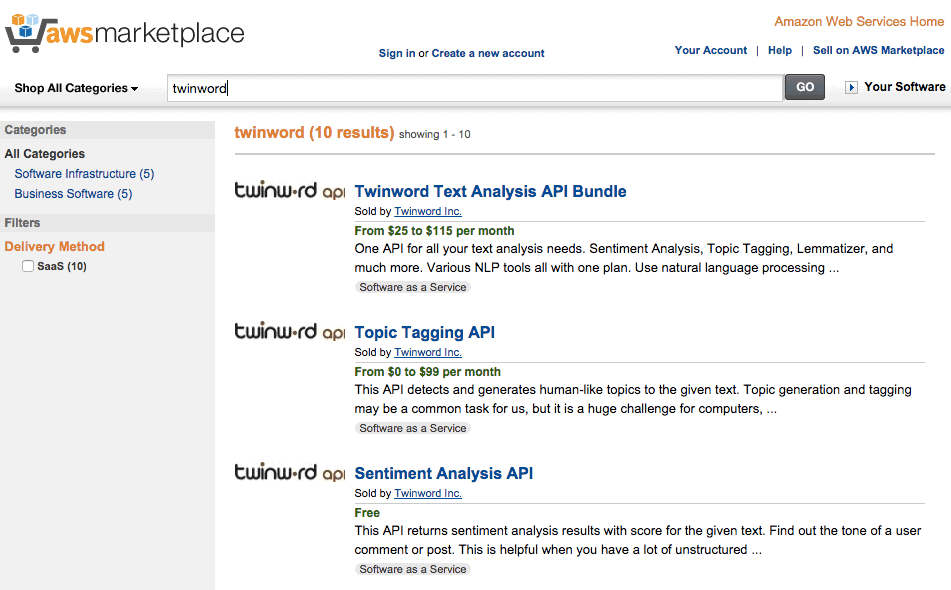 For enquires on possible applications of our NLP APIs (Read about our previous post "Sentiment Analysis For The Financial Sector") and drop us an email at [email protected].
In addition, we are also able to customise our APIs to tailor to your specific business needs.
Check us now on AWS !