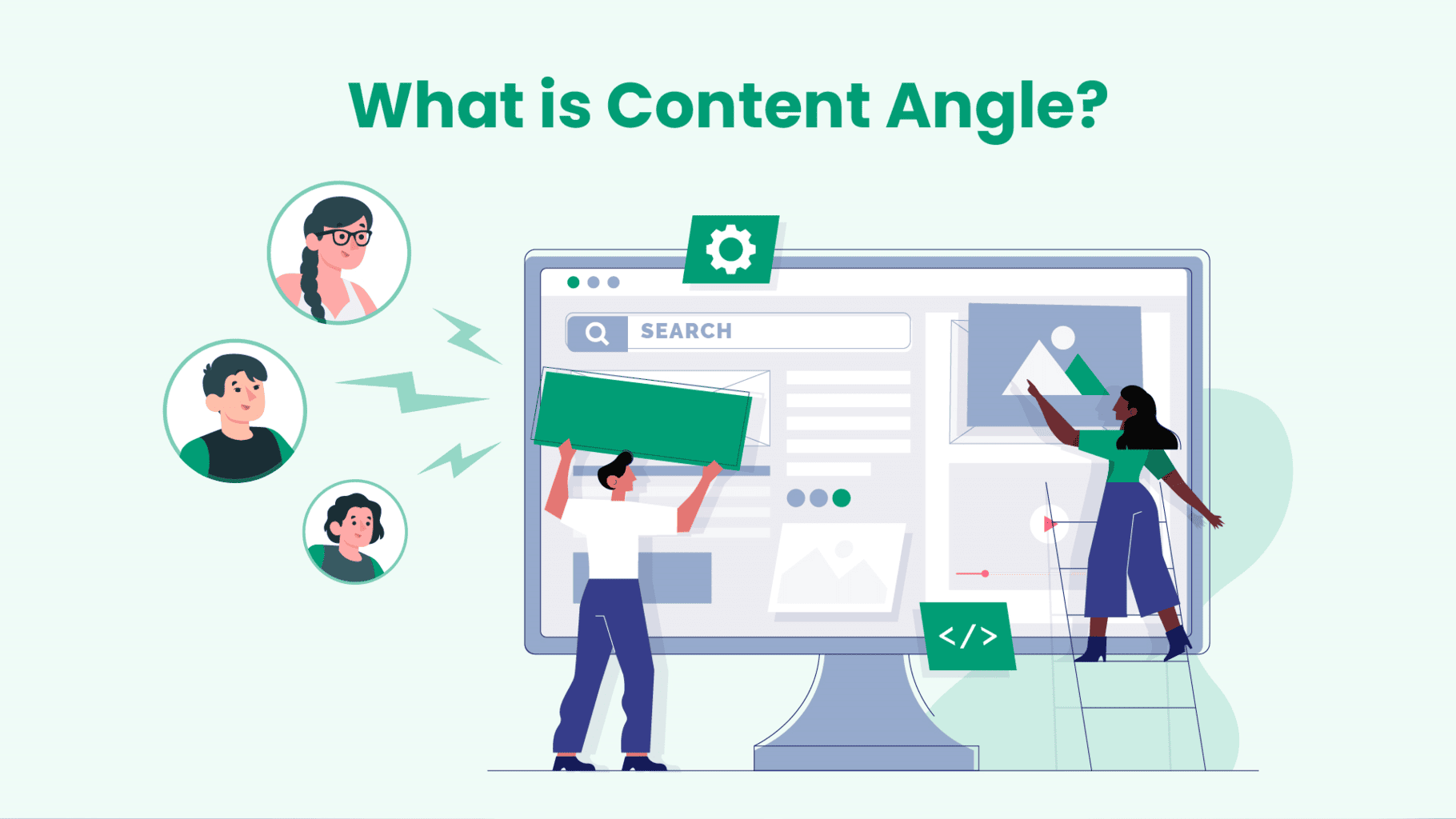 Have you ever wondered why some search queries bring up such a variety of results?
It's because Google tries to interpret the searcher's intent, which isn't always clear-cut with short queries. That's where the magic of a content angle comes into play in SEO.
Think of it as your secret sauce – crafting a perspective that connects directly with what searchers are looking for can catapult your content to the top of search results.
Understanding and leveraging the right content angle is a game-changer, particularly true for those short-tail keywords where the search intent is wide-ranging, and Google aims to cater to all possible user needs.
In this thorough and actionable guide, we're diving deep into what a content angle in SEO is and how you can harness its power to elevate your search performance.
By the end of this guide, you'll not only understand the concept but also how to apply it to your content strategy to win those high-volume keywords.
Let's dive in!
What is a content angle in SEO? A guiding explanation for all
A content angle in SEO is the unique perspective or approach that a piece of content takes on a topic (keyword) to stand out in search engine results and appeal to a particular segment of the target audience.
It's the interpretation of those short, often vague queries where the user's specific question isn't spelled out.
It's about understanding the implicit needs behind the simplest of searches and delivering that in your content.
By crafting content that's angled just right, you cater to a slice of your audience that's seeking something beyond the generic. It's this slant that hooks their interest and answers their implicit queries, giving you an edge over competing pages targeting the same keyword.
Let's break it down with an example. Take the search term "coffee beans." It's short and open-ended. Does the searcher want to buy, learn, or compare? There can be multiple implicit questions that matter to different segments.
What are coffee beans: This angle caters to beginners and answers the fundamental question, providing an easy-to-understand overview of what coffee beans are, their varieties, and why they matter. It's educational yet simple, perfect for those just diving into the world of coffee.
Where to find the best organic coffee beans: This angle serves the eco-conscious buyer who prioritizes sustainability and ethical sourcing. They're searching not just for a product but for reassurance that their purchase aligns with their values. The content should, therefore, not only list sources but also discuss certifications, farming practices, and the environmental impact, directly speaking to the audience's desire to make responsible choices.
How to store coffee beans for maximum freshness: The audience here is the home coffee enthusiast, someone who values the quality of their brew and seeks to enhance its flavor. They are looking for expertise and authoritative guidance. The content should offer detailed steps and explain the science behind freshness, providing a level of detail that conveys authority and instills trust.
When is the best time to buy coffee beans: Targeting the budget-conscious shopper, this angle taps into the desire to maximize value without compromising on quality. These readers are likely to appreciate insights into the coffee market, tips on seasonal buying, and advice on taking advantage of sales. The content should be informative yet accessible, helping the reader feel like they're in on a secret that the average consumer isn't.
Who are some top coffee bean suppliers: Here, we may be addressing a more B2B audience – perhaps market researchers or business owners looking for suppliers. This content must project professionalism and offer robust data. It should profile suppliers, delve into industry reputation, and even discuss logistical considerations. This audience expects in-depth, well-researched information that they can use to make informed business decisions.
For each of these angles, the content that's created should be rich with specifics, answering not just the overt question but also preempting follow-up questions that the reader might have. It's about creating a resource so valuable that the reader feels no need to return to the search results looking for more answers.
Let us look at a real SERP for the target keyword "sales performance" that features pages focusing on different content angles.
When we examine the SERP for "sales performance," we notice a rich diversity in content angles. Here's a concise breakdown of the different perspectives:
Glossary definition (DealHub): This page appears to provide a straight definition, likely aiming at those in the initial stages of research or those unfamiliar with the concept.
Practical improvement tips (HubSpot Blog): This article takes a pragmatic approach, offering "21 Ways to Improve Individual and Team Sales Performance," likely attracting readers who are looking for actionable strategies to enhance their sales results.
In-depth metric analysis (Seismic): With a focus on measuring and improving sales performance, this content is probably tailored for sales managers and teams who need to delve deeper into metrics and performance analysis.
Management process overview (Zendesk): Offering a 101 guide on sales process management, this content is likely to be geared towards those who are new to the concept and want to understand the foundational processes and their importance.
Videos: There are several videos that range from earnings updates to specific performance report tutorials, indicating a range of video content that caters to those who prefer visual and auditory learning formats.
This assortment of pages underscores a strategic imperative for content creators – to go beyond mere definitions and to address the multifaceted 'how' and 'why' questions that users may have. Such an approach ensures a comprehensive alignment with diverse user intents, delivering substantial value and enhancing the relevance of content for various segments of the search audience.
7 tips on how to leverage content angle to boost SEO results
In SEO, your content's angle is pivotal. It's the 'how' that distinguishes your 'what' and draws in your audience. Below are seven actionable tips to refine your content's angle and enhance its SEO potency.
#1 Spot keywords with multiple angles in SERPs
Take a good look at the search results when you search for your keyword. If you see a mix, like blog posts, videos, and product pages, that means people are looking for different things using the same keyword. This is great news because it means there's room for your unique take on the topic.
By recognizing these patterns and introducing a new, relevant perspective, your content can meet specific user queries and improve your chances of ranking. Aim to contribute a piece that fills a gap in the existing landscape, directly appealing to users and search engines alike.
For example, say you search "home office setups" and spot a variety of how-tos, product lists, and setup videos. This variety hints at diverse user needs. Now, if there's a gap, like no guide on "budget ergonomic home offices," there's your opportunity. Step in with that content angle, and you might just rise in the search ranks for an otherwise competitive term.
#2 Leverage the meta title to frame a unique question
When you're creating the meta title for your content, think about asking a question that speaks right to what people are curious about. This can help your page jump out among all the others when someone's scrolling through Google results. When someone sees a question, they're more likely to stop and think, "Hey, that's exactly what I was wondering!" That can lead to more people clicking on your link.
For example, instead of just saying "Best Home Office Setups," you might try "How to Set Up Your Home Office for Maximum Productivity?" That's more likely to catch the eye of someone who is not just looking for products but for smart ways to make their home office a place where they can really get things done. Plus, it shows that you have some expert advice to share, which can bring in folks who are looking for help to make their space better.
#3 Capitalize on trending topics for timely content angles
Integrating current trends into your content strategy can significantly amplify your SEO efforts. With Twinword's 'Popular topics filter' tool, you'll get a visual representation of what's resonating with your audience around a seed keyword.
For instance, if 'diet' is your chosen keyword, the tool might highlight 'anti-inflammatory diet' as a popular search term. This insight is a goldmine. You can take this information and develop content tailored to this specific angle, like "5 Anti-Inflammatory Diet Tips for Long-Term Health" or "The Ultimate Guide to Starting an Anti-Inflammatory Diet."
#4 Analyze user intent to craft tailored content
Understanding the nuances of user intent can transform your SEO strategy from good to great. Twinword Ideas User Intent filter uses AI to categorize keywords into intent-based groups such as "know" (informational), "buy" (transactional), and "local" (local searches). This categorization helps you to tailor your content strategy to match the specific intent behind the searches.
For instance, if you're targeting the keyword "best running shoes," Twinword Ideas can help you discern whether searchers are looking to buy, learn about the latest models, or find the nearest store. If the intent is predominantly transactional, your content should cater to potential buyers with comparison guides, reviews, and curated lists that aid in the purchasing decision.
#5 Conduct competitor site analysis for unique angle ideas
Analyzing what your competitors are doing can reveal gaps in their content strategies that you can exploit. Twinword Ideas Site Analysis tool can help you understand competitor keyword usage and find opportunities for unique content angles.
For instance, if your competitors are focusing on "weight loss diets" but neglecting "weight loss for new mothers," you could fill this niche with targeted content that addresses the specific challenges and needs of that audience.
#6 Manage and expand keyword lists for diverse angles
With the ability to manage large keyword lists, the Twinword Ideas keywords import feature can help you organize and expand your keyword strategy. This can lead to discovering new angles for your content that you might not have considered before.
For example, by importing a broad list of keywords related to "digital marketing," you might find less common but highly relevant subtopics like "digital marketing for indie game developers" or "digital marketing tips for non-profits."
#7 Update and optimize existing content
Refreshing and optimizing your existing content can be just as powerful as creating new content. If you have pieces targeting broad-intent keywords, you can revitalize them by focusing on emerging angles or less-tapped niches. This strategy allows you to carve out a unique place in the SERPs without competing head-on for highly contested angles like broad definitions or generic how-tos.
Closing thoughts: Elevate your SEO with strategic content angles
We've journeyed from defining the essence of a content angle in SEO to equipping you with actionable strategies to harness its power. Understanding content angles means more than recognizing a concept – it's about applying a focused approach to engage your audience and boost your search rankings.
Ready to put these insights into practice?
Twinword Ideas offers a suite of tools to help you discover and apply the most effective content angles for your audience. Explore user intent, track trends, and gain competitive insights to inform your content strategy.
Start with Twinword Ideas free trial and see how a strategic approach to content angles can elevate your SEO efforts.
---