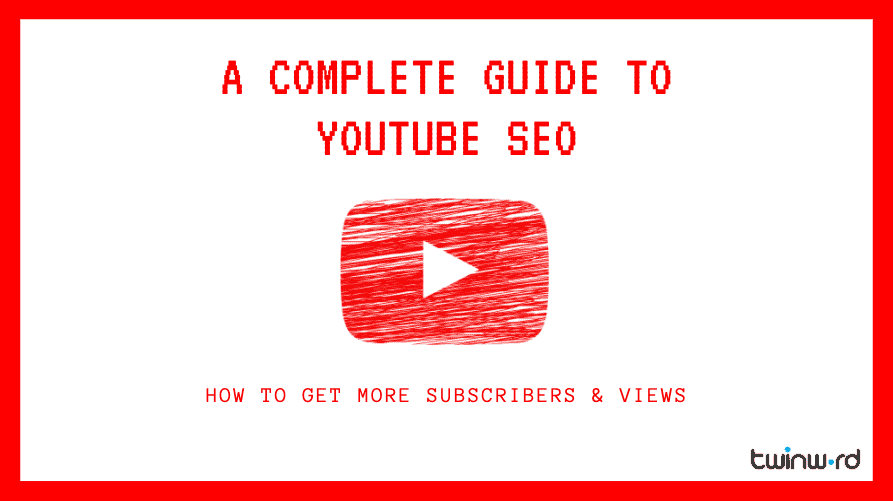 In this complete guide to YouTube SEO, we'll talk about how to rank high on YouTube by optimizing your Youtube channel and videos. YouTube is the world's second most popular search engine right after Google hence by practicing YouTube SEO, you not only can achieve many benefits by earning more subscribers and viewers but also have an edge over your competitors. First, let's find out what exactly is YouTube SEO, ways to optimize your YouTube channel and contents, and what are the YouTube ranking factors you should keep in mind when optimizing.
STEP 1. YouTube Keyword Research
STEP 2. Title, Description, and Tag Optimization
Video Description Optimization
How to Properly Tag YouTube Videos
STEP 3. YouTube SEO Ranking Factors
Ranking Factor #1. Audience Retention
Ranking Factor #3. Subscribers
What Is YouTube SEO?
YouTube SEO is the process of optimizing your videos, playlists, and channel to rank high on YouTube for certain keywords you target for. For YouTube SEO, first, you need to understand how the YouTube algorithm determines rankings and its ranking factors. According to YouTube,
"…Videos are ranked based on a variety of factors including how well the title, description, and video content match the viewer's query. Beyond that, we look at which videos have driven the most engagement for a query."
So, the key point of YouTube SEO is to create content that reflects all the ranking factors and draws high engagement.
STEP 1. YouTube Keyword Research
YouTube SEO begins with keyword research. Make your keyword idea list related to your content or your YouTube channel.
For example, if your channel is about SEO, your target keywords in the list would include:
SEO
YouTube SEO
Google SEO
Ranking high in search engine results
Traffic analysis
How to get traffic
Digital marketing
and so on.
Let's expand the keywords based on this list. I'll give you the most simple but useful tips you can get great insights.
It is keyword research using YouTube's search bar and the autocomplete or suggested keywords displayed under the search bar.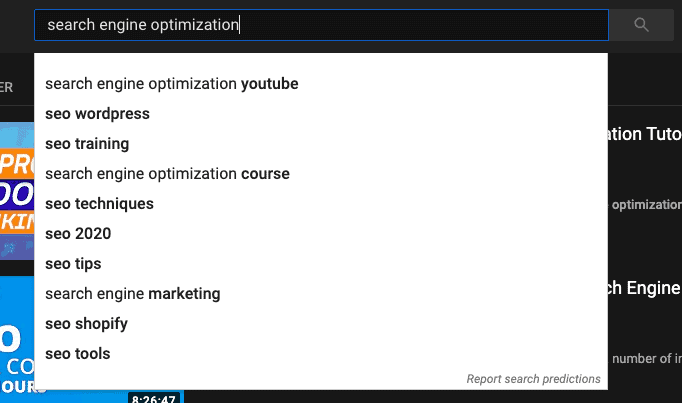 It's simple. Type any keyword into the search bar, then you'll see a list of relevant and suggested queries. Suggested keywords can be really helpful because they are the most-searched queries on YouTube related to that certain keyword.
You can also use keyword tools like Twinword Ideas which provides you with the search volume and user intent of certain keywords, and relevant keywords to expand your target keyword list.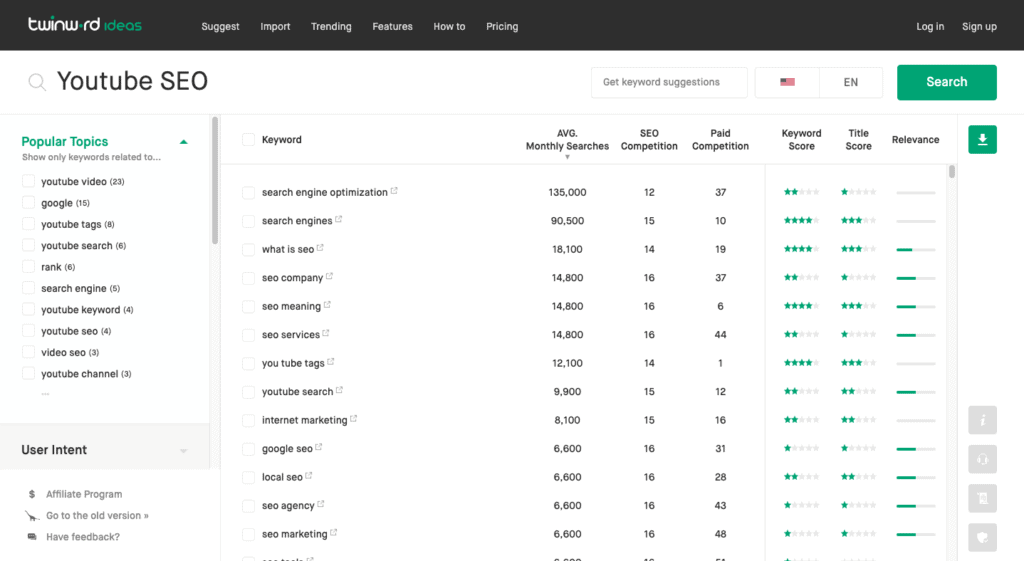 In many posts about SEO, we emphasized that content is king in terms of search engine optimization, and keyword research is absolutely essential to publish quality content that brings more traffic. The same goes for YouTube optimization. Keyword research is a must-do if you want to create popular content. Most YouTube videos with high views would probably be optimized based on popular keywords.
So, one of the smart ways is to visit channels with high ranking videos about the same topic you're targeting and find out which keywords are used for the videos.
This is how you can do.
Type a search query that relates to your content on YouTube and filter the videos by view count to see which keywords are used for the most-viewed videos.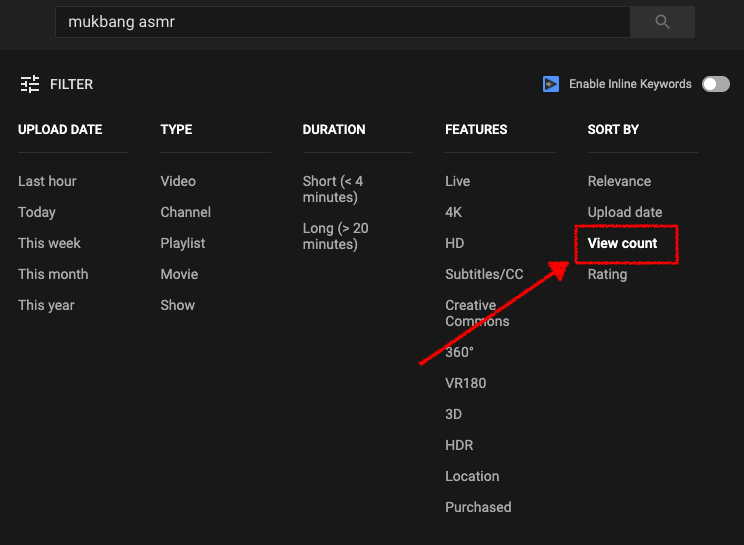 Another way is to do competitive research. Visit a popular channel that uploads videos about the topic you're targeting and sort the videos by "most popular" to investigate the keywords they use.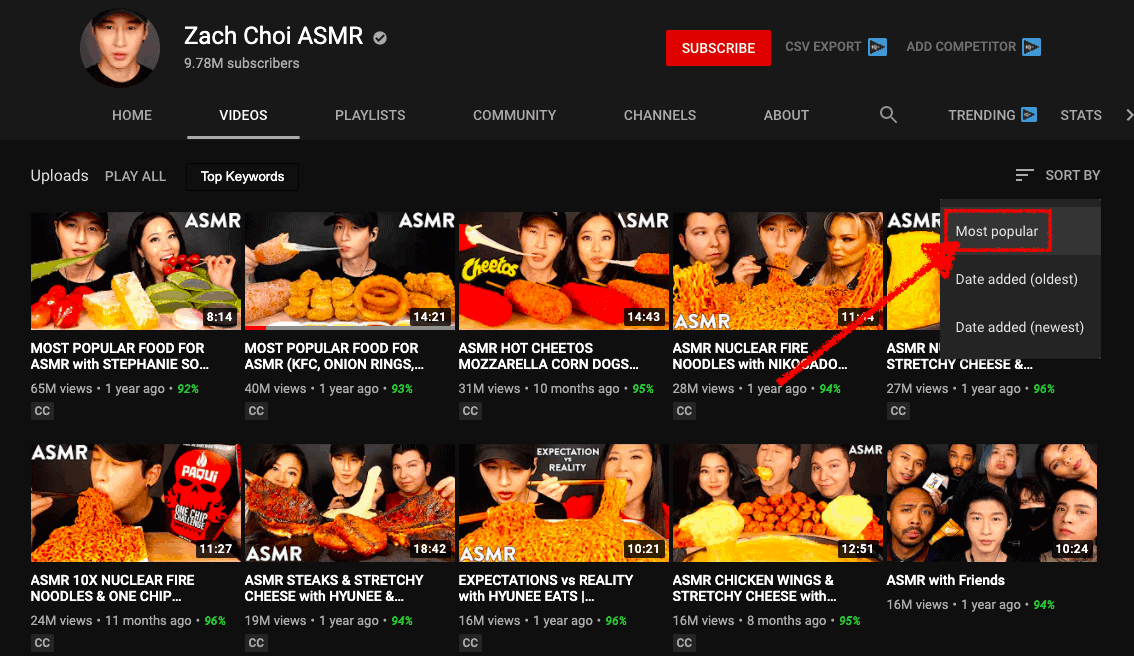 Here, what you need to pay attention to is the title, description, tags of the video.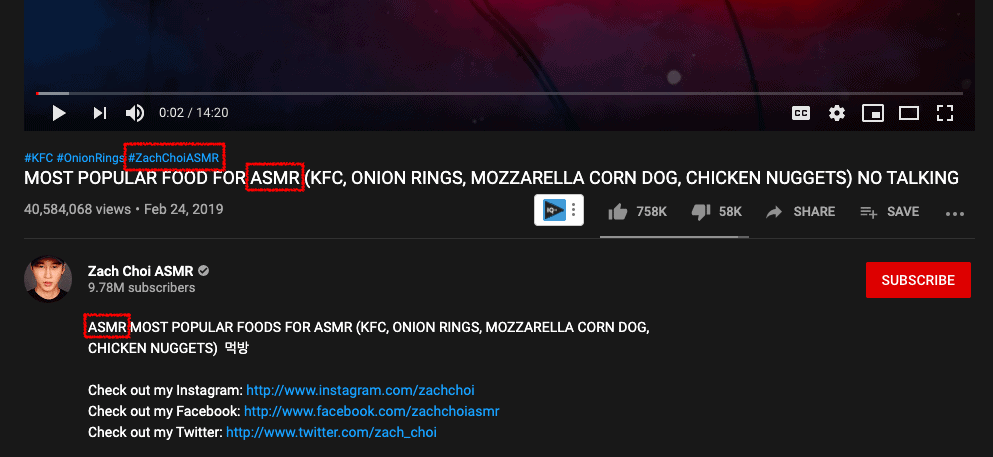 As shown in the image, it's easy to see the keyword the title, description, and tags contain.
I recommend you to use the Chrome extension VidIQ to check the video tags applied.
I ran VidIQ and, as in the image below, it showed which video tags are used for the video above and especially which tags contributed to boosting its ranking (you can check them at the bottom right of the screen).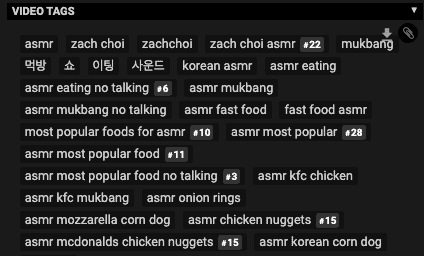 There is another way to check the video tags without having to add the VidlQ extension.
Access a YouTube video through Chrome or Firefox
Right-click
Click View Page Source/View Frame Source.
When a new tap pops up, press ctrl+ f (for Mac user, command + f) and type "keywords."
Then you will see which video tags are used for the video as seen below.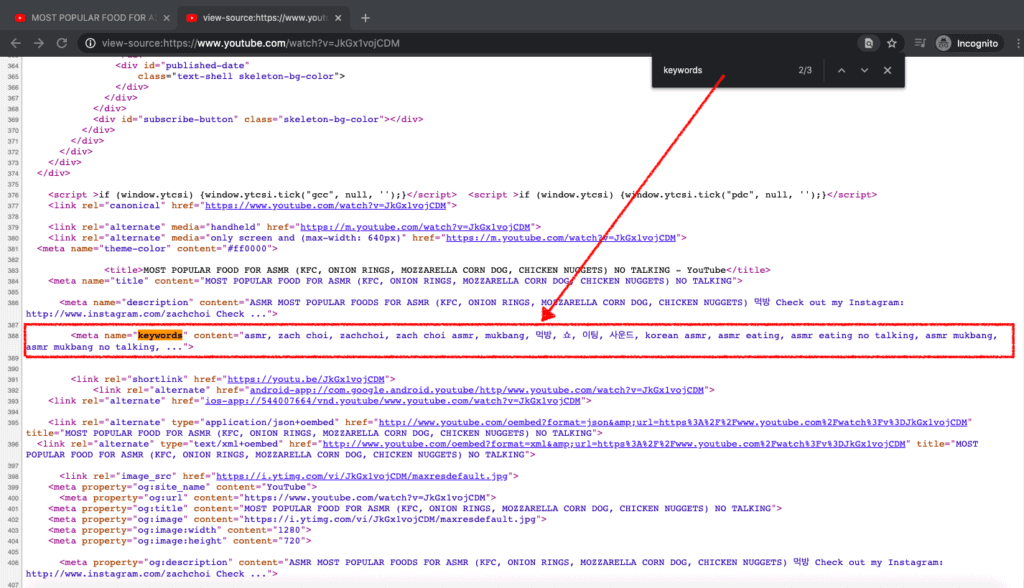 You can also do keyword research by using statistics provided by YouTube.
Log into YouTube and go to YouTube Studio.
Click Analytics.
Click Reach.
Click Traffic source types.
Click YouTube search
By following the above steps, you can check your video traffic source that shows which keywords brought users to your videos and get some insights into which keywords you should target.
It's important to target keywords that performed well, but if you're new to YouTube and don't have many subscribers yet, targeting low competition keywords can be a good strategy.
You can check how competitive a specific keyword is with the following steps.
First, type your target keyword into the Google search bar with the site operator: site:youtube.*
Then check how many results you get. The number of results means that the same number of videos with that keyword is uploaded on YouTube.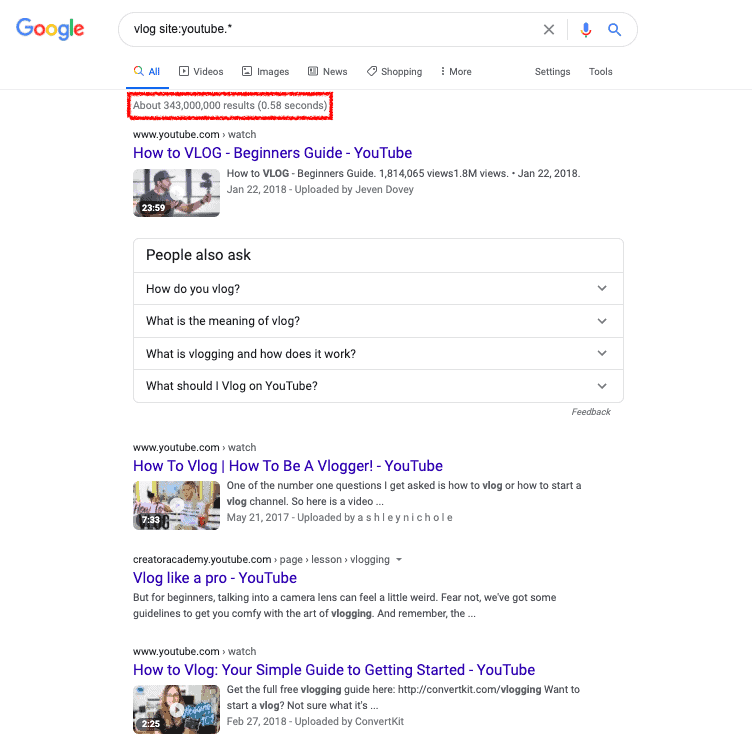 As you can see in the image, there are so many YouTube videos with the keyword "vlog," which means the keyword is highly competitive on YouTube. If you do not have many subscribers, going for high competition keywords may not be a good idea. Since there are so many videos with the same keyword, yours is likely to be buried by others. Therefore, it is desirable to target keywords with fewer results and low competition.
In that sense, I searched for "living in Korea vlog."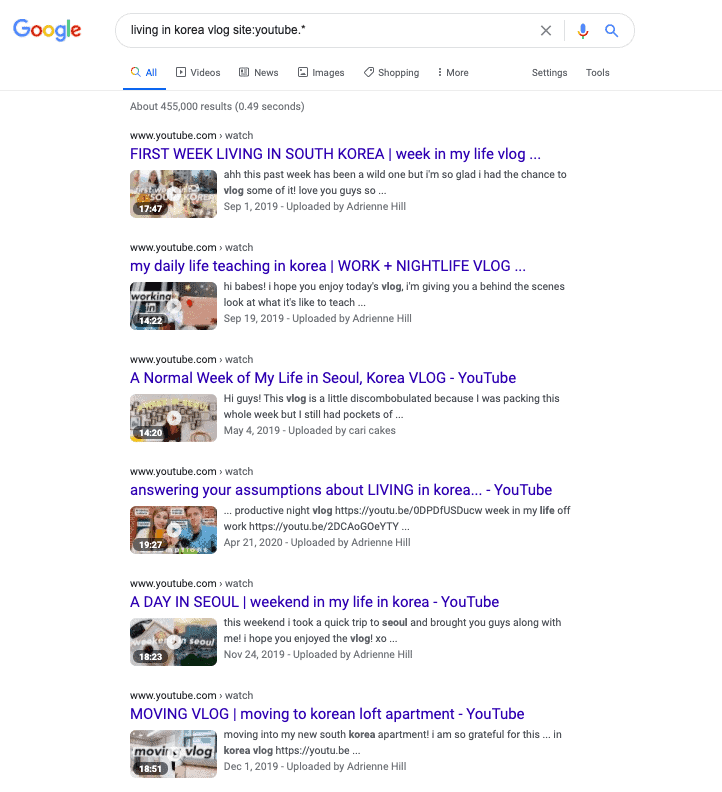 See? It has far fewer results than "vlog."
In this way, first, check if your keyword has high competition and if so, find out an alternative keyword.
Here is my last important tip for you.
Most traffic is driven from YouTube but if your videos appear in Google result pages, too, traffic will greatly increase from double to quintuple.
How is that possible?
Google search result pages have various search results and composition factors. One of them is the Video Carousel that displays a bundle of YouTube videos at the top of Google SERP. The trick is to optimize your video using keywords that already have video results in Google carousel.
It entirely depends on Google to decide which videos would show up on SERP as a video carousel; however, Google usually tends to use video results for these types of keywords:
How-to keywords (e.g. how to make dalgona coffee)
Reviews (e.g. iPhone 11 review)
Tutorials (e.g. summer makeup tutorial)
Keywords related to health and fitness (e.g. 10 min abs workout)
Cute and funny videos
Even if it's not on the video carousel, keywords that mostly have video results are right to target.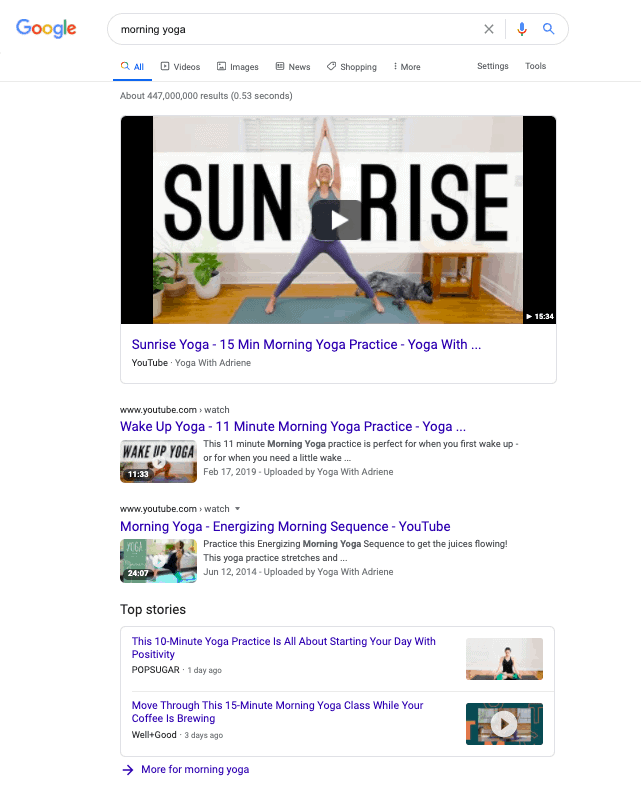 Once you find your target keyword that appears on Google's video carousel or video results, the next thing you need to do is checking the search volume of the keyword.
This is necessary because targeting a keyword with a large search volume is always better than targeting a keyword that only 20 people search in a month. The monthly search volume should be at least 100 to 1,000 on average for a keyword to drive traffic.
You can check keyword search volume by using keyword research tools like Twinword Ideas or Google Planner.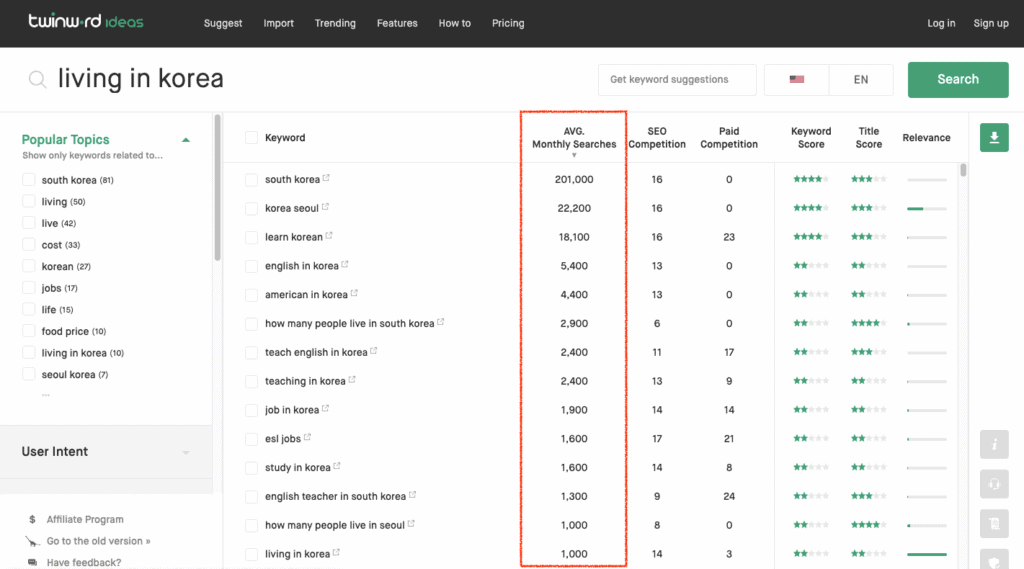 STEP 2. Title, Description, And Tag Optimization
Now, you can find out which keywords are used for the title and description of popular videos or channels by doing keyword research. If you have your own keyword list, it's time to optimize your video title, description, and tags using those keywords.
Video Title Optimization
The basic principle is to include your keyword in the title.
Briggsby analyzed 75,000 YouTube channels and 100,000 YouTube videos to study how the YouTube algorithm works and which videos are displayed at the top of pages.
The results show that more than 90% of videos contain at least a part of the target keyword in their titles, which shows the importance of inserting keywords in the title.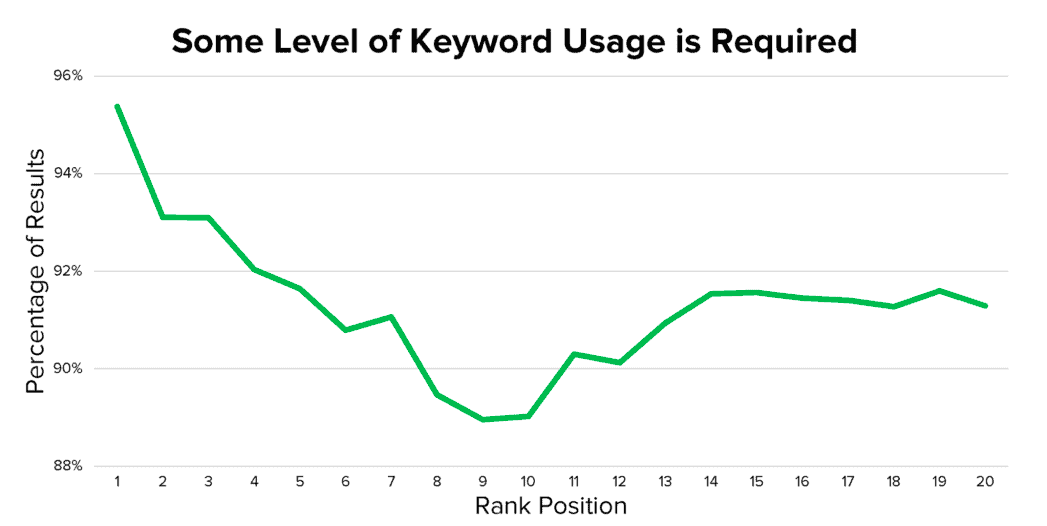 It also said that the length of the title affects the rankings.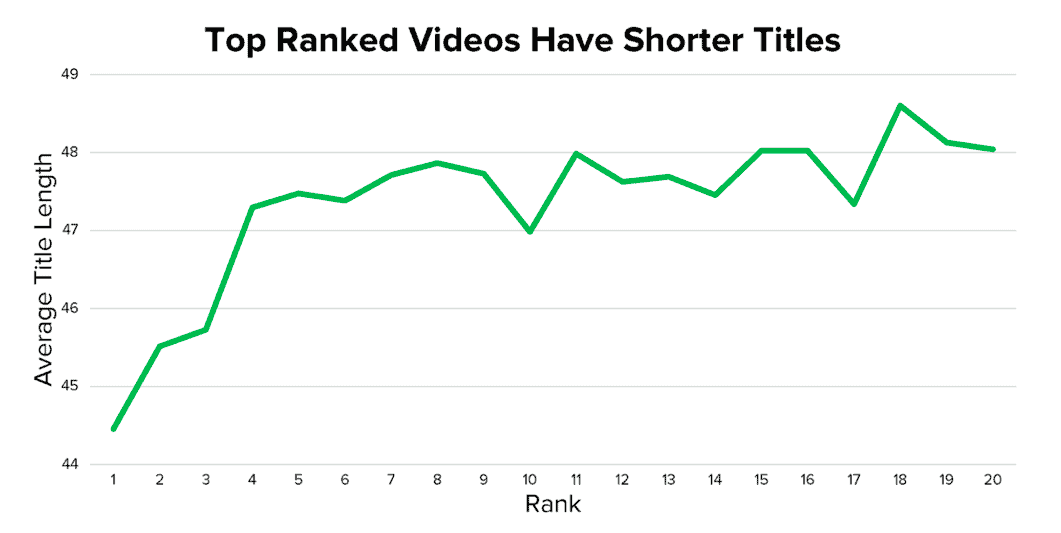 According to the study, most titles of the top 20 videos have 47 to 48 characters. Clearly, the number of characters in the title seems to have some correlation with the rankings.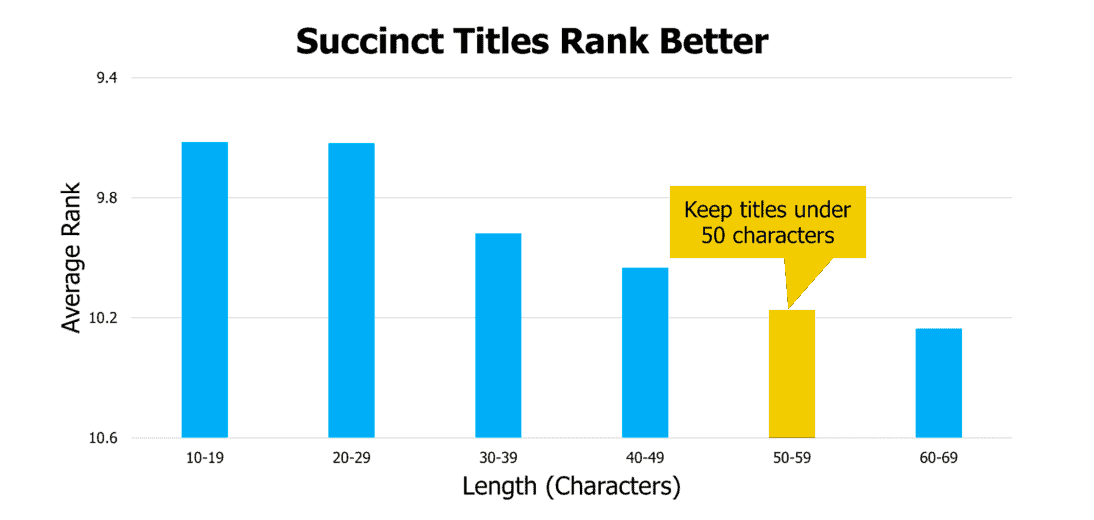 High ranking videos usually have shorter titles, and videos with more than 50 characters ranked low.
Short titles are not exactly a ranking booster, but possibly long titles would contain some issues that will deteriorate rankings such as:
Keyword stuffing
Less focus on the topic
Low CTR and views (watch time)
To sum up, when optimizing your title, you need to:
Include your full target keyword within the title, and if not available, at least include a part of the keyword.
Write your title within 47 to 48 characters.
Make your title simple and focus on the topic of your video.
Video Description Optimization
Optimizing the description of your video is crucial. The video description helps YouTube and Google understand the context of your video. The better they understand, the higher your video ranks, which means your content will be displayed on YouTube recommended section more often.
In addition, a well-explained description using your focus keyword helps users find your video easily. In order to create an effective description, it is desirable to include the target keyword in the introduction of the description, possibly in the form of a natural sentence in the first line. Your main keyword must be placed in the first part of the description because YouTube does not show the whole description.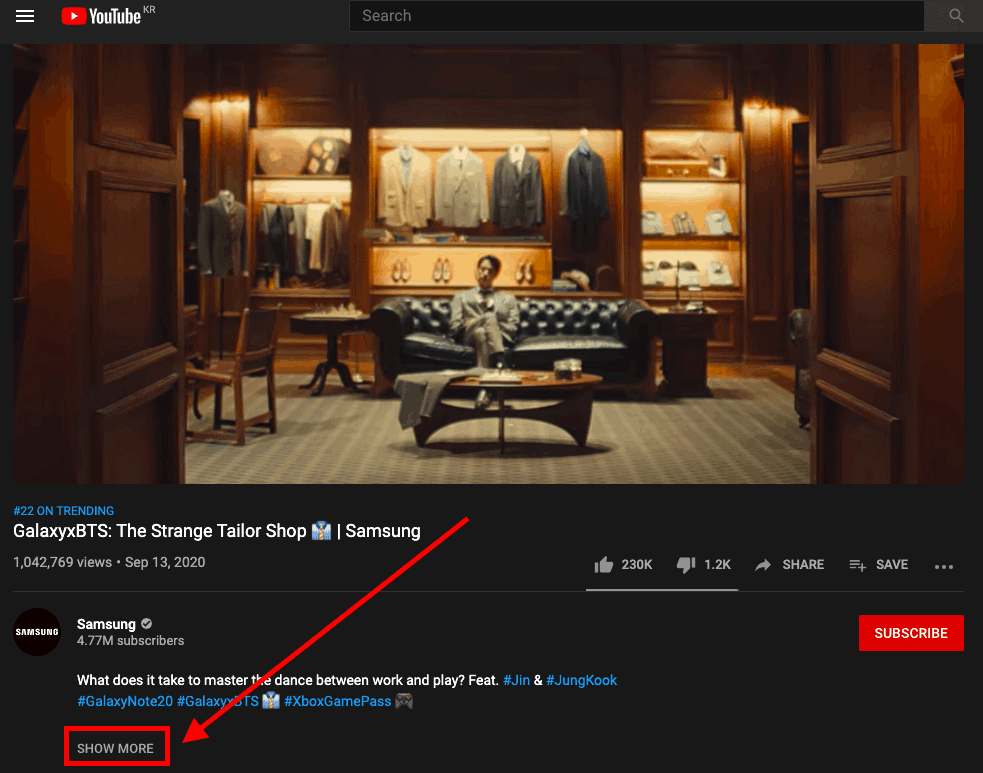 Only the first few lines of the introduction are displayed, and viewers have to click "show more" to see the rest. So, you need to put more effort into the first few lines placing one or two main keywords in the visible area to make your description actually have an impact on viewers. Delivering the key point of your video in the first sentence is good for SEO as the YouTube algorithm prioritizes the introduction of the video description.
In the rest part of the description, you can give additional information such as topics of the channel and social media link, or you can recommend the next video to watch or include CTA for the recommended video. Remember that you need to write a new description for every video and must not add keywords that are not relevant to your topic.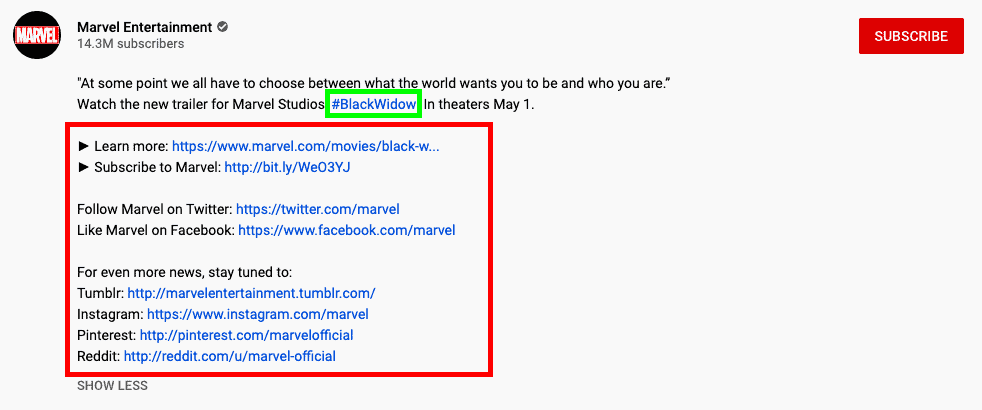 Also, you can add hashtags (#) in the description so that your video shows up when viewers search for the same hashtag. For one video, 15 hashtags are allowed, and the first 3 hashtags will be shown right above the title. Hashtags in description increase the visibility of your video. As highlighted before, keep in mind that using non-relevant hashtags is against YouTube policy and can bring you more disadvantages than advantages.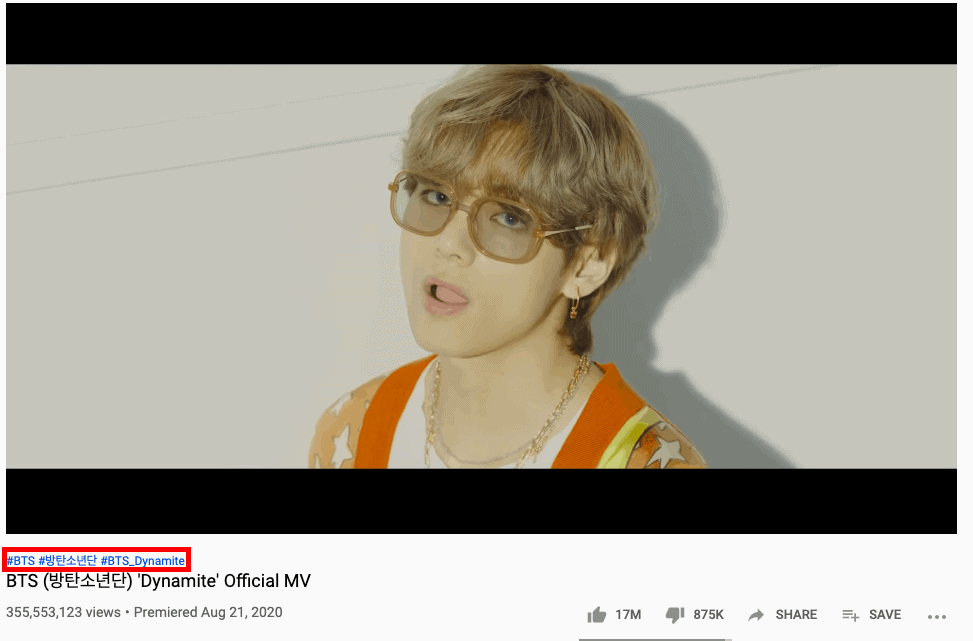 The aforementioned Briggsby's study offers other insights. Based on an analysis of 100,000 YouTube videos, the study found that the most desirable number of characters for description is 300 to 350.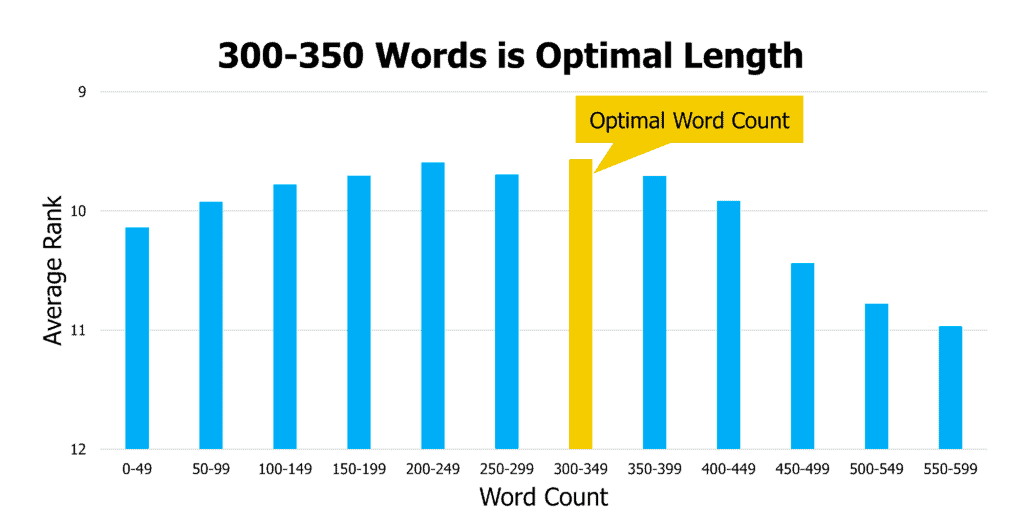 It pointed out that lengthy descriptions with 400 to 450 characters tend to rank low.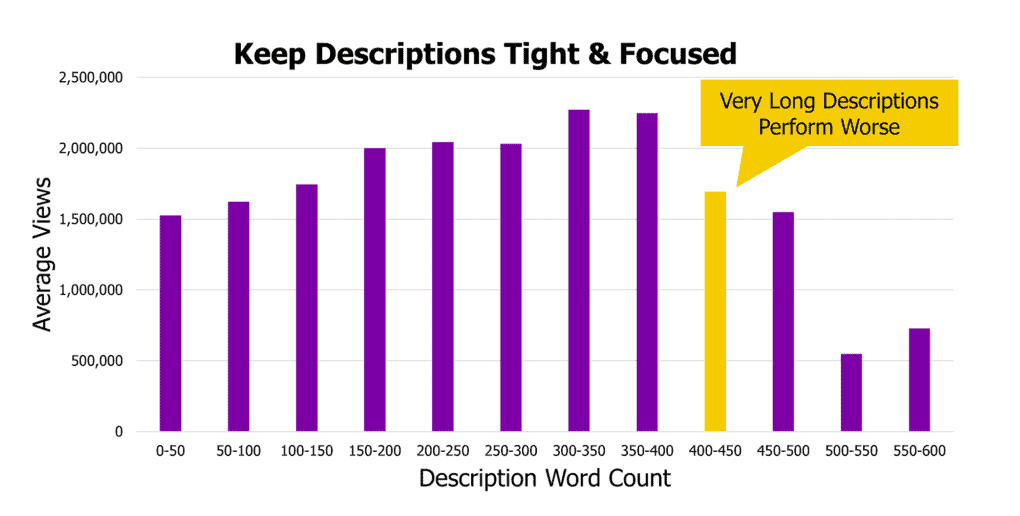 In short, when you optimize your description, you should:
Include your target keyword (if possible, in the first line).
Provide additional information such as the topic of your channel and social media link in the rest of the description which is displayed when viewers click "show more."
Insert your keywords in hashtags. (15 hashtags for each video. The first three are very important as they appear right above the title!)
Write your description within 300 to 350 characters.
Include CTA to encourage viewers to watch the next video or the recommended video.
However, this is not all. Aside from title and description, you should also take something else into consideration to boost your YouTube ranking. There is an important ranking factor in the YouTube algorithm. It's YouTube Video Tags.
What Is YouTube Tag?
YouTube tags are words and phrases that a creator uses to give YouTube context about a video. Just like other metadata, YouTube tags provide an opportunity to give details about the videos' content, topic, and category to YouTube and Google. Tag optimization is critical as it not only is a high ranking factor but also increases the chances of your video showing up as the recommended video.
How To Properly Tag YouTube Videos
1. The First Tag Is Your Main Keyword
Always remember that the first several tags are critical for YouTube SEO since YouTube pays great attention to them, especially to the first tag. Hence the first tag should have the most important keyword among your target keywords.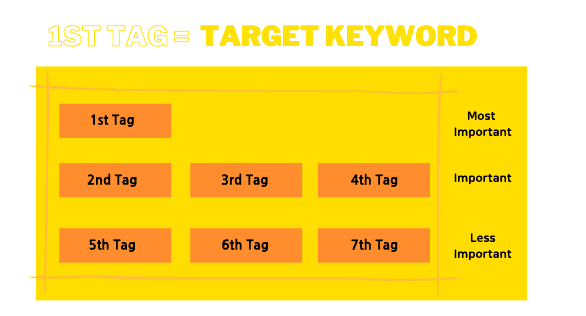 Let's suppose that you're going to upload a video about YouTube SEO and your target viewers are those who searched the term "YouTube SEO." Then, you should put "YouTube SEO" as your first tag followed by other related search queries like "How To Get More Subscribers On Youtube", "How To Get More Views On Youtube", or "Youtube Ranking Factors."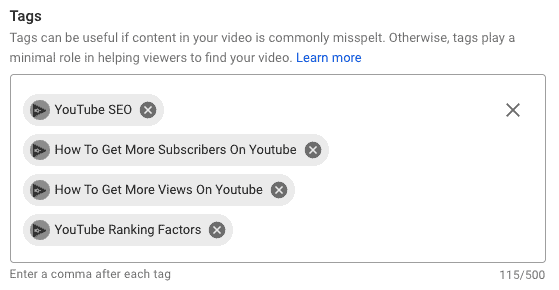 2. Use A Mix Of Broad Tags And Focused Tags
Focused tags like "cheap ways to travel Europe" and "how to get the best flight deals" help YouTube better understand the topic of your video.
But you can't exclude broad tags because they can explain the overall context of video to YouTube.
So, if your main keyword is "traveling Europe," your tags can be very specific like "traveling Europe on a budget" or "how to get the best flight deals."
At the same time, it is desirable to add some broad tags that describe your video's broader categories or high-level topics like "travel tips and hacks," "trip to Europe," and "backpack travel."
3. Do Not Over Use
One of the common mistakes new YouTubers make is stuffing tags with many keywords, which is basically 'keyword stuffing.' This can bring you disadvantages rather than advantages as Google also warned.

Again, YouTube tags help YouTube better understand your content. Random, non-relevant tags will only confuse YouTube.
Let me give you an example.
A travel YouTuber uploaded a video about a trip to Jakarta in Indonesia.
Some of the video tags are related to travel but others are related to marketing strategies including SEO. Do you think you can grasp the topic of the video when you read such tags? Of course not. Likewise, YouTube will get confused.
Therefore, over-use or misuse of tags is nothing more than harming your ranking.
An ideal way is to focus on 5 to 8 tags that can precisely describe your video. And don't forget to mix broad tags and focused tags based on keyword research as introduced earlier.
STEP 3. YouTube SEO Ranking Factors
Ranking Factor #1. Audience Retention
You need high audience retention to rank your video high. Audience retention is an undeniable ranking factor as YouTube officially confirmed.
YouTube said,
"Your goal is to keep audience retention as close to 100% as you can (because this means viewers are watching all the way through your videos). And videos with consistently high audience retention and watch time have the potential to show up more frequently in search result pages and recommended section on YouTube."
In other words, the longer time viewers watch your video, the higher your video will rank by the YouTube algorithm so that more viewers can watch your video.
Even if you have optimized the title, description, tags of your video, poor quality of content that cannot hold viewers' attention till the end will hardly appear on top of the result page.
Ranking Factor #2. Comments
If someone leaves comments on your video, YouTube recognizes that the person enjoyed your content or your content was engaging.
According to Backlinko's analysis of 1,300,000 YouTube videos, the number of comments was closely related to the ranking. So, encourage your viewers to comment, reply to them, and make your channel more engaging by creating a friendly environment.
Ranking Factor #3. Subscribers
Just like comments, a large number of subscriptions make YouTube think that your channel is creating quality content.
The best way to increase subscribers is to ask viewers to subscribe to your channel. If your content is great, simply asking them to subscribe at the end of the video can boost subscribers.
Thumbnails cannot be missed when it comes to YouTube ranking factors.
Thumbnails are first impressions that greatly affect viewers' decision whether or not to click the videos, thus, deeply related to CTR (Click Through Rate).
Even though it is not a direct ranking factor, making an eye-catching thumbnail that summarizes the video or supports the content can have a positive impact on YouTube optimization. Good thumbnails bring more clicks and eventually, lead to better SEO.
---
Hope this guide has provided you useful tips for YouTube SEO.
Feel free to leave a comment if you have any questions or suggestions!