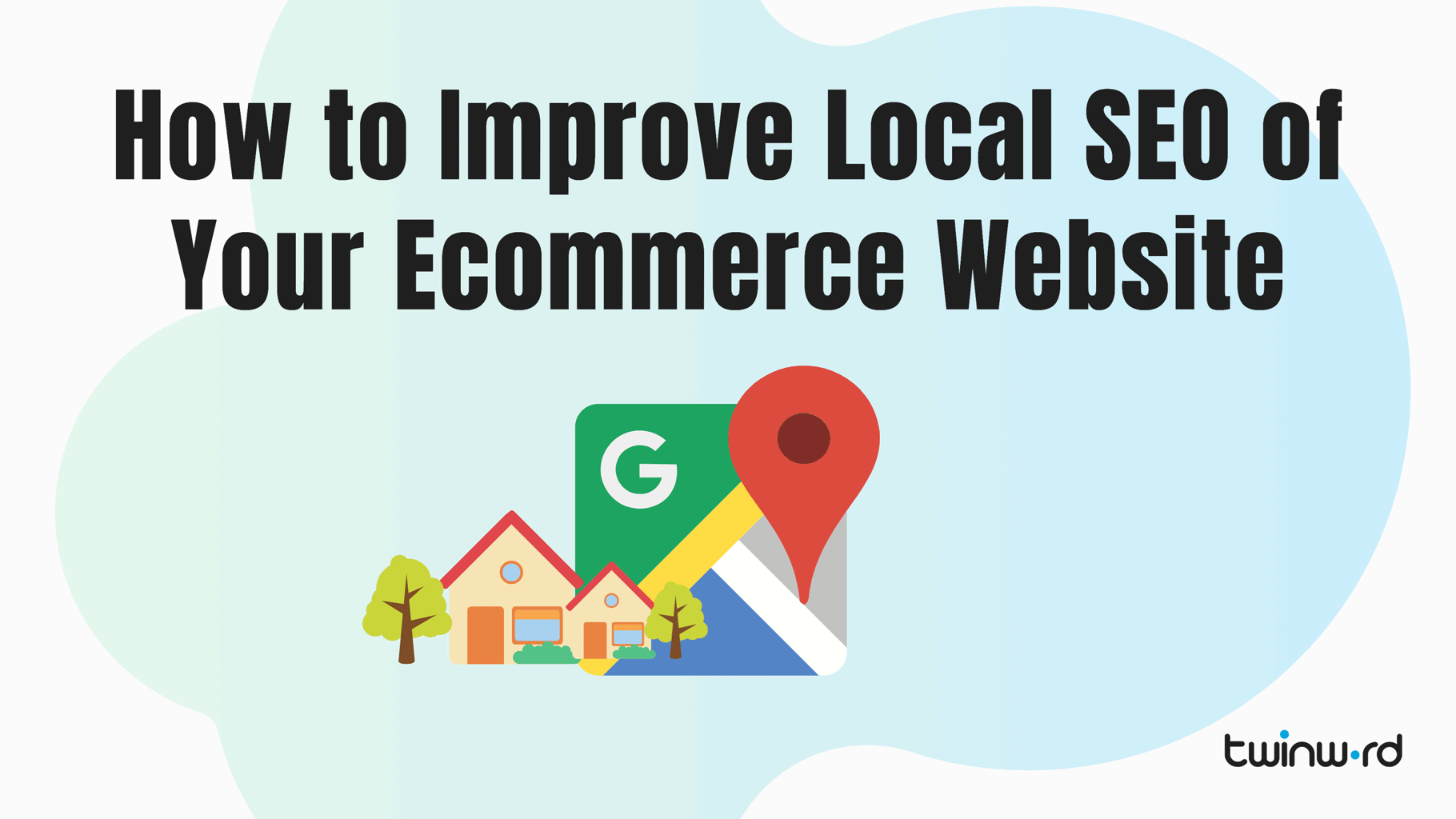 Imagine you're trying to locate a nearby business that can mend your trusty bicycle or whip up a delightful superhero-themed cake for your little one's birthday bash.
How do you go about finding such places? Well, you most likely would open your search engine and search for such businesses online with reliable delivery service, right?
Well, your potential customers are no different. Whenever they're after a product or service similar to what your local business offers, their first instinct is to hit the online world in search of it.
So, with 98% of consumers using the internet to seek out details about local businesses, if you are not optimizing your business for local search, you might just be letting thousands slip through the cracks.
Good news – we've solved the eCommerce local SEO puzzle, and we're sharing the go-to local SEO manual that can pave the way for enhanced traffic to your eCommerce store.
Understanding Local SEO for Ecommerce
You've probably heard it repeatedly—having a local SEO strategy is a big deal for your business's success. Considering that about 80% of local searches turn into real deals, diving into local SEO is a must if you want your online business to keep growing.
Indeed, as highlighted in HubSpot's 2023 marketing trends report, SEO grabs the third spot when it comes to the trend that marketers are putting their money on for 2023.
But what exactly is local SEO?
Ecommerce local SEO is all about fine-tuning your website to secure a higher rank in online search results. This way, you can tap into a broader local customer base and extend your influence beyond online marketplaces.
Put simply, local SEO makes sure that your eCommerce website is discoverable to a larger audience in your local vicinity. When individuals search using terms like "near me" or mention a specific city, local SEO steps in to boost your business's visibility on the search engine results pages (SERPs), positioning it among the top outcomes.
​​What Are the Benefits of Local SEO For Ecommerce?
Through eCommerce-focused local SEO strategies, you can achieve the following:
Make a direct appearance in front of customer search results by helping your eCommerce website rank higher in the SERPs.
Elevate your search ranking by tapping into proximity-based data and search outcomes.
Obtain third-party reviews from external sources easily, thanks to your business's prominence, proximity, and relevance in search results.
Garner more backlinks from renowned, reliable platforms such as Facebook and Instagram.
Simplify everyone's access to vital business details like operating hours, contact numbers, addresses, etc.
Top 10 Ways to Optimize Your eCommerce Website for Local SEO
Considering these aspects, fine-tuning your eCommerce local SEO approach can yield remarkable dividends, especially if you remain consistent with your efforts.
Below are some powerful local SEO strategies to optimize local SEO for your eCommerce brand.
However, we must emphasize that local SEO isn't a universal fit for all eCommerce ventures. Ideally, it's for those looking to amp up their local website traffic or those operating a brick-and-mortar store.
With that in mind, let's explore the top 10 local SEO strategies to improve your online store's visibility:
1)   Keyword Research for Local SEO
Let's start with the basics – identifying the keywords for your website. This initial step sets the foundation for effective link-building and content optimization.
Your goal is to identify keywords that balance high search volume and medium to low competition while focusing on geo-specific keywords and phrases.
Imagine that you're running an online store selling handcrafted pottery, targeting customers in Sydney, Australia. In this case, a keyword like "Unique pottery shops in Sydney" could be your golden ticket.
Unsure of how to begin your keyword search? Consider the following pointers:
Use keyword research tool to explore primary and related keywords while considering their search volume and competition levels.
Play around with various combinations of your search queries to craft longer, more targeted keywords that cater to your local audience.
Test the waters by typing your search queries directly into Google. Take note of the keyword suggestions that appear at the end of SERPs.
Dive into your competitors' websites to gather insights into their keyword strategies.
Tap into tools like Twinword Ideas to unlock keyword suggestions tailored to your industry-specific searches and competitor analysis.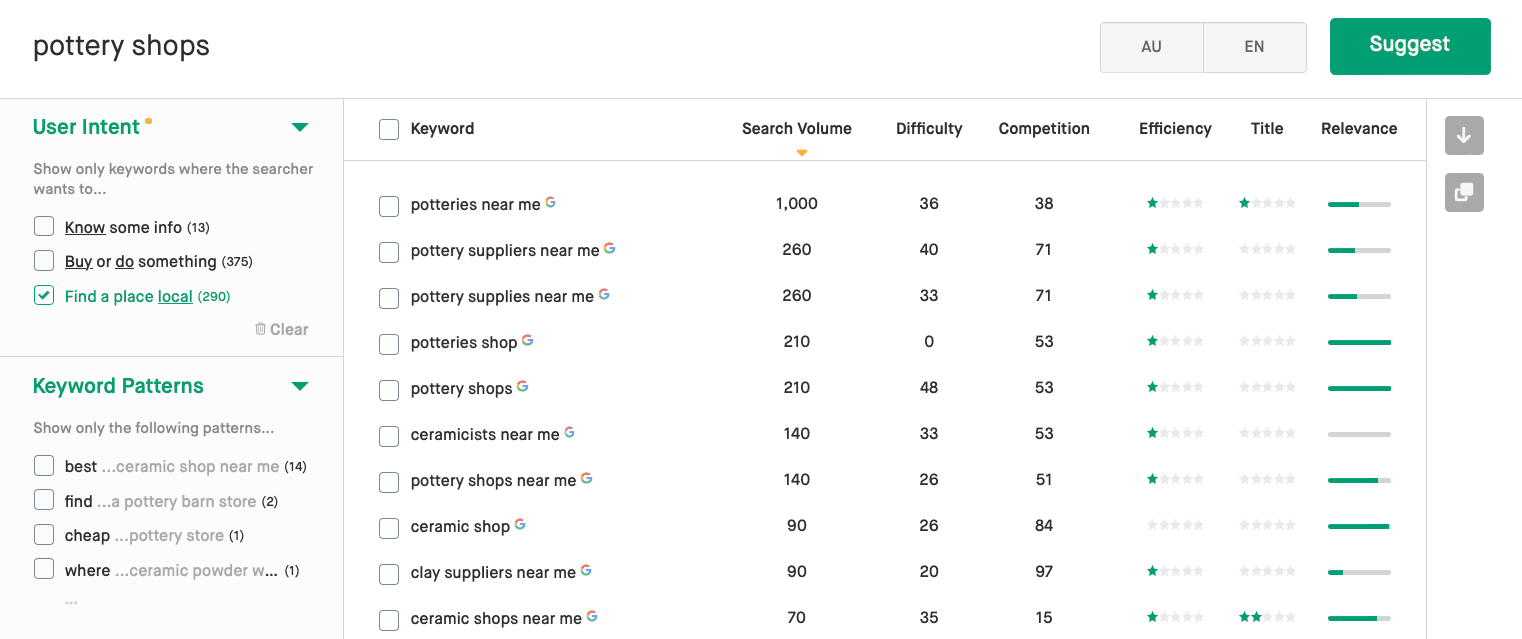 2)   On-page SEO to optimize for Local Relevance
You're well aware of the importance of keywords in your online marketing efforts. But when it comes to local SEO for eCommerce, your keywords take a slightly different route than traditional SEO.
While optimizing keywords across your website remains relevant, you must also add specific keywords related to locations. These location-specific keywords attract local customers. By seamlessly integrating these geo-targeted phrases into your landing pages, website content, social media updates, and advertisements, you significantly enhance your chances of being spotted by anyone searching for products in that specific location.
Let's take a simple example of an apparel eCommerce business named "FashionFinds" based in Miami, Florida, and how they could use geo-specific keywords:
City-Centered Keywords: FashionFinds wants to target local customers in Miami. They might use keywords like "Miami fashion online," "Miami clothing store," and "buy clothes in Miami."
Neighborhood Focus: Miami has distinct neighborhoods, like South Beach and Little Havana. FashionFinds could use keywords like "South Beach summer outfits" or "Little Havana streetwear."
Event-Related Keywords: Miami is known for its parties and events. FashionFinds could incorporate keywords like "Miami party dresses" or "outfits for Miami beach weddings."
Weather-Responsive Keywords: Given Miami's warm climate, FashionFinds could use keywords like "light summer clothes in Miami" or "Miami beach attire."
Trend-Inspired Keywords: If a certain trend is popular in Miami, like tropical prints, FashionFinds could use keywords like "tropical fashion in Miami" or "Miami palm leaf outfits."
Local Celebrations: If there's a local event, like the Miami Art Week, FashionFinds might include keywords like "outfits for Miami Art Week" or "fashion for local Miami events."
Using these simple and geo-specific keywords, FashionFinds can make their online store more visible to local customers in Miami who are searching for apparel that matches their city's style and vibe.
3)   Geo-Specific Product Descriptions and Content
Another brilliant approach in eCommerce local SEO is to churn out an abundance of location-specific content. With local SEO, your spotlight will often be on specific locations – think cities or counties.
Remember the keyword game we discussed earlier? Well, it's time to sprinkle them into your product description and content. Craft product descriptions and content that resonate with your local audience and transform your offerings into a meaningful part of your customers' local experience. You can also mention local landmarks, cultural references, and how your products solve local problems.
Here's a real-life example to put it in perspective:
Imagine you run an online bakery —"Sweet Treats," catering to dessert enthusiasts in San Francisco. You've identified that keywords like "best San Francisco cupcakes" and "unique Bay Area desserts" hold the key. Now, you can create content like:
Product Descriptions: Enjoy the flavors of San Francisco with SweetTreats' Bay Area Bliss Cupcakes. Taste the city's energy in every bite – a fusion of Ghirardelli chocolate and Golden Gate Bridge-inspired caramel drizzle. Whether you're out exploring or relaxing by the bay, our cupcakes are your San Francisco treat.
Blog Post: "San Francisco's Most Delectable Cupcakes."
Video: "Discovering SweetTreats: Crafting Delights for San Francisco's Dessert Aficionados."
Comprehensive Guide: "The Ultimate Guide to Dessert Trends in the Bay Area."
4)   Google My Business Listing Optimization
Enter Google My Business, a nifty free online business listing tool. Google introduced this gem to enhance brands' visibility on Google Maps and local searches.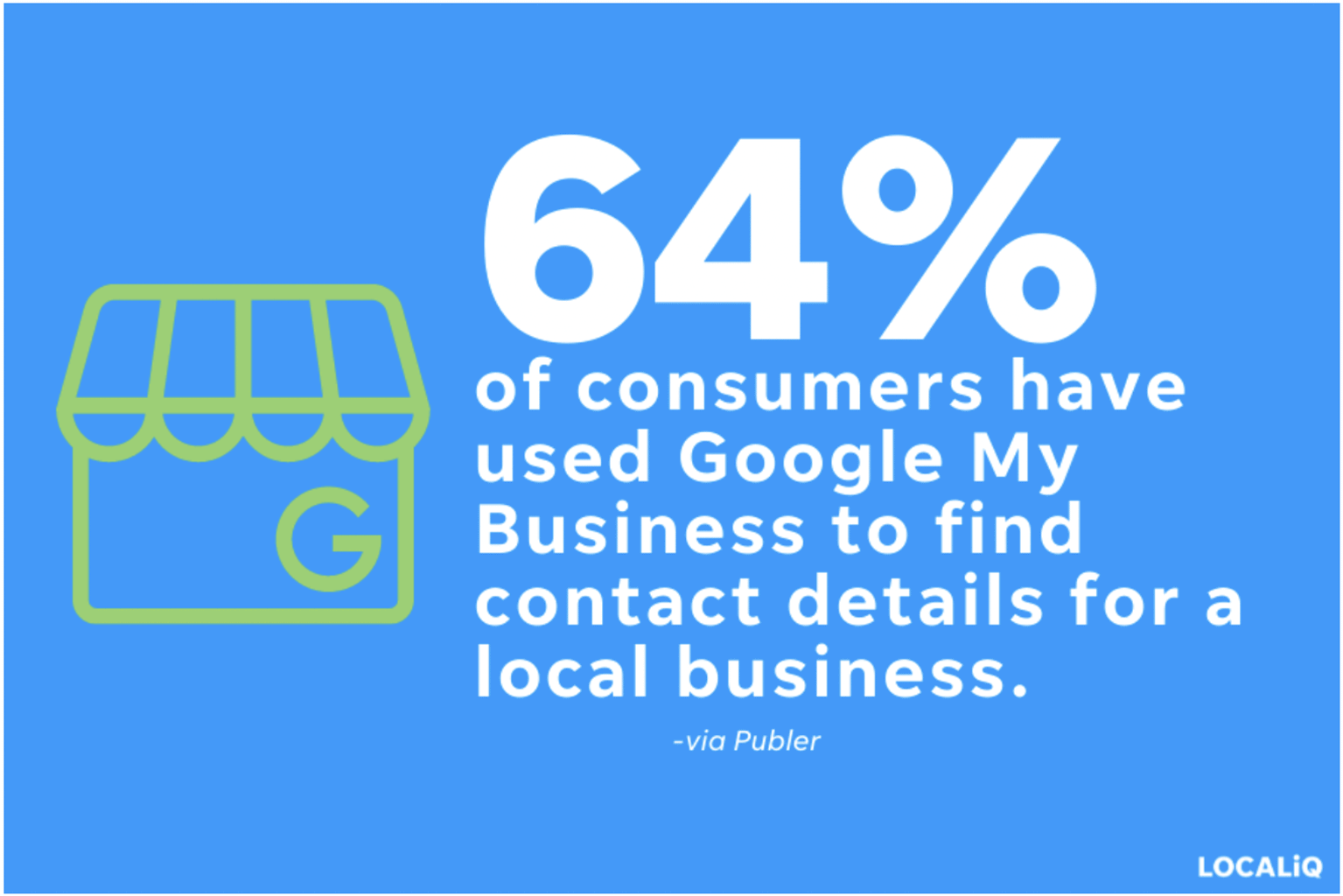 (Source: LOCALiQ)
Once Google verifies your business, optimizing it to shine in local search results is the next step. By claiming and optimizing your Google My Business listing, you're not just enhancing your local SEO but also ensuring that accurate details about your business, like your address, phone number, and operating hours, are readily available.
And guess what? You can also jazz up your listing by posting updates and photos, an interactive approach to catch the eye of potential customers.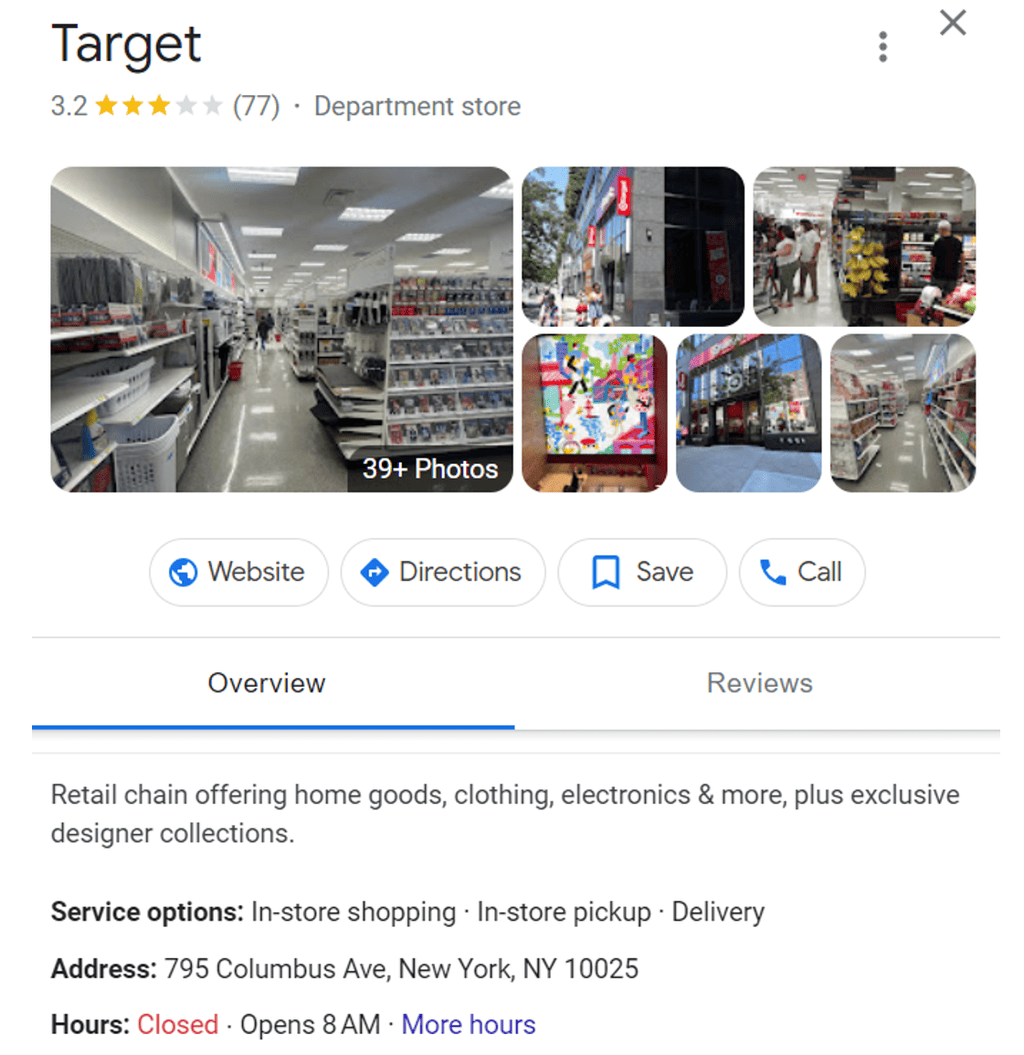 The goal? To propel your business to feature in the Local Pack— a list of three local businesses right on the first page of Google search results.
What's the advantage of being in the local pack? Not only do these listings show off your business's location on Google Maps, but they also claim a prominent spot on the search results page.
And here's the kicker – with the right marketing tactics, even if you're not locally based, your eCommerce venture can still claim a coveted spot in the Local Pack.
So, how do you get there? It's all about local citations. Local citations involve snagging backlinks from nearby magazines, news outlets, press releases, websites, and other local media hubs. Plus, aim to rack up links from local websites. It's like boosting your website's overall domain authority and turbocharging your local rankings in the process.
5)   Local Business Listings and Directories
One smart move in the local SEO playbook is enlisting your eCommerce business in targeted online directories. While old-school directories get the cold shoulder, and users often head straight to Google. The immediate benefits might not be massive, but your store's SEO can improve, especially if it pops up in directory results. Moreover, being in directories makes your business seem trustworthy.
But here's the catch: not all directories fit every business. While listing in every directory used to be a good idea, Google's way of ranking websites has changed. And picking the wrong directory can hurt your local eCommerce SEO. One more thing to consider here – these directories should adhere to security and compliance norms in order to defend against security breaches. So, choose the ones that match you based on your audience, products, industry and reputation.
6)   Local Backlinks Building
Google values backlinks and citations because they show how credible your website is. Your site gains credibility when online news, magazines, or the press mention you. And when multiple places link to the same webpage, search engines see it as valuable and list it on search results pages.
Here's how to do it right:
Aim for quality backlinks from credible sources. One strong, relevant link can outweigh a bunch of mediocre ones.
Target local sources for your backlinks. These could be local bloggers, news outlets, or business directories.
Score local PR by getting featured in news articles, blogs, or press releases.
Forge relationships with local influencers, businesses, and bloggers.
Penn guest posts for local blogs.
Sponsor local events, charities, or workshops.
Avoid black hat tactics like buying links or engaging in link schemes.
7)   Schema Markup
It's a type of code you add to your website's HTML to provide search engines with specific information about your content. In simpler terms, it helps search engines understand your website better.
When you add schema markup specific to your location, you tell search engines about vital details such as your business's name, address, phone number, and even operating hours. This data is structured in a way that's easy for search engines to digest.
Tools like Google's Structured Data Markup Helper can help you create the markup code, which you can add to your website's HTML.
By incorporating schema markup tailored to your local business into your ecommerce website, you're giving search engines the map they need to showcase your business more prominently in local searches.
8)   Responsive Design and User-Friendly Experience
People carry their phones wherever they roam, making local searches a natural choice. That's why having a responsive website is a non-negotiable aspect of your local SEO strategy.
So, here are some tips to offer a user-friendly experience that works hand in hand to elevate your local SEO strategy:
Partner with web developers to ensure your website adjusts smoothly to various screens.
Create a design that translates well to mobile. Big buttons, easy-to-read fonts, and straightforward navigation are the name of the game.
No time for slow loading. Optimize images, streamline your code, and ensure your website loads faster on mobile devices.
9)   Voice Search
With 58% of consumers utilizing voice search to discover local businesses, optimizing your online store for voice search can give it a serious edge in the local arena.
Here's how to make voice search work for you:
Conversational Keywords: When people type into a search bar, they might use shorter phrases like "best local cafes." But in voice search, they tend to ask complete questions like "Where can I find the best local cafes?" Tailor your content to match these conversational queries.
Featured Snippets: Voice assistants often read out featured snippets – those concise answers displayed on top of search results. Structure your content to provide quick, accurate answers to common questions related to your local business.
Local Long-Tails: People often use voice search to find local businesses on the go. Optimize for longer, location-specific phrases like "Where's the nearest bakery in [Your City]?" This aligns seamlessly with how people naturally speak when conducting searches on their devices.
Natural Language: Voice search mimics real conversations, so use language that's easy to understand and mirrors how people actually talk.
10)   Customer Reviews
Online reviews aren't just nice to have – they're essential for eCommerce in 2023. Shoppers these days are savvy – they do their homework before buying, often including checking out online reviews. The number of people using Google to research local businesses has steadily increased. It went from 63% in 2020 to 81% in 2021, and now it's all the way up to 87% in 2022.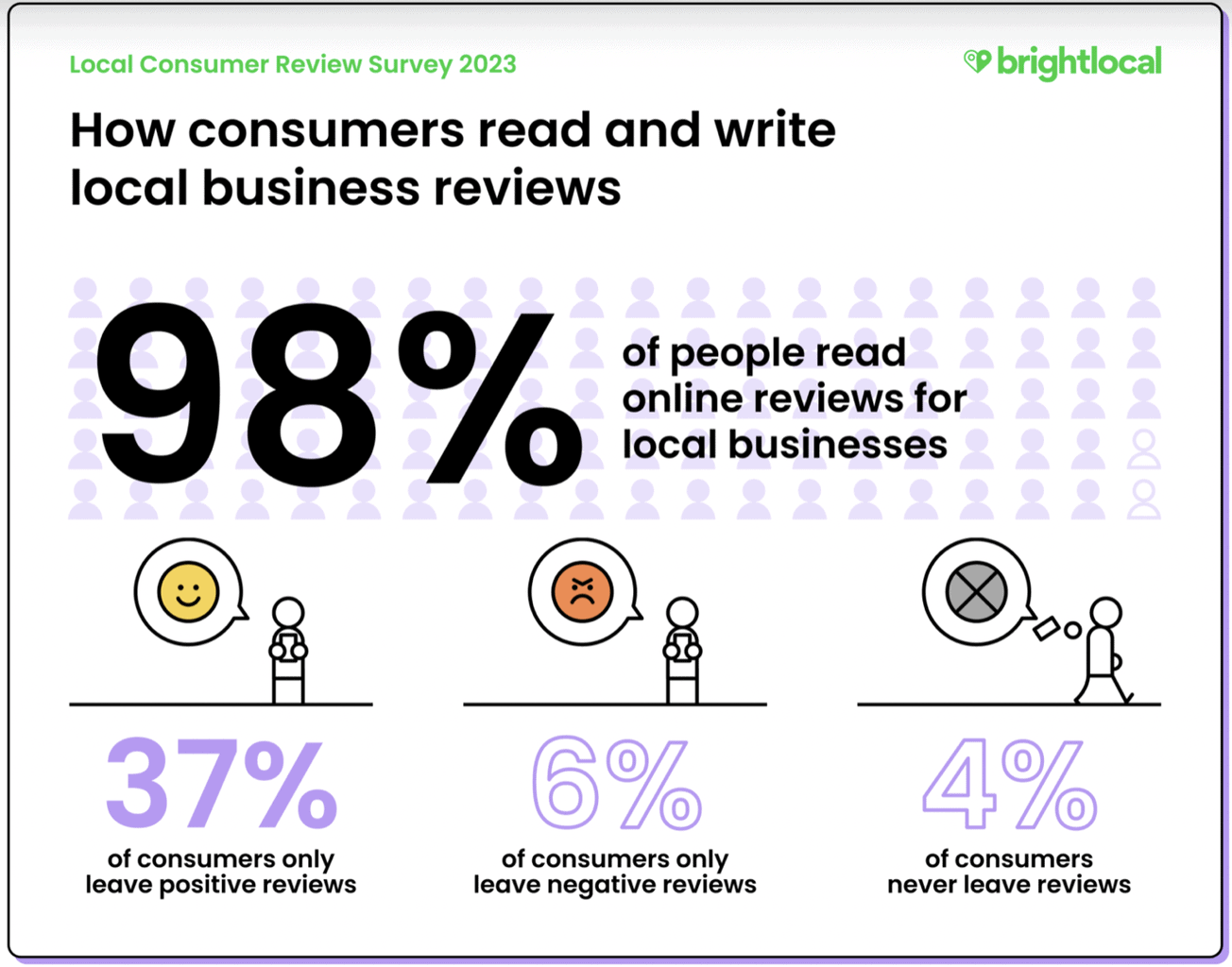 (Source: Brightlocal)
Moreover, the reviews and ratings from your local customers can shape your rankings because search engines use them to decide how high you rank.
Naturally, gathering reviews from local customers is vital to building trust on local search platforms. They inform new visitors about your business and boost clicks on your eCommerce site.
Here's how to do that effectively to improve local SEO:
Put review buttons on product pages. Let customers rate products right where they shop.
Ask local users to drop reviews on directories like Google My Business and Yelp.
Collect reviews via online surveys using emails or phone numbers. This helps improve products and Google rankings.
Don't shy away from negative reviews. Respond kindly to turn things around and build trust.
Mastering Local SEO: Getting Started For Lasting Online Success
Embarking on the journey of local SEO is a wise long-term investment for success. While the impact of eCommerce local SEO is substantial, it can stall or supercharge your business growth, depending on execution.
To navigate this journey successfully, prioritize the strategic implementation of the above strategies. Implement them consistently, and you'll witness the desired results over time. Remember, don't confine yourself solely to the strategies mentioned here. Stay open to different options, carefully assess the landscape, and keep researching for even better alternatives.