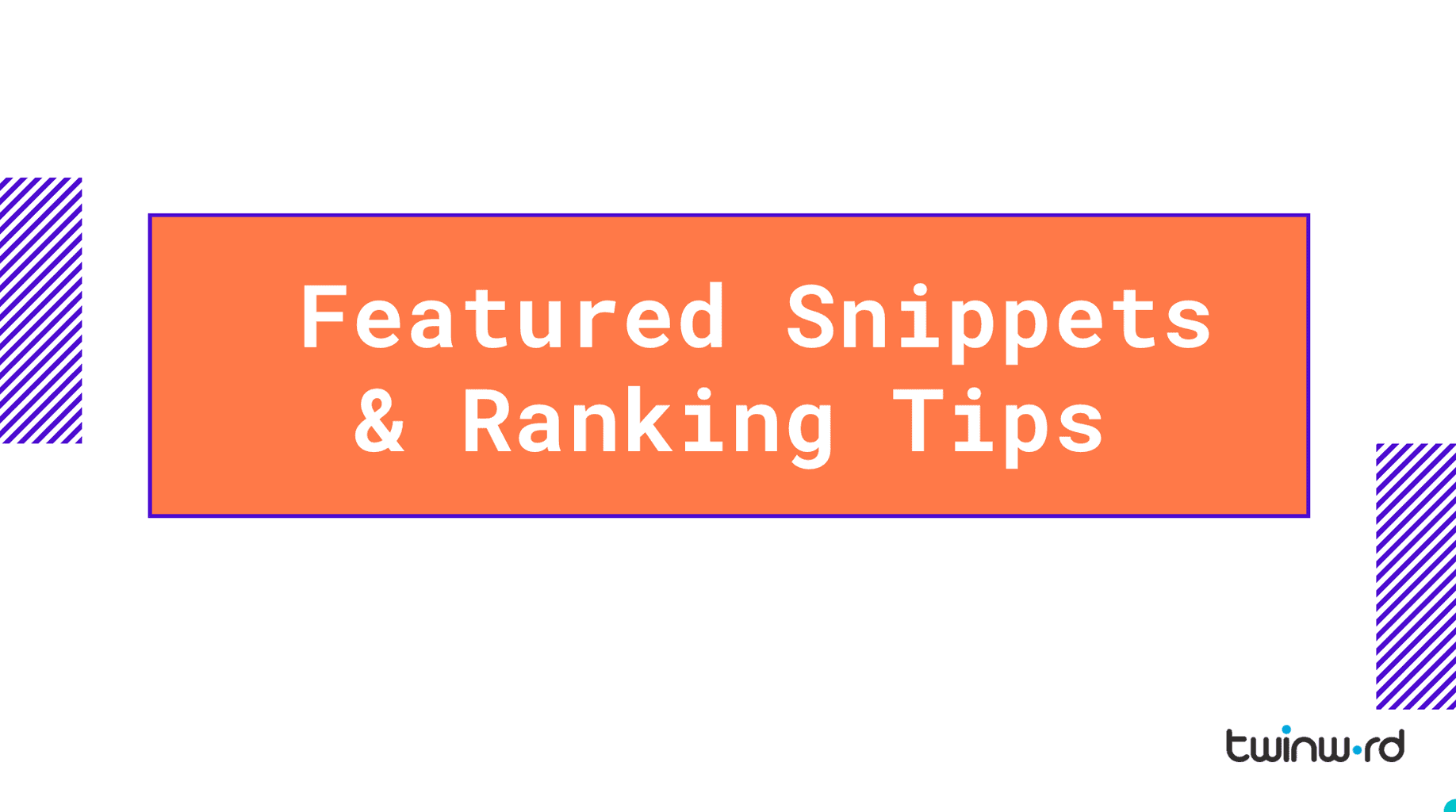 Curious about how some pages land right at the top of Google's search results?
Welcome to the world of featured snippets.
While it's tempting to chalk it all up to the unpredictability of Google's algorithm, mastering the art and science of snagging that "position zero" is indeed within reach.
Sure, there are concerns about fewer site clicks, but think of the unmatched visibility and trust it can bring to your brand.
In this ultimate guide, we'll delve deep into the various types of featured snippets and learn some smart optimization strategies to increase the odds of gaining them for your website.
What is a featured snippet in Google SERP? A guiding definition for all
A featured snippet is a special search result element on Google's search engine results page (SERP), where the descriptive text of the page (snippet) appears before its link, offering users a direct preview of the content.
Introduced in January 2014, these snippets provide a reversed format for easy readability and, when clicked, take users directly to the relevant section of the source webpage. However, if there are limitations with the browser's technology or the exact page position can't be determined, clicking the snippet simply navigates the user to the top of the source web page.
Featured snippets predominantly appear in "position zero," the prime spot above the traditional search results on Google's SERPs. Additionally, they can be found within the "People also ask" section or alongside Knowledge Graph entries.
Why does Google display them, you ask?
It's simple. Google's algorithms have identified that these featured snippets enhance the user experience. They facilitate faster discovery of relevant answers from the snippet's brief description and the linked page's content. Given the concise information presented, this especially benefits mobile users and those resorting to voice searches.
What types of featured snippets are seen in SERPs?
Google can serve as many as six types of featured snippets depending on the nature of your search query. These include:
Paragraph snippets
List snippets
Table snippets
Video snippets
Double snippets
Accordion or "People also ask" section snippets
Next, we'll go through each snippet type one by one. For each type, you'll see examples of how they look and get tips on capturing them. Our goal? Helping you get your content a "position zero" spot on Google. Let's get started!
1. Paragraph featured snippets
A paragraph featured snippet provides a direct answer to the user's query in a text format. This is the most prevalent type of featured snippet on Google. Often, the snippet displays a brief excerpt from the webpage that best addresses the user's question. These snippets can manifest in two common sub-formats:
Text only: Just the brief answer without any accompanying visuals.
Text with image: A concise answer accompanied by one or more relevant images from the same or multiple sources.
When does Google show a paragraph featured snippet?
Google usually presents paragraph snippets for search queries that take the form of questions or when users seek a short and precise explanation or definition. Queries beginning with "what is," "who is," "why is," and "how to" are common triggers.
Tips to get a paragraph featured snippet:
Answer clearly: Write content that directly answers common questions in your topic. Try to be as explicit as possible.
Use clear headings: Make sure your content has easy-to-follow headings and subheadings.
Keep It short: Aim for fewer words when answering. Google likes quick, straightforward answers.
Research questions: Tools like Twinword can offer a goldmine of keywords with "how-to" user intent with a one-click filter.
2. List featured snippets
List featured snippets present information in either an ordered (numbered) or unordered (bulleted) list format.
The list format makes it easier for users to digest the provided information quickly. Here's how they typically appear:
Ordered list: A sequential presentation of steps or information.
Unordered/ bulleted list: A list format without any specific sequence, often showcasing items or points related to the search query.
When does Google show a list featured snippet?
Google tends to showcase list snippets for searches seeking a set of instructions, methods, or item lists. Typical triggers include "steps to," "ways to," "types of," "best of" and similar phrasing. Search queries hinting at a breakdown or a collection are prime candidates for these snippets. So, if someone is seeking a sequence of actions, like "steps to start a garden," or a categorized collection, such as "types of Italian pasta," Google is more likely to serve them a list featured snippet.
Tips to secure a list featured snippet for your content:
Organize your sequence: Whether crafting a recipe or drafting a step-by-step guide, lay it out logically.
Stay concise: Each point in your list should be brief yet informative. Avoid unnecessary fluff.
Optimize for mobile: A significant chunk of searches happens on mobile. Ensure your lists are mobile-friendly.
Leverage subheadings: Use them to break down sections and make your content more scannable.
Harness schema markup: While not a guarantee, using List schema markup can help search engines better understand the structure of your content.
3. Table snippets
Table snippets condense and present data in a tabular format directly within the search results. It's Google's way of offering users a quick look at structured data without needing to visit the actual page. This is especially valuable when users want to compare data or get a quick overview of statistics or other structured information.
When does Google display a table featured snippet?
Google deploys table snippets for queries that seek structured data, particularly when users aim to compare or contrast data sets, understand statistical breakdowns, or view ranked items. Queries that hint at wanting a "list," "ranking," "comparison," or "breakdown" often trigger table snippets.
Tips to ace that table featured snippet:
Structure rigorously: Ensure your table is laid out methodically, with clear headings for both rows and columns.
Clarify with captions: Use captions or brief descriptions to specify what each table covers.
Minimize fluff: Keep data clear and concise. Avoid cramming in unnecessary details.
Responsive design: Ensure tables are easily viewable and adaptable across different screen sizes.
Use table markup: Implementing schema markup for tables can enhance your content's visibility and comprehension for search engines.
4. Video featured snippets
Video snippets are Google's way of highlighting specific video content that directly answers a user's query. Instead of textual answers, users get a video clip right within the SERPs, often pinpointing to a specific timestamp or segment of the video that provides the most accurate answer to the user's query.
When does Google display a video featured snippet?
Google tends to use video snippets for searches that are best answered through visual demonstrations or tutorials. These are common for "how-to" queries, product reviews, DIY tasks, and any other topic where seeing the process can be more illustrative than reading about it. The video featured snippet seems to favor YouTube videos, given that Google owns YouTube and the platform has lot of relevant content to pick from.
Tips for capturing a video featured snippet:
Optimize video titles: Make sure your video titles are clear, descriptive, and resonate with potential search queries.
Utilize clear descriptions: Clearly describe what your video covers, ensuring to pepper in potential keywords.
Segment with timestamps: Outline your video with timestamps in the description, leading viewers and search engines to pivotal segments.
Transcribe and caption: Provide transcriptions and captions. It doesn't just cater to accessibility but also provides textual matter for search engines to scrutinize.
5. Double featured snippets
Double featured snippets, as the name suggests, offer users two distinct pieces of information from different sources within a single search result. This unique snippet type provides more comprehensive answers by displaying multiple viewpoints or angles on a given topic, allowing users to benefit from diverse perspectives without navigating away from the SERPs.
When does Google display a double featured snippet?
Google uses double snippets mainly for queries with multiple valid or complementary answers or when a topic can be viewed from two different angles. For example, questions that might have both a pros and cons response or comparisons like "X vs Y" might trigger such snippets.
Tips to be part of a double featured snippet:
Cover both sides: If you're addressing a topic with multiple valid viewpoints or solutions, ensure you cover each comprehensively.
Structured content: Ensure your content is well-organized, using headers and bullet points to make it easy for Google to identify distinct sections.
High authority: Aim to become an authoritative source on your topic. Double snippets often feature trusted and comprehensive resources.
Interlink related content: If you have multiple articles or sections that complement or contrast each other, interlinking them can provide a broader context to search engines.
6. Accordion or "People also ask" featured snippets
"People also ask" featured snippets are a special kind of search result. Unlike the more visually distinct boxes of other snippet types, these appear as a series of expandable questions related to the user's original search query.
When a user clicks on a question, the box expands to reveal a featured snippet-like answer. Despite not having the explicit "About featured snippets" label that other types possess, they function similarly as a Google help guide pointed out by directly answering users' questions using content from various websites.
When does Google show a "People also ask" featured snippet?
Google generally presents these snippets when a user's search query is a question or their query indicates that they might have a series of related questions. Given that these are generated dynamically based on the user's query, they are pretty standard and can appear for a wide variety of searches.
Tips to appear in a "People also ask" featured snippet:
Answer related questions: In your content, consider answering not only the primary question your page is focused on, but also relevant follow-up questions that users might have.
Use schema markup: While not a guarantee, using FAQ schema markup can help search engines better understand the Q&A structure of your content.
Monitor and adapt: The "People also ask" questions can provide insight into user intent. Regularly check these questions for your key terms and consider updating your content accordingly.
Know about some "Featured Snippet" like results that are not featured snippets
Now that you clearly understand what constitutes a featured snippet, it's useful to discern what doesn't fit this category. This will help you refine your SEO strategy and set accurate expectations. To clarify, we're spotlighting some "snippet-like" results on SERPs that can often be mistaken for featured snippets:
Instant answers
Instant Answers are Google's quick solutions to user queries that require direct responses. Instead of extracting content from third-party websites like featured snippets, these provide immediate, automated answers.
Mathematical calculations: Sometimes, you don't need to launch your phone's calculator app. Google can do basic arithmetic for you right from the search bar.
Weather forecasts: For a quick weather update, Google provides real-time climatic conditions of any location you type in.
Word definitions: Want to understand a word better? Google gives direct definitions, sparing you the need to visit dictionary websites.
Knowledge panel
Knowledge panels are structured, informative sections on Google SERPs that delve into various subjects. They primarily appear on the right-hand side and furnish details on entities like corporations, celebrities, landmarks, colors, foods, and much more. The data is sourced from Google's vast Knowledge Graph and other reputable databases.
Remember, while these SERP features provide valuable insights, they don't extract and display website content in the manner of featured snippets. Being able to differentiate between these helps in refining content strategies for better search visibility.
Do I own any featured snippets?
Before beginning any snippet optimization process, you should check whether your target keywords have a featured snippet. There are several ways and tools to check whether you have a featured snippet, but one good way is to use the Rank Overview module by RankWatch to determine this.
Login to RankWatch (the tool has a 14-day free trial) and access the Ranking Overview Dashboard to find the keywords for which you have obtained a featured snippet.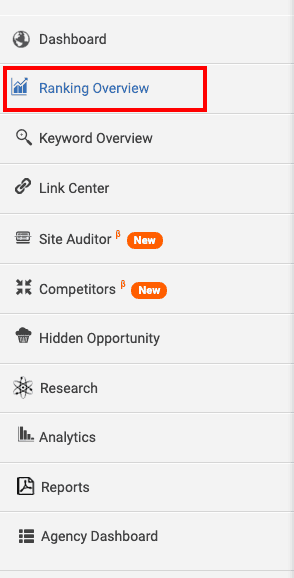 Under ranking overview, check "additional ranks" of your target keywords.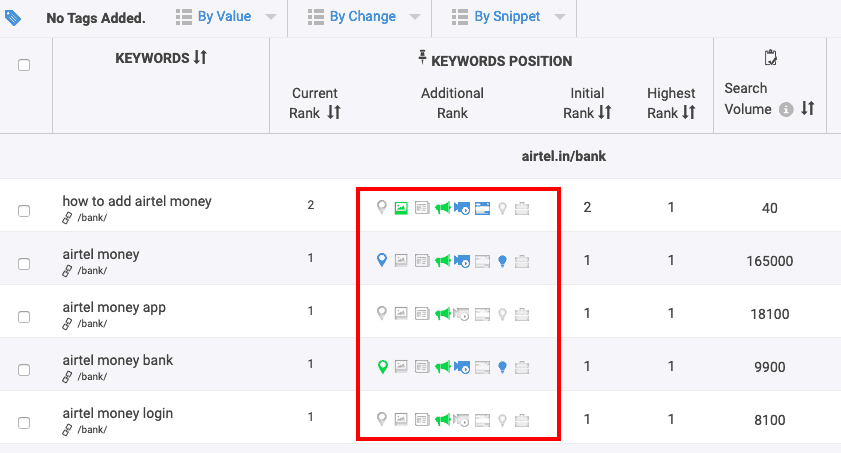 These "additional ranks" represent whether your target keywords have acquired a featured snippet or not. The data collected by RankWatch include:
Local
Images
News
Ads
Videos
Knowledge
Answers
Jobs
Green icon: This signifies that your domain acquired the knowledge panel answer box for the keyword.
Blue icon: This means there are a knowledge panel and answer box for your target keyword, but your domain is not ranking for it.
Grey icon: Implies that there are no knowledge panels and answer boxes on the first SERP for the target keyword.
Other than this, check keywords for which you rank in the top 10 results but don't have a featured snippet. RankWatch provides data related to your current rankings next to the additional ones.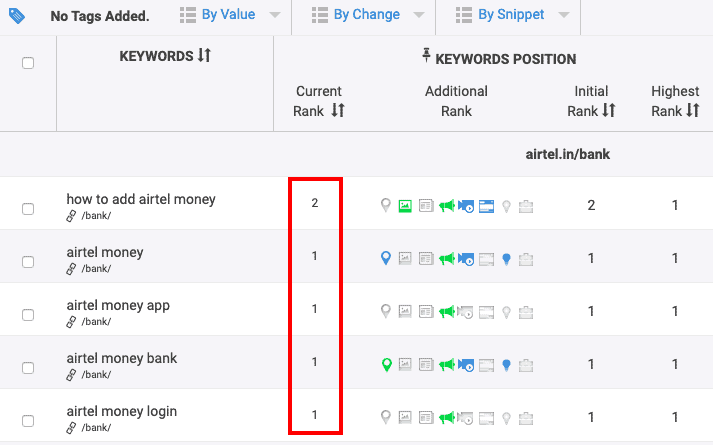 Google extracts the data for the featured snippets from websites ranking on the first page of the SERP. So, if you already have a page ranking on the top result page, you can tweak it a bit to acquire a featured snippet.
Wrapping up: Time to capture the SERP spotlight
In this comprehensive guide, we have explored deep into the world of Google's featured snippets. From understanding the different types – paragraph, list, table, video, double featured, and accordion snippets – to recognizing those that resemble featured snippets but aren't, like Instant answers and Knowledge panels.
Remember, these snippets are not just tools for better search rankings. They aim to enhance the user experience by providing swift, accurate answers.
If you want to harness the potential of featured snippets for your content, focus on creating high-quality, user-centric material. Anticipate your audience's queries and structure your content to answer them directly and succinctly.
As we conclude, let this guide be your strategic compass, directing you towards best practices and insights in leveraging the power and promise of Google's featured snippets.
---
Check out these amazing blog posts about Basic SEO: