Before we delve into the nitty-gritty of avoiding keyword stuffing in your next blog, let's briefly journey through its history.
Once upon a digital age, stuffing a web page with a barrage of keywords was an acclaimed secret to conquering Google's rankings.
Remember those pages that read something like, "Looking for the best shoes? Our best shoes are the best shoes you can buy. If shoes are what you're after, get the best shoes from us!" Such blatant overuse and repetition were not only accepted but also rewarded. And if that wasn't enough, some went to the extent of covertly hiding keywords in the backdrop or camouflaging them in minuscule fonts.
But as with all dynamic landscapes, SEO underwent a revolution.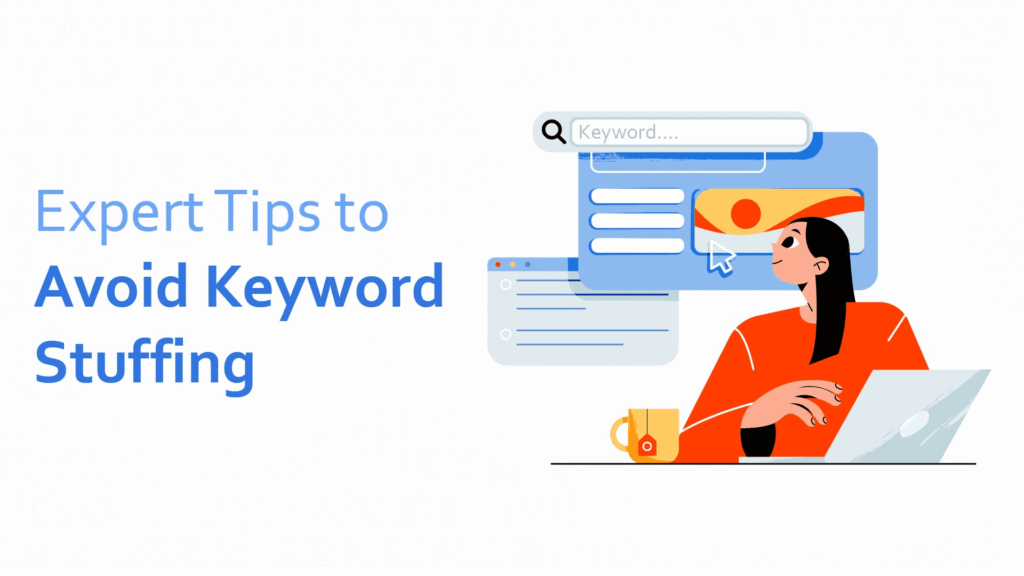 Today's Google algorithms are astoundingly adept, bordering on human intuition. They prioritize genuine value, seeking content that resonates, enlightens, and engages.
Crafting quality content in this era requires a deep-rooted understanding of your audience and the nuanced nature of search engine expectations.
But beyond algorithms and rankings, there's a bigger picture. The true goal isn't just about dodging penalties; it's about nurturing authentic connections with readers, building trust, and establishing your voice in a vast digital sea.
So, as you gear up for your next content masterpiece, consider these key strategies to ensure your writing is both a search engine magnet and a reader's delight.
7 effective strategies to lift your blog above keyword stuffing
As we pivot from history to action, let's unveil the methods that will redefine your approach to keyword integration.
1. Identify a group of keywords for every blog post
In the world of SEO, it's tempting to center your content around a single, exact-match keyword. After all, having a focal point can streamline your content strategy. However, limiting yourself to just one keyword may not reflect the multifaceted nature of how users search for information today.
A successful blog post doesn't merely rank for its designated keyword. Instead, it can attract traffic from a plethora of related search queries. Modern search engine algorithms are designed to dig deeper, seeking to grasp content's overall theme and value beyond just individual keywords.
To make the most of this expansive approach, consider the following:
Start with a primary keyword: Pick a core focus for your content. For instance, if you're writing about plant-based diets, "vegan recipes" could be your primary keyword. This will be the central theme, guiding the depth and direction of your content.
Generate 3-5 related/ secondary keywords: These should complement and expand on your primary keyword. Using the Twinword Ideas keyword research tool, you can quickly find quality secondary terms to build your group. For example, as shown in below screenshot, if you enter "vegan recipes" into the tool, you can get related keyword ideas like "easy vegan recipes," "simple vegan recipes," "lazy vegan recipes," and more, along with various keyword metrics to help with picking winning keywords.
2. Optimize the placement of keyword(s) in a group
Having established a group of keywords, the next vital step involves strategically placing these terms throughout your content to maximize SEO benefits. Proper keyword placement can significantly influence how search engines interpret and rank your blog post. However, it's not just about scattering them everywhere but ensuring they naturally fit within the content's context.
Primary keyword placement:
URL: Include it for a clear indication of the content theme. For example, yourwebsite.com/vegan-recipes.
H1 tag: Insert in your blog's main title to signal its core topic.
Meta title: Place closer to the start for better visibility in search results.
Secondary keywords placement:
Meta description: Briefly weave in secondary keywords to intrigue readers in search results.
Body headings (H2, H3, etc.): Use them in subheadings to guide through the content structure.
Image alt text: Useful for image SEO and screen readers.
Check out our blog keyword placement guide for in-depth insights into natural keyword integration.
3. Write longer content
The age-old saying "quality over quantity" usually stands true, especially in content creation. However, when it comes to SEO, the relationship between content length and better rankings is more nuanced. Extended content doesn't just offer more words – it provides more contexts, subsections, and discussions, allowing for a more organic and strategic placement of both primary and secondary keywords.
Benefits of longer content, when composed well, include:
Diverse subtopics: Lengthier pieces allow for exploring multiple subtopics, aligning naturally with secondary keywords. For example, a post on "vegan recipes" can branch into "easy vegan breakfasts" or "quick vegan desserts."
Contextual variability & LSI keywords: Extended articles offer multiple backdrops for keyword insertion and pave the way for Latent Semantic Indexing (LSI) keywords. These are thematically related terms that search engines use to understand content depth and relevance. Using an LSI keyword tool can help you find and weave these terms into your content organically, bolstering the blog's SEO strength.
Minimized repetition: Expansive content reduces the need for redundancy, ensuring a fresh narrative without overusing the exact keywords.
Media text opportunities: Richer content often integrates diverse media, each an avenue for keyword placements, be it image alt texts or video captions.
4. Decode user intent to shift from keywords to questions
At the heart of every search query lies a question or a need. Moving from a keyword-centric mindset to one that prioritizes user intent can result in content that's SEO-friendly and genuinely useful to the reader.
For example, when a user types "benefits of vegan diets," they might be seeking answers to deeper questions like "Why should I consider a vegan lifestyle?" or "How does veganism affect one's health?"
By focusing on these underlying queries, your content naturally incorporates keywords within contextually relevant answers. Instead of forcefully inserting a keyword, you're using it as a part of the answer.
Twinword offers a pretty helpful feature that groups keyword ideas into user intent types like "know more info," "Buy or do something," and "Find a local place."
5. Add rich media (non-text) to your blog
Keyword stuffing is primarily a textual issue. By diversifying the type of content on your blog post, you can offer value and context to readers while reducing the temptation to overload with text-based keywords. Rich media can be a potent weapon in this regard:
Images and infographics: Visuals can convey complex ideas succinctly, reducing the need for repetitive textual explanations. For example, an infographic on the "benefits of vegan diets" might consolidate information that would otherwise take several paragraphs, each potentially stuffed with keywords.
Videos: A short video can replace a large chunk of text. A "how-to" video or an interview with an expert can provide an engaging break for the reader, making your content more dynamic. This enriches the user experience and limits the opportunities for keyword stuffing. Moreover, video descriptions and transcripts can be optimized with keywords organically.
Podcasts and audio clips: Like videos, audio segments can encapsulate detailed discussions or interviews. They offer an alternate consumption mode for users who prefer listening over reading. As with videos, descriptive summaries of the audio content can be SEO optimized without feeling forced.
Interactive elements: Tools like quizzes, calculators, or interactive charts actively engage the reader, offering value and information in a dynamic format. They reduce the need for long-winded textual explanations and, in turn, the temptation to stuff keywords.
Embeds and social media posts: Embedding relevant tweets, Instagram photos or Facebook posts can break up large chunks of text and provide varied viewpoints or additional resources on a topic. This also helps in weaving a social layer into your content, making it more shareable and engaging.
By integrating rich media, you not only enhance the reader's experience but also naturally break the cycle of keyword repetition. It's a strategy that benefits SEO and caters to your audience's diverse consumption preferences.
6. Embrace a voice-first content mindset
A voice-first content mindset can help you avoid traditional SEO tactics that risk keyword saturation. Instead, it champions a more authentic, user-centric approach, resonating with the conversational essence of voice searches.
Think about the genuine questions users might voice ask about your topic. Answering these directly satisfies the searcher's intent and embeds organic, contextually appropriate keywords.
For example, let's take the topic of "sustainable living."
Instead of focusing solely on stuffing your blog with phrases like "sustainable living tips" or "benefits of sustainable living," consider the natural questions users might ask a voice assistant:
"Alexa, how can I reduce waste at home?"
"Hey Google, what are the advantages of using renewable energy?"
"Siri, suggest some eco-friendly household products."
When you frame your content to answer these questions, you naturally include the relevant keywords.
7. Review and revise from a reader's POV
Often, in the pursuit of on-page optimization, writers can become blindsided by keywords. Revisiting your content as a reader lets you see it as a whole, ensuring the narrative flows smoothly while the keywords naturally punctuate the content rather than dominate it.
Even seasoned writers can inadvertently repeat themselves, especially when optimizing for certain keywords. A revision phase highlights these repetitions, helping eliminate redundancy and enhance content value.
For instance, when writing about "best home workout routines," you might overuse "home workouts." On revisiting, consider diversifying with terms like "morning yoga stretches," "small-space cardio," or "equipment-free strength exercises." This approach avoids repetition and provides a richer, more comprehensive view of the topic.
Concluding thoughts: Evading the keyword stuffing pitfall
To avoid keyword stuffing in your blog post, embrace strategies focusing on user intent and content quality.
Start by identifying a group of related keywords, placing them strategically, and emphasizing longer, insightful content. Adopt a voice-first mindset, utilize rich media to break monotony, and constantly review and revise your content. These methods ensure your content naturally integrates keywords while prioritizing genuine value and reader engagement.
For those looking to fine-tune their keyword strategy, consider leveraging tools like Twinword. It's designed to help you find winning keyword ideas with accurate data and useful filters.