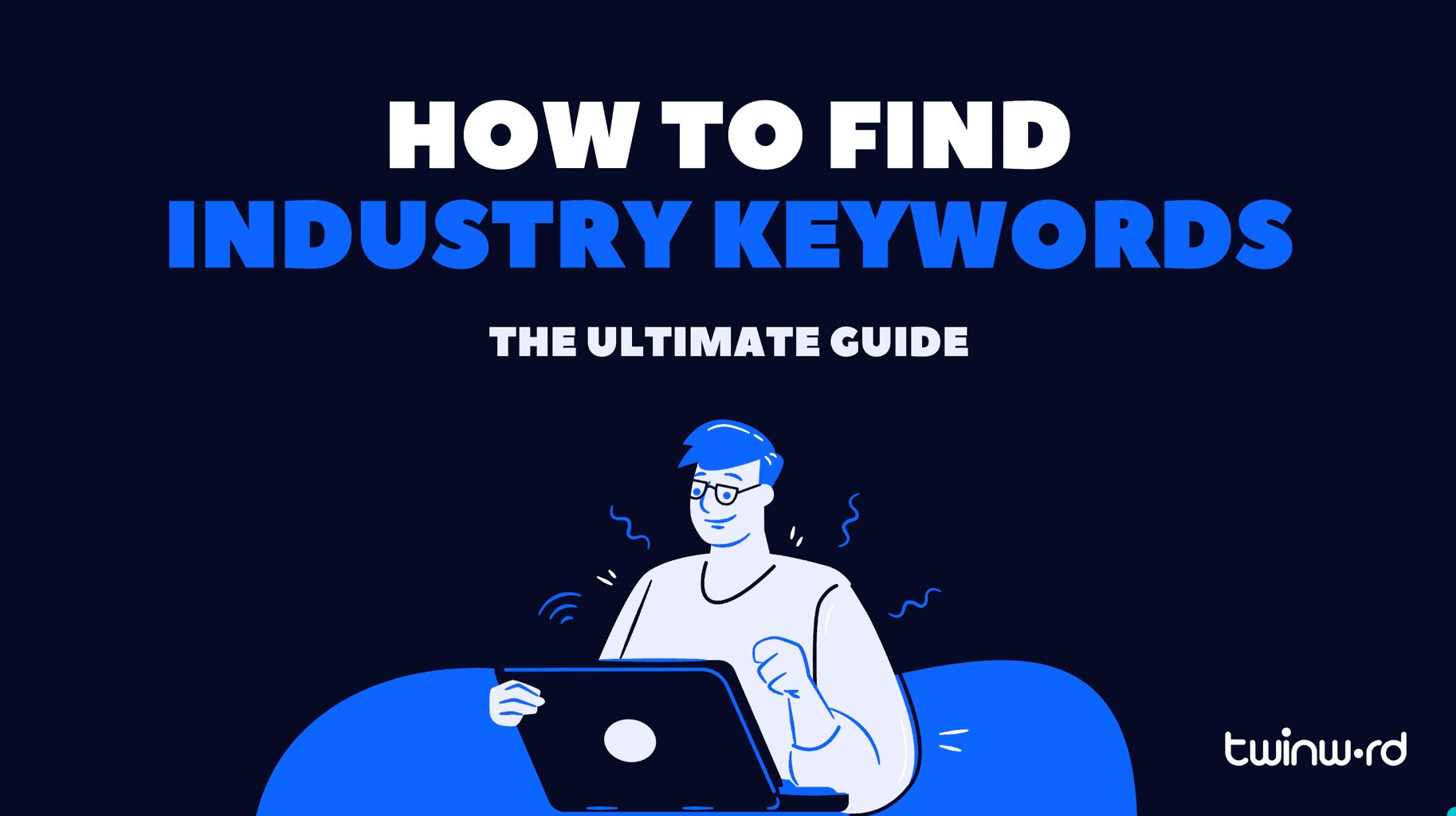 Finding industry-specific keywords can feel like searching for a needle in a haystack.
You know they're crucial for connecting with your niche audience, but the process can be daunting, time-consuming, and, frankly, a bit hit or miss.
You need more than just keywords; you need the right queries that act as a magnet for your industry's unique audience.
This guide cuts through the fluff to give you a direct path to those elusive, high-impact keywords. We'll equip you with practical tools and strategies to uncover the terms that will bring your content to the forefront of your industry's online conversation.
Let's master industry-specific keyword research together.
What are industry or niche keywords? A guiding definition
Industry keywords are the specialized terms that define your niche and resonate with the unique language your audience uses when they're seeking knowledge or solutions.
Think of these keywords as the secret handshake of your industry – they signal to your audience that you speak their language and understand their needs. They're less about attracting a high volume of traffic and more about drawing in the right traffic – quality over quantity.
For instance, if you're in the sustainable fashion industry, a general keyword might be "cotton clothes." However, industry-specific keywords could include "organic cotton dresses" or "recycled fashion brands." These terms are likely to be used by someone deeply invested in the ethos of sustainable living, someone who's not just browsing but actively searching for a business that aligns with their values and can offer them the eco-friendly wardrobe solutions they're seeking. This audience may be smaller, but they're far more likely to engage, convert, and become brand advocates.
By honing in on these niche terms, you're also likely to face less competition, allowing your content to rank higher and faster than broader terms where the market is saturated. It's about being the big fish in a small pond rather than the other way around.
Now that we've defined what industry-specific keywords are let's move on to uncovering the strategies that will help you find these terms and effectively integrate them into your content strategy.
9 strategies you can leverage to find your industry keywords?
Diving into industry-specific keyword research involves a blend of creativity and analytical thinking. This section unfolds a series of pragmatic strategies, each tailored to navigate the nuances of your industry's niche jargon.
#1 Take cues from your industry workflows
Start by documenting the specific workflows, processes, or steps that are unique to your industry. This could involve outlining the stages of production, service delivery, or customer engagement specific to your field. By dissecting these workflows, you can identify niche terms and jargon that are relevant to each stage. For example, in the software development industry, workflows might include "agile methodology," "sprint planning," or "code review." These terms are integral to the industry's daily operations and can be crucial keywords.
Further, Twinword Ideas can help refine these workflow-related keywords by suggesting related terms and providing insights into their effectiveness.
#2 Utilize an advanced keyword research tool
Utilizing an advanced keyword research tool like Twinword is crucial for deep-diving into keyword analysis relevant to your industry. These tools provide vital insights into search volumes, competition levels, and keyword trends. They are instrumental in identifying keywords with high search volume but lower competition, which are excellent targets for SEO.
Just wanted to tell you how much I am enjoying the relevancy score in Twinword it really is helping me outline my content a bit better" – Nate Writes Web / Internet Marketer
#3 Align with your customer's language
Effectively aligning with your customer's language is crucial in global SEO. It involves understanding the cultural and linguistic nuances of your audience. Utilizing Twinword Ideas, you can delve into various languages and adapt to regional differences. This approach ensures your content resonates across different linguistic and cultural groups, making your SEO efforts not just visible but impactful.
#4 Leverage competitor insights
Analyzing competitor websites is crucial for identifying effective industry keywords because it provides a direct look into what's already successful in your market. By examining the terms that your competitors rank for, you can understand which queries are attracting your shared target audience. Twinword's Site tool can assist in this analysis by providing data on competitor website keyword rankings.
#5 Interview industry experts
Interviewing industry experts is a powerful strategy for uncovering niche, high-value keywords that might not be obvious through traditional research methods. Experts, being deeply entrenched in the industry, use specific terminology and jargon in their daily professional lives. These terms are often the exact keywords your target audience is searching for, especially for more technical or specialized fields.
Here's a high-level process:
Identify experts: Target thought leaders and seasoned professionals in your industry.
Conduct interviews: Focus on their language use, trends, and industry challenges.
Extract keywords: Post-interview, pinpoint frequently mentioned terms and phrases.
This method harnesses the insider knowledge of industry influencers, revealing keywords that are both current and highly relevant.
#6 Monitor social media and trending topics
Using social media and trending events is a direct way to tap into your audience's current interests. It's about observing real-time conversations and topics that are actively engaging your target market.
Twinword Ideas complements this with its Trending tool. When you input a keyword, the tool uses AI to identify and present related trending topics. Moreover, Twinword goes a step further by allowing you to hover over any keyword to access news articles related to why it's trending. This depth of information is invaluable for understanding the context behind a trend, enabling you to integrate these insights more effectively into your content calendar.
#7 Examine industry publications and journals
Examining industry publications and journals is a targeted approach to uncovering highly relevant keywords. These publications are often rich sources of the latest industry-specific terminology and trends. They reflect the current discourse in your field, providing insights into the topics and terms that professionals and academics are focusing on.
Here's a straightforward approach to leverage this strategy:
Identify key publications: Pinpoint leading journals, magazines, and online publications in your industry.
Review regularly: Timely read these sources to stay updated on emerging topics and vocabulary.
Extract relevant terms: Look for frequently mentioned terms, especially those in titles, abstracts, and key sections of articles. These terms are likely to be your industry's current and emerging keywords.
#8 Analyze your website keyword data
You can leverage Google Search Console data for your website to identify keywords where your site is already ranking or receiving impressions. This reveals direct insights from Google on your site's search performance. Focus on keywords with high impressions but low clicks, indicating opportunities for SEO improvement. Regularly monitoring this data helps refine your strategy, ensuring it aligns with how users are finding your site.
#9 Utilize customer feedback and reviews
Using customer feedback and reviews is another effective way to uncover keywords that your actual audience uses. This method is grounded in the real language of your customers, reflecting how they describe your products or services.
Here's how to leverage this source effectively:
Gather feedback: Collect reviews and feedback from various sources like your website, social media, and third-party review sites.
Analyze language: Pay attention to the phrases and terms customers use. These are often the exact words potential customers will use in their search queries.
Identify patterns: Look for recurring words or descriptions across different reviews. These repeated terms are likely to be significant keywords for your industry.
Integrate into your content: Incorporate these customer-derived keywords into your content and SEO strategy. This not only improves search relevance but also enhances the authenticity of your content.
This approach ensures that your SEO strategy is directly influenced by your customer's voice, making it more relatable and effective.
Wrapping up: Elevate your industry keyword research strategy
Mastering industry-specific keyword research is less about casting a wide net and more about precision – targeting the right audience with the right words. This guide has armed you with strategies that go beyond the surface, diving into the nuances of your industry's language. From dissecting workflows to mining insights from customer feedback, each approach is a step towards a more focused and effective niche SEO strategy.
For those seeking an edge in their keyword discovery process, Twinword Ideas provides a suite of tools to simplify and enhance your research. Whether it's tracking trends or analyzing competition, Twinword is designed to bring efficiency and depth to your SEO efforts.
Try it out for free today and experience a streamlined approach to uncovering impactful, industry-specific keywords.