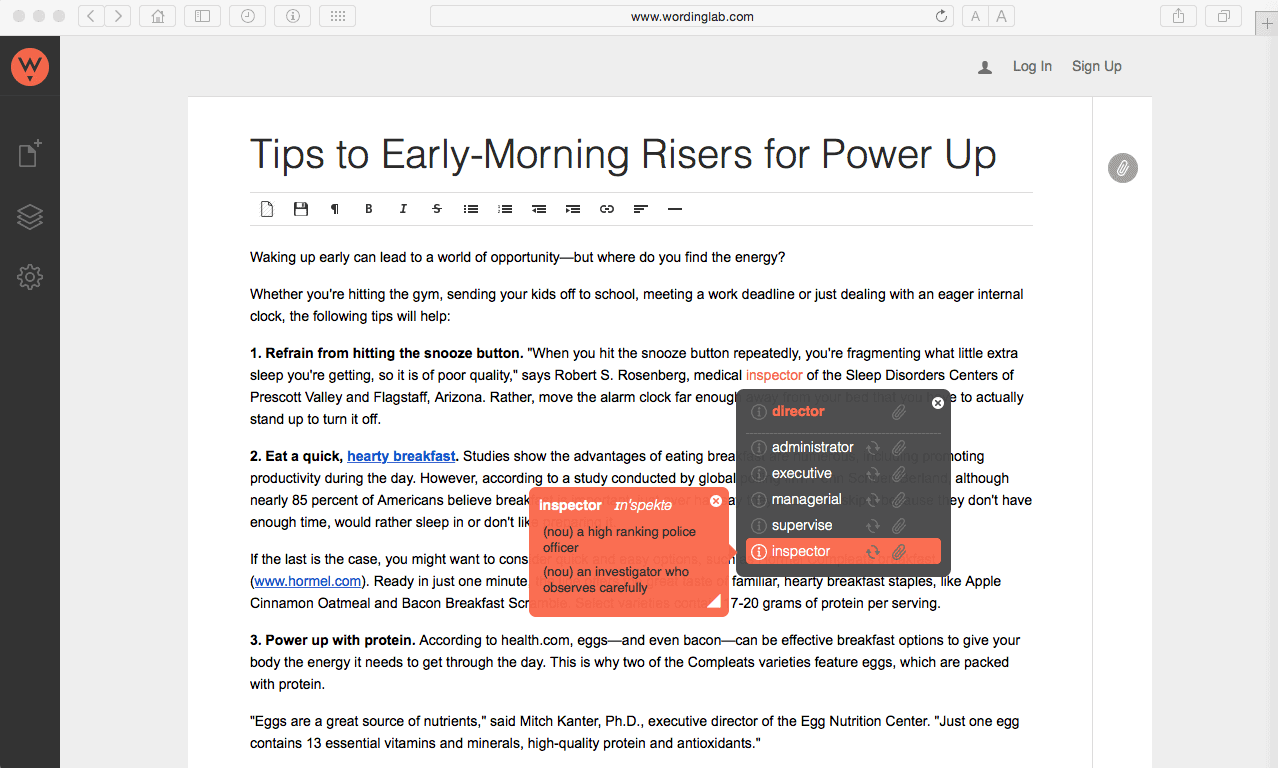 Twinword (www.twinword.com) released 'Twinword Writer' service, an innovative editing tool. The company has a long history of developing various items based on database of association words.
Previously, a program called 'editor' commonly means just a service providing a tool for text input and edition. However, 'Twinword Writer' has a word suggestion function for professional writing, not editing.
When we write something, we would feel blocked in the wall of limited words we know. Even though longing for more beautiful sentence, we fail to find suitable words. And, you can't come up with the right word, while similar words running through your head.
Twinword have built a vast database for associations by conducting English level tests in the world. It also has a technology suggesting similar words, association words and related words derived from each English word.
While you are typing sentences, 'Twinword Writer' suggests related words of that at the right side of the monitor. You just need to make your cursor point the word you want to know more about. Now, everyone can use it freely on its website (writer.twinword.com).
Kono Kim, the CEO explained, "Twinword Writer' is targeting people like reporters, bloggers and marketers. They write a lot and very often. Provided an extensive vocabulary, people can naturally expand their texts and prevent repetitive use of words."
This service is helpful for English native speakers to sharpen their skills as professional writers. And, students who want to make their English composition better can make good use of it. Twinword plans to provide a cloud-based saving and sharing service.
About Twinword
Twinword collects how people associate concepts in mind through vocabulary ability test, creative ability test, and psychological testing. We provide more relevant content and trend discovery based on these test analyses.
– Twinword products are based on its patented technology of compiling a massive database that understands, organizes and extracts true knowledge from websites and information repositories in a way that mimics natural human thought.
– People around the world contribute to the database in a real life setting, making it possible to analyze trends and patterns per region.
– Database and API of word associations ("Word Graph") is already being utilized by key partners in business, e-commerce and more that seek to go beyond simple keyword searches for more effective and relevant information retrieval.
Twinword is looking for business agents or partners who want to add our functionality or to build new unique applications utilizing our API. We want to grow with our valuable partners together.