Have you ever been stuck on the word while writing a blog post?
Does "popular" or "trendy" convey your message better? Twinword Writer is a web tool to help you get automatic synonyms right in the body of your text. According to Medium article "10 Tools That Will Boost Your Copywriting Skills": 
When you type on Twinword Writer, it automatically senses when you pause because you are stuck on a word. It then analyzes the context of your writing and opens a box suggesting different words you can use.
You can utilize this web app for writing your pitch, editing resumes or drafting a blog post. Let's take a real time example: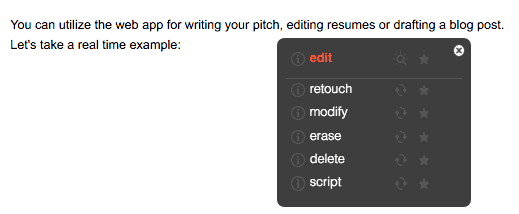 Read more about other available features of Twinword Writer, and if you are curious about the technology behind this tool, tweet your question to @twinword.inc