Twinword Inc., a big data venture specializing in Natural Language Processing (NLP) has announced the launch of new online personality test: Twinword Mind. Based on a similar concept as the MBTI test but on a different science, Twinword Mind uses Twinword's Word Graph technology to provide three types of easy yet precise psychological tests. 
Personality tests are designed for better understanding individual's personality within genetic, environmental and social components. Upon the completion of the test, participant can recognize his or her communication style, type of information gathering, decision-making and overall outlook.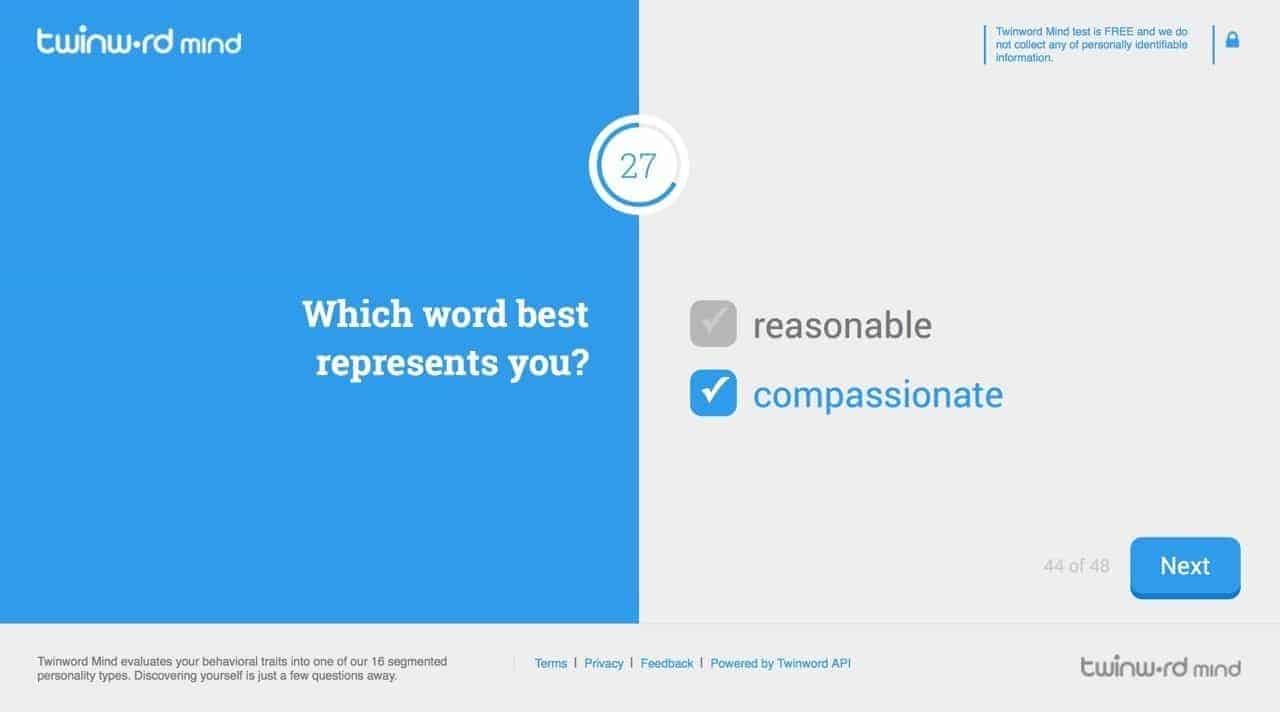 Reveal your personality with a few clicks
Thanks to Twinword Word Graph technology, Twinword Mind would be the easiest and the most intuitive psychological test offered online. Twinword Mind test provides certain words and evaluates the personality type based on your perception.
The core testing technique of Twinword Mind, Word Association, is based on Carl Gustav Jung's approach to personality. Jung discovered connection between groups of thoughts, feelings, memories, and perceptions with words and related concept. This discovery made it possible for Twinword Mind to test without a self-report personality questionnaire.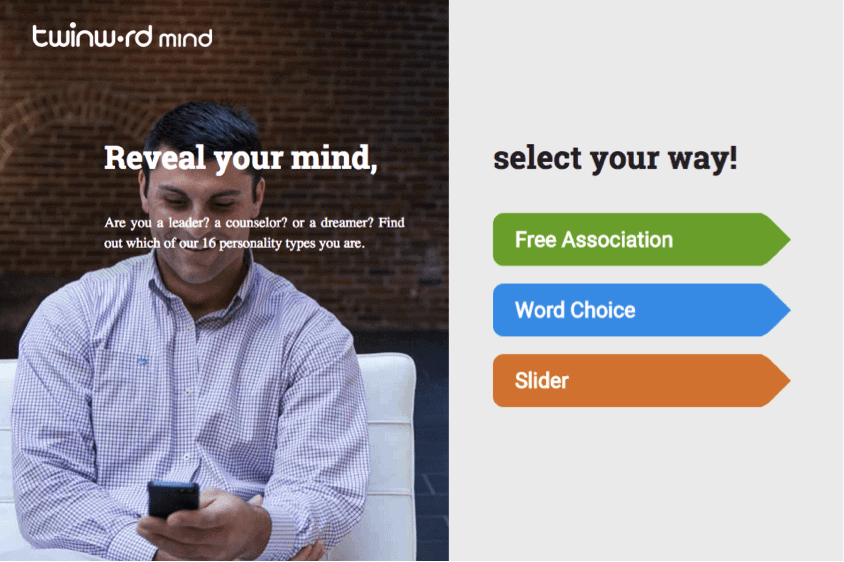 Most traditional personality tests consist of more than 90 questions and take up to 1 hour to finish, while Twinword's technology makes it possible to retrieve results in less than 25 minutes by providing 48 questions.
1) The Free Association test works by generating a stimulus words list, whereby participants are required to give an intuitive answer in the form of a word.
2) The Word Choice test requires participant to choose one of the two given words.
3) The Slider test requires participant to choose their preferred word on a measurable scale between two given words.
Applications of Twinword Mind
Recently, Twinword Mind has entered into a collaboration with DreamSquare, a company that provides a personalized job navigator that helps new graduates fi­nd and land the best-­fitting job. Twinword Mind's psychological tests are being utilized as a pre-hiring candidate assessment, helping hiring managers to understand if candidate's personality fits into the company culture, and if specific traits required of the position are present.
CEO Kono Kim said, "Apart from this, the test can also be taken by the candidate himself, as a career counseling guide to find out what kind of jobs are suitable for one's personality type."
Kim added, "Other applications of Twinword Mind's psychological tests in business context include: team building, leadership training, executive coaching, personal development and even marketing."
About Twinword Inc.: Twinword Inc. provides human-text understanding APIs for developers and enterprises. The company has established a significant presence in the NLP industry, providing a wide range of APIs for over 1500 developers and businesses.
For more detailed information about Twinword, please check out www.twinword.com