If you want to be successful on YouTube you need to plan your strategy carefully. Last July, the online market research platform Statista has revealed an interesting result in their statistics. According to their research, YouTube ranks second among social networks considering the total number of users.
With the increasing importance of YouTube, we decided to analyze YouTube's top 250 channels to find out more about what makes those channels so successful. Here are 6 common characteristics of 250 top YouTube channels you should keep in mind.
What Are YouTube's Most Popular Languages?
Since YouTube is an international platform, the language of your content is an important part of your strategy. We analyzed the languages of the top 250 YouTube channels and found that 66% of the content is in English, while 22% are in Spanish and Portuguese. Accordingly, English content seems to be the most popular with Spanish and Portuguese coming second and third.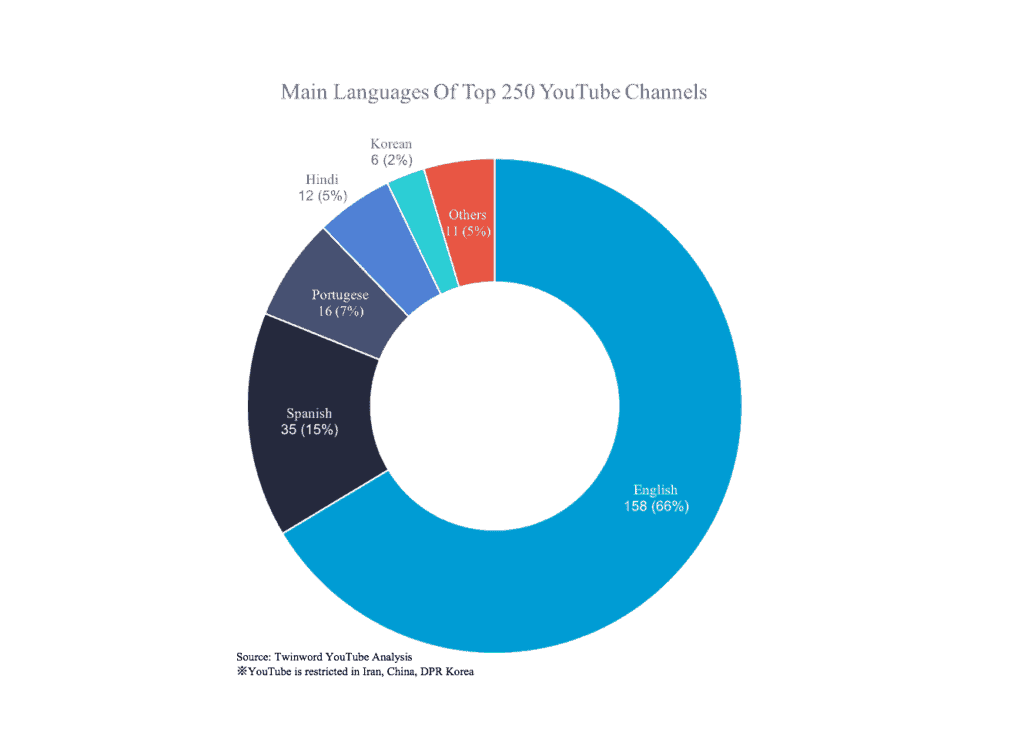 With this in mind, you might want to produce English, Spanish or Portuguese content to take advantage of YouTube's international character. However, there seem to be exceptions. As you can see in the graph above, six of the 250 top YouTube channels are Korean channels. Considering the size of the Korean speaking population, it is quite surprising that six Korean channels made it to the top 250 YouTube Channels.
Who Is YouTube's Target Audience?
YouTube's audience can be differentiated by age group and gender. The table below shows that the overall age of YouTube viewers is relatively young. To be specific, exactly 50% of the viewers are between 25 to 44 years old. Considering the gender, the percentage of male viewers is higher than that of female viewers. Therefore, it can be concluded that contents that appeal to male viewers between 25 and 44 are the most popular on YouTube.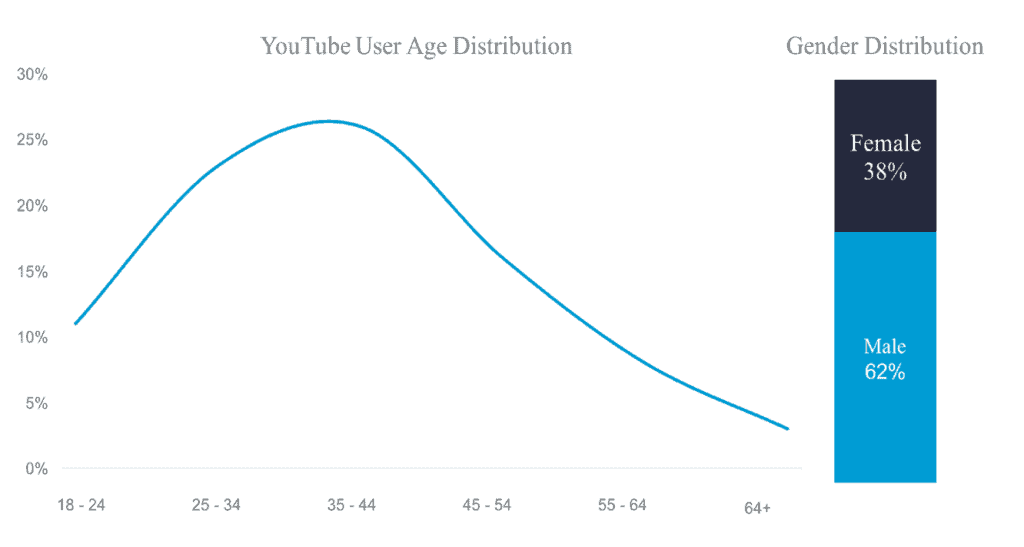 What Are YouTube's Most Popular Categories?
Below are the statistics of popular categories in YouTube. As you can see, the three most popular content categories on YouTube are Entertainment, Music, and People & Blogs.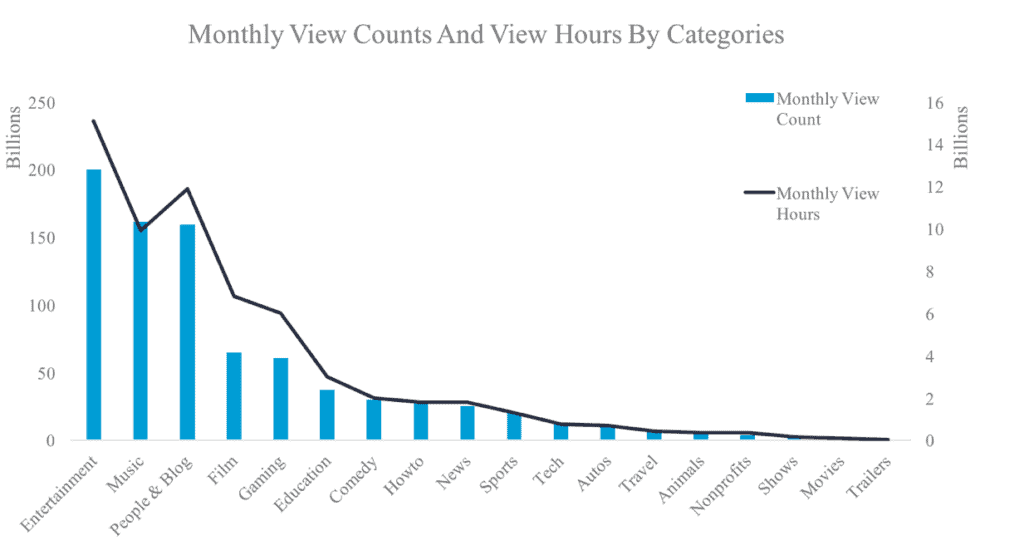 The "Entertainment" category includes channels that can be classified as entertainment shows. This category includes contents such as talk shows from multiple broadcasters or individual YouTube creators (Shane Dawson, Jake Paul, etc.). The "Music" category comprises both individual musicians and major music label channels. And the "People & Blog" category includes channels that can be classified as Vlog channels.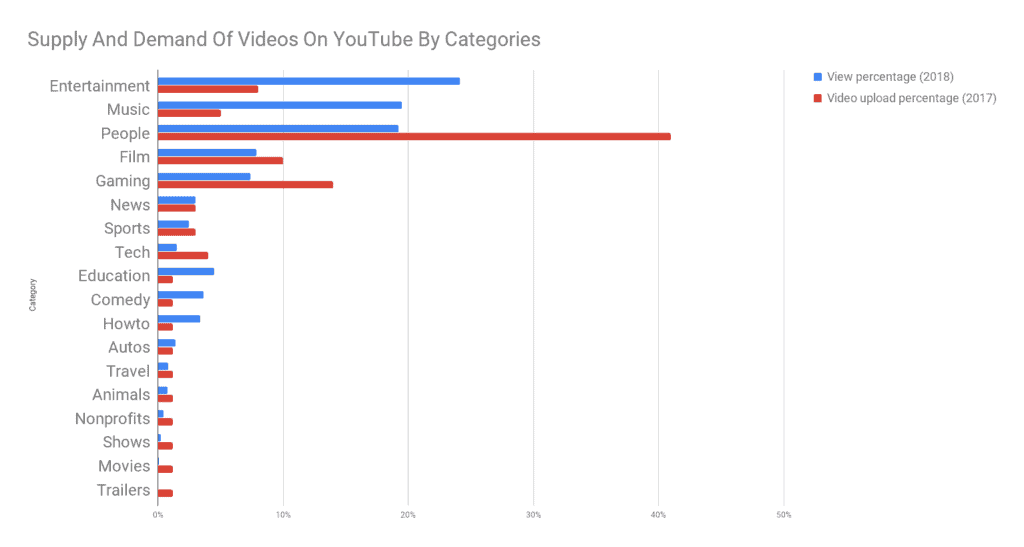 The graph above shows supply and demand for each category. It is notable that despite the current popularity and high demand for Entertainment and Music contents, the supply of those categories is less than half of the demands. On the other hand, "People and Blogs" category shows the complete opposite scenario with supply being a lot higher than demand.
Thus, it can be concluded that the competition among channels from "People and Blogs" is a lot higher than that of "Entertainment" and "Music" category channels.
However, In order to produce long-lasting popular content it is important to focus on videos that have a steady demand regardless of time. Those contents would be for example how-to videos as well as product reviews. So, although you should consider the competition in the category you are targeting, it is also important to think about the long-lastingness of your content.
How Is The Number Of Subscribers Distributed?
The following graph shows the subscriber distribution of the top 250 YouTube channels. The most significant thing to notice is that the subscribers of the top YouTube channels have a long-tail distribution.
This means that only a few channels have a disproportionally high number of subscribers, while the rest of the channels have a relatively 'moderate' number of subscribers. In case of the top 250 YouTube channels, there are only a few channels that have an exceptionally high number of subscribers, while most other channels have a similar amount of subscribers.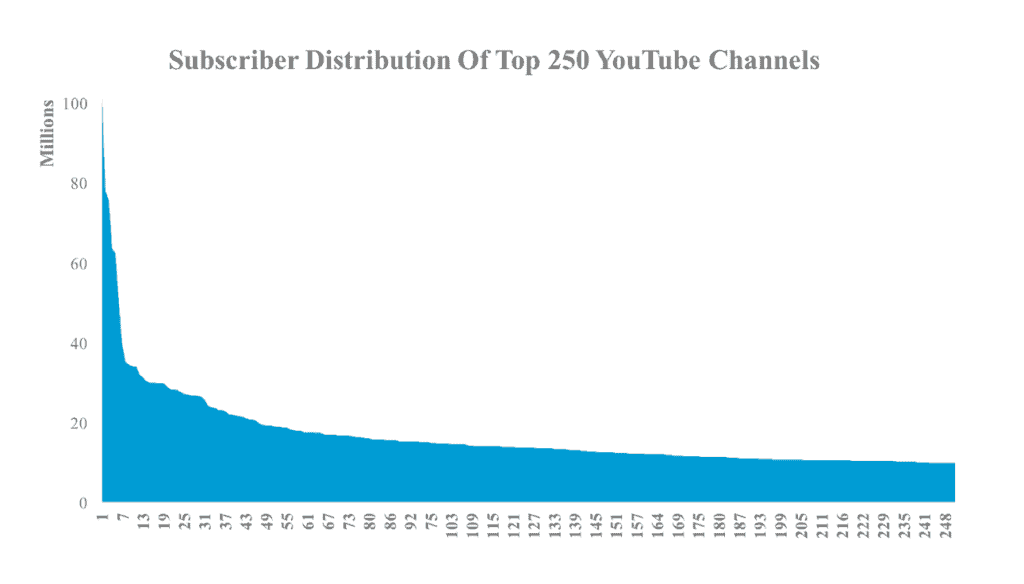 Unlike traditional mass media which produces contents that appeal to the general public, YouTube has more of an on-demand approach. Due to that viewers are enabled to watch content that is tailored to their specific interests. Accordingly, channels are mostly topic specific, which leads to a more even distribution of subscribers amongst the majority of popular channels.
What Is The Best Length For A YouTube Video?
According to the YouTube Ranking Factor Study by Briggsby, a pattern regarding the duration of popular YouTube videos can be identified. The study revealed that videos that were longer than 10 minutes but shorter than 16minutes gained more likes from the audience. In other words, relatively short videos with a duration of around 10-16 minutes are the most popular on YouTube.
Are Likes, Comments and Shares Important?
There are three types of user interactivity for YouTube contents: Likes, Comments, and Shares. Backlinko analyzed 1.3 million YouTube videos and announced that user interactions have a critical impact on the ranking of YouTube videos.
Likes: The number of likes has a significant impact on YouTube ranking.
Comments: Comments have a correlated relationship with YouTube ranking. The number of comments drives up the ranking.
Shares: The amount a video gets shared has a big impact on YouTube ranking. The videos that appear on the first page of YouTube have higher share counts than others.
Hence, channels which focus on topics that cause high viewer interaction tend to rank higher.
What Are 6 Characteristics Of Popular Channels?
We were able to come up with six common characteristics of popular YouTube channels based on the data above. Those common characteristics are:
Global Appeal: Contents with low language/cultural barriers, with most popular languages being English, Spanish or Portuguese.
Relatively Young Target Audience: Contents that can appeal to the age group with the most audience population (25-44).
Theme-Based: Contents specific to certain themes/areas.
Long-Lasting: Contents that have steady demand regardless of time.
Relatively Short Content: Contents that is longer than 10 minutes but shorter than 16 minutes.
Interactivity: Contents with topics that can cause audience interaction.
Build Your Own Strategy
If you wish to be successful on YouTube, you need to build your own strategy that fits your content. With these six common characteristics of top YouTube channels in mind, you can plan your own strategy that will help you grow your channel.
Tell us about your experience: Are you interested in becoming a YouTuber?
Share your thoughts below in the comment box or tweet us at @twinwordinc!