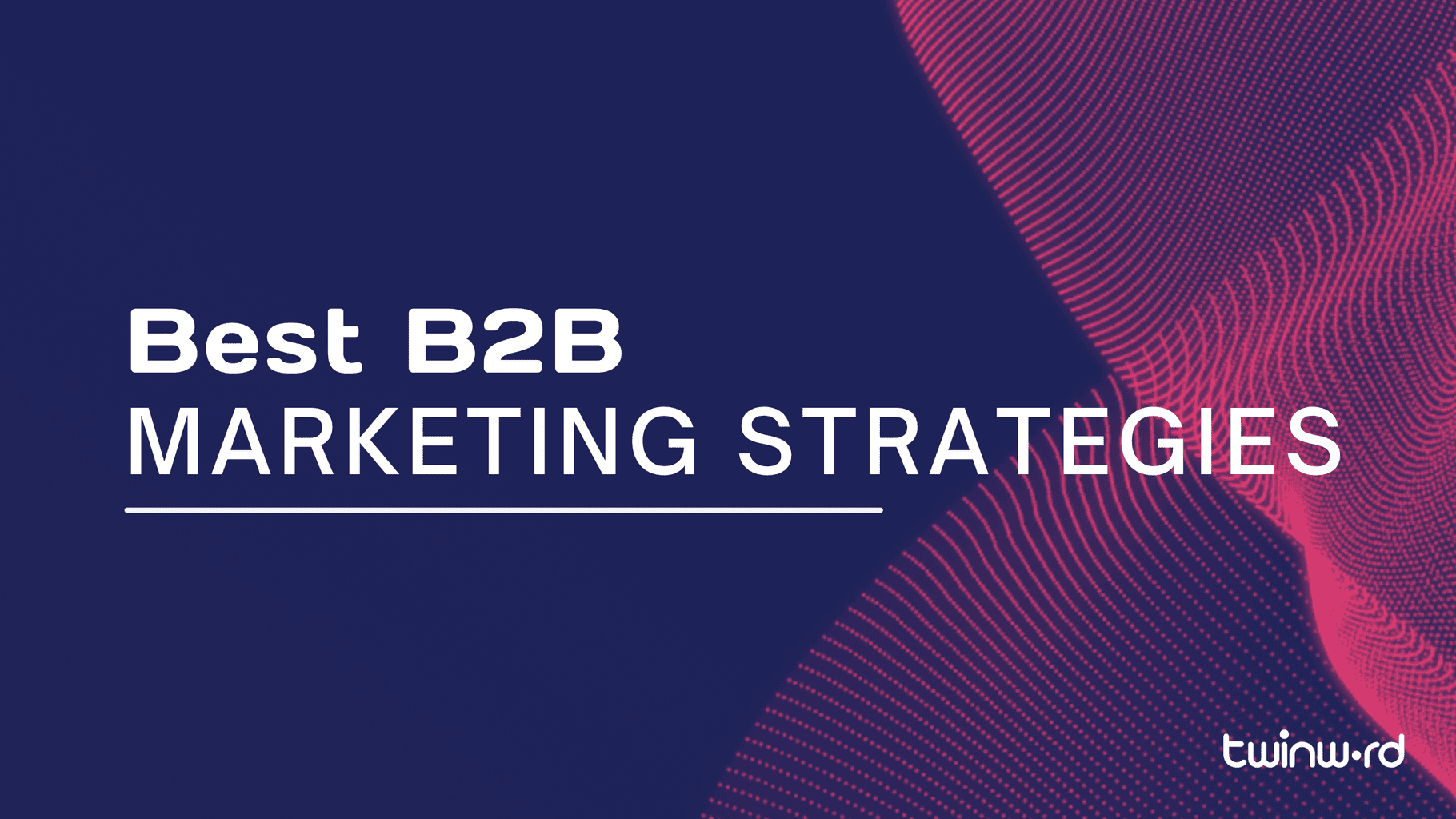 In the dynamic landscape of B2B marketing, content has emerged as a potent tool for driving brand awareness, fostering relationships, and ultimately, fueling business growth. The traditional strategies of cold calling and hard-selling have given way to a more subtle, value-driven approach, where content plays a pivotal role. Whether you're a startup or an established enterprise, mastering B2B content marketing can be a game-changer for your business. In this article, we'll delve into some of the best B2B content marketing strategies that can propel your business to new heights.
What Is B2B Content Marketing?
B2B content marketing is a strategic approach that involves creating and distributing valuable, relevant, and consistent content to attract and engage a target audience within the business-to-business (B2B) sector. Unlike traditional marketing that relies heavily on direct sales tactics, B2B content marketing aims to educate, inform, and provide solutions to the challenges faced by businesses.
Why Content Marketing Is Important for B2B Businesses
Increased Brand Awareness
Content marketing serves as a powerful tool to increase brand awareness among B2B audiences. By consistently delivering valuable insights and information related to their industry, businesses can position themselves as trusted sources of knowledge. This, in turn, helps in building a recognizable brand presence.
Improved Audience Engagement
Engaging B2B audiences requires more than just product descriptions and sales pitches. Content marketing allows businesses to connect with their target audience on a deeper level by addressing their pain points, offering solutions, and sharing relevant industry updates. This engagement fosters a sense of connection and resonates with the challenges businesses face.
Enhanced Customer Trust and Credibility
Trust is a cornerstone of B2B relationships. Through well-crafted content, businesses can establish their expertise, showcase their industry knowledge, and provide evidence of their solutions' effectiveness. This process of consistently delivering value builds trust and credibility among potential clients.
Increased Website Traffic
Valuable content naturally draws more organic traffic to a B2B website. When businesses create content that addresses the needs and questions of their target audience, they are more likely to attract visitors who are genuinely interested in their offerings. This increased traffic can lead to more opportunities for conversions and lead generation.
Lead Generation and Conversion
B2B content marketing serves as an effective tool for lead generation. By offering valuable resources such as ebooks, whitepapers, and webinars, businesses can entice potential clients to provide their contact information. This enables businesses to nurture leads through targeted email campaigns and eventually convert them into paying customers.
Best Practices for B2B Content Marketing
B2B content marketing involves a strategic approach that aims to deliver value, solve problems, and foster relationships with your target audience. To excel in this domain, consider the following best practices.
Understanding the B2B Content Marketing Landscape
Fully 87.0% of US B2B companies will use digital content marketing this year
Before delving into specific strategies, it's crucial to grasp the nuances of B2B content marketing. Unlike B2C marketing, where the focus is on appealing to emotions, B2B content marketing centers around delivering value, addressing pain points, and offering solutions. It's about building trust and establishing your brand as an authority in your industry.
Below are the four most important factors for buyer's willingness to engage with a vendor, based on responses to a B2B buyer's journey survey from LinkedIn.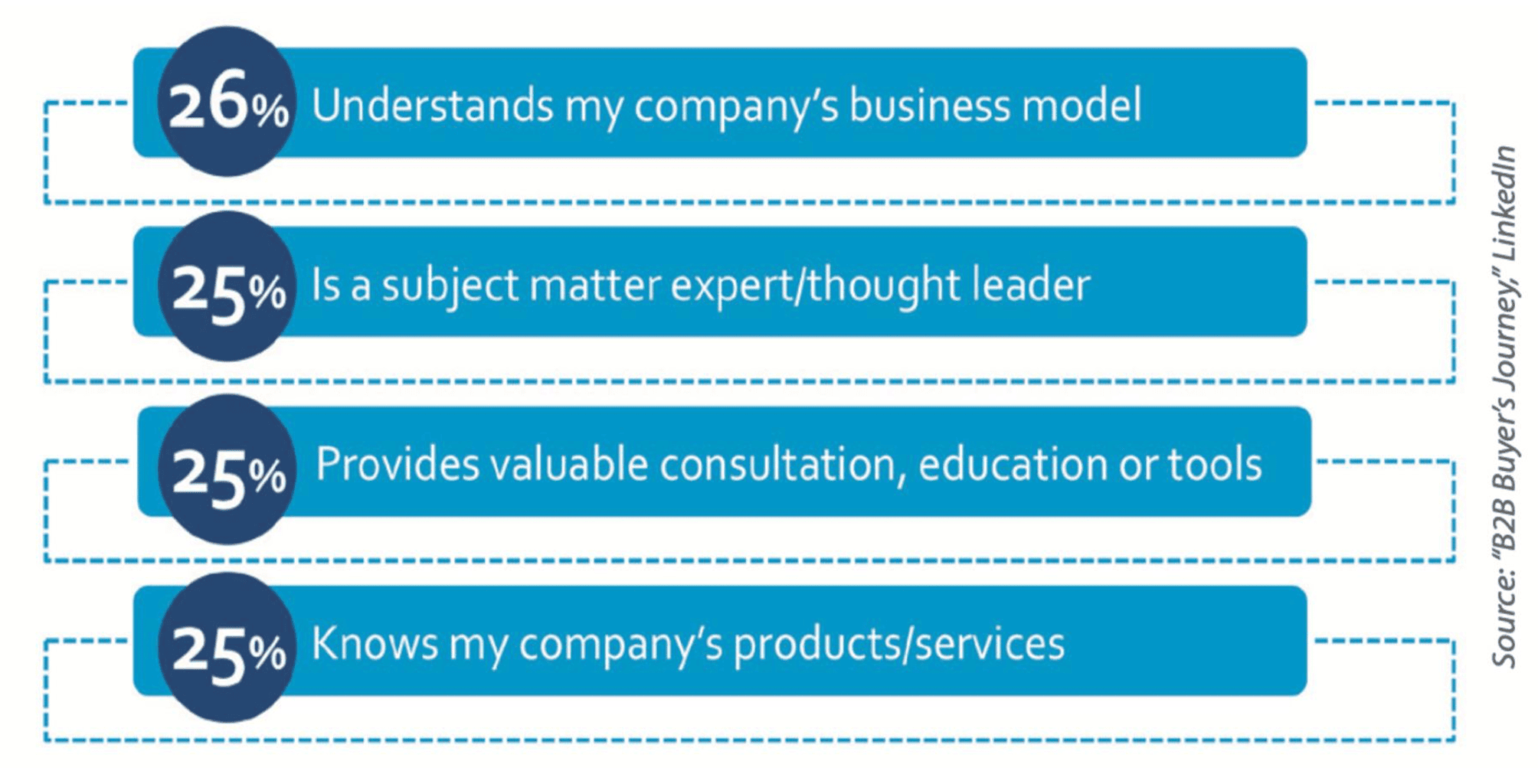 The answers that ranked second and third in popularity — "is a subject matter expert/thought leader" and "provides valuable consultation, education or tools" — can be directly supported by content marketing.
In our journey of making informed decisions, we've observed a growing significance attributed to content marketing and the remarkable achievements that B2B enterprises are attaining through its adoption. Here are merely a handful of the numerous pieces of evidence that confirm the effectiveness of content marketing strategies:
A significant 93 percent of B2B marketers have noted that the primary advantage of engaging in social marketing is the heightened exposure it provides for their businesses. (Source: Social Media Examiner)
An impressive 55 percent of buyers are placing greater reliance on content as a decisive factor in their purchasing choices, marking a substantial increase from just a year ago. (Source: Demand Gen Report)
B2B marketers who actively maintain blogs are experiencing a remarkable 67 percent increase in lead generation per month compared to those who do not engage in blogging. (Source: OptinMonster)
A notable 81 percent of B2B decision makers are using online communities and blogs as valuable resources when making purchasing decisions. Furthermore, 74 percent leverage LinkedIn, and 42 percent utilize Twitter in their decision-making processes. (Source: Webbiquity)
So, the contemporary B2B environment is embracing content marketing with the following goals in mind:
Generating higher-quality leads in greater quantities
Enhancing brand recognition and presence
Demonstrating expertise and authority in the field
Performing a Content Audit
The foundation of any successful B2B content marketing strategy is high-quality, relevant content. This content can take various forms, including blog posts, white papers, ebooks, videos, webinars, and more. The key is to provide valuable insights and information that resonates with your target audience.
It's crucial to take a look at your existing material, pinpoint any deficiencies, and determine avenues for enhancement. This process can be instrumental in shaping the types of content you should develop and in establishing meaningful connections between your content and the preferences of your target audience. Ensure that your content creation process includes the following key steps:
Reviewing your existing content
Identifying gaps in your content
Identifying opportunities for improvement
Analyzing your content performance metrics
To efficiently manage the wealth of audit information related to your content, we suggest employing a spreadsheet as your content inventory tool. This method allows you to systematically catalog all your observations and data for each page or piece of content. To assist you in commencing this process, we've provided a free content audit template of a blank content audit inventory spreadsheet as a starting point.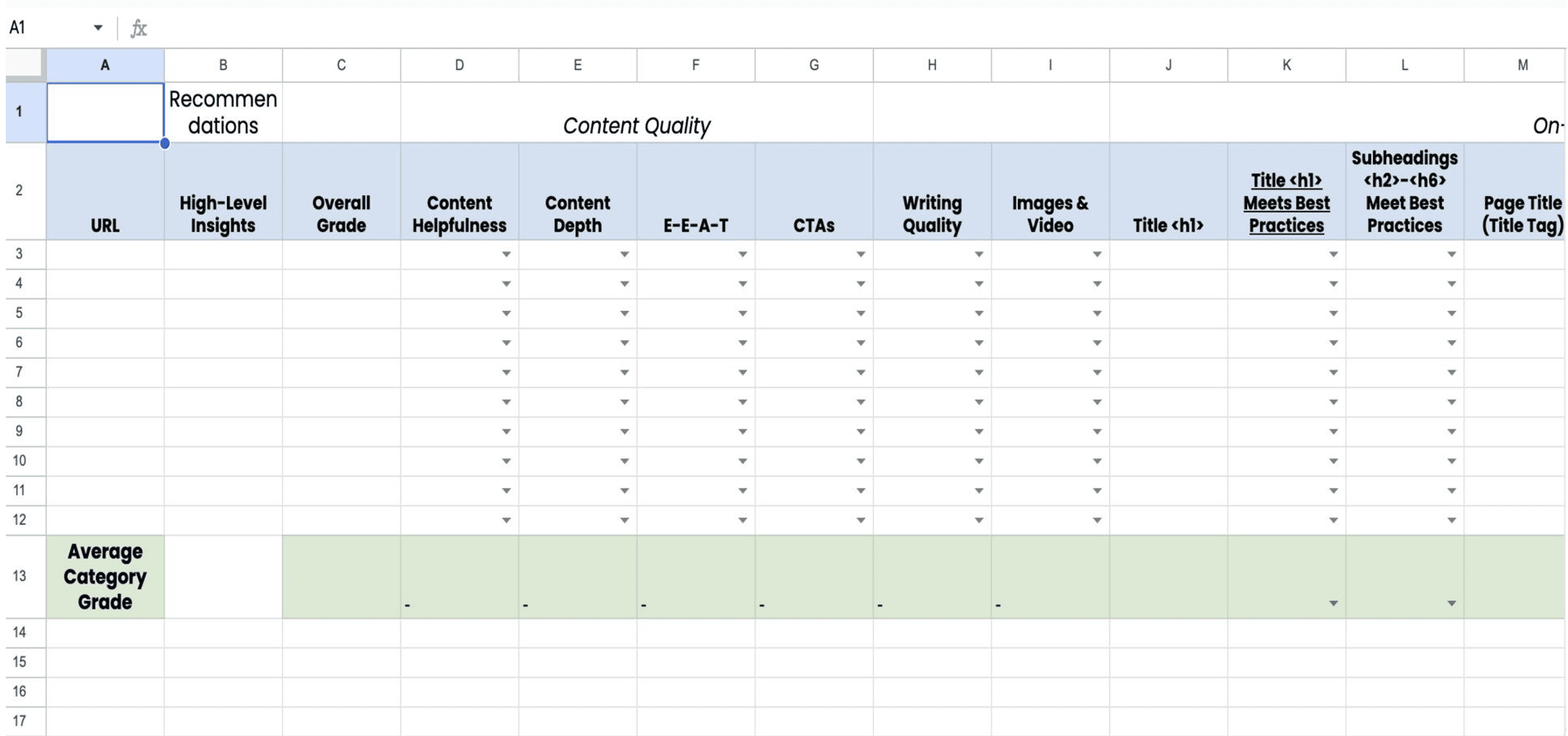 Implementing SEO Strategies
In the ever-evolving landscape of digital marketing, search engine optimization (SEO) continues to be a vital component for businesses, especially in the B2B sector. To succeed in B2B content marketing, it's crucial to implement effective SEO strategies that help your content rank higher on search engines and reach your target audience.
Find Keywords Your Target Customers Are Searching For
Effective SEO begins with comprehensive keyword research. To connect with your B2B audience, it's essential to identify the specific keywords and phrases they are using to search for products, services, or information relevant to your industry. Here's how to do it:
Utilize keyword research tools like Google Keyword Planner, Twinword Ideas, or Ahrefs to discover relevant keywords and their search volumes. Look for long-tail keywords (specific, longer phrases) that can capture more qualified leads.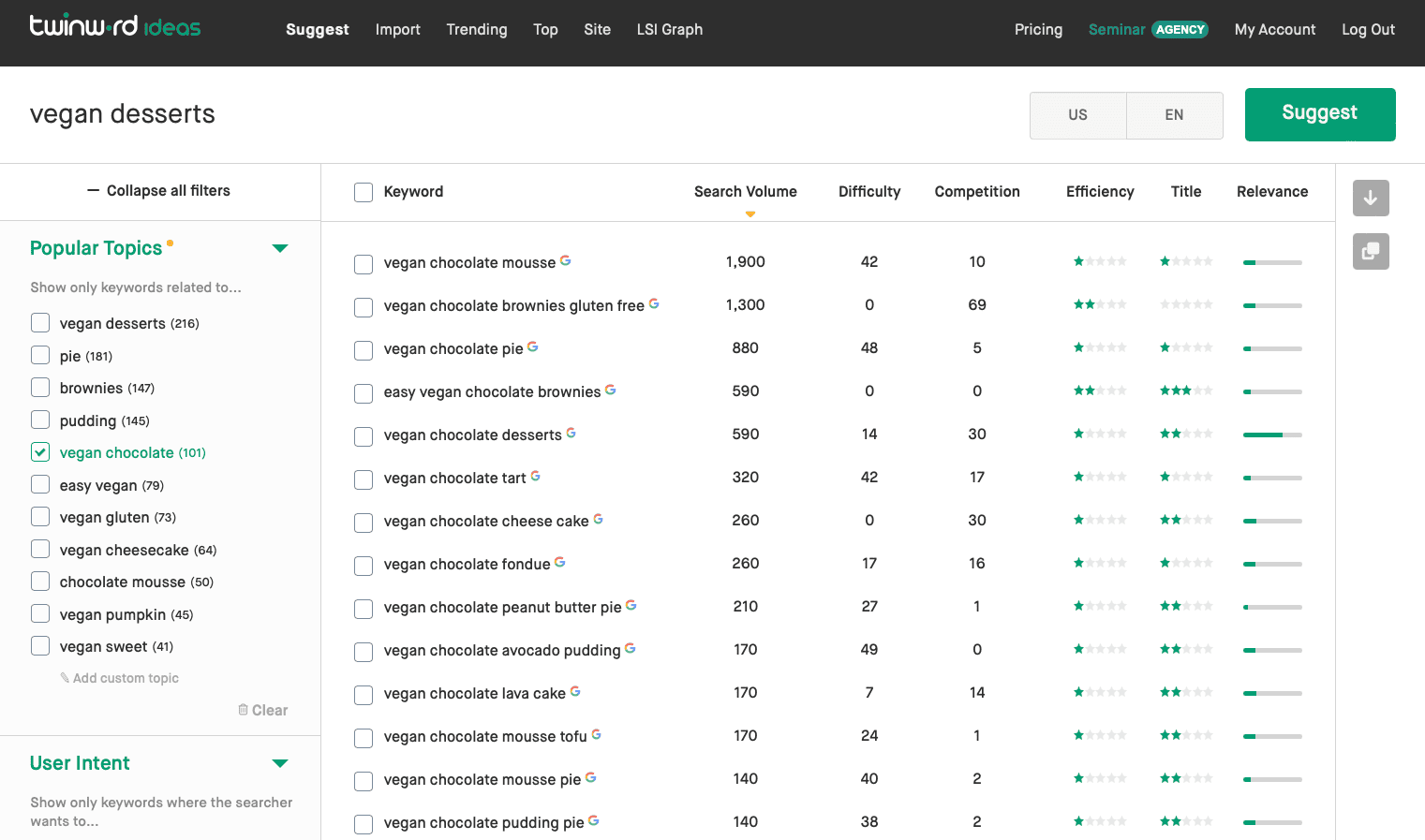 Analyze your competitors' content to uncover keywords they are targeting successfully. Identify gaps in their SEO strategy and capitalize on opportunities they might have missed.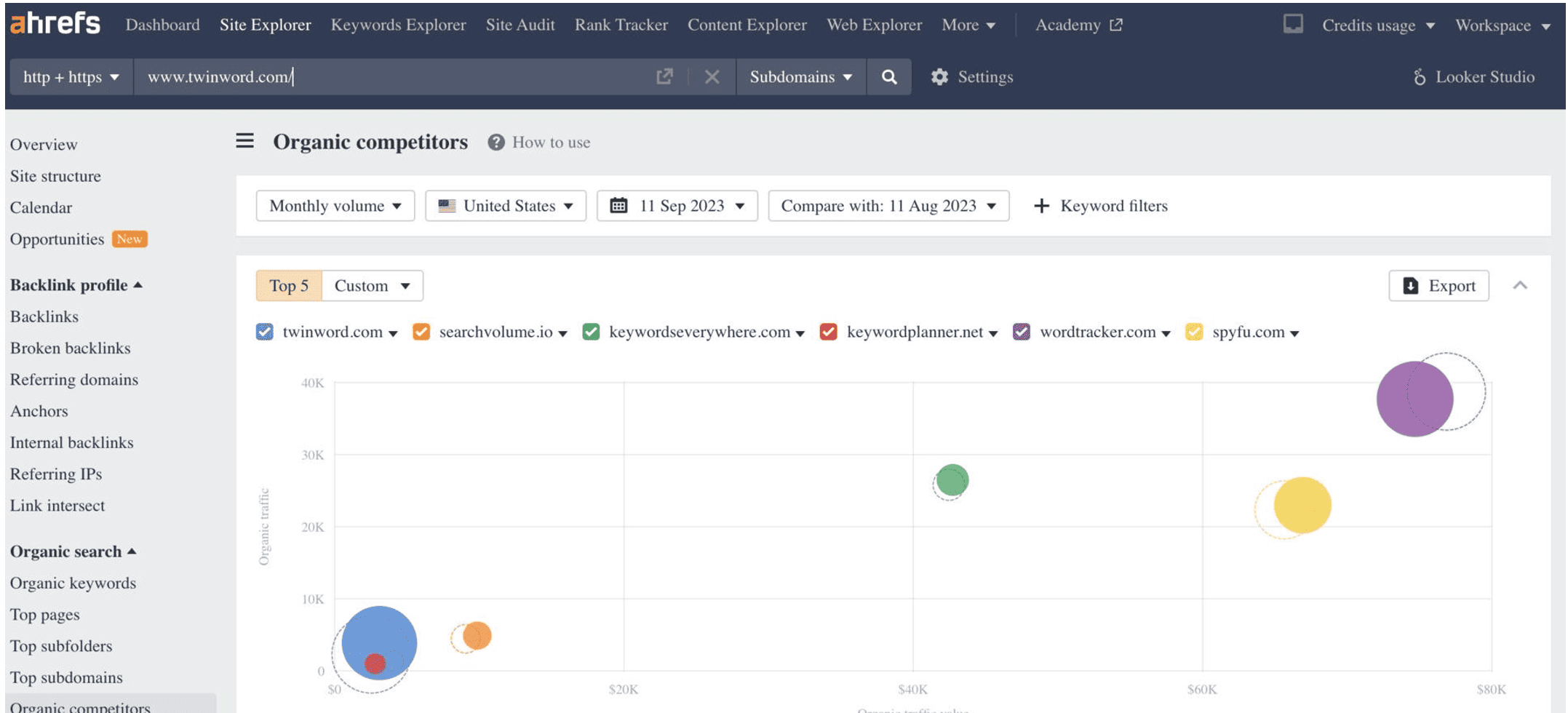 Plan, Create, and Optimize Content for Those Keywords
Once you've identified your target keywords, it's time to craft high-quality content that not only ranks well but also engages and informs your B2B audience. Here's a roadmap to creating and optimizing content:
Develop a content calendar that aligns with your keyword strategy and business objectives. Plan a mix of formats, including blog posts, whitepapers, case studies, and videos, to cater to different audience preferences.
Three of the best content calendar tools widely used for this purpose are Google Sheets, Trello, and Notion. Each of these tools offers unique features and benefits that cater to various content management needs.
Optimize your content for search engines by including target keywords in strategic places such as titles, headings, meta descriptions, and throughout the body of the content. Ensure your content provides value, answers questions, and offers unique insights to keep readers engaged.
Get Backlinks to Pages
Backlinks, also known as inbound links, play a pivotal role in SEO, indicating the trustworthiness and authority of your content. For B2B content marketing, building quality backlinks is crucial:
Build relationships with industry influencers, bloggers, and websites that cater to your target audience. Reach out to them for guest posting opportunities or collaborations, earning valuable backlinks.
Promote your content through social media, email marketing, and other channels to increase its visibility. As more people discover and link to your content, your backlink profile will naturally grow.
Implementing effective SEO strategies in B2B content marketing involves a systematic approach. By following these steps, you can enhance your B2B content marketing efforts and improve your online visibility among your target audience.
Leveraging Social Media Platforms
Social media platforms are invaluable tools for B2B content distribution. They allow you to connect with your audience on a more personal level, share your content, and engage in conversations. These are some of the best social media platforms that many businesses use.
Tik Tok
Instagram
YouTube
Facebook
Whatsapp
Reddit
Pinterest
Snapchat
WeChat
Share your content on platforms relevant to your industry, participate in relevant groups and discussions, and use relevant hashtags to increase your content's visibility. Additionally, consider running targeted ads to reach specific demographics within the B2B space.
Utilizing Email Marketing Campaigns
Email marketing remains one of the most effective ways to nurture B2B leads. Build an email list of prospects and clients who have shown interest in your content or products. Segment your list based on factors such as industry, job role, or previous interactions.
Craft personalized email campaigns that provide value to the recipient. This could include sending them exclusive content, industry insights, case studies, and updates about your products or services. Personalization is key; addressing your recipients by name and tailoring the content to their pain points can significantly increase engagement.
Investing in Thought Leadership
Positioning your brand as a thought leader in your industry can have a profound impact on your B2B content marketing strategy. When you're seen as an authority, potential clients are more likely to trust your expertise and consider your solutions.
Consider creating long-form content such as white papers, research reports, and in-depth articles that delve into industry trends, challenges, and potential solutions. Collaborate with industry experts and influencers to co-create content or host webinars. And if you're looking for resources to enhance your content creation and research, you can even explore various essay writers to write a paper online, access educational materials, and deepen your understanding of your industry.
Tracking, Analyzing, and Iterating
No B2B content marketing strategy is complete without proper tracking and analysis. Use tools like Google Analytics, social media insights, and email campaign metrics to understand how your content is performing. Pay attention to metrics such as website traffic, conversion rates, engagement levels, and the time spent on your content.
Based on the insights gathered, iterate on your strategy. Double down on the types of content that resonate the most with your audience. Adjust your distribution channels based on where you're seeing the highest engagement. Optimization is an ongoing process that ensures your strategy remains effective.
Conclusion
B2B content marketing is a multifaceted approach that requires careful planning, execution, and adaptation. By focusing on creating valuable content, optimizing it for search engines, leveraging social media and email marketing, positioning your brand as a thought leader, and embracing multimedia formats, you can propel your B2B business toward growth.
Remember, the B2B landscape is constantly evolving, so staying up-to-date with the latest trends and technologies is essential. As you implement these strategies, don't forget the importance of tracking and analyzing your efforts. Keep refining your approach based on data and insights, and you'll be well on your way to achieving sustainable business growth.
And if you're looking for resources to enhance your content creation and research, you can even explore platforms like StudyCrumb to write a paper online, access educational materials, and deepen your understanding of your industry. In the end, it's all about providing value and building relationships that drive your B2B business forward.