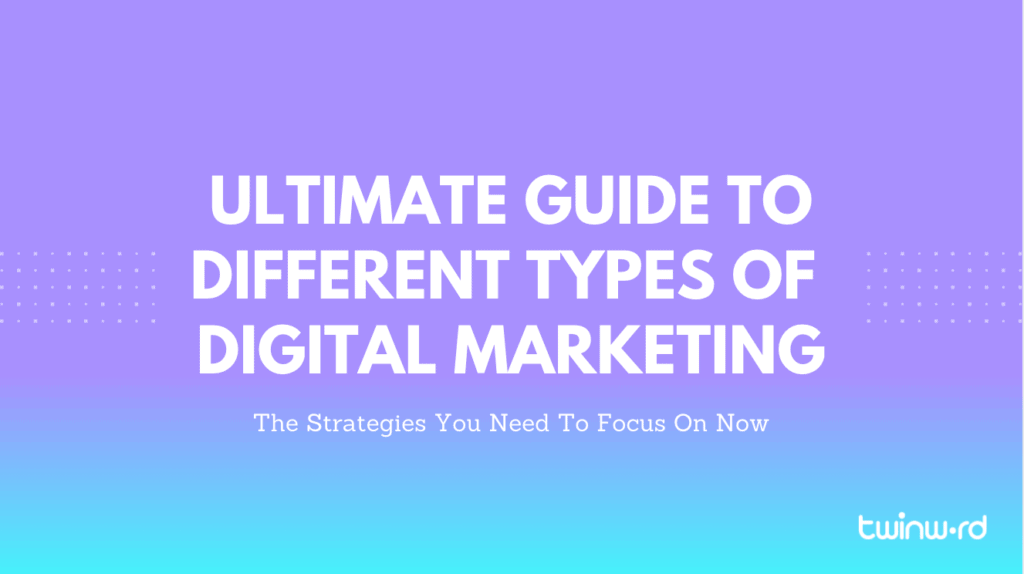 STOP!
Look at me!
Did that instantly get your attention?
This is exactly what your business needs to do. But that means positioning your brand in the path of your customers. In order to do this correctly and acquire the right results, you will need to implement killer marketing strategies. After all, you only have a few seconds to sway customers to your brand.
Generally speaking, marketing is a broad term that embraces a whole range of concepts and ideas. And I'll tell you right now, it's definitely more than just selling and advertising. It is about delivering the right information to the right consumer segment at the right time.
There are several avenues of marketing that you need to focus on in order to ensure your business remains viable in the competitive digital landscape, especially now because of the pandemic. Everyone is transitioning online, and you need to get onboard because COVID-19 is not going away anytime soon.
If you're feeling overwhelmed thinking about what is required to develop a comprehensive marketing approach for your brand, this blog is sure to help. It will list all the essential aspects of digital marketing.
But before we dive in, you should consider incorporating both outbound and inbound marketing strategies, depending upon your customers.
What Is Outbound Marketing?
Outbound marketing refers to pushing your brand in front of your target audience to increase awareness. Examples include cold calling, TV ads, email blasts, etc. Though some think this is intrusive, it effectively places your brand in front of consumers.
What Is Inbound Marketing?
Inbound marketing, on the other hand, has a more focused approach. It aims to attract potential customers towards a brand by creating valuable content, positive experiences, better engagements, etc.
Ready to get started?
What Are Some Examples Of Traditional Marketing Strategies?
While digital marketing is the latest craze, you should not overlook the effectiveness of traditional marketing techniques. Go ahead and use any medium (other than the internet) to make your business easily accessible and readily available to your customers.
Common ways to expand your reach include:
Brochures
Business cards
Catalogs
Stickers
Ads (magazines, newspapers, TV, etc.)
Posters and billboards
Tote bags
But it's more than using these items. Many brands sponsor or host events, conferences, seminars, trade fairs, and exhibitions to build awareness and connections offline.
What Is Digital Marketing?
Digital marketing refers to leveraging your marketing efforts on digital channels such as search engines, social media platforms, email, etc. It allows brands to connect and interact with current and prospective customers.
Below is a more detailed reference to the different types of digital marketing.
What Are Examples Of Digital Marketing?
Search Engine Marketing (SEM)
Considering that 93% of online experiences begin with a search engine, you need to make sure your business and products will show up in search queries. This is where SEM comes in. Activities revolve around the promotion of websites in order to increase visibility in SERPs. And that means priority is on using the right keywords.
Search engine marketing is often considered an umbrella term that includes both organic and paid strategies.
Search engine optimization (SEO) focuses on the organic approach to online marketing. The goal is to increase traffic to the site by optimizing content so that it shows up in search results. Marketers are, therefore, paying attention to various elements that influence ranking. Common factors they work on include the quality and quantity of the content, use of relevant keywords, page loading speed, mobile-friendliness, UX, security and accessibility, links, coding and web design, structure, and much more.
On the other hand, pay-per-click (PPC) looks at purchasing ad placements on search pages. Nowadays, SEM refers more to this type of paid search advertising. Marketers can pay to place themselves prominently among listings in search engines. So when a potential customer searches for a relevant term, ads are delivered to customers based upon the search criteria.
Content Marketing
According to DemandMetric, content marketing costs 62% less than traditional marketing, generating nearly 3 times as many leads. So this type is used by a majority of businesses.
Content marketing focuses on the creation and sharing of online material. It includes a variety of content such as blogs, audios, videos, images, infographics, webinars, ebooks, etc.
The intent is to help promote and stimulate interest in your brand so that it aligns with your target audience as well as search engines. That is one of the reasons you should create evergreen content. More importantly, with the right content marketing strategy, you can create content that connects continuously with your target audience at various points throughout the customer buying journey.
Social Media Marketing
This is precisely what it sounds like – creating content to promote a business through social media platforms. With over 3.6 billion people using social media across the globe, it is a great way to increase engagement. However, the key is to offer useful, informative, and entertaining content.
More than anything else, you need to regularly post unique content to ensure your audience remains in contact with your brand. With the right approach, you can use social media marketing campaigns to connect with their audience, build brand image, improve online visibility, drive more traffic to their website, and increase sales.
Influencer Marketing
Influencers are individuals that have a significant influence on their followers on social media. Businesses can search out these actively engaged people to help promote their brand or products.
Influencer marketing is a very effective type of marketing that helps improve reach. Companies can access potential customers that they would otherwise not have been able to connect with. However, the success of these campaigns depends significantly on finding and collaborating with the right person.
Local SEO Marketing
According to HubSpot, 97% of consumers search online for a local business. So it's imperative that small business owners utilize this type of marketing in order to improve visibility in local search. Local SEO requires investing in strategies such as building citations, getting registered in online directories, creating  Google My Business (GMB) profile, collecting customer reviews, generating backlinks, optimizing on-page elements, and so much more.
Why is this important? For starters, the pandemic has people staying close to home. They're searching for businesses close by that will resolve their issues. And the best part is 88% of customers will visit or call a store within a day.
Email Marketing
Email marketing is a very effective digital marketing strategy. In fact, statistics show that 99% of consumers check emails daily. Businesses have an opportunity to connect with potential customers and build a better relationship via emails. Brands can successfully convert them into customers by nurturing them with targeted content and personalized messages. And depending on where they are in the customer buying journey, emails can offer informative, engaging content.
Emails can do more than simply lead a prospect further into the sales funnel, converting them into paying customers. In fact, when done right, email marketing can turn one-time buyers into loyal fans.
Video Marketing
Videos are currently the favorite type of content. In fact, research shows that  78% of consumers watch online videos every week. So video marketing is basically using videos as a medium to market content. The goal is to create and upload videos, whether that's on your website, YouTube channel, or social media account.
Video marketing effectively boosts brand awareness, improves conversions, and increases sales. 87% of marketers now utilize video as a marketing tool.
Voice Marketing
Alexa and Siri are forerunners of voice-backed capabilities. Google reports 27% of the online global population is already using voice search on their mobile devices. This trend is expected to overtake browser-based searches as the primary method of searching. So it is only natural that marketers pay attention to this latest facet of marketing.
Conversational Marketing
97% of smartphone owners prefer to communicate through text messages. This is opening up venues for real-time communications such as live chat. According to Zoho, 67% of B2C businesses and 66% of B2B businesses use live chat for customer support. It offers the digital support of emails with the immediacy of phone calls.
However, conversational marketing promotes all modes of conversation so that businesses can meet customers as per their requirements. And this includes other channels of communication like phone calls, email, texts, etc.
Effective marketing can help build genuine relationships with your consumers. As more and more technologies are constantly being created, this field continues to evolve. Marketers realize that the modern marketing landscape is quite competitive. It demands businesses utilize a holistic approach so that they can remain a vital component of the economy and society.
But for the moment, the above types of marketing are sure to get your brand the exposure it deserves. While some are more effective than others, you need to incorporate those relevant to your business and customers.
It's time to invest in the multiple facets of marketing. But be sure to concentrate on those avenues that fall within your budget and offer the most benefits to your business.
---
Other related Twinword's blog posts that are worth reading: