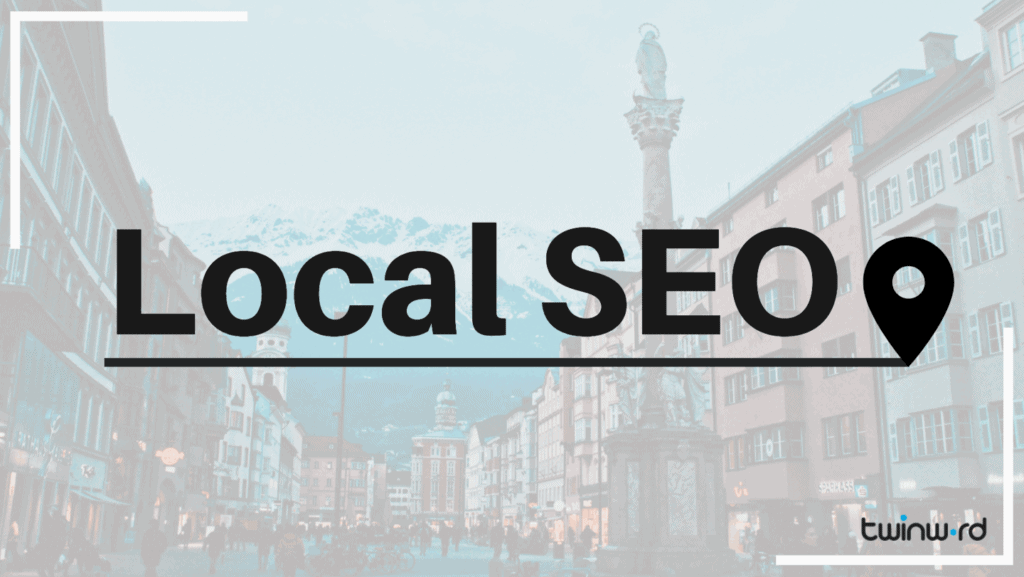 Search Engine Optimization (SEO) is the practice of increasing traffic to your website by boosting its visibility in the SERPs (Search Engine Result Pages). Local SEO is supposed to do the same, but is specifically for local businesses.
When you create a website and release it into the world, it has the potential to reach the entire online world. But if you're running a local business, you just want to rank high in your business area.
This is why local brick-and-mortar businesses need to focus their efforts on the best practices of local SEO.
In this article, we'll introduce you to the concept of local SEO and outline the most important things you can do to rank well in your local area.
What Is Local SEO?
Local SEO is the optimization of your website to target local consumers.
The goal is to let people know that your business exists and where you are located so that they can visit your physical store. Local searches typically include location-based keywords like 'near me', coffee shops 'LA', etc.
What Can Your Business Gain From Local SEO?
As a local business owner, your main concern is likely to be increasing footfall to your store.
To do it, you might engage in a range of local marketing and advertising strategies, but one of the most effective ways is to show up at the top of local search queries.
What do we mean by this?
Well, a local query is any search a person conducts in a search engine like Google that has a 'local intent'. The key difference between a generalized and a localized search is whether the searcher specifies a location, or uses a local qualifier like 'near me' in their query. Read more on user intents.
So, when it comes to 'local intent', the difference between searching "vegan cafe" and "vegan cafe near me" is important.
You can see in the screenshot below how the Google results for a search query with a local intent look like.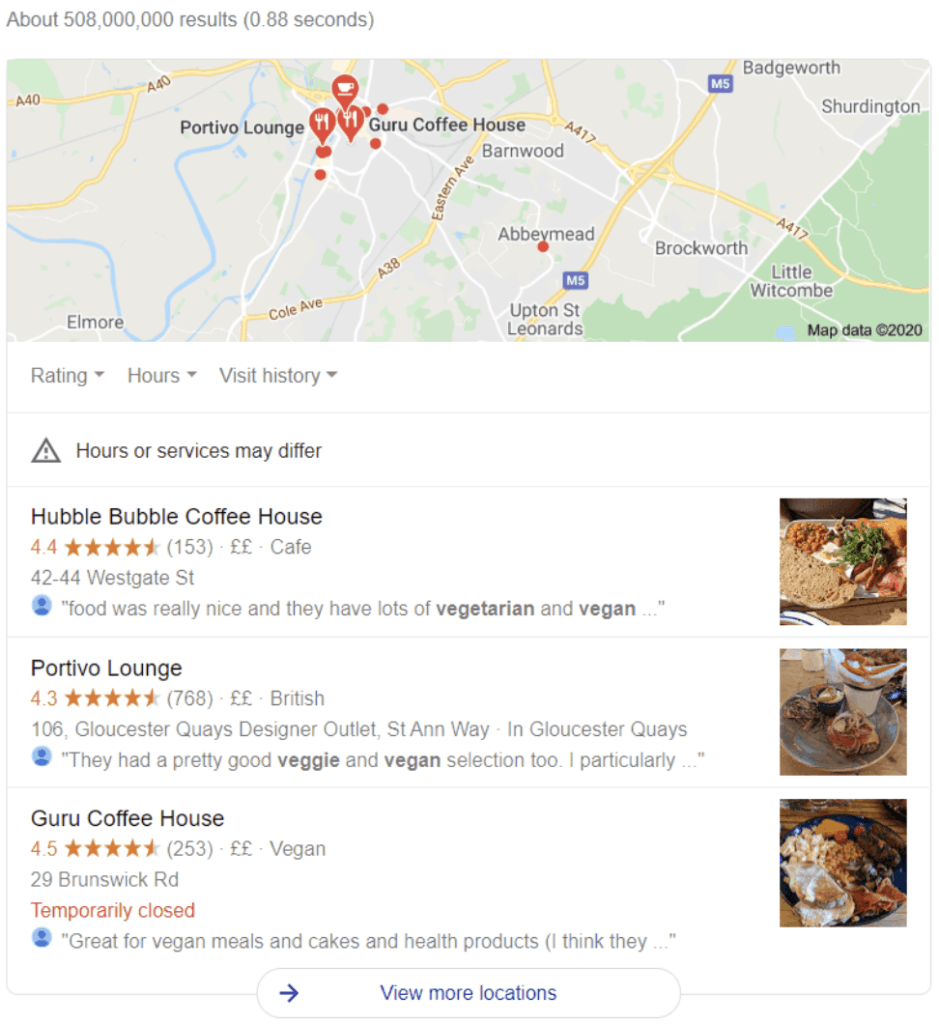 Local search holds a lot of SEO weight. According to SlideShare, 4 out of 5 consumers find the local businesses and services they need by running a localized online search.
It's an opportunity local businesses won't want to miss.
Why Is Local SEO So Important?
Local SEO is important because 46% of searches have a 'local intent'.
In fact, according to research, the 'near me' type of local intent searches has grown to over 900% in a time span of two years.
It should be clear now that local queries are a big part of SEO in general. If you optimize your local business properly, you have a better chance of people visiting your store and making purchases.
Tools To Help You Master Local SEO
Now you know that local SEO is important for local businesses. But you also need to know that local SEO can be a minefield. So, how can you perform well? Thankfully, there are keyword tools out there that can do a lot of the legwork for you. Let's take a look at one of them now.
The advanced keyword tool Twinword Ideas is designed to generate a list of relevant keywords for your content, including local keywords. 'Content' can be anything from the text on your website's home page to the articles you post on your blog.
If you target the right keywords, people who search for terms related to your business will be able to see your content in the search results. Making your business more visible to your ideal customers.
However, finding the right keywords can be tiresome. This is where Twinword Ideas comes in. The tool makes it easier to optimize your content, so you can spend more time focusing on other tasks that matter to your business.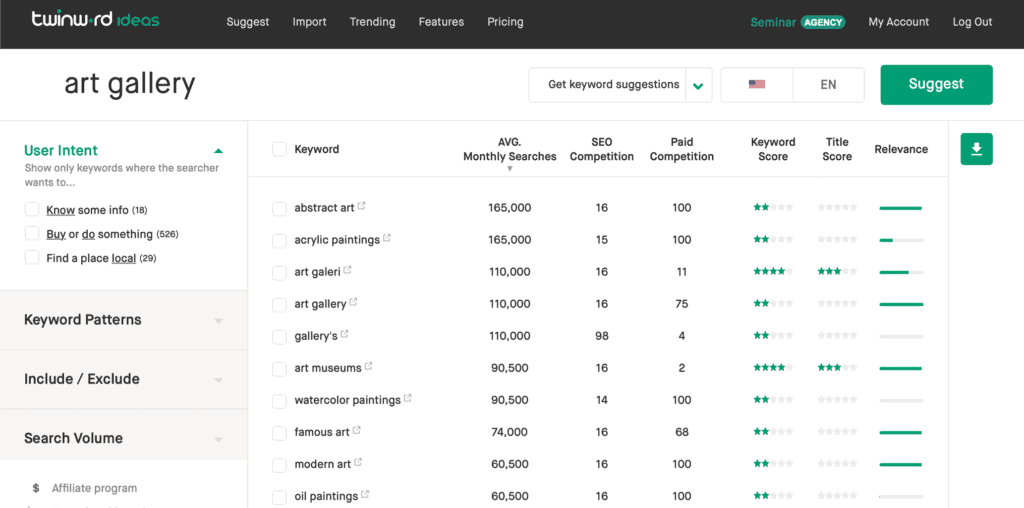 What this has got to do with local SEO? To answer that, let's take a look at Twinword Ideas' User Intent feature.
When someone uses a keyword to perform a search, they want to accomplish something, whether it's to find a particular website or a restaurant in a specific area.
That want or intent to accomplish something is known as 'user intent'. Twinword Ideas' SEO keyword tool can detect three forms of user intent: know, buy, and local.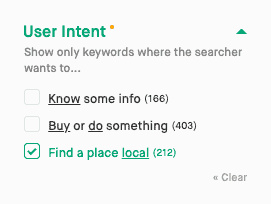 Thus, the tool allows users to filter results by local user intent, cutting out a lot of the keywords that aren't relevant to local businesses. You can also personalize your results by narrowing your request down even further (but still keeping it local) by using filters for keyword patterns, search volume, SEO competition, CPC, and a lot more!

And the best part? All of Twinword's pricing plans include the user intent feature. So you don't need a super expensive solution to get started with your local SEO.
7 Ways To Rank Higher In Local Search
Local SEO works in very much the same way as normal SEO (search engine activity that covers everything on the web that isn't specifically local).
Your business's ranking in both local and normal search results depends on how well your site and content performs in the 200 or so ranking factors that Google has established. Below we've summarized 7 of the most important ranking factors for local SEO.
1. Google My Business
Google my Business (GMB) is a profile about your business that's stored within Google and is a type of structured citation created by Google. This business profile comes up when people do a branded search for your business, meaning when they search for your brand name, or if they search using local intent keywords your business ranks for.
While the business profile is generated by Google, you can claim the business to edit the profile, or use Schema Markup to provide Google with enough information for it to create your business profile.
When people do a branded search for your business, the profile or knowledge graph usually shows up on the side.
On the other hand, if your business ranks high for certain local keywords, it can come up in the 'local pack'.
What Is The Local pack?
The local pack is also known as the local search engine result page which is a snippet of business listings that is displayed under the local map on SERP when a query with local intent is searched on Google.
In the past, Google showed seven local results when users performed a local search. However, now, Google only shows the top three local results.
The reason for this is because the majority of local search is done on mobile devices, and Google tries to deliver a better user experience for small-screen users.
2. Location Pages
If your business has one location, you should create a detailed location page on your website that includes information about your premises and identifies it on an embedded Google Map.
However, if you have multiple branches in different locations, it's advisable to create a specific page per location.
Each page should contain content that specifically targets people in that location and provides premises-specific as well as general business information, plus a map.
3. NAP (business name, address, and phone number)
Google uses the information about your business's name, address, and phone number to verify which entries on the web are actually about your local business, and which entries are about any of the probably hundreds of other businesses with the same or similar name around the world.
This means you need to be very consistent in presenting your NAP on your website and other structured and unstructured citations.
You can use a tool like WhiteSpark to find and tidy up incorrect NAP info on the web, and to make sure the NAP on your website is written in HTML (rather than an image or screenshot) so that it can be crawled by search engines like Google.
4. Social Media Presence
By the end of 2019, there were 2.95 billion social network users worldwide.
That's a lot of people you can reach, and while search engines like Google consider your presence on social media, not as a direct ranking signal, social media is still very important as an indirect ranking signal.
You need to have active social media accounts where you post on a regular basis. This increases your traffic and builds your business's web authority, which is a key ranking factor.
5. Location-Focused Keywords
To improve your local organic rankings, you need to target location-based keywords above the fold on your web copy.
This means to include those keywords at the top of your homepage or location page, e.g. in your page heading or subheadings.
For example, if you have "Electrician South London" wrapped up in a title tag, you're going to have a much bigger impact for that keyword than if you include the keyword just in the block text of the rest of the page.
This is because search engines assume that words in H1, H2, and H3 tags (title tags) are more important to the context of the page than the rest of the content.
6. Local Content
A few years back, local businesses were told to write "SEO content" by stuffing keywords into their websites or blogs to appease search engines. Nowadays, techniques like keyword stuffing don't work anymore and instead we're starting to see real, quality content on local business sites that meets the needs of users and not just the needs of search engines.
As a local business, you will need a content marketing strategy like any other non-local business because of the localized organic search results that show up below the local 3 pack.
For your content to come up on search engines you need to stay relevant and authoritative by writing about your local area. For example, write about gatherings or upcoming events, landmarks, local heroes, or even provide a map of local services.
7. Mobile-Friendly
By now, mobile-friendliness should be an essential part of every digital marketing strategy. Mobile-friendliness is critical for user experience and general SEO, but it's especially important for Local SEO.
Did you know that 9 out of 10 smartphone users conduct local searches on their phones? I guarantee you've searched for a local café, restaurant, or another amenity while in a town or city. You may even have checked out reviews of a place you plan to visit or found directions to a location after searching on your phone. Since nowadays most people use their phones to do such local searches, you need to optimize your site and other online assets for mobile users.
There are several tools out there like Google's Mobile-Friendly Test tool that will help you optimize your website for mobile users. You can check out this guide on how to optimize your website for mobile SEO.
Become A Pro At Local SEO
If you plan to target local audiences, it's imperative that you implement a local SEO strategy as part of your wider marketing efforts. You might find that you're already doing some of the things we've mentioned in this article.
Here are a few points to keep in mind to master local SEO marketing.
General SEO and local SEO share many of the same ranking factors, but some are only relevant or more relevant to local businesses.
To rank well in local search, your business needs to have good general SEO and on top of that needs to optimize for those local-specific ranking factors.
Good luck with your local SEO and let us know how you get on with it in the comments below!
---
If you liked this post about local SEO, check out more posts on SEO: