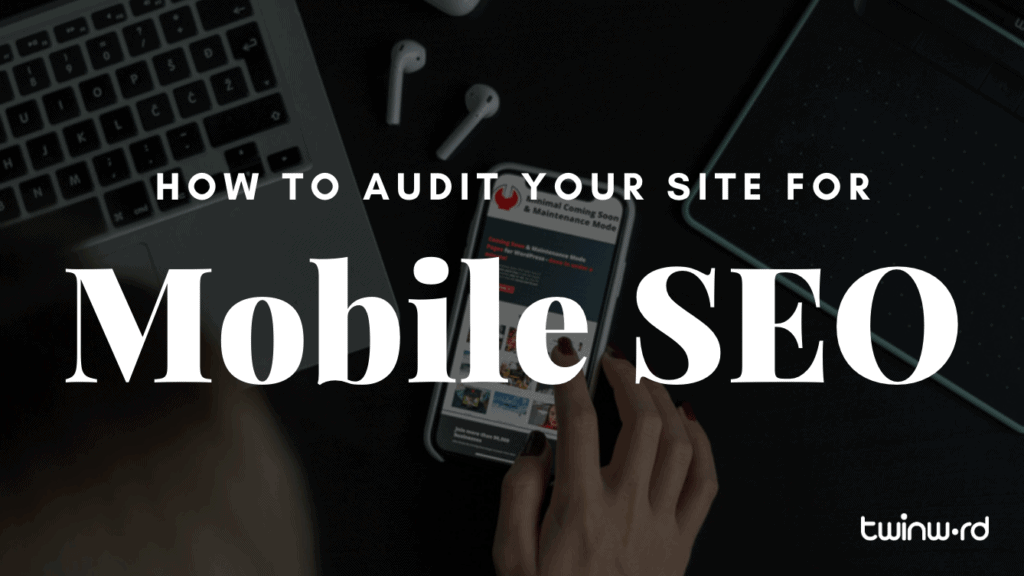 Google helped 4.68 billion mobile phone users find answers to their queries quickly and conveniently with its mobile-first indexing update. However, while this update was beneficial to the users, many websites experienced a decline in their SERP rankings and traffic.
This happened due to Google's dominance over the online search vertical, which also made it necessary for websites to upgrade for mobile-first immediately to recover their SERP position. However, to ensure that the upgrade was carried out appropriately, it is crucial that your site is audited for mobile SEO.
In this actionable guide to mobile SEO, I will instruct you to perform a successful mobile SEO audit. But before we begin, let's tackle the basics:
What Is Mobile-First Indexing?
In mobile-first indexing, websites with a mobile-optimized interface are indexed first and ranked higher in the SERPs (Search Engine Result Pages) than those sites which are not mobile-optimized. The update was rolled out to make it easier for 55% of the audience to perform online searches.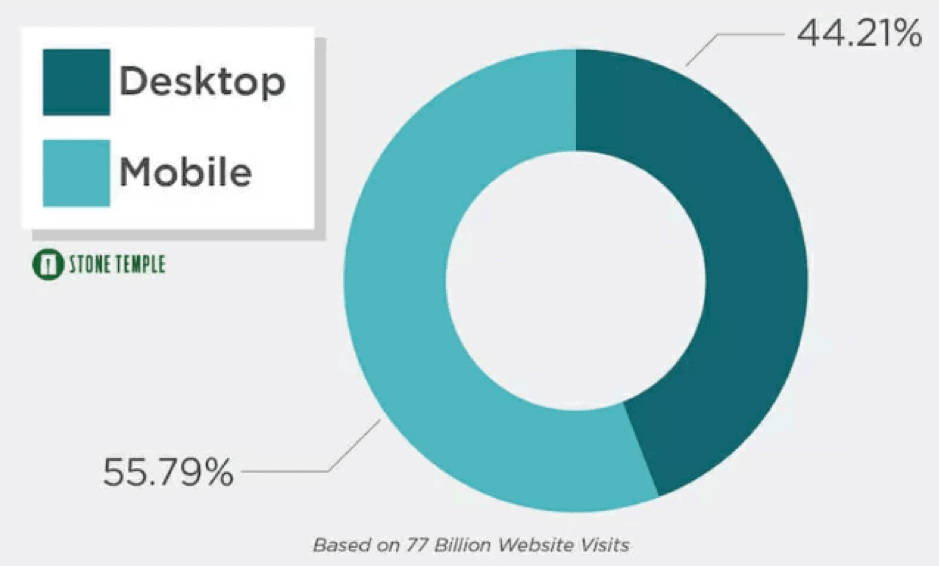 Previously, Google ranked the desktop versions of websites in its search results. This affected the user's experience because the desktop-friendly sites were incapable of adapting to the technicalities and small screen sizes of mobile devices.
Moreover, Google aimed to make sites load faster on mobile devices and provide its users with quick and appropriate results. Hence, in 2018, it rolled out mobile-first indexing after a year and a half of careful experimentation.
Why Should You Make Your Website Mobile-Optimized?
Making your site mobile-friendly has numerous benefits:
Your site will load quickly on mobile devices
Faster loading speed improves SEO as Google announced that mobile PageSpeed will be considered a ranking factor.
Better user experience will lead to a decreasing bounce rate.
Mobile-optimized sites will be ranked higher than the sites which are not mobile-optimized.
It will drive more traffic to your website.
How To Audit Your Site For Mobile SEO
Follow these simple steps to nail your mobile SEO Audit.
Step 1: Adopt A Responsive Website Design
A website's design is one of the primary factors that can influence its traffic and engagement potential. So, to maintain the traffic and the engagement rate, you should opt for a responsive website design so that your website adapts according to the device on which it is accessed.
For instance, when a user accesses a website with responsive design on a desktop, the site itself adapts itself according to the desktop's resolution. And when the user accesses the website on their mobile device (smartphone, tablet, etc.), the site will adapt according to the accessed device's resolution.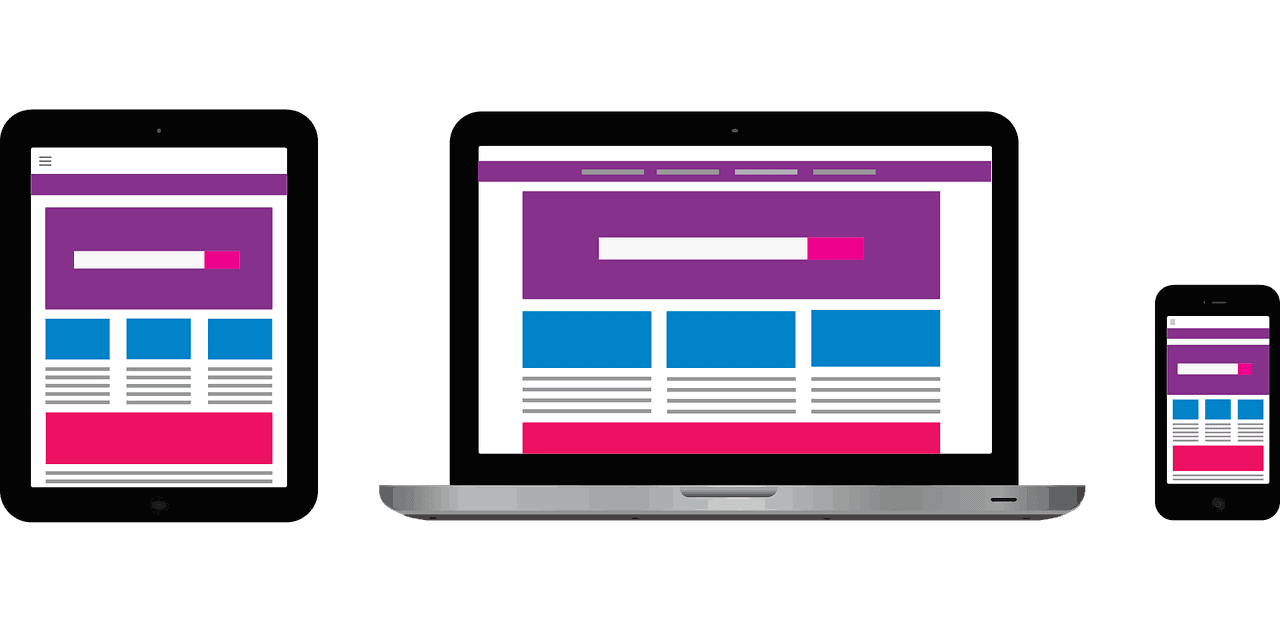 Step 2: Improve The Loading Speed Of Your Website
Google has officially announced that mobile page load speed will be considered a ranking factor. So, if your site takes a lot of time to load, then it will rank lower in the SERPs than the websites that load comparatively faster.
To check how quickly your website loads, you should use Google's PageSpeed Insights tool.
You need to begin by opening the tool:
Enter the URL and click on 'Analyze".

The tool shows page speed insights of both mobile and desktop versions of your website.

Every domain is scored out of 100 and is divided into three categories:
Fast (100 – 90)
Average (89 – 50)
Slow (49 – 0)
PageSpeed Insights not only provides you with the score to determine how fast or slow your website is. It also suggests several ways in which you can improve your website's loading time.

Those suggestions are made in the diagnostics section. You can read additional details about each analysis by clicking on the drop-down menu. Plus, you can work on other universally known ways to improve your page speed. For instance, you can compress the images, fix redirects, etc.
Step 3: Check "Mobile Usability" In Google Search Console
Open Google Search Console and inspect the URLs of your website through the URL inspection tool and click on 'Mobile Usability' in the same section.

You will find information about when the page was crawled and if it is mobile-friendly or not. Furthermore, you should click on 'Mobile Usability' on the sidebar to find out the various issues that affect your site's mobile usability.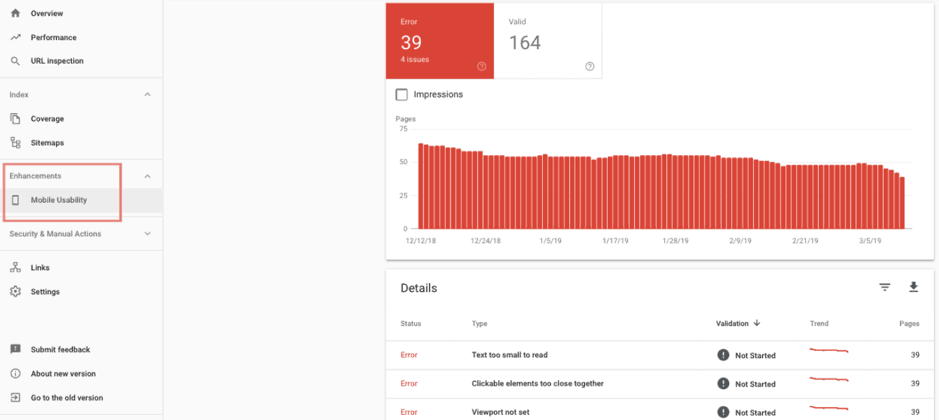 Using these features of Search Console is easier if you have a responsive website design. However, if your website runs on a dynamic design, then you need to create XML Sitemaps of your mobile site's URLs and submit it to the search console for indexing purposes.
Step 4: Create Content That Delivers More Knowledge
The content of your website does not change whether it is running on a responsive or dynamic design. However, it is still necessary that you optimize your content while keeping in mind your mobile audience.
If you haven't updated your content with the latest keyword recently, you should do it right away. You can easily find the latest relevant keywords for your content with the help of keyword tools.
Apart from that, you should edit your content and make it free of grammatical errors and enhance its readability. You should also shorten the meta description and title so that they do not appear in ellipses in the search results
If you are confused about the character limitations in the meta description, just make sure to limit them to 120 characters.
Step 5: Use Mobile-Friendliness Checker Tools
After finishing the audit, use tools like, use tools like Mobile-Friendly Test or Mobile Friendliness Checker to check if the optimization process was executed properly. Both of these tools are free to use and are capable of producing accurate results.
Step 6: Analyze Your Mobile Traffic
One of the final steps of conducting a thorough mobile SEO audit is to analyze how successfully you are driving traffic to your domain. There's one tool that can help you with everything about your website and your audience: Google Analytics.
Through GA you can analyze your audience and the devices through which people access your website. You can monitor every mobile user and know about the device they are accessing your website by analyzing 'Mobile' under the Audience section of Google Analytics. It will also help you in monitoring the behavior of your mobile audience.
Final Thoughts
An audit is always necessary, be it an SEO Audit, Content Audit, or for that matter, mobile SEO Audit. Every audit helps you in identifying the issues of your website that are pulling down your rankings.
But the whole auditing process is time-consuming; you need to invest a lot of your time focusing on resolving every query. Plus, after resolving every issue, you need to wait for certain weeks or a whole month to analyze its effect. You will have to be patient.
If you think more additions can be made to the mobile SEO auditing process, let me know in the comment section below.