We spent a lot of time on social media in 2020. Statista reported a 21% uptick in the monthly social media usage in March 2020, when the pandemic forced countries to go into lockdown.
Interestingly, our increased connection to social media isn't shocking. Throughout the year, consumers used social platforms to catch up with their loved ones, to stay updated on the happenings, research products, and spent hours on entertainment. At the same time, social media marketing proved to be valuable for businesses and marketers to increase visibility, reach, and convert customers.
Platforms such as Facebook and Twitter have rapidly evolved and shifted their focus to meet users' rising demand during the pandemic. Social media is the go-to place for 57% of customers to learn about new brand offerings.
Scroll down to learn more about the 10 social media marketing trends brands must implement in 2021, to engage huge social media audiences in this constantly changing landscape.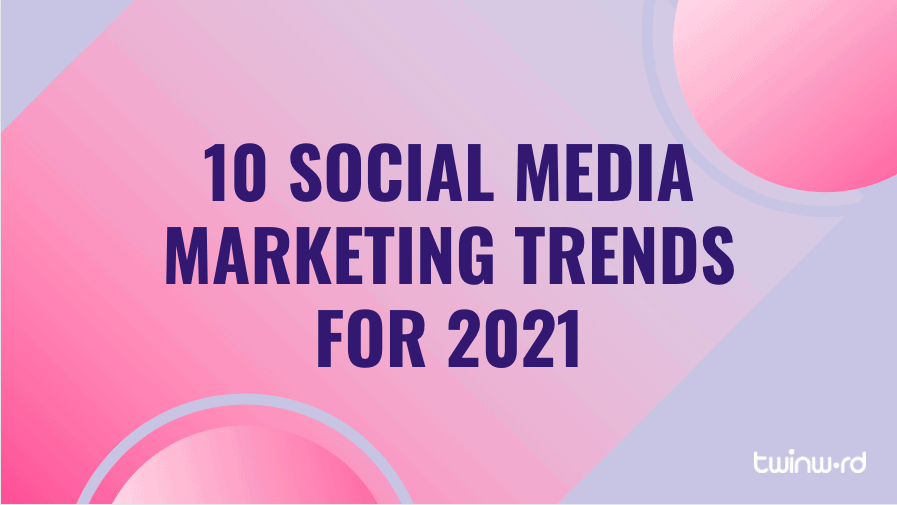 1. Rise of live streaming
With in-person events being put on hold, brands are opting for virtual events where interviews and shows are live-streamed so that the customers listening in can feel like they are a part of it. In 2020, so many conferences such as Adobe, SMW, and Web Summit went virtual.
Many musicians live streaming performances from their houses to give their followers the feel of a concert. Moreover, the B2B brands offering webinars grew by 36% this year.
The sense of immediacy and immersion that live streaming gives is a valuable way of providing a customer-inclusive experience and heightening the sense of community and oneness when we are all distant from each other.
You could use Facebook, Instagram, and Twitter to live stream events, tutorials, and Q&A type of content marketing to keep your followers engaged with your brand.
2. Socially conscious marketing
Millennials are a socially conscious generation who judge a brand based on its impact on society and politics, not on how effective its ads are. Campaigns on social media that are mission-led and that focus on themes of inclusion, diversity, equality, environmental consciousness, and so on are likely to resonate with this generation and create an emotional connection with them.
While we saw a large number of brands doing good things last year, in 2021, there will be an even bigger emphasis on goodwill land purpose-driven missions. Hilton and American Express partnered to offer one million free hotel rooms to first responders and healthcare workers who were isolating themselves from their families during the Coronavirus outbreak. They promoted the cause on their social media pages, encouraging healthcare workers to reach out for a room.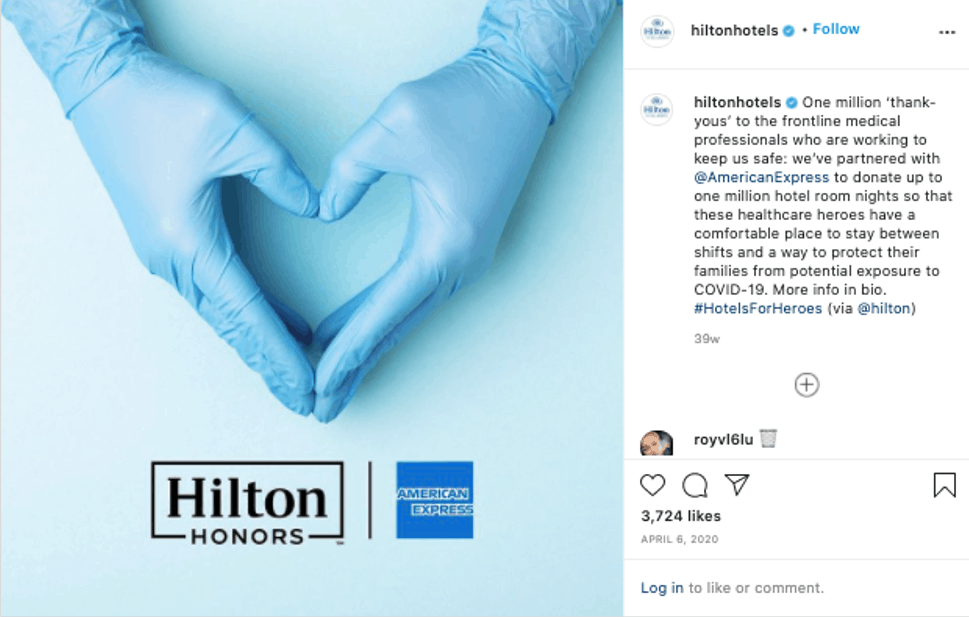 Remember, your business needs to transition naturally to cause-driven marketing, as a sudden about-face may be called out by millennials as superficial. In 2021, brands will have to embrace authenticity, transparency, accountability, and empathy on social media to build trust with their audiences. The keyword research tool Twinword ideas can help you filter keywords by user intent to find popular specific terms that people are actually searching for.
3. Dealing with fake news
Social media has traditionally blurred the lines between fact and fiction, as evidenced in social media influencers' highly edited lives. When COVID-19 struck, people were desperate for information about how they could stay safe but lacked enough reliable news sources.
To fill this void, consumers began answering questions for themselves, leading to a massive surge in conspiracy theories and fake news. Data showed that there were 101 million mentions of disinformation leading up to 2020.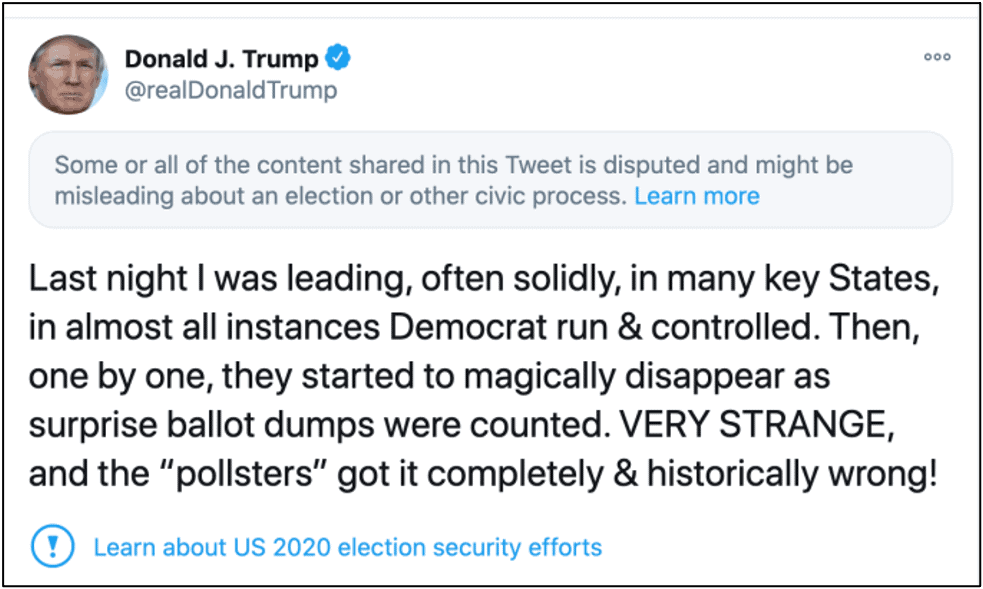 You will likely have to work towards combating this flow of disinformation in 2021 so that your customers can trust your brand to tell them precisely what is going on.
4. A shift to online shopping on Instagram
The pandemic forced businesses to pivot to the "new normal" to ensure that sales kept coming. With new measures, eCommerce, which was previously not utilized by brick and mortar stores showed increased adoption.
The shift towards contactless shopping is further accelerated with social platforms such as Instagram and Facebook already integrating in-app purchasing. As a result, the steps otherwise required to convert a follower into a customer are reduced. Consequently, the gap between scrolling and shopping is significantly blurred.
Your local business would have to take advantage of these changes. You could consider the following:
Research and test video formats to find the one that supports your offerings.
Collect information from the leads and customers to stay in touch with them.
Sign up for Instagram and set up Facebook shopping to link products in your social media posts.
Set up retargeting ads because most of the traffic would not purchase on their first visit to your site. A retargeting strategy will increase your overall revenue.
Focusing on user experience and mobile optimization of your website. A slow website, clunky checkout process, and unclear return policies must be fixed immediately. Inconvenience during the buying process will reduce your conversion rate.
The online Instagram Video Editor by InVideo has thousands of customizable ad templates to choose from, to create videos that generate engagement and mesmerize the viewers.
Here's an example of shopping tags that businesses can leverage to highlight products from their catalog in stories and feeds.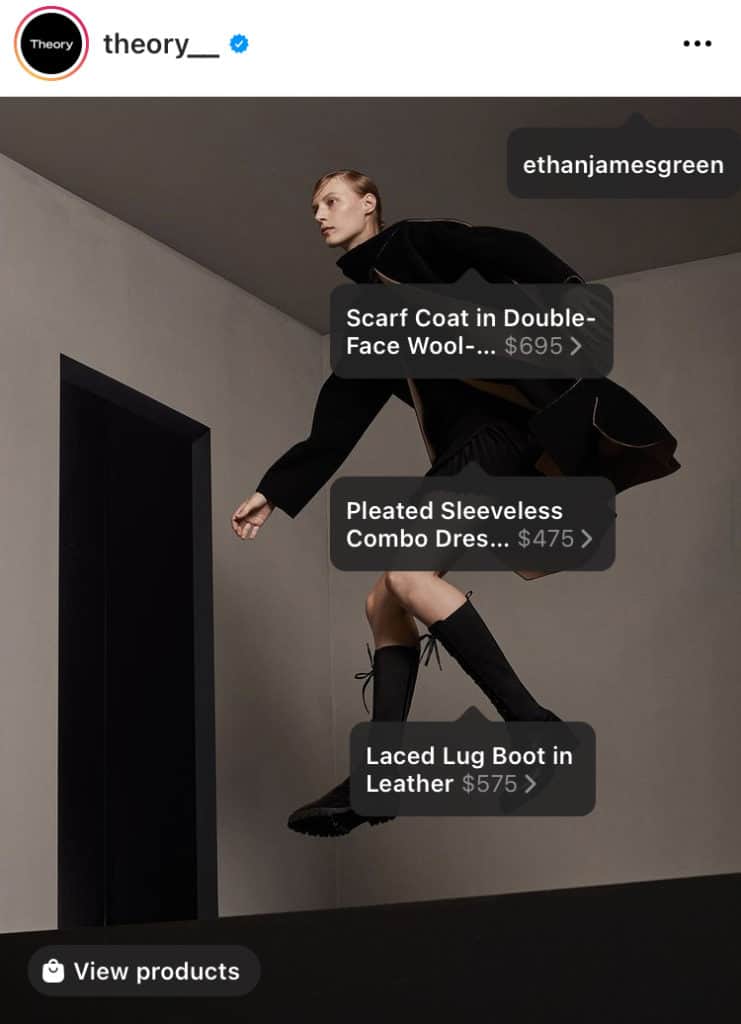 Consider adding Instagram Reels to your social media marketing strategy. The options for short-form video marketing are endless. Watch views, customers and leads roll in as you get comfortable with this form of marketing.
5. Implementing chatbots in your social media marketing strategy
Today, social media is used by brands as a retail platform, a product discovery channel, and for customer support. An incredible number of brands have started using chatbots to generate more personal engagement with users and automate customer support.
Chatbots are the equivalent of a smart assistant who humanely communicates with the customer. This chatbot can progressively begin to know your customers, their preferences and provide products they are interested in.
The main benefits of using chatbots in your social media marketing strategy in 2021 include:
Finding what the customers want.
Shortening the sales cycle.
Growing the sales pipeline.
Creating a more human-like buying experience.
24/7 service with instant responses.
Increased customer satisfaction.
Time and cost-effective.
Facebook chatbots can hack into micro-targeted audiences. Going a step ahead, as a part of your Facebook marketing strategies, you could try Messenger ads targeted to users who interacted with your brand.
As seen in this example, you can deploy Messenger chatbots to automate lead generation from social media.
For a small business, the WhatsApp messenger can be used to start a conversation with customers. While phone calls are intruding, WhatsApp chatbots for customer service can be used for follow-ups and generate better response and engagement.
In 2021, when brands are thinking to permit frictionless purchases at the speed of light, right from the social media platforms, it would be interesting to see the different ways Messenger chatbots can engage with customers.
6. Video content will dominate
Videos, the most popular type of content marketing is dominating all social media platforms. Whether it is short-form videos for TikTok and Instagram Reels, ephemeral content for Facebook and Instagram stories, or long-form YouTube videos, they generate the highest engagement.
At a time when customers crave more personal interaction with brands, videos serve as a versatile channel to grow your business and increase sales. The benefits of videos in your social media marketing campaign extend to being engaging, cost-effective, improving conversion, and generating greater exposure.
You can use video marketing to introduce your team, for product demos, to boost social proof with customer testimonials, interview experts and to answer FAQs.
Marketing has shifted from selling a product to offering valuable information to help the customers and solve their pain points. You could use videos to humanize your brand on social media.
In fact, you could use personalized videos as a part of your sales prospecting on social media. This involves setting up a lead magnet or running a lead ad on social media. Then, run a follow-up engagement using personalized screen recording.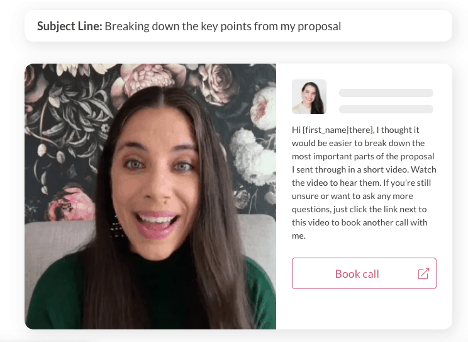 A sophisticated social media marketer will have to put more effort into building long-term meaningful relationships based on effective storytelling, which aren't perceived as transactional.
7.  Mastering conversational marketing on LinkedIn
In 2020, LinkedIn rolled out Live, Events, Polls, and Stories. In 2021, marketers will have to embrace these new features and content formats while working from home.
An important social media trend observed on LinkedIn is the ability to master conversational content. This ranges from creating polls for the network to vote on, asking open-ended questions on updates and trends, and celebrating career milestones.
Here's where it gets interesting on the personal side of LinkedIn. While sales outreach spams are ruining relationships, marketers still need to focus on building connections rather than solely dropping a sales pitch after the initial interactions.
A crucial element of LinkedIn prospecting is to customize the connecting request for the recipient to make them feel valued.
A sizeable cohort of your ideal target audience will see and interact with your posts on LinkedIn. The relationships you build will continue to add value to your career.
8. Personalization is of paramount importance
 While personalization is a global technology trend, its adoption for social media is fairly recent. You may argue that brands cannot customize social media content for different audience segments. True. However, they can still personalize their social media ads for as many customer segments as they like.
The key area where marketers are leveraging personalization is in their delivery of social media ads. The advanced targeting and customization options being provided by social media platforms let you show ads to the right people at the right time.
The reach of personalization is so extensive that social media platforms know the type of products you like. Accordingly, you would be shown ads for similar products from multiple brands.
How often have you checked a website and then seen an ad on Instagram? Within a short span of a few minutes, you would see ads for similar products on your feed. The more ads you click, the more the social media platform would understand your online behavior and preferences. The next thing you know, Instagram would personalize and curate ads based on your tastes.
The integrated EngageBay CRM helps you understand the performance of ads by tracking every interaction you have had with them. You can bring the campaign information into the CRM and compare the performance of campaigns against each other. Backed with data, you can then determine the most effective actions bringing leads.
9. Nostalgia marketing
In times of uncertainty, customers often turn to the memories of happier times and to brands that represent those times. Nostalgia marketing was dominant during the Great Depression of the 1930s, the Great Recession of the late 2000s, and is likely to take off now in 2021 t following the pandemic.
There is no denying the fact that nostalgia-centric mentions on social media shot up. From product launches, re-marketing to re-launches, you could use nostalgia marketing to create an emotional connection between your brand and your audience.
If you are looking for inspiration, in 2019, Motorola re-introduced a new and improved Razr with a folding touchscreen when opened. In the accouchement, you could see the old-school Razr lifting off the table. As it flew through the air, its old layers were peeled off to reveal the new slick design.
https://www.youtube.com/watch?v=CI4sP1uwBk4&feature=emb_title
Brands that can capitalize on this social media marketing trend and help people remember the good old days will earn greater customer loyalty. Consider mixing it up a bit by embedding nostalgia within your social media posts, as a part of your regular content with hashtags such as #tbt. Customers will remember them for providing positive energy during a tough time.
10. Brands will create valuable content, even if it beats production quality
When businesses were forced to go remote in 2020, the challenge for marketing, video, and social media teams was to develop scalable production processes that could be done even from home.
Consumers continued to engage with videos, live streams, and other social media content 9more so now than ever before), marketers realized that as long as the content provides value, it would be consumed. Even with lower production quality.
Brands had to get scrappy with producing content, especially video work. In absence of a production video or tons of equipment, the production became low-quality and all the more human.
As a result, social media platforms that were once cluttered with advertisements gave way to online conversations, cooking tutorials, and fitness classes – anything that made followers feel they were a part of a community.
Brands will have to come up with low budget social media strategies to drive engagement with consumers online. The fashion industry was at the forefront of this change, with user-generated content taking the center-stage. A thing to remember here is, to include hashtags to enhance the user's ability to find your posts on social media, specifically when you tie your post to a current event, trend, campaign, or discussion.
An excellent example of a brand that uses hashtags to collect user-generated content on Instagram is The Everygirl. This account is a publication and they don't sell products. They collect lifestyle content from their audience. As you can see, their content is visual imagery that is engaging and builds a community around the brand.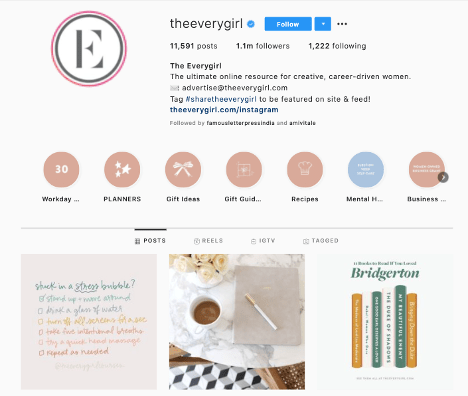 The success of low-brow shoots and consumer-led imagery is going to change how marketing and social media campaigns are shot and created. The key would be to figure out how to ride this wave of bare-bones production and relatable and at-home imagery.
Re-evaluating the metrics that drive your social media marketing strategy
Concluding, 2021 will see brands make more intelligent use of metrics in their social media marketing. This includes focusing on data that positively impacts the bottom line of your business.
Relevant metrics covering social funnel should measure – awareness, engagement, conversion, and consumers. They include:
Awareness – Mentions, shares, likes, impressions, post reach, and audience growth rate.
Engagement – Likes as a percentage of your total followers, average rate of engagement, and click-through rate (CTR).
Conversion –Bounce rate, cost-per-click (CPC), and cost per thousand impressions (CPM).
Customers – Customer testimonials and net promoter score (NPS).
Bulkly can put your social media scheduling on autopilot, thereby saving time to focus on tasks that impact your business.
There is no denying the fact that 2021 is going to be adventurous for social media marketers.
These social media trends will help you ace your strategy for social media in a competitive and dynamic landscape. You could use social media tools to find current trending topics that can be a part of your digital marketing strategy.
---