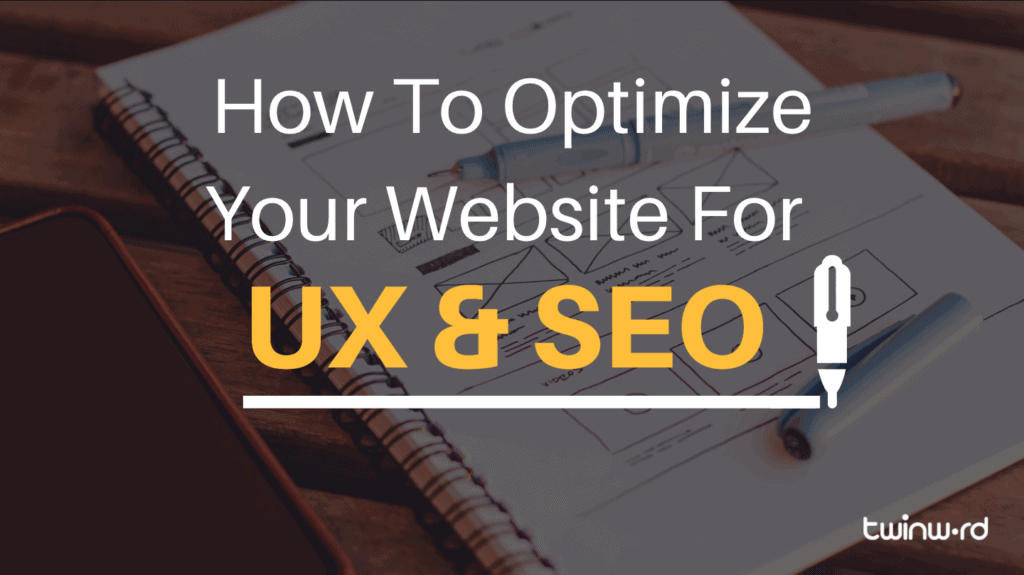 Google is used and loved by people all over the world and has kept its position as the most visited website and most used search engine for years. This makes it inevitable for businesses to optimize their websites for UX and SEO to compete for higher rankings on Google's search results and to achieve more traffic and better conversion rates.
To win the top spot in Google's search results, your website needs to be credible. Meaning, it needs to provide high-quality content that is good enough to earn the trust of your audience. This post will talk about how to make a website that impresses your customers while being able to climb up high in Google search rankings.
1. Clarify Your Value Proposition And Selling Point
A Value proposition is a promise or a statement which introduces how a business solves customer problems with its service or product. It also implies customer expectations for how the company delivers the targeted value to customers, as well as how the customers receive and experience it.
A Selling point is a unique aspect of characteristic of a company's products or services that can boost sales.
But, why is it important to display the value proposition and selling point explicitly on your website?
Most importantly, since customers visit your website to know more about your business, you need to introduce your services or products and explain what the value is that the customer will receive. In particular, it's important that you can make your company's unique value and selling points visible on your website, so that your audience can easily differentiate your company from your competitors. It needs to be apparent to the customers, why your products and services are superior.
Take TOMS Shoes as an example. The brand is well known for its charitable business model called One for One. Let's take a look at their website.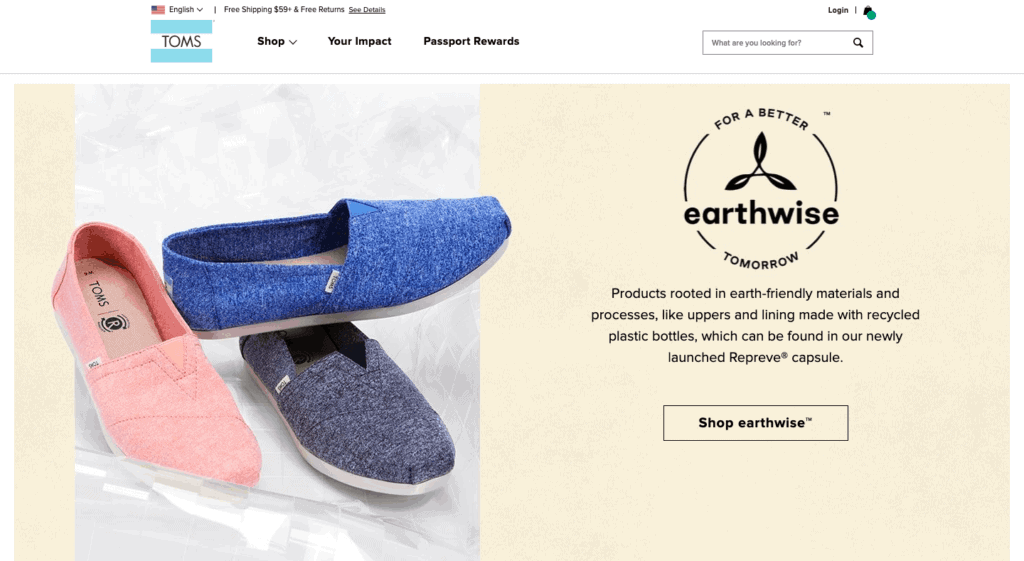 This is the first page you'll see when you visit the TOMS Shoes website. It shows immediately that the product is environment-friendly and in this way, the value proposition and selling point are directly delivered to the audience. Any business can highly benefit from exposing their value on the first page or at the top of the first page of their website.
2. Use Customer Testimonials
Brand authenticity is more important than ever. According to Boston Consulting Group, brand authenticity is the best quality that can attract customers to a brand. In addition to that, brand trustworthiness is another important element because it can turn potential customers into buyers and is closely associated with brand loyalty. In a society that is under the constantly growing influence of the internet, brand authenticity and trustworthiness are essential.
Showcasing testimonials of your customers who actually used your product or service is the best way to build brand authenticity and trustworthiness.
Glossier, a beauty brand, is an outstanding example of a company that effectively uses customer testimonial pages. The cosmetic company not only showcases various pictures taken by its customers who have used the products, but also provides professional product photos including detailed product information with a purchase button that enables direct purchase of the item visitors are looking at. Leveraging customer testimonials significantly improves customer experience and naturally increases sales.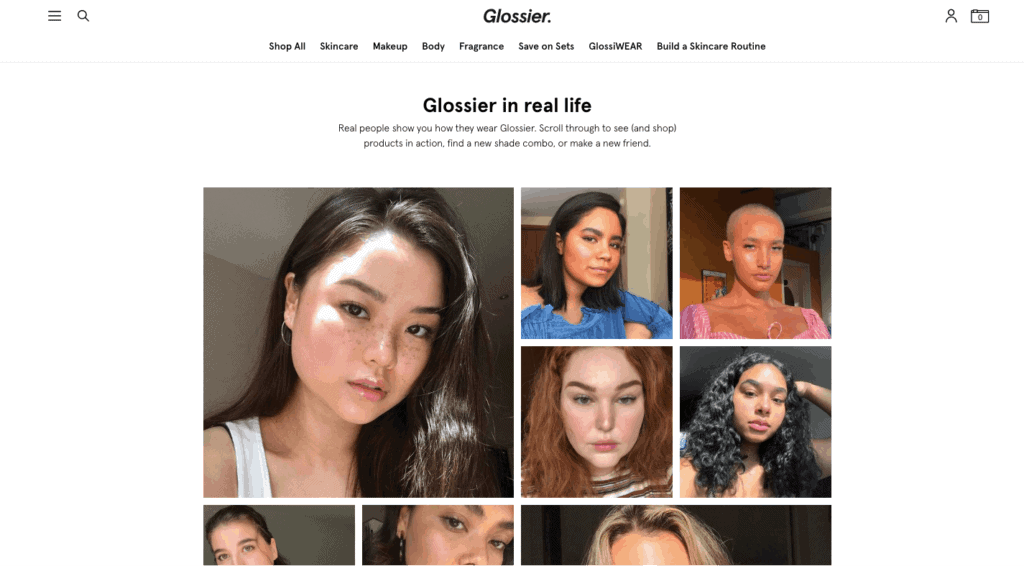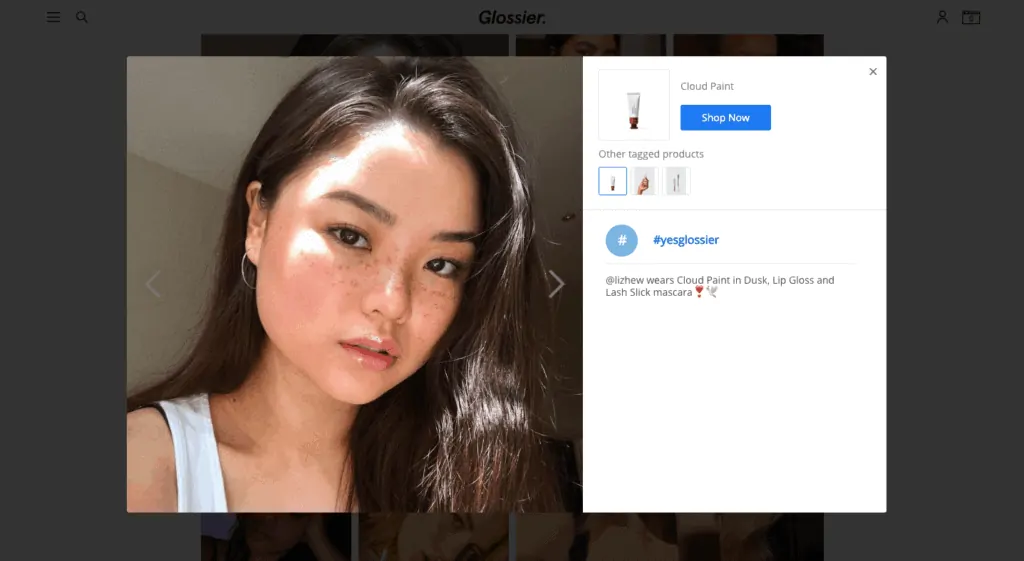 This strategy is commonly adopted by B2C companies like Glossier. Then, can B2B companies benefit from customer testimonials too?
An Australian graphic design company called 99 design is a good example of using customer testimonials. 99 design's website features reviews with ratings, a rare feature for B2B websites, including many customer testimonials such as enticing review videos that immediately draw attention. Also, to find the most relevant stories, the visitors can filter testimonials by categories of their choice.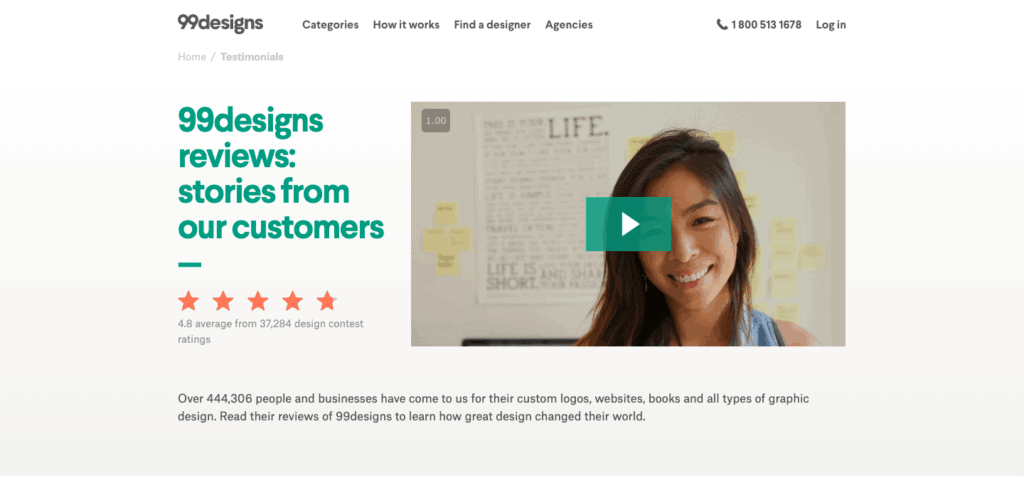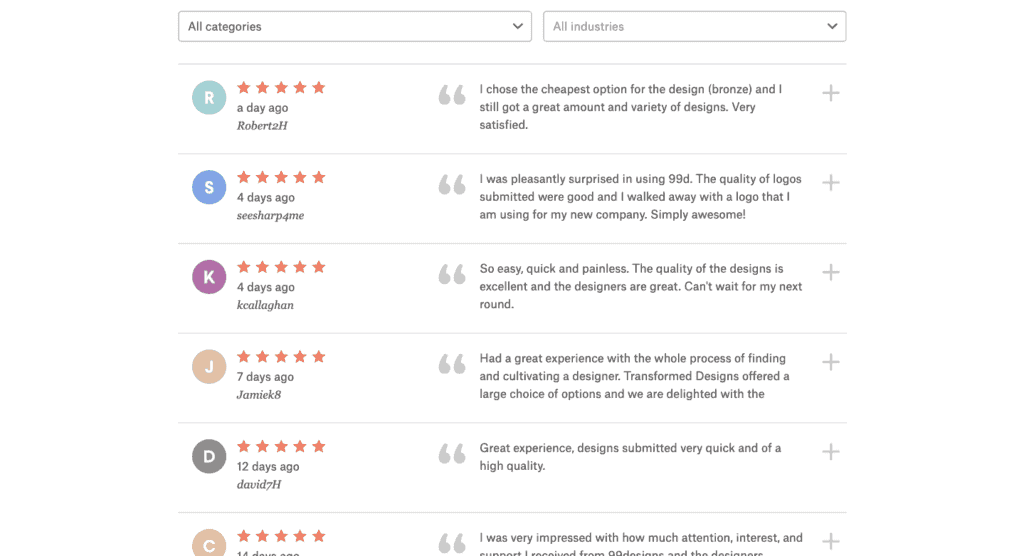 If you think you don't have enough reviews to create a legit customer testimonial page, you can begin with sending emails to your customers for a review on the product or service. Here, remember that offering the customers money in exchange for a testimonial is bad practice and will probably end up in less authentic or biased testimonials, which can adversely affect your brand authenticity and credibility.
3. Improve Your Mobile SEO
One important ranking factor for Google is mobile-friendliness. As the use of mobile devices surpasses that of desktop, Google has selected mobile SEO as part of its ranking factors, so, if you want to check whether your website is mobile-friendly or not, you can use the mobile-friendly test provided by Google.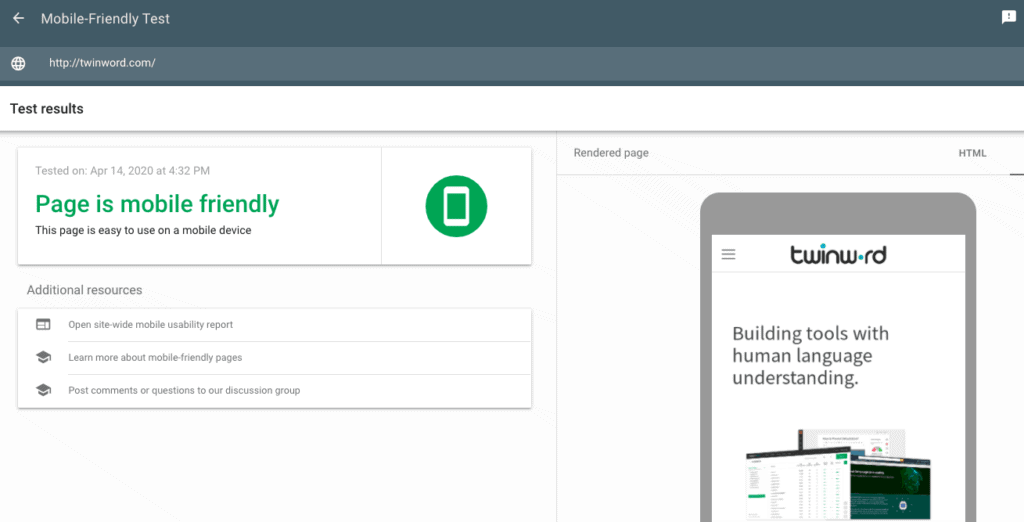 If your mobile website is not yet mobile-friendly, it would be wise to make it responsive to render well on a variety of smart devices such as desktop, smartphone, and tablet PC. Next to mobile-friendliness being very important for SEO, this step is also highly important for UX. If your site doesn't work well on mobile, users will exit quickly due to the bad user-experience which will have a negative effect on your conversion rate.
Learn more about mobile SEO.
4. Use A Simple Navigation Bar
A navigation bar, a graphical bar that aids visitors in accessing the information they're looking for, is one of the important elements that influences user experience (UX). If your website is badly structured, it will negatively affect UX and thus also your Google ranking as users will exit your page more quickly. For example, users are likely to exit your website if they need to click more than necessary to access the information they're looking for. This will lead to a decreased number of paying customers, as well as a negative effect on your SERP ranking.
A bad example of a navigation bar provides too many options and fails to help visitors find the information they're looking for within three mouse clicks.
'Less is more' applies here, as a simpler bar is better for user experience.
The straight-lined and simple navigation bar of the website VERK, a Swedish watch brand, demonstrates that perfection doesn't necessarily come from complexity. VERK's navigation bar consists of only essential features and makes it convenient for users to find what they're looking for.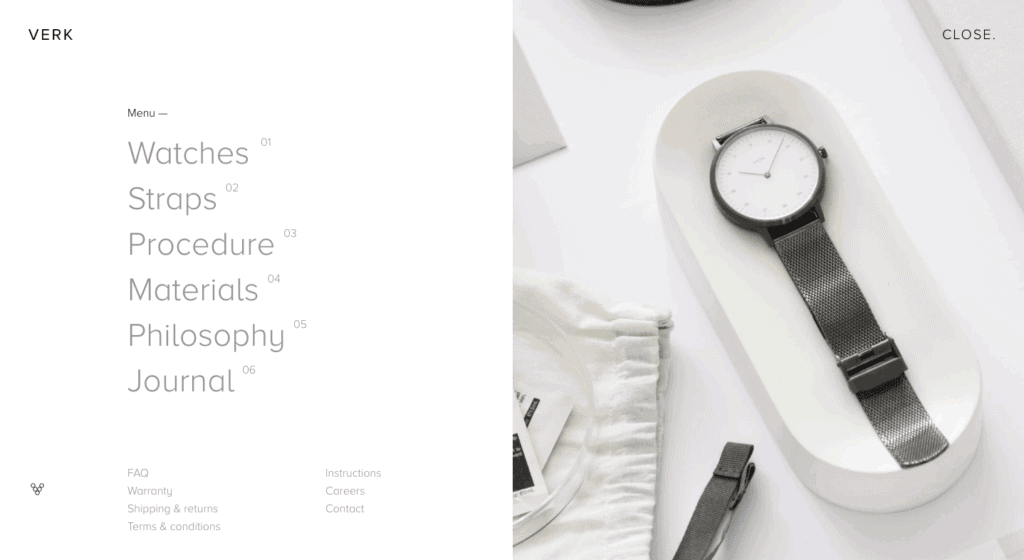 5. Optimize Title & Meta Description Tag
A title tag is the title of a web page, and a meta description tag summarizes a webpage's content briefly. It is important that each web page has its own title tag and meta description tag and that both tags don't exceed the character limits. The length for title tags is limited to 30-65 characters, while the meta description tag is limited to 70 – 155 characters.

The character limits aren't mandatory, but if you don't adhere to the limits your full title and description might not be shown on Google's result page resulting in a bad UX and probably lower click rates. Moreover, for a high CTR, the tags should contain useful and relevant information within the limited length.
Next to the character limit, it's important to include your target keywords. Your target keywords should be the keywords you want to rank for with your website and they need to be highly relevant to your brand and products or services. You can easily find the right keywords for your content and website with a keyword tool such as our own keyword tool Twinword Ideas.
6. Write Blog Posts
Content marketing such as blog posting is important because it helps you create a meaningful relationship with your target customers. With your blog posts, you can provide your customers with high-quality and educational content which has great effects such as improving your conversion rate and brand authority.
Find out more about content marketing and its benefits.
If you aren't sure whether blog posting is suitable and helpful for an e-commerce website, here is a good example from the cosmetic brand Olay.
When Olay launched a new eye cream, the company posted tips on how to get rid of dark under eye circles on its blog. This strategy was a lot more effective than simply promoting their product. As a result, Olay's CTR increased by 87%, and their conversion rate by 100%.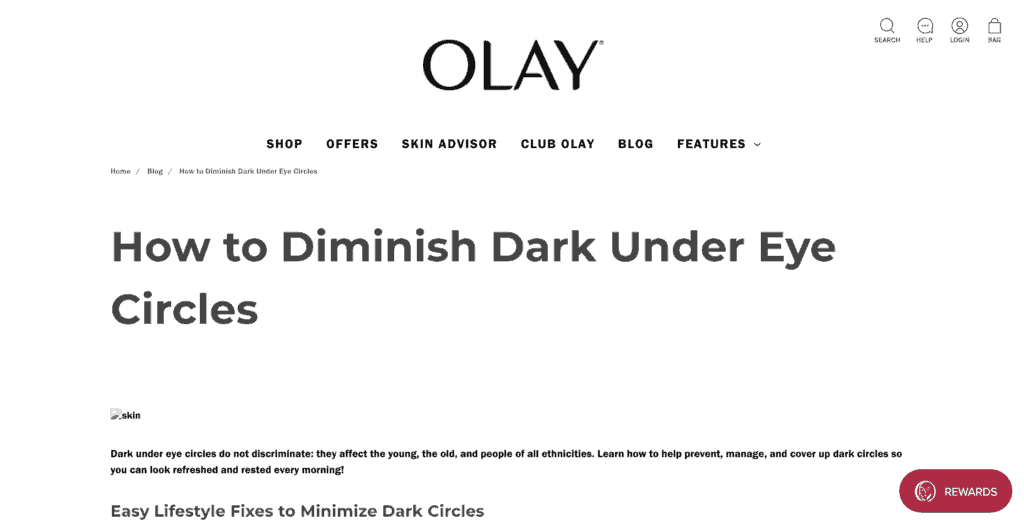 7. Close With A Call-To-Action (CTA)
Call-to-action refers to a method that prompts or encourages an intended action from viewers, which plays an important role in increasing your conversion rate. For example, the app download button on Instagram's website, the 'try 30 days free' button on Netflix's website, and the sign-up button on Pinterest's website are all CTAs.
Instead of letting visitors leave without taking any action, you should utilize a CTA to induce them to buy a product or service, to sign up for your newsletter, to let you know their email address, or any other action that you'd like the customer to take. CTAs can highly improve your conversion rate.
To increase the effect of a CTA, make sure it's placed at a good position on your website. For a high CTR, CTA buttons need to be easy to click, should have an eye-catching image, or should be designed with colors or phrases that psychologically induce clicks.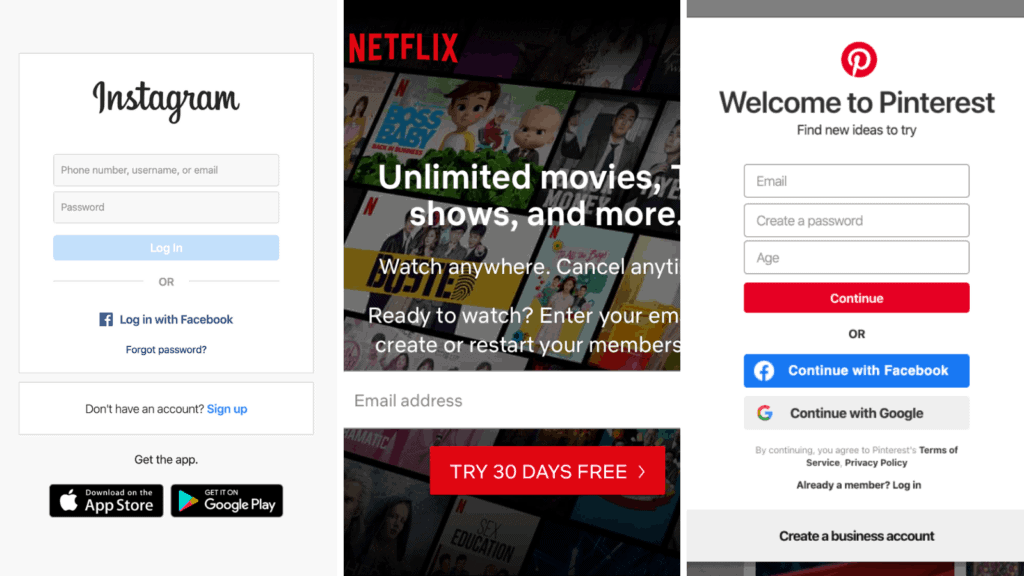 Make Your Website More User-Friendly And Optimize It For SEO
We introduced several ways to make a great website that provides a high-quality user experience (UX) and that at the same time can rank high in Google search results. Next to what we showed you in this post, there are several more ways to optimize your site for SEO. To learn more, check out this basic SEO guide.
---
Read more about SEO and digital marketing: