We all agree that choosing the right keywords for your website and content is vital to increase our ranking on Google and other search engines. However, we also agree that keyword research and searching through endless keyword lists is a pain for most of us. But there is a solution for it!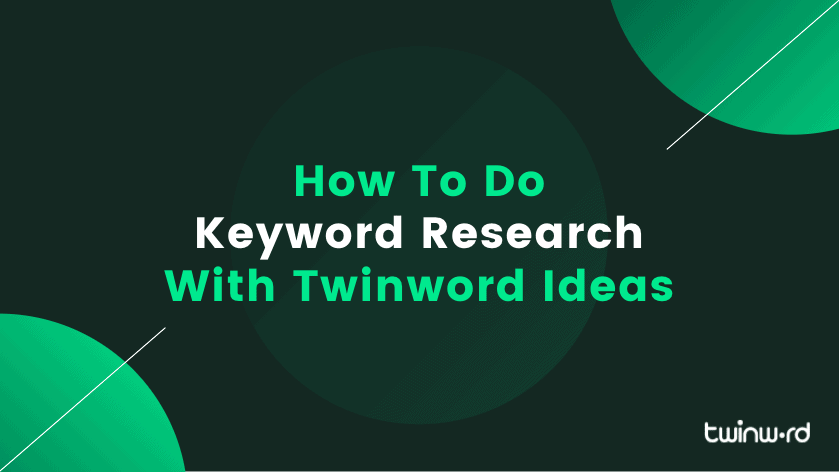 Do Keyword Research For Your Website And Content Faster With AI
In this guide, we'll show you how to get the best keywords for your website or content a lot faster with the AI-powered keyword tool Twinword Ideas. Within no time you will have just the keywords you need.  
Getting Started
Step 1: What are you selling?
Type in your product or service (not your brand name) into the search bar and click "Search" (or press the enter key). An example could be "sneakers". Afterward, you will get a long list of keyword suggestions.
Estimated keyword count: 3,096  

Step 2: What are the relevant topics?
Now, using the Popular Topics filter on the left, select the topics that you are interested in. In our example, we will select sneakers specifically for training and sports. After selecting popular topics, our list is now already significantly shorter. Estimated keyword count: 74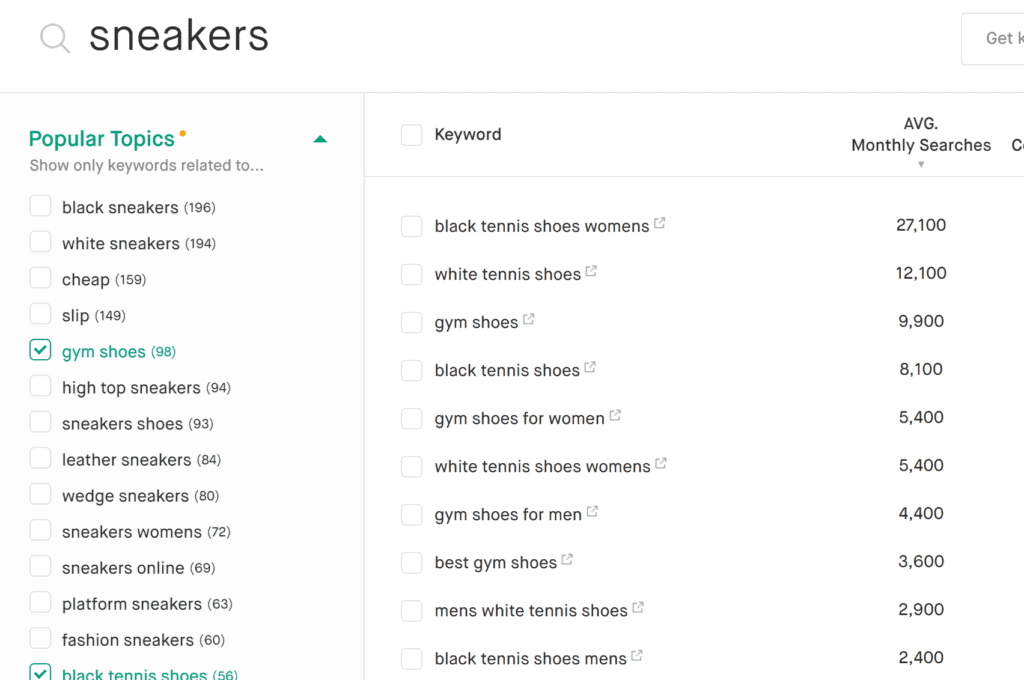 If after a brief look at the filtered keyword list and you don't see the keywords you are looking for, you can always add your own custom topic. In this case, we will add the custom topic "sports". Now in our keyword list, we can see relevant keywords
such as the keyword "running shoes".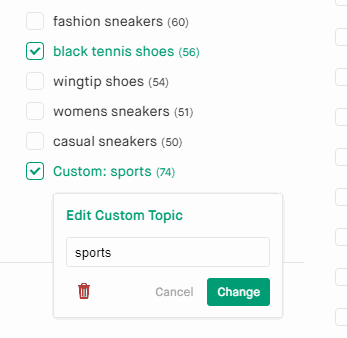 Finish by selecting from the top keywords.
Now, your keyword list should be decreased to only a few keywords and sorted with the highest scores on top. All that's left to do now is to select the ones you want to use. Click the check boxes of the keywords you like or select them all. After selecting your keywords, click on the green button on the right to copy or download your keywords into different formats such as Excel or CSV. Quick tip: if you want to sort your selected keywords before you copy or download it, you can do so my clicking the green download icon on the right and clicking the "View selected" button. In this view, you can sort by search volume, keyword or title score, relevance, or SEO and paid competition.
The above should be enough to get you started. However, in some cases when you want more exact filtering, you can utilize our more advanced features to filter your keyword list. For the examples below, you'll want to first click on the "Show advanced filters" button on the left side below the popular topics filter to show our entire list of filters. Now, let's continue the Q&A by picking up where we left off.
Step 4: Where do you sell?
If you sell offline only, you can use the 'local' user intent filter to narrow down your keyword list.  

Estimated keyword count: 55 (after using local intent)
If you sell online only, or both offline and online, proceed to step 3.
Step 5: Why are you looking for keywords?
If you need keywords for your website, specifically webpage titles, meta description, tags and content (e.g. to optimize for SEO), use the search volume filter, or sort by average monthly searches to get keywords with high search volume.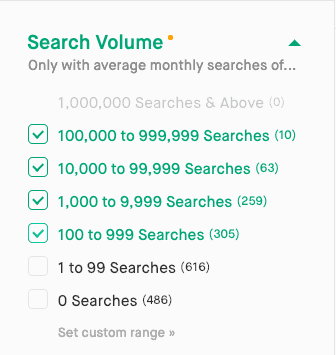 Then afterward, use the SEO competition filter or sort by SEO competition to get keywords that have a low competition on Google's search engine result page, and are therefore easier to rank for.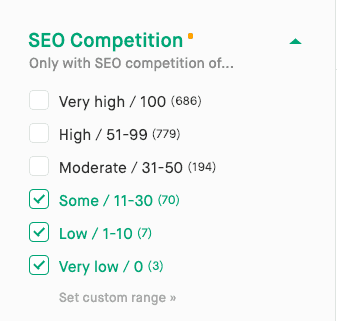 For web content.
If you need keywords for your content, you can use the popular topics filter to get inspiration for potential topics to write about. Simply click on any topic to get the right keywords for your topic, or even create your own topic to get keywords for any custom topic.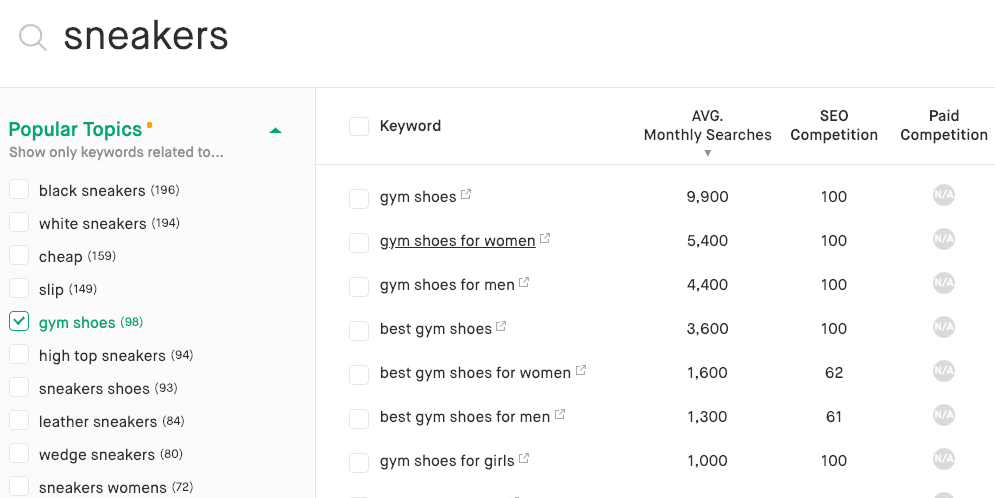 Afterward, you can sort by keyword and title score to get the best keywords for your content and titles. The more stars a keyword has, the better.  

If you need keywords for Google Ads (former Adwords), Bing, or other paid campaigns (SEM/PPC), then use the paid competition filter to see cheaper keywords. Next, use the relevance filter to increase the minimum relevance score to see more relevant keywords.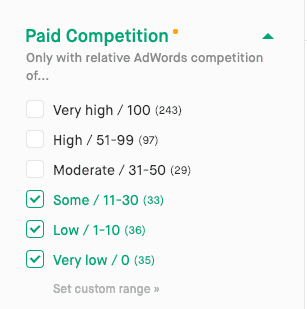 Additionally, you can use the pattern filter or the include/exclude filter box to include keywords that have certain patterns or to remove patterns you don't need.
Estimated keyword count: 55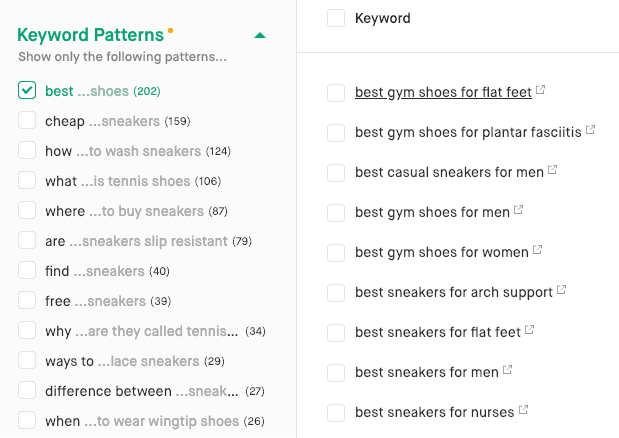 Step 6: What kind of users do you want to attract?
If you want to attract users that search for information and are therefore at the start of their buying journey, use the 'know' intent in the user intent filter.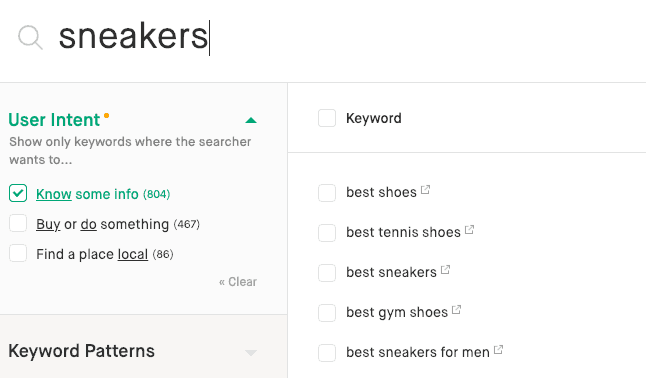 If you want to target users that are ready to buy and are simply comparing different options, use the 'buy' intent in the user intent filter.
Estimated keyword count: 45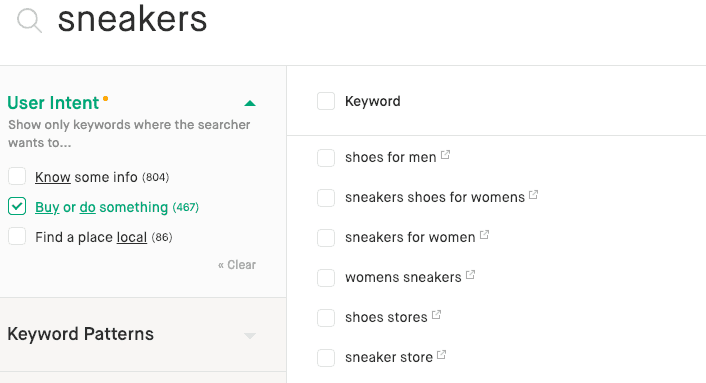 Step 7: Long-tail keywords only?
Do you only want very specific keywords that have a higher conversion rate but therefore lower search volume? Then use the word-count filter to increase the word-count number to see long-tail keywords. Otherwise, move on to the next step.
Estimated keyword count: 34 (long-tail keywords only)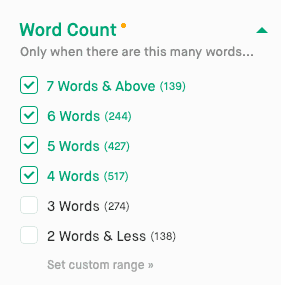 Select and download.
As seen in the getting started section above, you can sort your keywords and then go through the remaining keywords while selecting the ones you want. Now that your list is down to only 50 keywords, down from the original 3,096 keywords, this task is more manageable.  
Need Trending Keywords?
Trending keywords are words or phrases that show a significant increase in search volume over a short period of time, often due to current events, seasonal changes, or viral content. They can potentially drive a lot of traffic and engagement to your website. By simply switching to Trending menu, Twinword Ideas will provide you a list of trending keywords from Google News, which is related to your query. You might want to click a keyword to read a news article on why this keyword is trending and related to your query.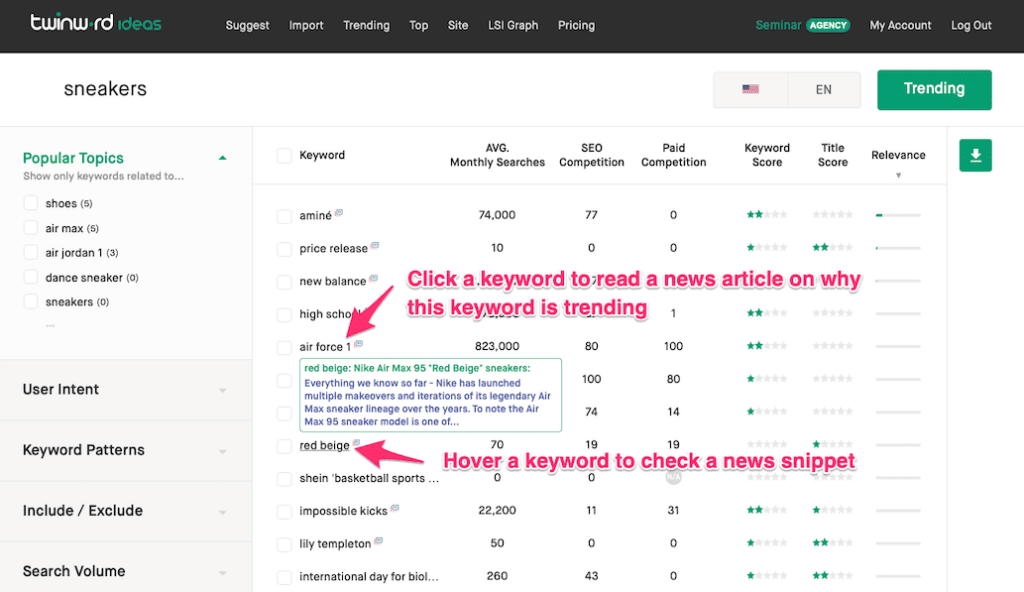 More Smart Filters
Please keep in mind that the instructions above are only a guide. There are many ways to use this smart keyword tool to get just the keywords you need with only a few clicks. You can always mix and match the filters to see what gives you the best results for your product or service. The goal is to filter your keyword list down to a manageable size, so you can then quickly go through a short list and easily select the keywords you want to use.
Go ahead and try the keyword tool for yourself. Let the keyword filtering and content creation begin!
---
Find out more information about Twinword Ideas' features. Or, check out other chapters in this series on keyword research
Chapter 1: Overview Of Keyword Research
Chapter 2: What Is User Intent
Chapter 3: What Are Long-Tail Keywords
Chapter 4: What Is Keyword Difficulty
Chapter 5: Keyword Research Tools