Keyword research still is one of the best SEO and SEM strategies for your website. People are searching for something on search engines like Google, and with keyword research, you can find out what kind of long-tail and short-tail keywords your target group is searching for. Then, you can implement these keywords in your content to reach and attract the right audience. But, what exactly are long-tail and short-tail keywords?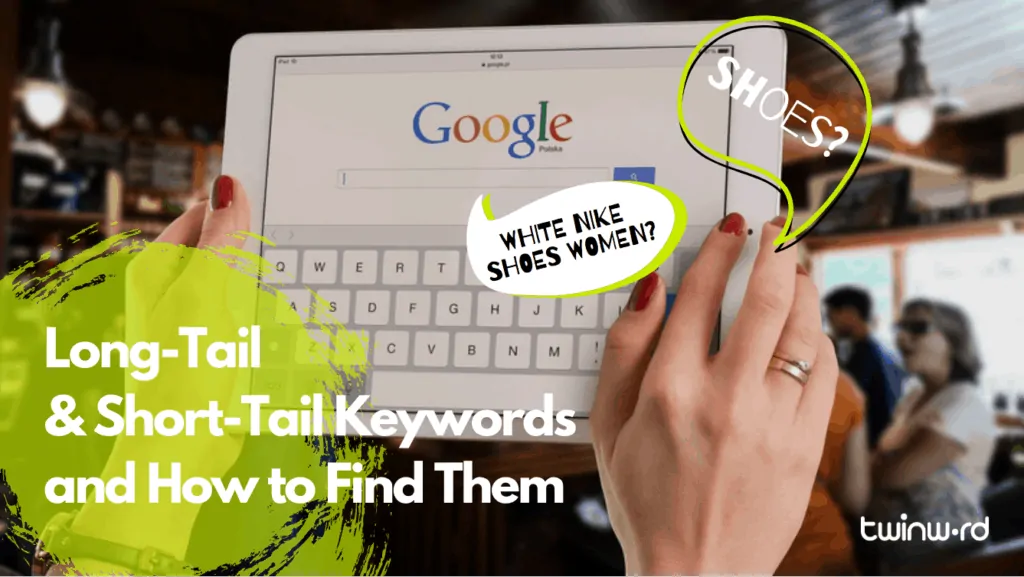 What Are Long-Tail Keywords?
Long-tail keywords are very specific terms. They usually contain four or more words that clearly specify what the consumer is looking for and what their intent is. The more specific keywords you add to your product or website, the more likely you will get more qualified customers visiting your site. This is because consumers who are looking for something specific to your product are more likely to purchase your products, rather than someone who is only doing a general search.
In 2016, Marieke van de Rakt from Yoast said it is much easier to rank for long-tail keywords than for more common keywords. They are easier to rank for because they are more specific, which results in less competition.
The left side of the graph below shows an example of long-tail keywords. The more specific the keywords are, the lower the cost due to lower competition. In contrast, the less specific the keyword, the higher the cost because there is more competition for those words.
Long-tail keywords are more targeted, less competitive, and therefore have a lower cost. The downside is having limited search volume or traffic to your site because the majority of people are searching for less specific keywords. The upside is that those people that are looking for such specific keywords are more likely to convert.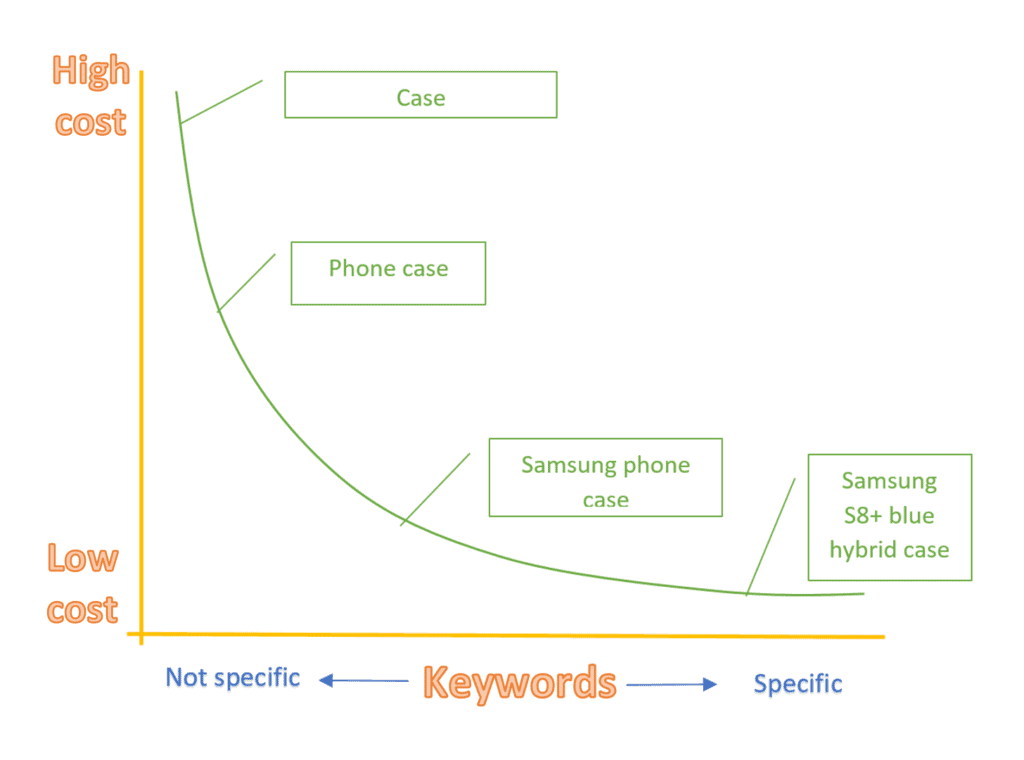 What Are Short-Tail Keywords?
Short-tail keywords are terms that are more general, broad, and may have multiple user intents — basically, the opposite of long-tail keywords. For example, as you can see in the screenshot below, short-tail keywords tend to have high search volume, high competition, and high cost-per-clicks, but low conversion rates.
They bring a lot of traffic to your site, which can be beneficial in several ways, but the competition for these words is a lot higher than for long-tail keywords. Even though a large number of hits may not convert, short-tail keywords may bring in a big share of your target market and the increased traffic can have a positive effect on your organic ranking.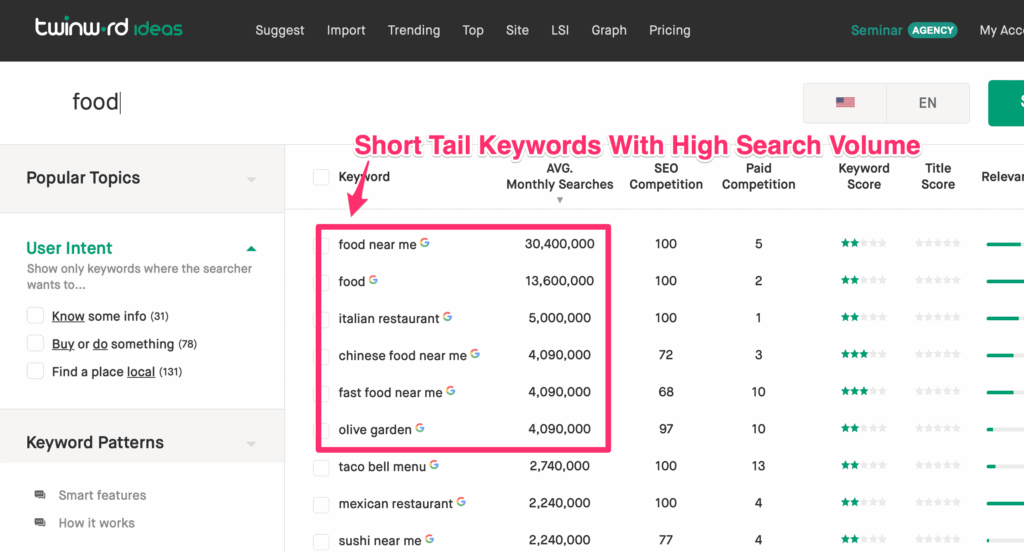 Why Use Long Tail Or Short Tail Keywords?

Keyword research is one of the most important factors of SEO and SEM marketing, and depending on the terms you use, it can make or break your campaign. The keywords you choose will affect your CPC (cost-per-click), CTR (click-through-rate), page ranking, and conversion rate.
Pro's And Con's Of Short-Tail Keywords
Benefits of short-tail keywords:
Traffic – Let's first take a look at short-tail keywords. The biggest plus of using short-tail keywords is that you can have an increase in traffic to your website due to the high search volume.
Disadvantages of short-tail keywords:
Competition – A big downside is the high competition on search engines. This makes sense due to the high search volume, which is why everyone wants to rank for them. If you are not a company with enough brand awareness, it will be hard to rank on the first page of the SERP with a short-tail keyword.
Cost – The costs of using short-tail keywords can be high. Because of the high competition and the high search volume, people often spend a lot of money on Google Ads. Thus, you will have to pay more than your competitors to be ranking number one.
Conversion Rate – This is a big turnoff for most people. Even if you see a high CTR rate, you might only get a handful of conversions. This is why it is a smart idea to use long-tail keywords instead of short-tail keywords to increase your conversion rate.
Intent – This factor is related to the conversion rate. Let's say people are looking for cream, but you don't know what their intent is. It can be that they are looking for the band cream, the food cream, or even a beauty cream. This is why conversions are low if one is targeting a keyword that could have a different intent.
Pro's And Con's Of Long-Tail Keywords
Benefits of long-tail keywords:
Competition – The competition is lower when using long-tail keywords. This is because the search is very specific, which results in only a handful of people targeting that keyword.
Cost – The cost of searches for long-tail keywords is cheaper than for short-tail. This is because long-tail keywords have a lower search volume than short-tail ones, which means lower potential traffic and lower CPC.
Conversion Rate – The conversion rate is high because people already know what they are looking for. They usually are already in the buying stage of the customer's journey and are trying to find the right supplier. For example, someone that searches for black running shoes from Nike is more likely to convert than someone that searches for shoes in general.
Intent – The intent is clear because people are searching for specific products or services. They know what they want, and this kind of traffic shows the best chances for conversions.
Disadvantages of long-tail keywords:
Search Volume – The downside of using long-tail keywords is that the search volume is usually lower than for short-tail keywords. This is a result of the majority of people searching for general keywords (short-tail keywords) rather than specific long-tail keywords.
Since the search volume is low, the potential traffic is lower, as well. However, research was conducted by Ahrefs on search volume. They state that more than 90% of all keywords get ten or fewer searches per month.
This means that 92.42% of the total keywords that people search for on search engines are long-tail keywords. Therefore, even though the search volume is lower, you can target more long-tail keywords than short-tail ones to compensate for it.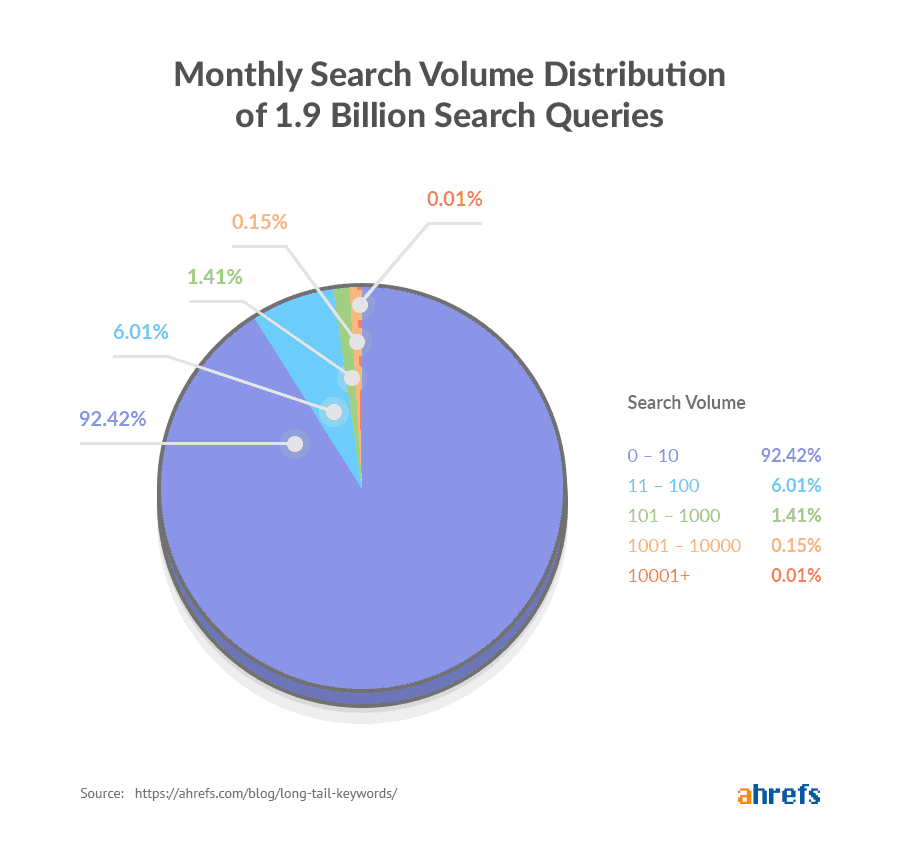 Your goal then is to find the sweet spot between or a mixture of short-tail and long-tail keywords to maximize your traffic and conversions.
How To Find Long-Tail Keywords?
Below are five tools you can use to find long-tail keywords.
1. Google Keyword Planner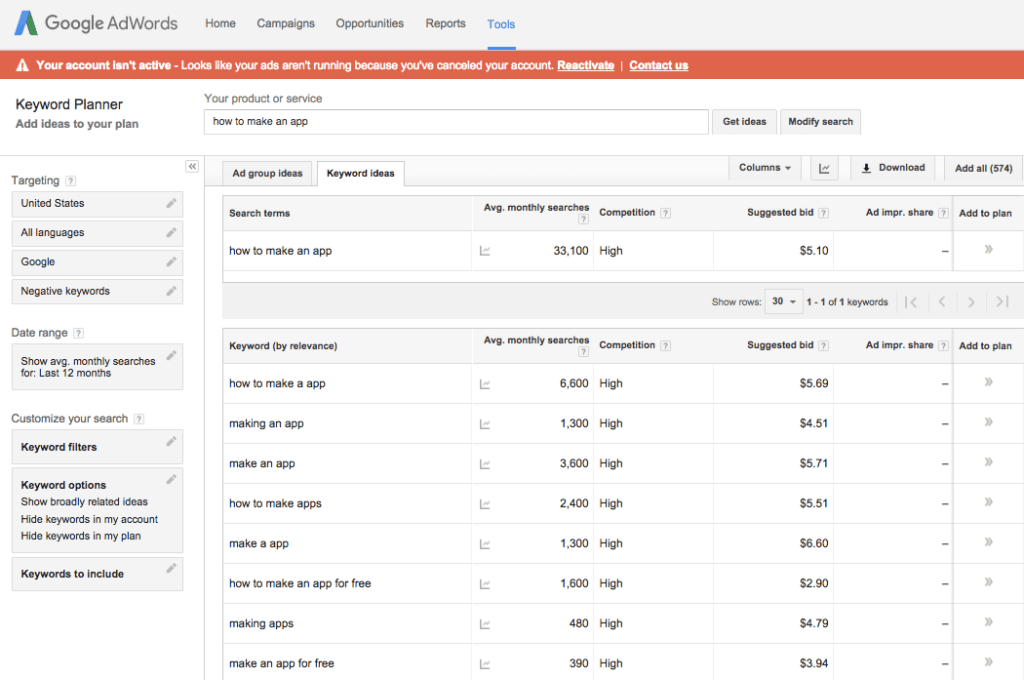 How many times have you heard about this tool? Almost every single SEO related articles and blogs on keyword research include this creation of Google.  Google Keyword Planner is a keyword tool that you can use.
However, you need to have a Google Ads account. If you are new, you need to set up an active campaign to use the planner fully. This tool can be very useful for people who run a PPC campaign on Adwords to check their keyword statistics, keyword ideas, place ad bids and more.
There is a way how you can get a feel of the planner without giving your billing info or paying for ads to Google, however, there are many limitations, and it will only give you estimates. Here are some features that you can receive when using Google keyword Planner.
The catch here to get full access and not estimates is that you have to run an active AdWords campaign, which will cost money. If you are not spending enough money on ads, Google will replace the precise search volume data to search volume ranges.
New keyword ideas
Avg. monthly searches (estimates)
Competition level (high/medium/low)
Top of page bid (low range)
Top of page bid (high range)
historical data or traffic forecasts
2. Google Autocomplete
No time to go through Google Keyword Planner for all your posts, or you don't have an active Google Ads campaign? Fret not, here's a way to cheat. Make use of Google's autocomplete suggestions to find out some similar sentences people are searching for.
The first thing you have to do is to type in a seed keyword on Google. Seed keywords are simply your main keywords. They mostly consist of one or two words, as you can see in the example below.
After typing in 'fall clothes' as the main keyword, press 'space' instead of 'enter', and then multiple suggestions which you can target as long-tail keywords are shown.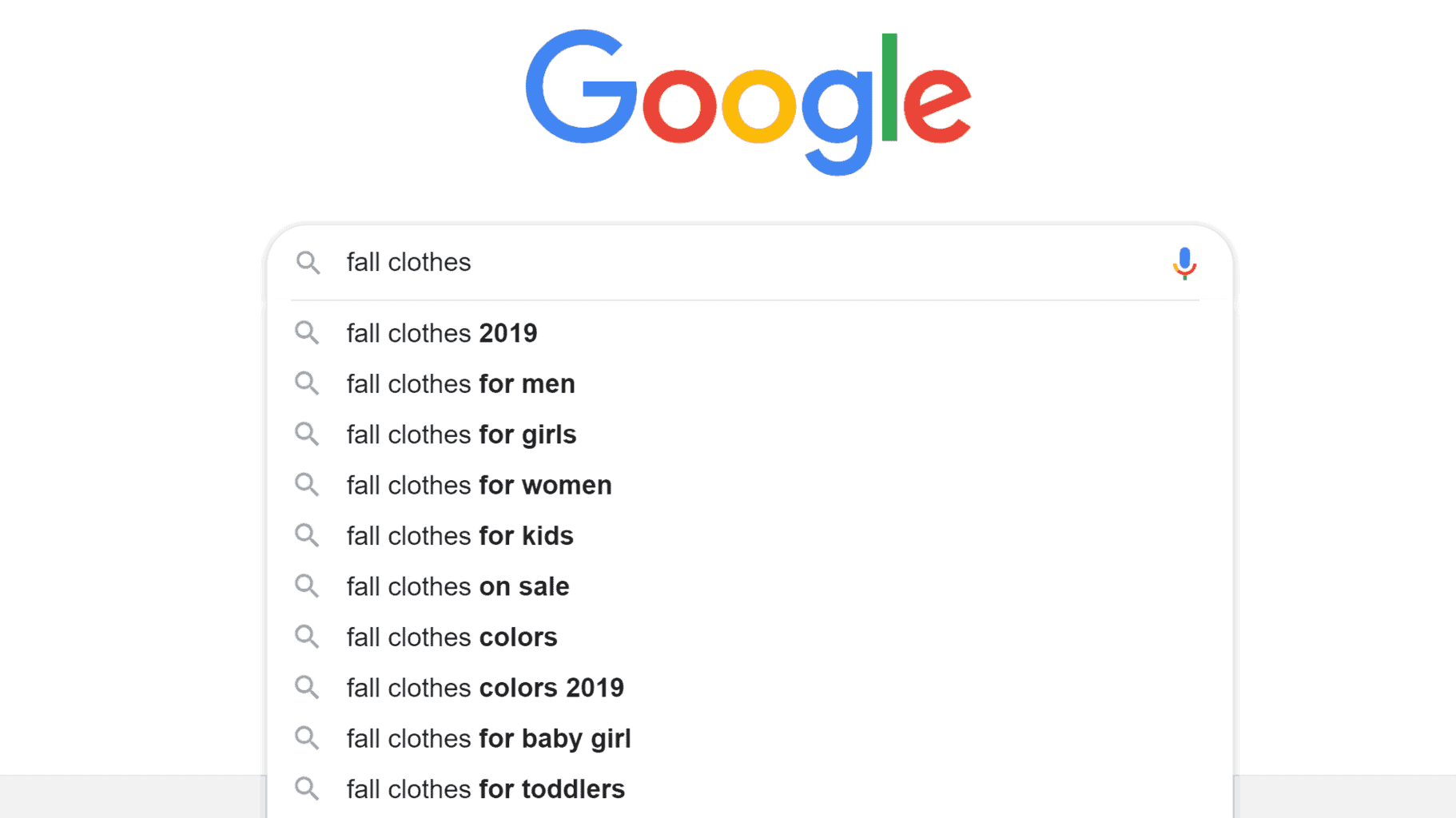 You can find even more long-tail keywords by typing in a letter after your primary keyword(s) for more suggestions: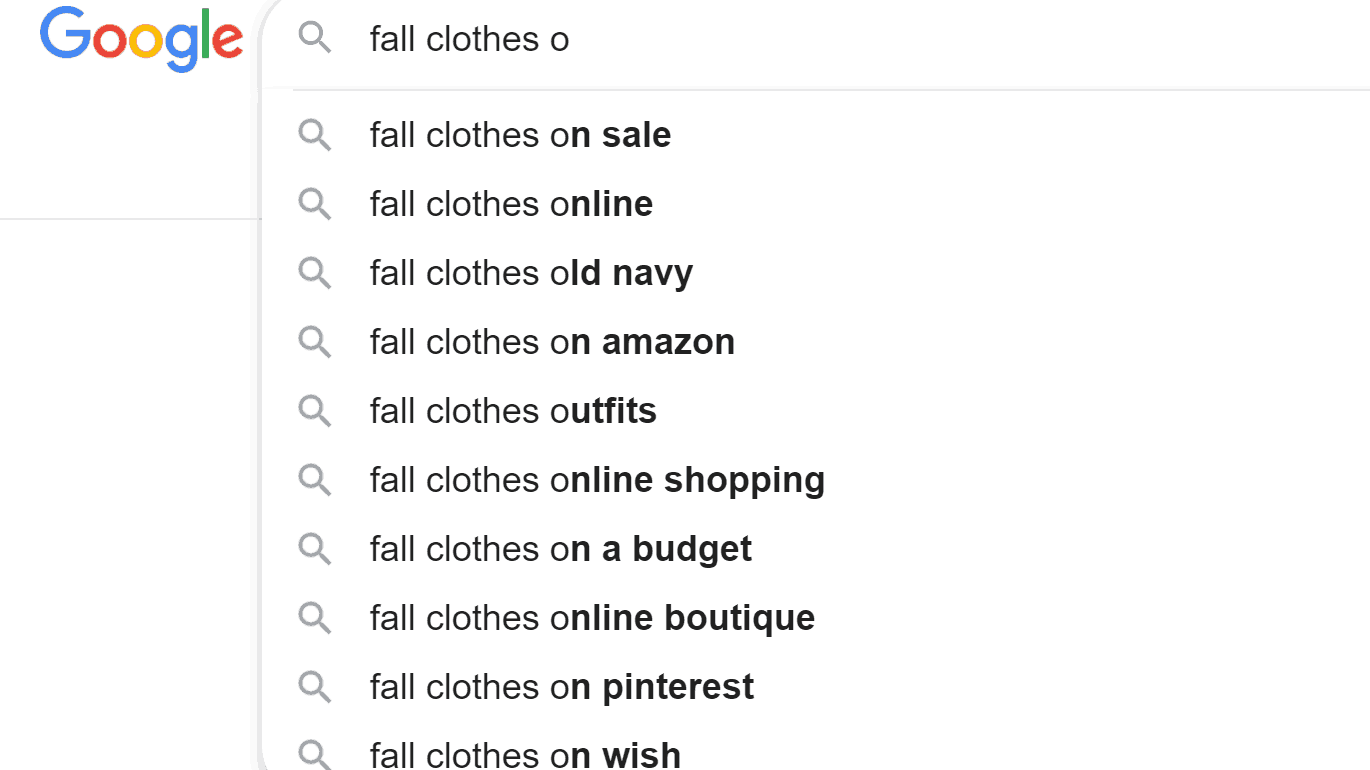 3. Searches Related To
Another way to find new long-tail keywords is through Google's 'searches related to.' Do the same step as before, where you enter your main keyword. However, this time, press the enter key and scroll down at the bottom of the page where you will see searches related to +keyword. We took the keyword cars in the example below.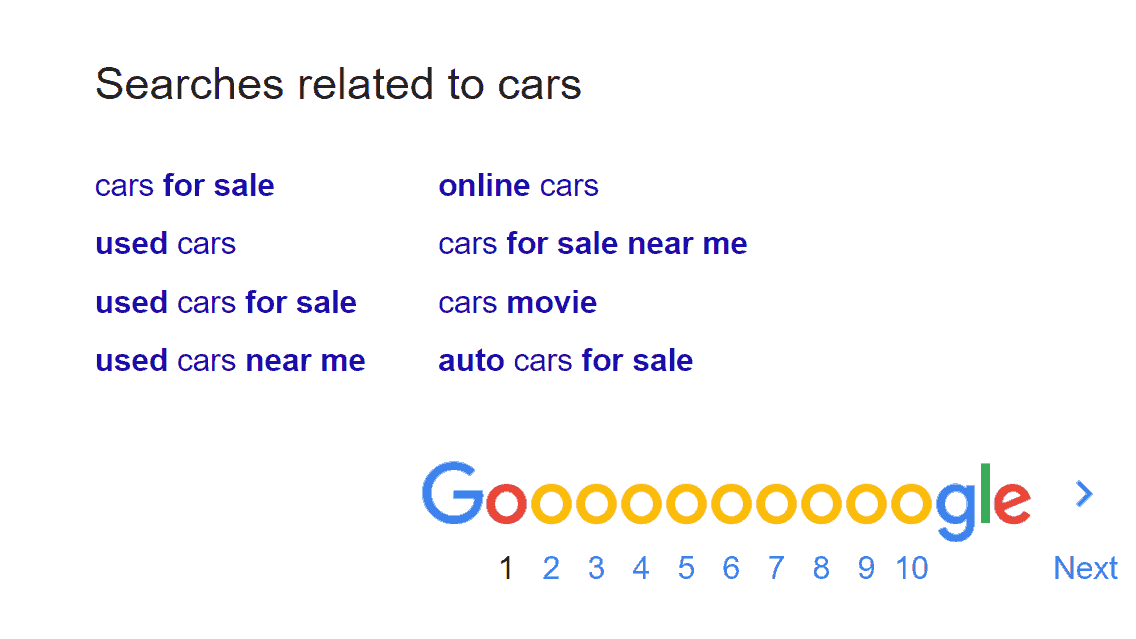 4. Browse Q&A Sites And Forums
Other tools that you can use are Q&A websites. Platforms like Quora, Reddit, and Yahoo! Answers. Now you are probably wondering how Q&A sites can help you find long-tail/short-tail keywords. As mentioned before, it is important to know your user's intent when they are doing a search query.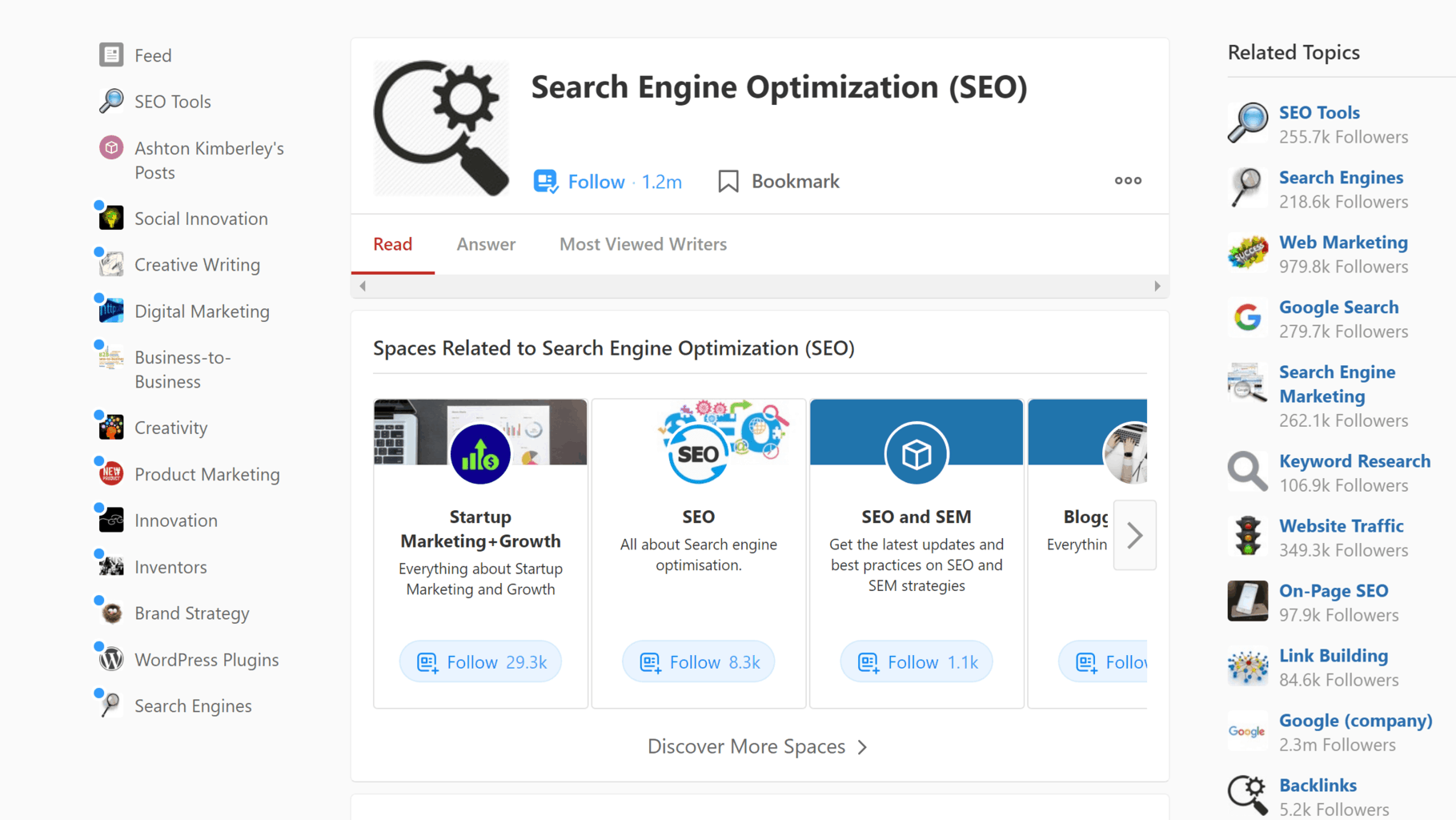 As an example of Quora, we use the main topic, 'Search Engine Optimization (SEO)'. On the right, there are related topics. You can click on any of these to start researching people's Q&A's. In the majority of the cases, the questions and answers are very specific and are great to use as long-tail keywords.
5. Twinword Ideas Keyword Tool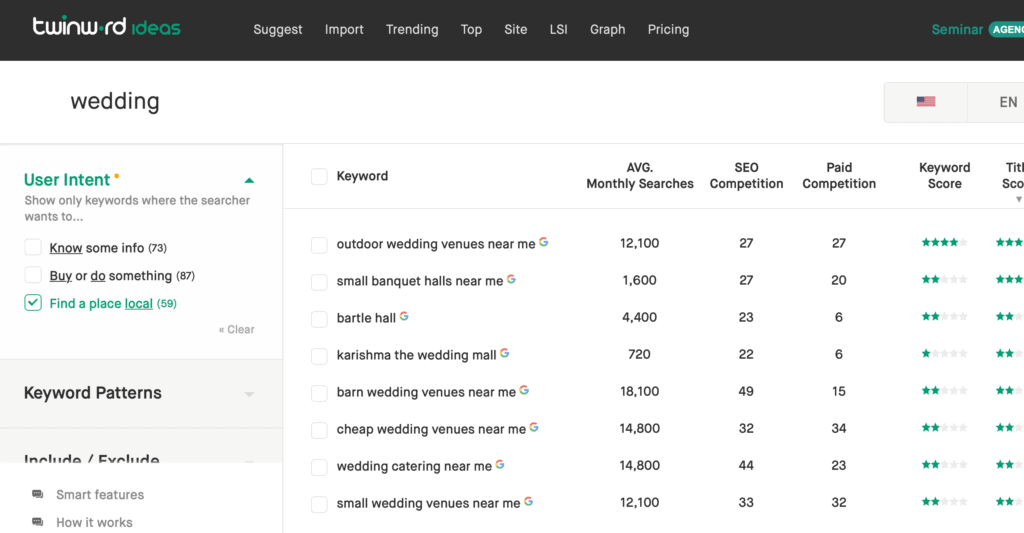 Twinword Ideas is a keyword research tool for SEO and PPC marketing. Not only can this tool help you generate long-tail keywords in seconds, but it is also the first tool to use A.I. to auto-detect the user intent of each long-tail keyword suggestion so you can quickly filter and get what you need. Features we want to highlight are:
Get both matched and related keywords
Auto-detect user intent
Sort and filter keywords by relevance
All you need to do is enter your main keyword in the search bar and click on search. If you want more specific keywords, click on the "Show advanced filters" button under the popular topics filter. Scroll down until you see the word count filter, and here you can choose how many words your long-tail keywords should have.
If you can't decide, don't worry, as can be seen in the picture, you can make a custom range which will give you more options. If you are unfamiliar with keyword research and LSI keywords, this article on LSI Keyword research can help you get started.
Of course, there are other keyword research tools that you can use to find long-tail keywords. You can check them out on this helpful blog post on Keyword Research Tools.
Remember To Write Naturally
You go through all this work to find your long-tail keywords, so don't mess it up with keyword stuffing! The most important rule is to include your short-tail and long-tail keywords naturally and to not overdo it! Learn more about where to put your keywords.
When it comes to SEO or SEM marketing, keywords are a major deciding factor for your website or product's success or failure. Find some long-tail/short-tail keywords that represent your brand today!
---
Check out other chapters in this series on keyword research:
Chapter 1: Overview Of Keyword Research
Chapter 2: What Is User Intent
Chapter 3: What Are Long-Tail Keywords
Chapter 4: What Is Keyword Difficulty
Chapter 5: Keyword Research Tools