Today, we are excited to launch our new Affiliate Program for our smart keyword tool Twinword Ideas. If you love our AI-powered keyword tool and would like to share the love (or are already sharing the love), why not also get paid?
Start earning recurring commission on your referrals today!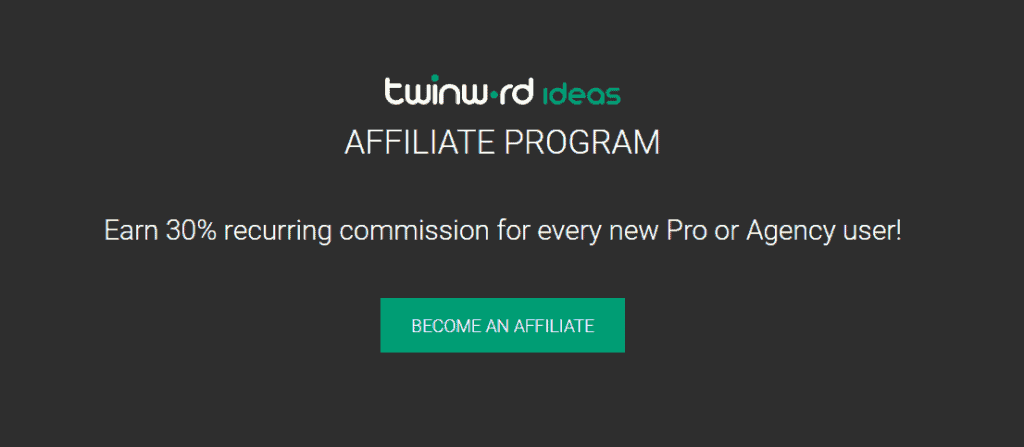 Getting Started
To get started, it is just three easy steps.
Register to become an affiliate. For existing Twinword Ideas users, it is the same account. You just need to activate your affiliate account after logging in with your Twinword Ideas account.
Market Twinword Ideas to your audience on your blog or web site or with your social media followers using your unique affiliate referral link.
Earn 30% recurring commission for every referred user that subscribes to Pro or Agency Plans. Each month they renew, you also get paid.
Below we will walk through some of the benefits.
First Cookie Wins
Our "first cookie wins" attribution model provides tracking with 10-year cookie life for maximum commission distribution.
What this means is that if you referred a new user to Twinword, then someone else referred that same user to Twinword nine years later, and then that user subscribes, you will earn the commission.
Referral Links For Any Page
You can link to almost any page at Twinword.com. You are not limited to any landing page. All you have to do is add your affiliate ID to the URL to bring your audience there and also get referrals.
Here are a couple of examples of how that would work if your affiliate ID is "twiaf-abc12345":
https://www.twinword.com/ideas/?afid=twiaf-abc12345
https://www.twinword.com/blog/user-intent/?afid=twiaf-abc12345
To make this easier, we also provide an Affiliate Box that shows up on all pages at Twinword.com where you can bring referrals. After signing up as an affiliate, while you are logged in and are browsing our web site or blog, the Affiliate Box will appear at the top of the page.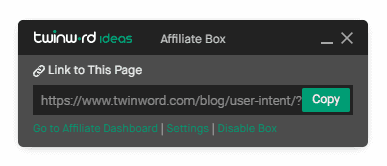 Don't be limited to talking about our keyword tool. Having referral links for any of our blog posts allows you to talk about any topics that we cover.
Automated Tracking Code
On top of using referral links, wouldn't it be great to get referrals without having your visitors even clicking any links.
That's right, no clicks necessary!
Use our automatic tracking code on your web site or blog and everyone visiting your site will automatically be attributed to you, regardless if they click your affiliate link.
What this means is that once someone visits your web page where you have implemented this code, any time after that (within 10 years) the visitor finds their way to Twinword and purchases a subscription, you will earn commission. Simply landing on your web page where this code is implemented is equivalent to clicking on your affiliate referral links.
To set this up, visit the Links and Setup page after logging into your affiliate account and find the section on Automated Tracking Code. Then copy and paste your automatic tracking code snippet into the HEAD section of your HTML code of your web page. For any page you implement this, when a person visits that page, they will automatically be attributed to you.

You are free to implement this on every page in your web site as long as there is at least one mention of Twinword Ideas in one page or post of your site. Please note that you should only implement this code on web sites you own.
Real Time Statistics
View your stats in real-time in your Affiliate Dashboard. There is no need to keep refreshing your browser. All stats are live and up to date! As long as you have your dashboard open, you'll have the latest statistics and earnings report.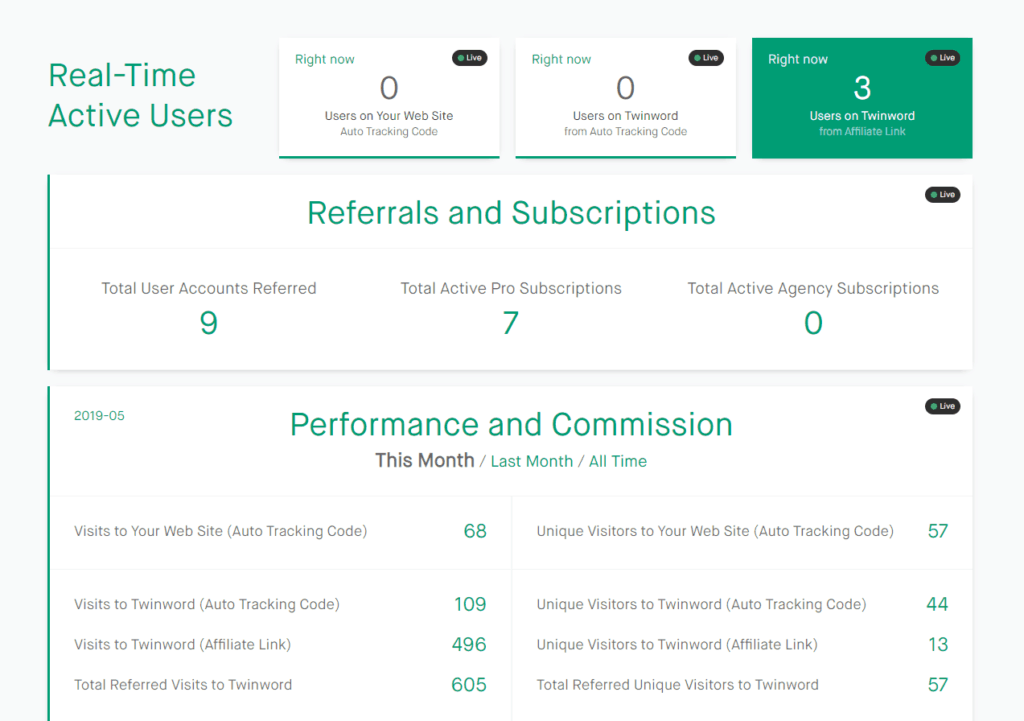 If anyone visits Twinword using your affiliate referral code, you will see it in real-time. Furthermore, if you have the Automated Tracking Code implemented, you can also see anyone visiting your own web site or blog where it is implemented. You can also see visitors at Twinword who came from your Automated Tracking Code.
You'll find that the dashboard also reports referrals won and lost to other affiliates. This way you can see the number of referrals where you were the first to refer a visitor and where you were not.
The Affiliate Dashboard includes your statistics from this month and last month in addition to your all-time statistics.
Payments
Earn commission on every subscription of your Qualified Referrals including their future renewals.
For a referral to count as a "Qualified Referral", all of the following criteria must be met:
The signup happens after being referred by the affiliate,
The signup and referral happens in the same web browser,
The affiliate was the first to refer (no other referrals before it), and
The signup happens within 10 years of the referral.
Get paid monthly when you have reached the payout threshold. To keep things simple, payments are made to affiliates via PayPal.
As with any other affiliate program, you are solely responsible for any fees or tax obligations that are a result of receiving affiliate payments.
Get Started Now
There is no need to hesitate, register or activate your affiliate account today and start earning money for talking about a tool you love.