Keyword Tool With Smart Features And Filters
The keyword tool Twinword Ideas has many great features that help you to save time during your keyword research. The tool helps you to find all the SEO keywords you need for your website and content. Check out all the features below.
Search Volume And Competition Scores
Copy Or Download Your Keywords
Tool Design
The simple design allows you to see all filters and features at a glance to filter your keyword list faster than ever before. Every filter can be found on the left side of the tool, allowing for optimal ease of use and that super quick filtering of your keyword list.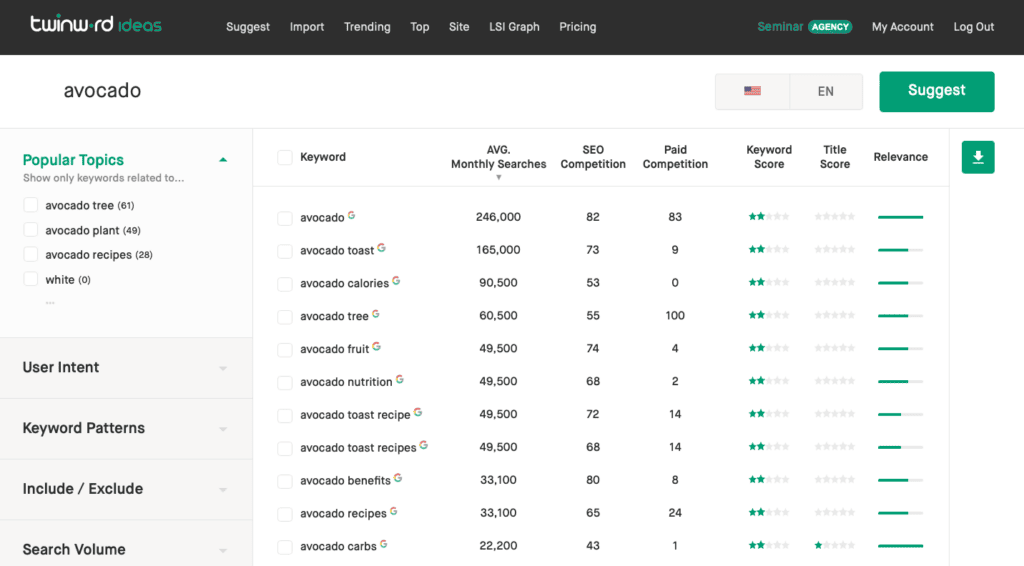 Also, due to the simplicity of the design, you can quickly learn how to utilize the SEO keyword tool to get just the keywords you need. Instead of adding more and more numbers to the keyword list, simple icons like stars or bars indicate the practicality of each keyword. These visual features assure that you can immediately assess the quality of a keyword.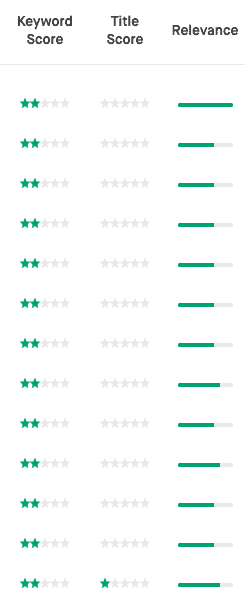 Popular Topics
With the popular topics filter, you can discover new ideas and concepts for your content through popular topics that got detected and grouped together by AI. This filter is the only one that is immediately visible after you perform a keyword search, and it basically gives you an overview of all the popular topics that are included in the suggested keywords.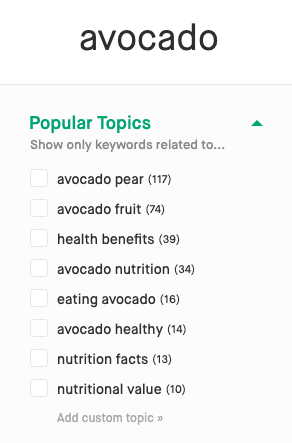 Because the filter shows you what topics people are interested in, it gives you a great indication of which topics to include in your SEO content. Even better, by selecting any of the popular topics you automatically get the fitting keyword list, ready to include in your article or blog post. Doesn't that almost feel like the content writes itself?
In case the topic you plan to write about (or already have written about) isn't as popular as you expected and doesn't show up as one of the popular topics, no problem. You can simply make your own popular topics filter by adding a custom topic. In the screenshot below you can see the custom topic filter in action.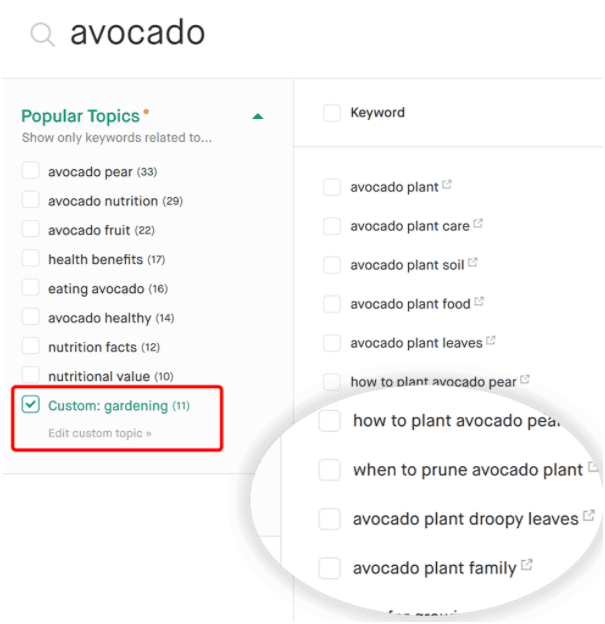 Keyword And Title Score
Last but certainly not least, Twinword Ideas shows you the keyword and title scores.
The keyword score indicates which keywords are best to include in your SEO content, while the title score shows you which keywords make the best titles.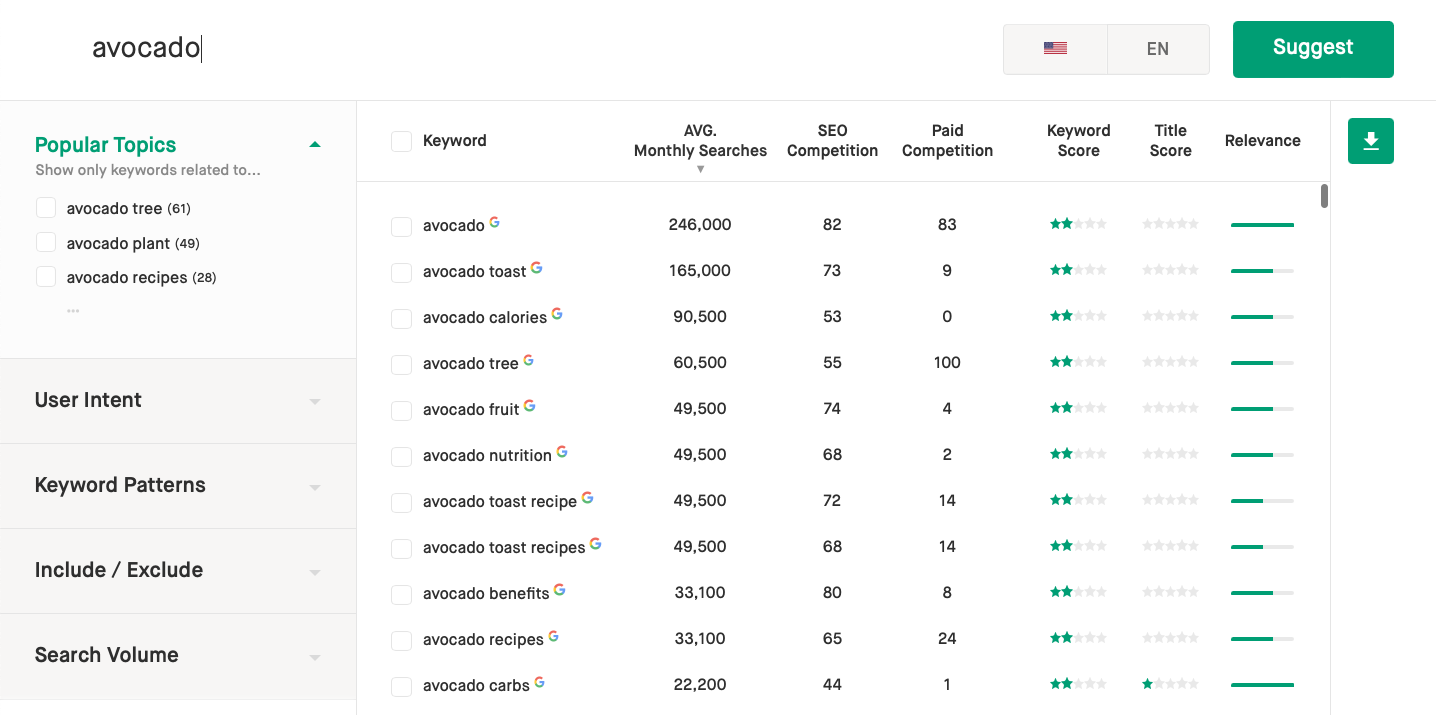 The more stars a keyword has, the better it is for your content or your titles. Both scores are calculated based on search popularity and relative competition to maximize your ranking potential.
User Intent
A feature we wouldn't want to miss is the user intent filter. User intent is the purpose or goal the user has when searching for a keyword, so basically, what the user wanted to accomplish with typing their search query into a search engine. This intent could be anything from trying to find a specific website, over finding more information about a specific topic or finding a good restaurant in the local area. Twinword Ideas uses AI to group keywords by user intents, which enables you to use the correct keywords for the type of user you want to target.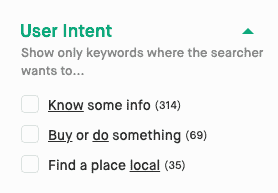 In total, our SEO keyword tool can detect three different user intents: know, buy, and local. "Know" is for users that are looking for more information, "buy" is for users that have the intent of buying something, and "local" is for users that are looking for a place in a specific area.
Pattern Filter
The keyword tool's pattern filter recognizes the most common patterns in the suggested keywords, such as how, when, best, or cheap. With this filter, you can easily see what kind of patterns users search for the most, and get a list of keywords that all include that pattern. The design allows for plenty of room so that all detected patterns can be displayed at the same time.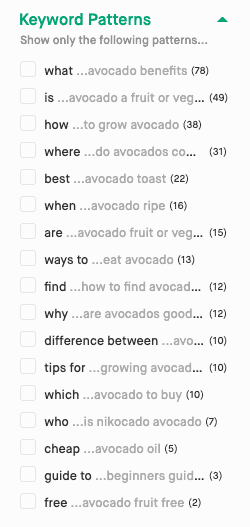 Search Volume And Competition Scores
Of course, Twinword Ideas also provides you with important keyword data such as search volume, SEO competition, and paid competition scores. The search volume, or average monthly searches, indicates how many people have searched the keyword or phrase on average every month. Search volume can be a decisive factor for which keywords you want to include in your content. Keywords with a higher search volume are searched for more often and therefore have the potential to bring you more traffic.
SEO competition takes the number of websites that compete for a specific keyword into account, while paid competition is the relative amount of Google Ads competition for the specific keyword. Both competition scores should be taken into consideration when deciding to target a specific keyword. Twinword Ideas gets its search volume and paid competition data directly from Google.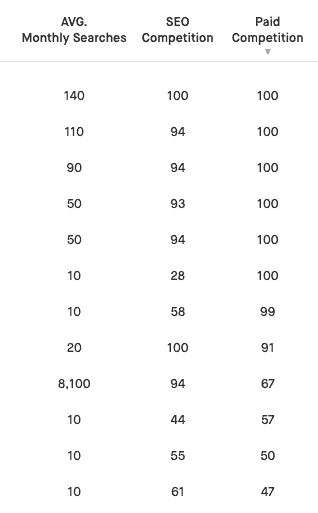 Relevance Score
Another essential feature of our keyword tool is the relevance score which is powered by AI. The relevance score shows you how closely related each keyword is to your search query. So, if you want only highly related keywords to your search query, you can filter or sort for keywords with high relevance only. But if you want to search for more of a broad topic for brainstorming purposes, you can filter or sort for keywords with a low relevance score.

Locations and Languages
Twinword Ideas is a multi-language keyword tool and enables you to create SEO friendly content in different languages and for specific locations.
Choose from over 40 languages and over 200 regional settings to optimize your website exactly for the language and location you want.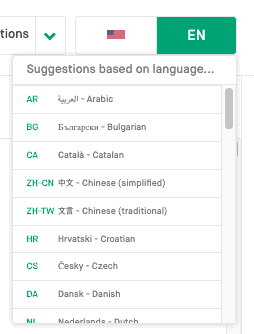 Import Keywords
Because most of us usually work with extremely long keyword lists that we have to filter and sort on a regular basis, we just had to include an import feature in our SEO keyword tool. With the import feature, you can easily copy your endless keyword list. Simply switch to Import menu and copy your keyword list into the expanded search bar up to 500 lines. Afterward, you can quickly find the best keywords or titles for your content with the tool's filters.

Trending Keywords
By simply switching to Trending menu, Twinword Ideas will provide you a list of trending keywords from Google News, which is related to your query. By utilizing this feature, you will be able to gain insights on the trends related to the specific keyword which could help you write a trend-sensitive, SEO-friendly content. You might want to click a keyword to read a news article on why this keyword is trending and related to your query.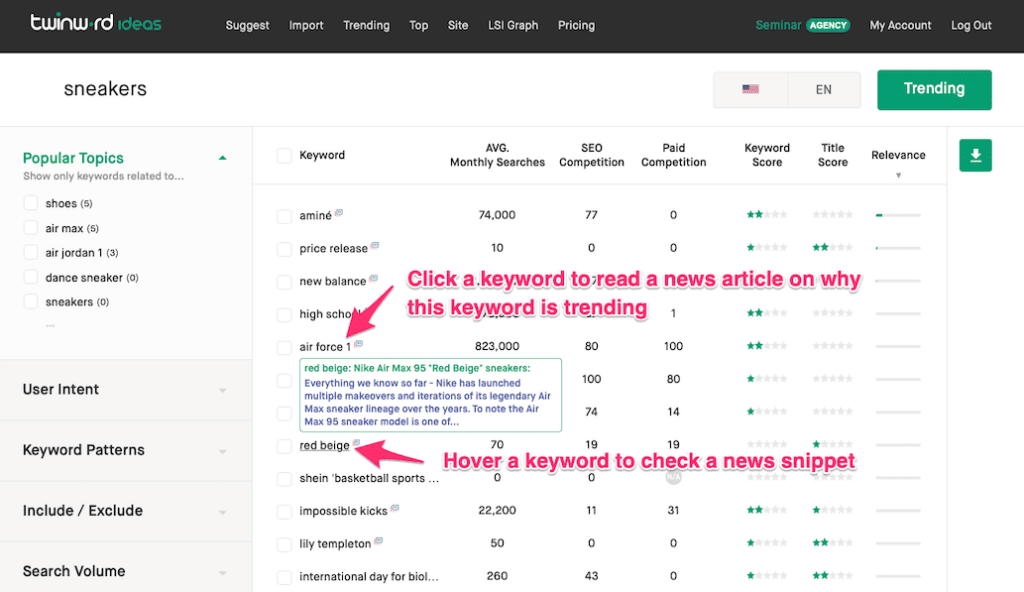 Copy Or Download Your Keywords
Twinword Ideas allows you to copy or download your selected keywords, or the full expanded keyword list. This feature is great to save your keyword list for future use or to send it to content creators so that they can work their magic.
You can easily copy or download your selected keywords by clicking on the green download icon on the right (next to all the keyword data and scores).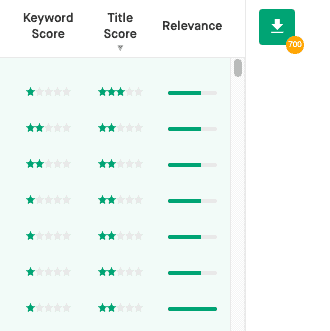 After you click on the icon (or after you select your first keywords), a pop up will open where you can download your selection, or check how many and which keywords you selected.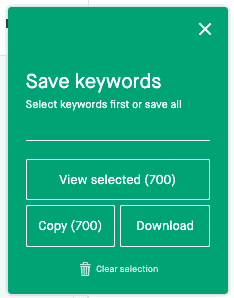 What Do You Think?
Now that everything is explained, the only thing that's left is that you try the tool yourself. We hope you enjoy Twinword Ideas and that it will make your keyword filtering faster, and your content creation more successful. Learn how to use Twinword Ideas.
Of course, we would love to get feedback from you, so after you tried the tool please send us your feedback at [email protected].
But what are you still doing here? Go ahead and try out the keyword tool for yourself! Let the keyword filtering and content creation begin!