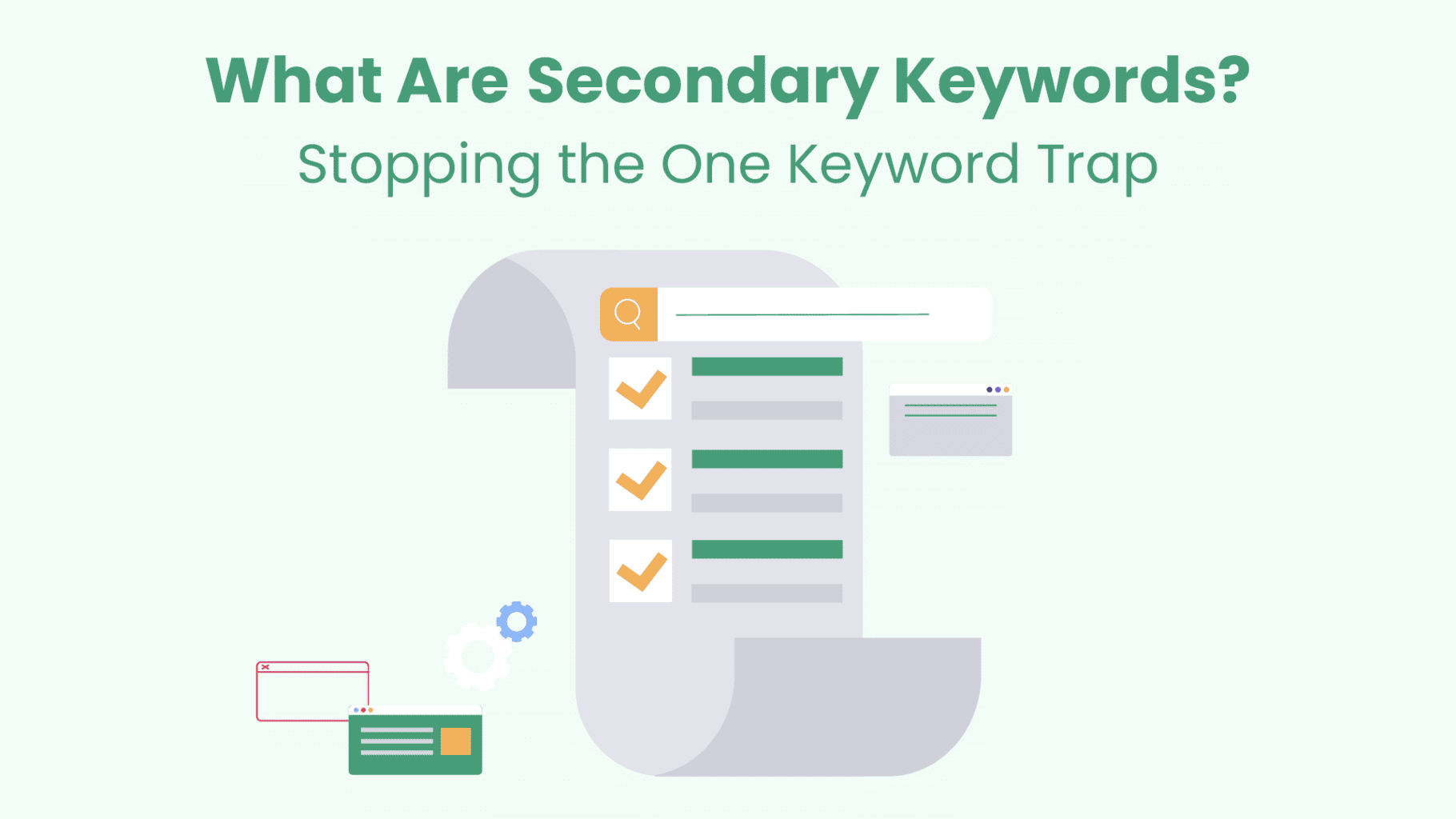 In the relentless quest for SEO dominance, many fall into the trap of obsessing over a single golden keyword also referred to as the primary keyword.
This fixation not only risks the peril of keyword stuffing, a red flag for search engines but also blinds you to a wealth of opportunities lying in the periphery.
What if we told you that letting go of this one-term tunnel vision could actually elevate your SEO strategy and take the pressure off, all while yielding better results?
Enter the world of secondary keywords.
These are not mere placeholders or fillers. They are tactical tools that add layers to your content, providing depth, context, and new avenues for visibility.
In this comprehensive guide, you'll learn not just what secondary keywords are but also how to find and integrate them into your SEO content pages.
Your journey into the mastery of secondary keywords starts now.
What are secondary keywords? A guiding definition for all SEO marketers
Secondary keywords are terms or phrases that complement the primary keyword, enriching content depth and helping to capture additional search traffic through topical relevance and similar user intent match.
These secondary search terms, together with the primary keyword, form what we call the target keyword group. They are intended to be ranked for and tracked alongside primary keywords, serving as crucial components in an SEO-friendly page.
To grasp the essence of secondary keywords, consider this example. Let's say you are developing a page around the primary keyword "what is SEO."
Your secondary keywords could include:
"what is search engine optimization"
"SEO definition"
"what does SEO mean?"
"meaning of SEO"
These terms share the same underlying user intent – they all seek to understand what SEO is. However, they are phrased differently, capturing a variety of ways people might search for the same information. These variations can encompass synonyms, acronyms, and even common typos or more elaborated queries like "what does SEO stand for?"
You might wonder how many secondary keywords should accompany a primary keyword. While there's no strict rule, a good starting point is to have 3-6 secondary keywords. This gives you a robust target keyword group that adequately captures the common ways to express the same intent for information.
Secondary keywords vs LSI (semantic) keywords: Understanding the difference
It's critical to differentiate between secondary keywords and semantic keywords, as the purpose they serve in your SEO strategy varies significantly.
Semantic keywords: These are terms or phrases that are conceptually related to your primary keyword but are not aimed at ranking. For instance, if your primary keyword is "digital marketing," semantic keywords could include "social media," "SEO," and "Google Ads." These terms help to enrich the context of your content but are not necessarily meant to improve its search ranking for those specific terms.
Secondary keywords: These are purposefully selected to align very closely with your primary keyword and are targeted for ranking. If your primary keyword is "digital marketing," secondary keywords could include "what is digital marketing," "digital marketing strategies," or "digital marketing tips." These terms are part of your target keyword group and are intended to be ranked with the same content.
Related keywords: The combination of secondary keywords and semantic terms
Related keywords are an overarching category that combines both secondary keywords and semantic or LSI keywords. They all contribute to the same goal – to improve your content's depth, reach, and SEO effectiveness. However, they do so in different ways, each serving a unique function that we covered above.
Why should you use secondary keywords? Key benefits
Here are a few good reasons why the thoughtful inclusion of these secondary terms is non-negotiable for optimizing every page's SEO performance.
Avoid keyword stuffing behavior
Relying solely on a primary keyword can lead to keyword stuffing, a frowned-upon practice that can trigger search engine penalties. By diversifying your content with secondary keywords, you not only enrich your content but also maintain a more natural and balanced keyword density. To delve deeper into effective strategies to steer clear of keyword overuse, consider checking out our detailed guide on how to avoid keyword stuffing in a blog.
Increase opportunities for rankings and traffic
While securing a top position for a primary keyword is the ultimate goal, it often comes with fierce competition and can be time-consuming. Secondary keywords often have less competition but cater to the same user intent, giving you additional avenues for ranking. Furthermore, targeting a variety of secondary keywords can make your SEO strategy more resilient to algorithmic changes that could affect your primary keyword's ranking.
Target more keywords with fewer pages
Utilizing secondary keywords allows you to target multiple search queries within a single piece of content. This strategy leads to efficient use of your website's pages, reducing the need to create separate pages for each term you wish to rank for. The outcome is a more streamlined website structure, mitigates the risk of keyword cannibalization and, ultimately, a better user experience that search engines will reward.
Strengthen semantic relevance and topical authority
Search engines have become more adept at recognizing a page's topical relevance. By incorporating secondary keywords that align closely with your primary term, you strengthen the thematic focus of your content. This approach can boost your page's topical authority, making it more favorable in search algorithm assessments.
Facilitate internal linking opportunities
Having secondary keywords naturally integrated into your content creates opportunities for internal linking with other pages on your site that are focused on similar or related topics. This is another way to indicate to search engines the depth of your site's content and its relevance to the topic.
Capture voice search and more naturally expressed queries
With advances in language models and AI, search engines are better at understanding conversational queries. Using secondary keywords that mimic natural speech patterns can enhance your chances of ranking in voice searches, broadening your reach effectively.
How do you find secondary keywords?
After understanding the myriad benefits of secondary keywords, it's time to roll up your sleeves and get to work. The task may seem daunting, but worry not; we've broken it down into two core approaches to make it manageable and effective.
The standard approach: More grind, more time
This method relies on tools and techniques that have been the backbone of keyword research for years. While tried and true, they demand a significant investment of manual labor and hours.
Use Google Keyword Planner
Google Keyword Planner is an essential tool for identifying secondary keywords. Simply input your primary keyword to generate a list of related terms, complete with search volume and competition data. This tool offers the advantage of directly sourcing data from Google, ensuring the terms you pick are highly relevant and strategically valuable.
Track Google Autocomplete suggestions
Type your primary keyword into Google's search bar and observe the suggestions that appear. These are often excellent candidates for secondary keywords.
Scrape "Related searches"
Don't ignore the bottom of Google's search results page. The "Related Searches" section gives you a glimpse into the mind of the searcher, offering additional terms that have similar user intent.
The advanced approach: Leveraging Twinword Ideas
While the traditional methods can be effective, they often involve a mix of manual effort and piecing together insights from various sources. It's a bit like assembling a puzzle without a clear picture on the box. If you're looking to streamline your keyword research and make more informed decisions, Twinword Ideas offers a single, intuitive, advanced keyword research platform to handle it all.
From pinpointing your optimal primary keyword to generating a comprehensive list of impactful secondary keywords and LSI terms, Twinword Ideas is engineered to simplify and amplify every facet of your keyword research workflow, making it a top Google Keyword Planner alternative for professionals.
Let us uncover some of the advanced ways Twinword Ideas can help you identify relevant secondary keywords:
Identify related queries with the power of AI-powered keyword relevance scores
Let's say you're on a quest for secondary keywords that are tightly connected to your primary term. This is where the AI-powered relevance scores from Twinword are a game-changer. By setting the filter to prioritize high relevance scores, you'll receive a curated list of secondary keywords that share a strong semantic relationship with your primary keyword.
Refine your list with the "Include/Exclude" filter
In keyword research, precision is key. Twinword Ideas allows you to apply Boolean logic using 'AND' or 'OR' operators to include or exclude keywords based on whole word matches. For instance, if you want to focus on keywords that contain both "diet" and "benefits," using the 'AND' operator will filter out any terms that don't meet both criteria. Conversely, using the 'OR' operator can broaden your list to include keywords that contain either "diet" or "benefits."
Level up with auto-generated topic clusters
Traditional keyword tools may give you a long list of keywords, but Twinword Ideas goes a step further by grouping keywords into meaningful topic clusters. Using advanced AI, this feature presents a comprehensive overview of popular topics related to your primary keyword.
How to use secondary keywords effectively in your content? Best practices
Here are some smart tactics to incorporate secondary keywords in your content and boost your pages' overall ranking potential:
First, establish your primary keyword in the meta title, H1 and slug
Before diving into secondary keywords, ensure that your primary keyword takes center stage in your content. Start by incorporating it into the meta title, main heading (H1) and slug of your page. This step is critical as it sets the thematic focus for search engines and also provides a logical structure for integrating secondary keywords.
Use in the intro text
Introduction text is a great place to seamlessly incorporate secondary keywords, especially when the heading above it is already using the primary term. This improves the overall flow and readability of your content while giving you some great organic keyword placements.
Include in subheadings (H2s and H3s) for structure and context
Following the introduction, logically integrate your secondary keywords into H2 and H3 subheadings. This action serves two purposes – it helps search engines further understand the content's scope and provides readers with a coherent and organized article structure.
Sprinkle some within paragraphs
Use secondary keywords in paragraph text to enhance contextual depth. This complements your H2 and H3 keyword strategy and maximizes SEO impact without compromising readability.
Utilize in image alt text and captions
Visual elements can offer more than aesthetic appeal – they're also opportunities for keyword optimization. Including secondary keywords in image alt text and captions improves your page's accessibility and provides another layer of SEO optimization.
The final takeaway: A harmonious on-page keyword strategy awaits
Secondary keywords are not just supplementary; they are essential components of an effective on-page keyword optimization strategy.
When incorporated thoughtfully, these terms add layers of depth and dimension to your content. They diversify your traffic sources and reduce your dependency on a single, highly competitive primary keyword.
Researching secondary keywords doesn't have to be a scattered, time-consuming process. End-to-end keyword research platforms like Twinword Ideas offer advanced AI-powered tools that expedite this task, allowing you to focus more on crafting quality content that ranks.
You can try out Twinword Ideas to research some secondary keywords for free today!
---