North Star Inbound recently held a study about the state of enterprise SEO, what's working, what's not and how enterprise SEO teams are preparing for the future.
Everyday the SEO field is becoming more and more competitive, So the results of this study well give us a more clear idea of  which strategies are working well for enterprise-level SEO teams, which ones are failing and how companies are preparing for mobile-first search.
The spending budget on SEO

The figure above shows how much companies spend on SEO. Here are some surprising finds on the enterprise level:
11% of enterprise SEOs had a monthly SEO budget of less than $1,000
20% of enterprise SEOs had a budget of $5,000 to $10,000 per month
45% of enterprise SEOs had a budget of $20K+
Most important activities for enterprise SEOs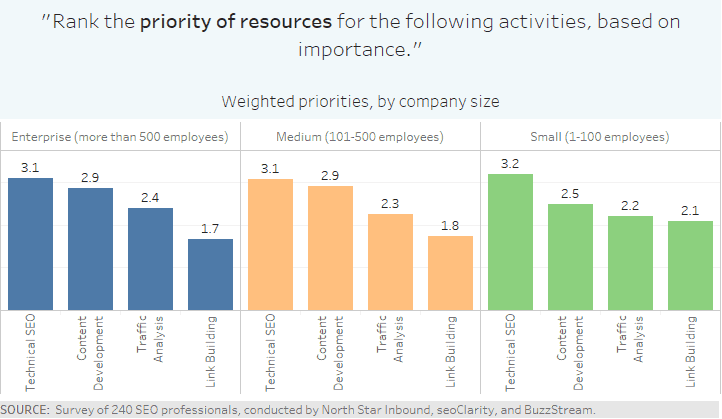 Companies are mainly focusing on these four categories:
Technical SEO – Back-end optimization, including DNS settings, structure, indexability, processing speed, caching, site security, and mobile functionality.
Content Development – Ensuring that the site has an abundance of unique, easy-to-navigate information that is rich in keywords and is refreshed on a regular basis.
Traffic Analysis – Examining search traffic, site performance relative to competitors, search intent, visitors per keyword, time on site, bounce rate, and other usage patterns.
Link-building – Earning off-page backlinks, social media traction, and brand mentions from influencers and authoritative sites.
The survey question asked respondents to rank the four categories in order of priority, from 1 (most important) to 4 (least important). Although the weighted responses were consistent across all business sizes, looking at the actual answers reveals that there is still some disagreement among our SEO specialists. For instance, although they were the minority, 10.6% of the respondents ranked link-building highest.
 The most critical issues facing enterprise SEOs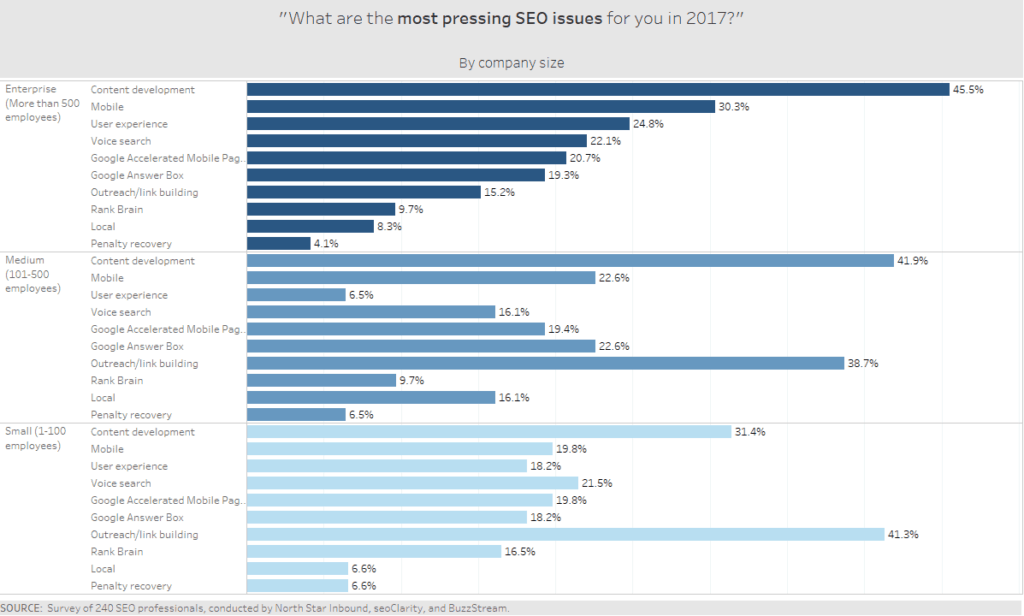 According to the data, it seems like developing content was the top issue since nearly 40% of all responses chose that. However, enterprise-level companies are less concerned with outreach and link-building than small and medium sized businesses. For enterprise-level SEOs, mobile responsiveness and user experience are more urgent.
However, that does not mean link-building is not an issue to enterprise-level companies; all of the SEOs are feeling the same pain when it comes to link-building. When asked which strategy is most difficult to execute, each group chose getting high-quality links by a substantial margin.
So what is the most successful strategy? All of our respondents agreed that technical onsite optimization was their most successful SEO strategy over the past 12 months. However, after that, small and large businesses had very different experiences. Enterprise SEOs found focusing on user experience and evergreen content to be most effective. Small businesses got bigger boosts from blogging and link-building.
How experienced are typical SEO teams?
The field of SEO is growing. Among the 240 respondents, only 22 described their organization as "new to SEO." More than a third said their companies are leaders that view SEO as critical across the business and have an experienced team that is engaged broadly. This was consistent across companies of all sizes.
Knowing that lets take a closer look on what orgnizational challenges they face. The obstacles are slightly different depending on the type of the team. In-house SEOs said their biggest hurdle is developing the right content, while agencies are struggling with finding SEO talent. In-house SEOs listed "securing enough budget" as the least of their worries, but it was a much bigger obstacle for agencies. Both groups identified "demonstrating return on investment" as their second-most-challenging obstacle.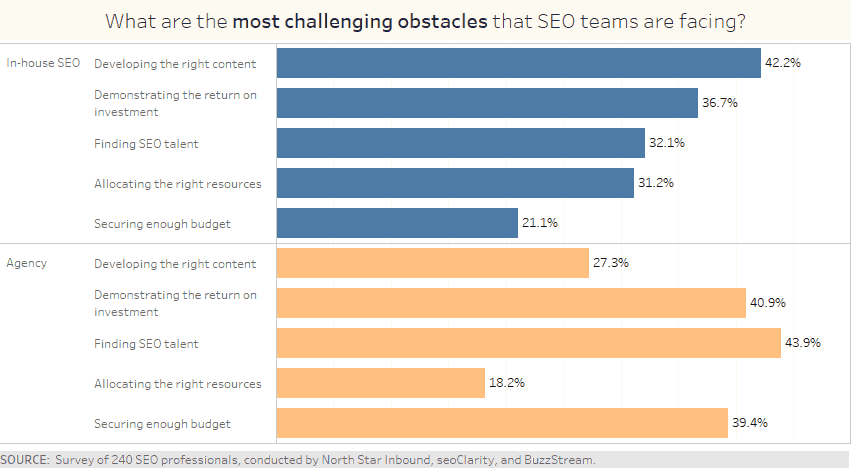 Top Priorities
Priority 1 – Technical SEO
The survey respondents identified technical optimization as their highest priority and most effective strategy, so what technical issues are they monitoring most closely? The answer for small, medium, and enterprise-level businesses was the same: page speed, indexation, and duplicate content. Small and medium-sized companies also wrestle with broken links, but that was less of an issue for enterprise-level firms.
Priority 2 – Content Development
Respondents were in sync when it comes to content strategy. Big and small, in-house and agency – the results were similar. Keyword research was the most important factor in determining which content to create or optimize, and search intent/search volume were the most important factors when analyzing keywords.
Priority 3 – Traffic Analysis
Respondents identified traffic analysis as one of the priorities and had a variety of tools for monitoring and dissecting traffic. Google Analytics is still the most valuable, but most of the respondents had other tools in their stacks as well. Moz, Screaming Frog, and SEMrush ranked high for the insights they add.
Priority 4 – Link-building
Survey respondents described link-building as the most difficult SEO strategy to execute and they generally ranked it fourth – behind technical optimization, content development, and traffic analysis – in terms of priority. But despite the difficulty of earning links from high-authority sources, 85% of survey respondents said they are maintaining or increasing their link-building budgets this year. That was true for small, medium, and enterprise-level businesses.
What are SEO teams doing to earn links this year?. Enterprise SEOs resoundingly described PR as the most effective. Guest posts were a distant second for enterprise SEOs. The gap was narrower for smaller companies, but they still listed PR and guest posts as their top two tactics. Paid links and comments were the least effective methods for most survey takers.
Key performance indicators that are most useful for tracking link-building campaigns
When tracking link-building campaigns, most SEOs focus on Moz "domain authority" and "page authority" scores, and the number of linking root domains. Majestic's "trust flow" metric was less popular.

Moving Forward
The SEO world is changing fast and it's not going to slowdown anytime soon and neither should you. Advancements in messaging apps, artificial intelligence, augmented reality, and voice recognition are just some of the innovations that will keep SEO teams on their toes in the coming years. So, subscribe to our newsletter to stay updated on the latest SEO news and tips. Remember to future proof-your content by always thinking about the website visitors in your SEO strategies. You may not rank high now, but the more you take care of your readers and users, the more aligned you are to where Google wants to go: satisfying the searcher.