Before learning how to write an effective meta description, let's understand what it means. A meta description is the short paragraph of text (snippet of information) that you see below the link of a search result. It is placed in the HTML of a webpage that describes its content.
Having a good one that shows up in search results is important because it is what the user sees when deciding whether or not to click the link to your site. Sometimes, Google will use your meta description and sometimes they'll show a snippet of content from the body of your page that is relevant to what the user searched
See for example our Meta descriptions under each title: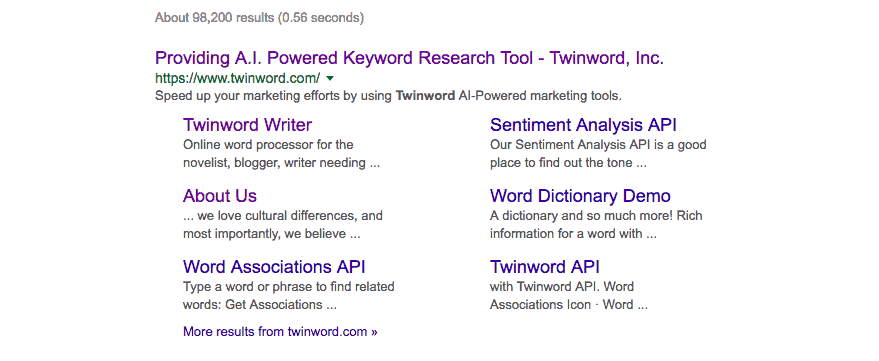 1) Keep it less than 155 characters.
A meta description should be kept under 155 – 160 characters. If it's longer, search engines will cut the end off. Actually Google doesn't measure by characters it measures by pixels, so we say 155 characters as a standard measure. It is not an accurate measure. It is more of a benchmark for marketers. There are many tools to check the length of your meta description and title tag.
2) Important keywords.
When writing your meta description, you must make sure to include the most important keywords on your page. This is because search engines often highlight where it finds the content that matches what the searcher is looking for in your snippet.
Make sure to put the most important keywords at the beginning to catch the attention of the researcher. Remember to avoid stuffing keywords in your meta description; it doesn't help at all. On the contrary, it is terrible for you, as the searcher will assume your result lead to a spammy website. Furthermore, Google will figure out what you are doing and penalize your site. Make sure your description looks normal and human written.
3) Relevance.
Make it relevant and as descriptive as possible. It is essential to make the description attractive to the audience. However still, it must match the content on the page. That means you should make it as appealing as possible, but let the researchers know what they'll get from clicking on your search result.
4) Call-to-action!
"Read more", "discover", "grab", "learn", and "see" are all action-oriented words. You should include these in your meta description if not start with. Including call-to-action words is effective because it tells the reader what they can do if they click on the result. As mentioned before, it is good to let the researchers know what they'll get from visiting your webpage.
Examples of a good meta descriptions:
Airbnb

Snapchat

Example of a bad meta description:
Disney

Remember, your meta description can influence the decision of the searcher as to whether they want to click through to your content or not.
What about the title?
When you are done with your description, check out this article on tools that can help you automatically generate attractive titles.