Globally, Google is the #1 search engine by dominating about 83% of the global search market. However, exceptions always exists. There are 3 countries around the globe where Google does not dominate: South Korea, China, and Russia. To advertise, run marketing campaigns, or do SEO in Korea, knowledge about Naver is critical. Naver is the #1 search engine in Korea and stands in the way of traditional SEO.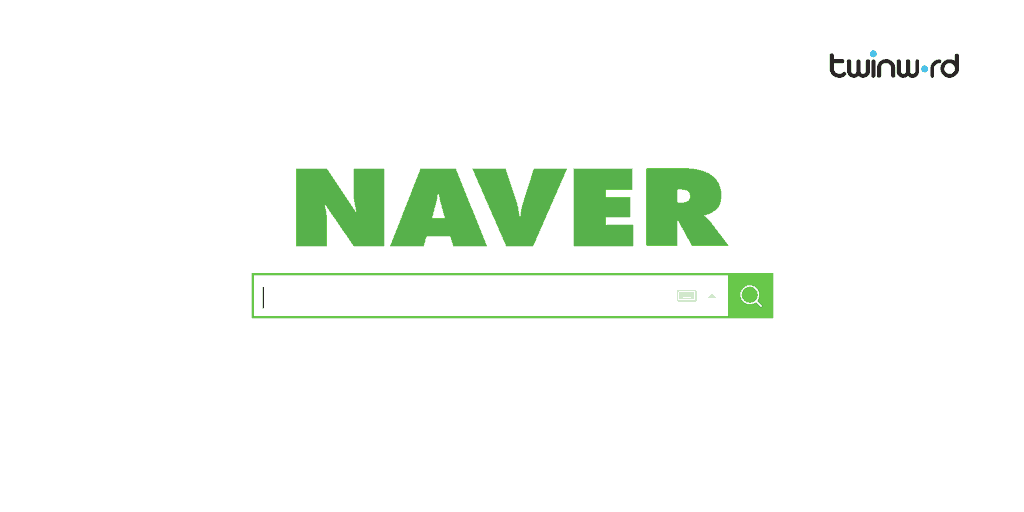 What is Naver?
In Korea, Naver (shortened from the word navigator) with a green search box is the leading search engine, beating Google. Naver was launched in 1999 starting as the first web portal in Korea. By launching many services such as Naver Blog, News, Shopping, and others, Naver has grown to a big corporation, dominating the Korean search market. Compared to Google's simple homepage, Naver homepage covers a wide range of topics like news stories, shopping, blog, cartoons, mail, dictionary and more.
SEO and SEM
Generally, there are two forms of internet marketing: SEO and SEM. Both aim to achieve higher ranks in the SERPs (search engine result pages). SEM (Search Engine Marketing) is a form of paid advertisement that helps a site to achieve top ranks by paying for PPC (Pay Per Click) campaigns. On the other hand, SEO (Search Engine Optimization) is a process of getting organic and free traffic on search engine by ranking higher in normal unpaid results. Each search engine has a ranking algorithm that decides which sites to show on their search engine result pages for various searches. If the site is relevant to the search terms and is trustworthy, the site will most likely be in the top ranks of the result page.
SEO in South Korea
While Google SEO is very hot in the online marketing field, SEO in Korea is not so much. Why? It is because Naver doesn't provide a good environment for SEO and even makes it difficult. You might ask how is Naver different and why is it so difficult? Here are 4 reasons that tells you how Naver makes SEO in South Korea difficult.
Why is SEO in South Korea difficult?
1. Biased Search Results
The biggest difference between Naver and other search engines like Google and Yahoo is its bias towards certain platforms and content. Strictly speaking, Naver acts like it is a community platform, not a search engine. Other search engines mentioned above show all internal and external web pages as results to the search. On the other hand, Naver tends to show pages that are identified as a blog or community site and often times from one of its own services such as Naver Blog.
Consequently, it is better to use Naver Blog rather than using other platforms or your own to achieve high rankings in Naver's SERPs (search engine result pages). Google also has its own blog platform, Blogger; however, Google makes no distinctions between its own or other platforms. Fortunately, Naver does also include other blog platforms to the result pages, but not in ways other search engines do.
2. Separation of Web and Blog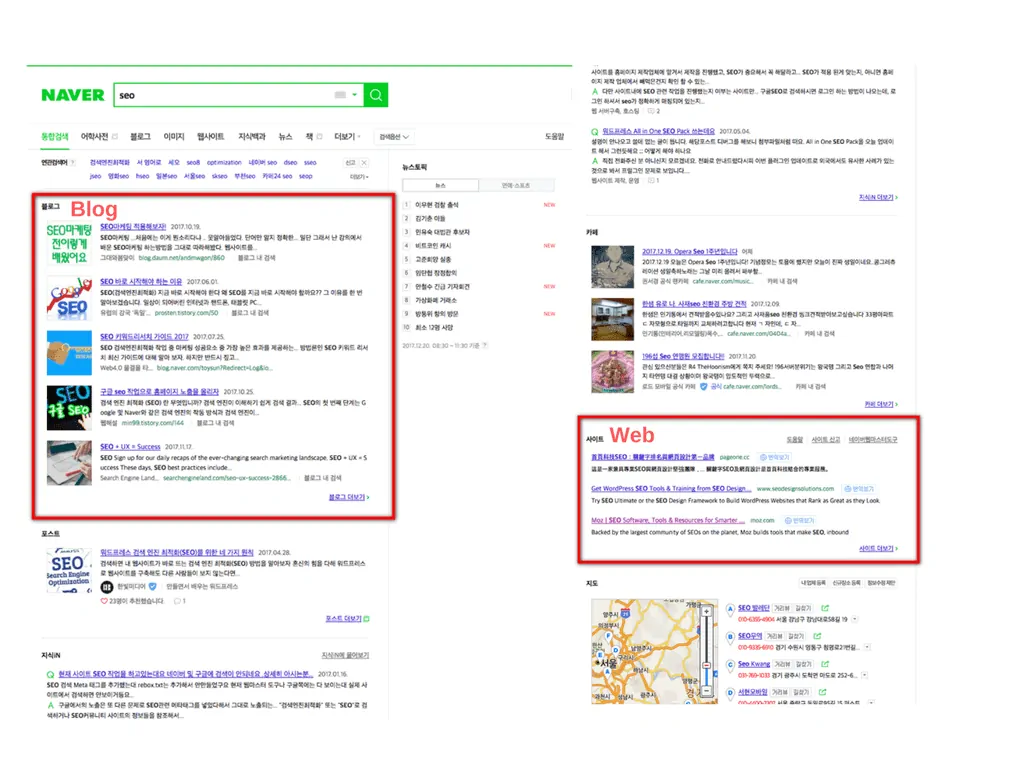 For SEO, it is ideal to combine your website and your blog to promote cross traffic and brand awareness. For instance, www.example.com is the product-introduction site and www.example.com/blog is the blog. This strategy can naturally move traffic from the blog to the website, not to mentioned combined domain authority.
Whereas normal search engines usually show results without separating websites and blogs, Naver distinctively divide websites and blogs into two different classifications on the result page. Naver prioritizes the "blog collection" at the top of the SERP and locates the "website collection" at the bottom of the result page. Because of this, it is highly advantageous to be classified as a blog.
The problem is that Naver only views blog that have web addresses that starts with the subdomain "blog" such as blog.example.com as a blog. This aligns with their assumption that blogs and websites should be kept separate. Because Naver needs a way to separate blogs from websites, there are such restrictions like these.
But, these restrictions are not necessarily helpful for search engine users. Therefore, for those who want both Google and Naver SEO need to put extra effort.
3. No Support for Link Tag
According to HTML5 web standard, the author can put link tags like <link rel="canonical" href="http://example.com/"> in the original content. This helps search engines to know which page is the original even though the content was distributed to many other pages.
Many search engines like Google include original content to the search results rather than the copy informed by the link tags. However, Naver does not support link tags nor a way to apply this to its platform. As a result, Naver cannot distinguish an original from its duplicates. So, this can mean that it is better to generate many and frequent posts to achieve high rankings in Naver than to spend a lot of time on generating good, quality content.
4. Ad-Centric Search Results
As explained earlier, high rankings can also be achieved through keyword advertising. What if keyword advertising section takes up most of the first page of the search result? The red boxes in images below are Naver's and Google's keyword advertising section in their search results for the search term "car" in Korean.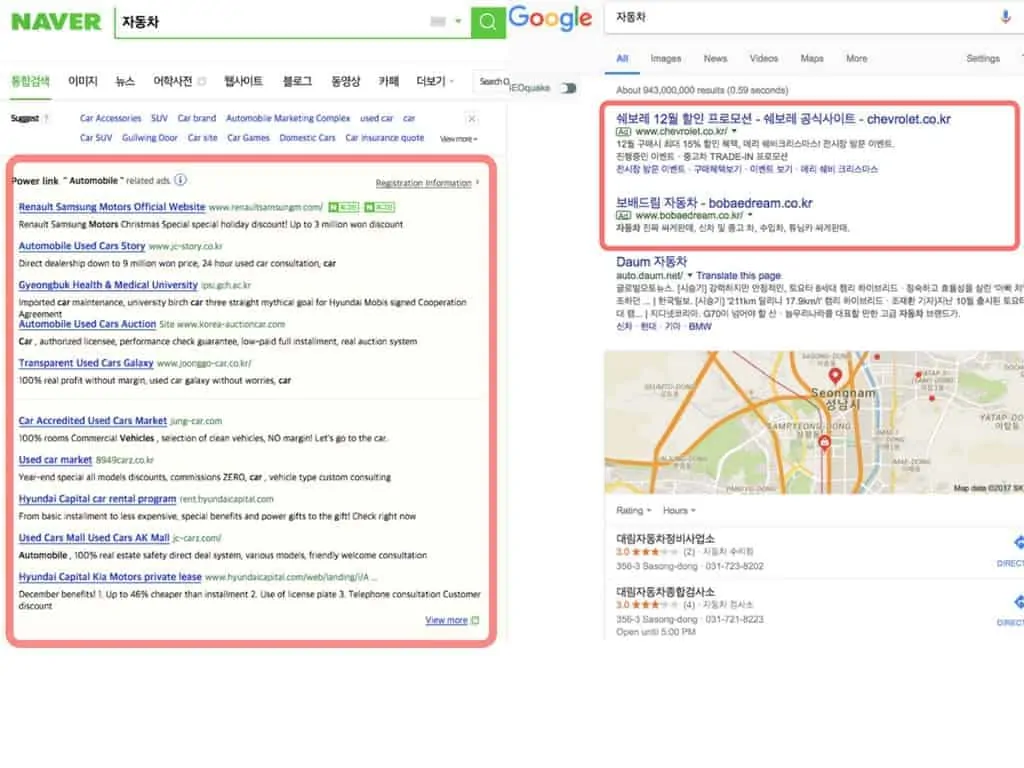 Compared to Google, Naver's SEM section is wider. The number of keyword advertising usually depends on keywords, but Naver's ads tends to be longer and wider. In the worst-case scenario, ads can take up two thirds of the result page. So, there is a possibility that even though you achieve the first ranking position in Naver's organic search results, you might get low traffic due to the keyword ads.
Naver having its own distinct characteristics is a good thing as it addresses the search market in South Korea. However, let's hope there are more efforts to make its search results more friendly to content producers and ultimately its users and readers.
SEO in South Korea is difficult if you simply use the same strategies used with Google SEO. Beyond strategies, insight into Korean culture through the nuances of the Korean language will be important.  When you need help on advertising and marketing in South Korea, don't hesitate to contact Twinword!