It is widely known that many people are using Google as a standard for their SEO and SEM, which isn't a surprise because Google holds almost 90% of the market share worldwide. But what if you want to reach the Korean market for your products or services? In Korea, not Google but Naver is the number one search engine. What exactly is Naver, and how can you use SEO on Naver? This article will help you learn everything you need to know about Naver SEO.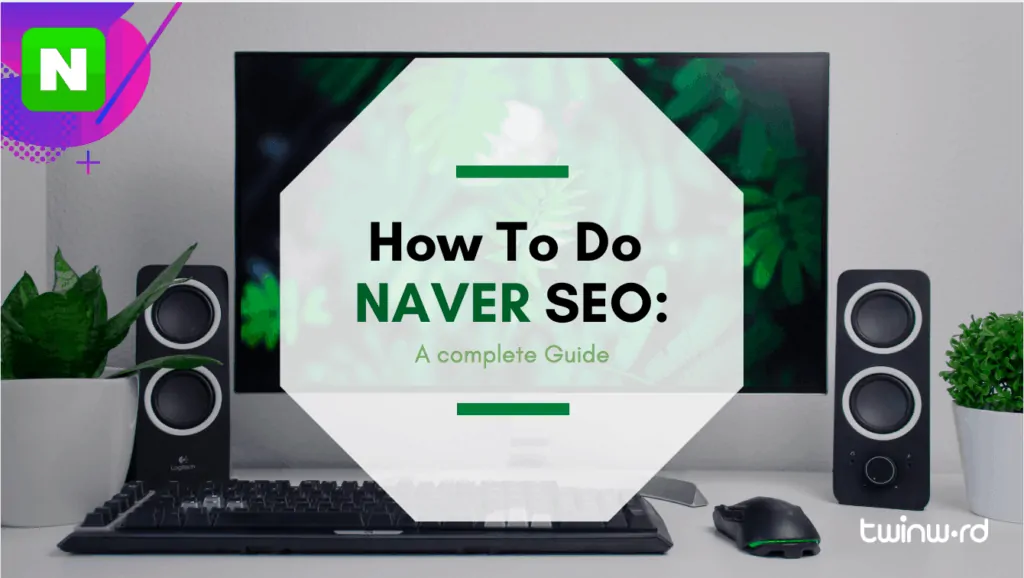 What Is Naver?
Naver is a search engine like Google that is known for its bright green user interface and is the number one search engine in Korea. Naver offers multiple services on its search engine, which include Naver Mail, Café, Blog, Knowledge iN, and Shopping.
The Korean search engine started to gain popularity and dominance after introducing the Knowledge iN service. This service is a Q&A platform that can be compared to Yahoo Answers or Quora. Naver also acts as a community platform with Naver Café, and overall, the search engine has a preference for user-generated content where users share their knowledge and engage in discussions.
This means that simply having a website is not enough. In addition to this, you need to create different types of content to maximize your chances of ranking in Naver's search results.
Furthermore, to rank high on Naver, your webpage or blog must be written in Korean because Korean users mostly like to read posts in their native language. Currently, the search engine is only available in Korean, so, that is something to consider in case you want to start your own Naver blog.
Naver's Layout
Let's look at all the features of the main page. When looking at the user interface on a first glance, you can notice that the homepage of Naver has much more content displayed than Google. For Google users, this can be perceived as disorganized and overwhelming. You can see the interface of Naver and Google below.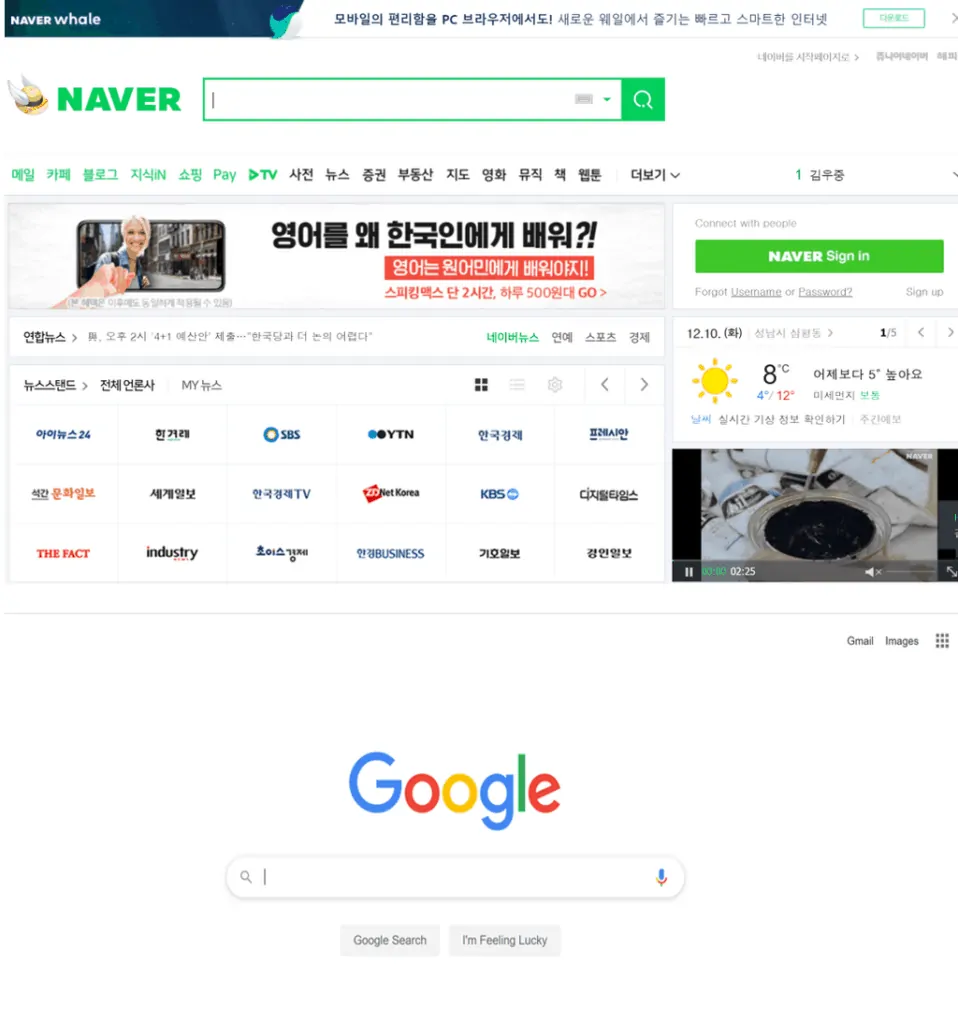 Another big difference between Naver and Google is the number of advertisements. Google has only two to three ads on the top and bottom of the SERP. On Naver though, as you can see in the screenshot below, there are ad placements all over the homepage.
So, don't be surprised if no organic results are showing on the first results page.
Other services displayed are links to major news providers, real-time information about today, and topics trending on the internet.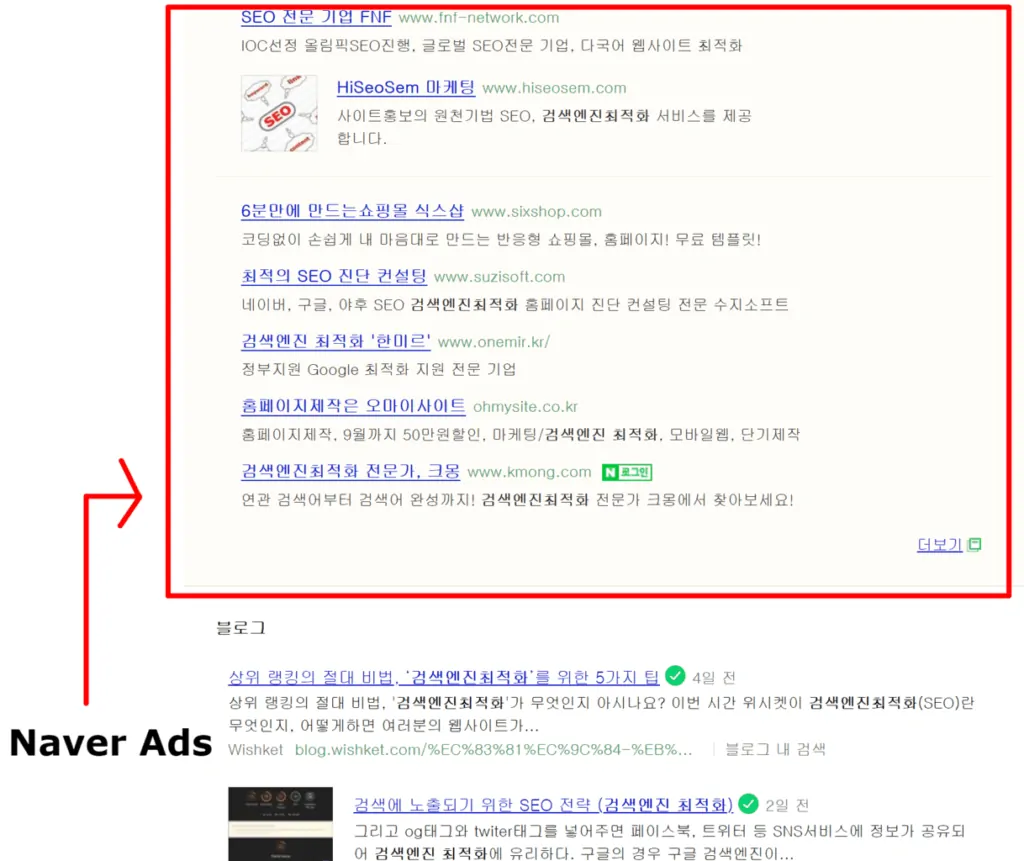 In addition to this, the positions of Naver services on the SERP are not fixed. Instead, it is based on the search query of the user. For example, when you search for iPhone, you will find Naver Shopping and Naver Café ranked on the top after the paid ads. But when you search for the query 'marketing', Naver Encyclopedia is placed as the highest service after the paid ads and Naver Post is the second-highest ranked service for the query.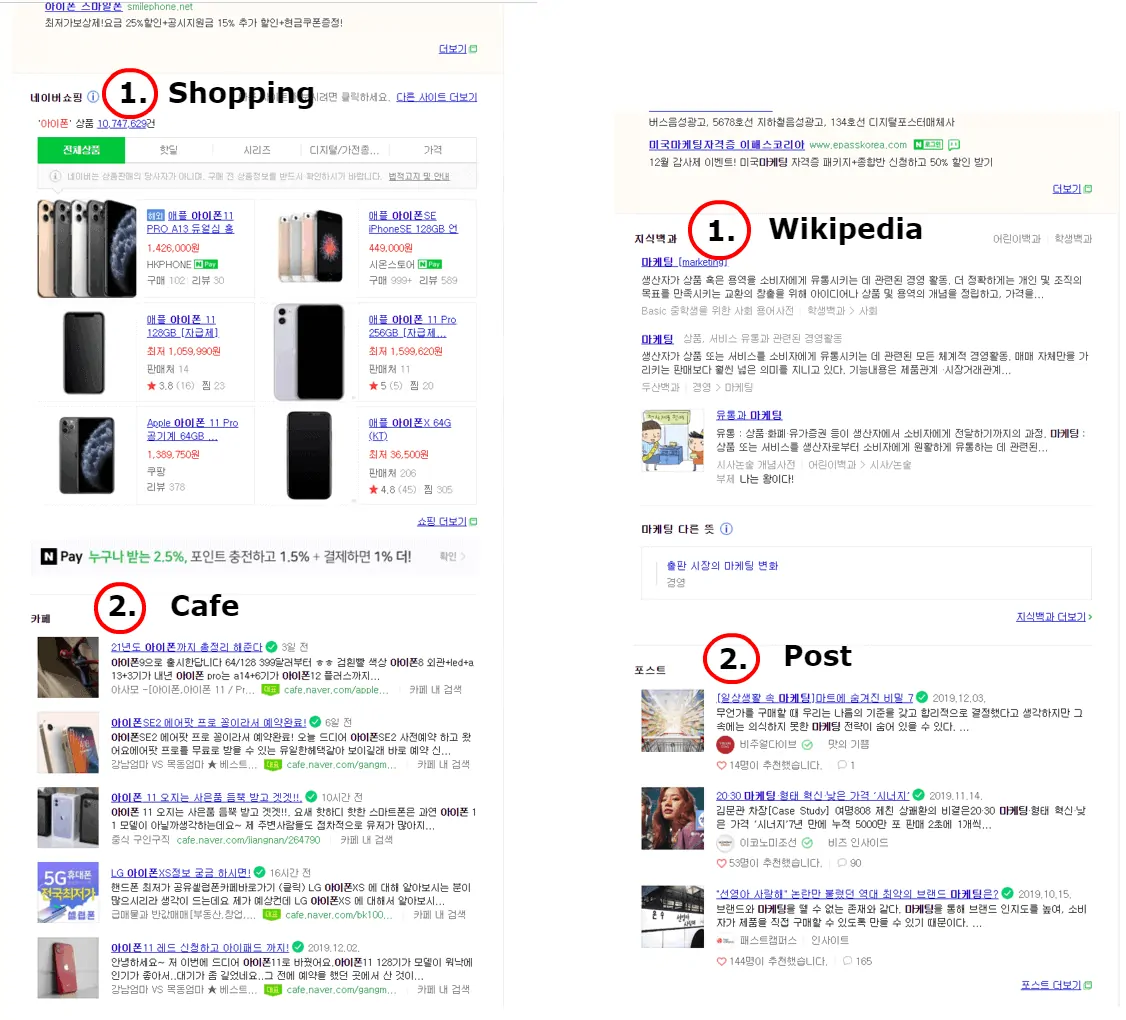 So, the services ranked the highest are different for any queries. Therefore, you should first check which services rank high for the search term that you want to rank for on Naver SERP, and then see if you can create content that will show up on those high ranking services.
For example, if the Naver blog comes up first for the search query, you should create content for your Naver blog. However, if Naver Cafe comes up high, then you should focus more on Naver Cafe instead.
But let's continue with Naver's layout. The numbered list on the right in the screenshot below is the trending searches in Korea for that moment in time and will update after a few hours.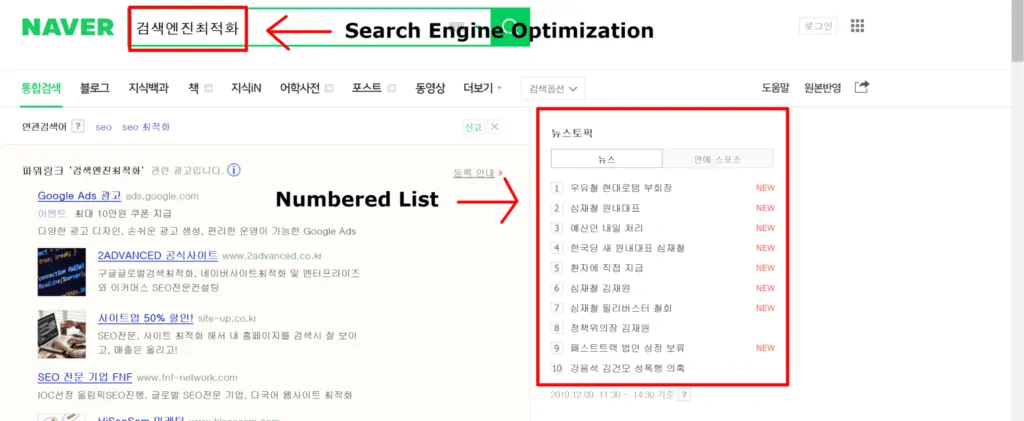 The words in bold under the search bar are called vertical search categories. These categories are almost identical to Google's categories: images, videos, maps, etc. However, Naver, also includes all of its own services in there, like Naver Blog. In comparison, Google doesn't have a separate category for their blog called "Blogger" integrated into its search engine.
Another important thing to mention is that the sorting of these categories changes based on the search query of the user.
When comparing these vertical search categories for 'iPhone' with the ones for 'marketing', you can see below that Naver Shopping and Naver Café is displayed for the iPhone query, while for the marketing query they show Dictionary and Book.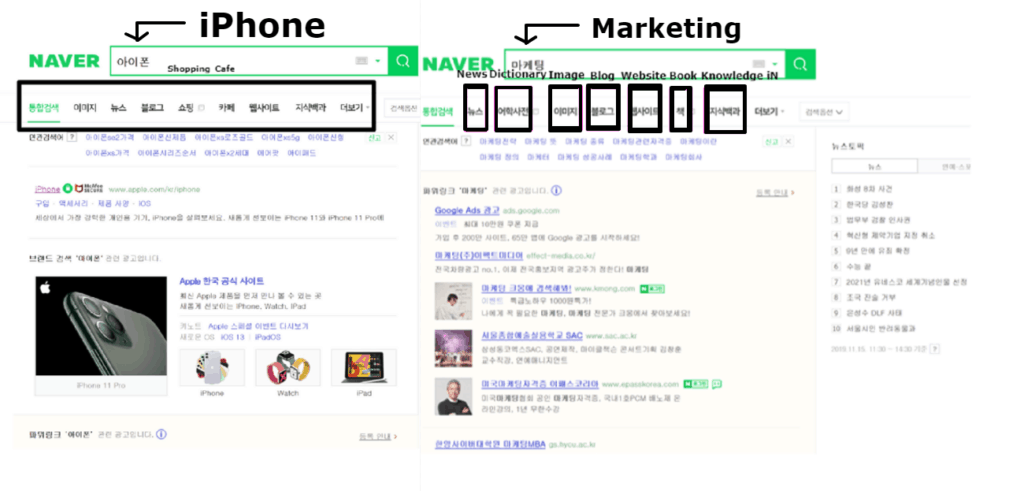 Overall, there are over 19 different vertical search categories. The order of these on the SERP is dependent on the search term. Under the vertical search categories are the blue words. These are either suggested or related searches that Naver provides like Google's 'searches related to…'.
Difficulties Of Naver SEO
It can be that you stumble on certain challenges when it comes to Naver SEO which you have not experienced with Google SEO. One difficulty which I already mentioned before is that Naver acts as a community platform. It tends to show a biased standpoint by showing search results from its own services, while search engines like Google and Bing show both their own and other external web pages.
The second difficulty is that it is better to combine your website and blog as it can result in higher traffic. The issue here is that you need to have a web address that starts with a "blog." This is Naver's way of separating blogs and websites but this makes it more difficult for people that use both in terms of SEO.
Another difficulty is that Naver doesn't support canonical tags. These are used to separate your original content from its duplicates.
And lastly, Naver is showing more paid ads than organic ones on their SERP. It varies depending on the keyword used but sometimes paid ads can take up almost the whole first page of the SERP. This leaves almost no room for organic search results.
Find out more about why SEO is difficult in Korea.
Naver's Search Algorithms
Naver has implemented three different search algorithms that are known to the public. They are called C-rank, D.I.A., and P-rank. Thanks to Yeojin Park from the egg we can identify which ranking algorithm applies to which Naver services. Check the following table for a complete overview:

C-rank Algorithm
The C-rank algorithm consists of three C's. These are Content, Context, and Chain. While content and context are quite straightforward, the 'Chain' factor refers to conversion, meaning how many people visited your content. The more people visit, the more popular your blog will be.
The C-rank algorithm is focused on determining the authority of each content creator on Naver's content platforms that I mentioned below. The algorithm categorizes webpage/blog topics into 31 different types, and your page falls into a certain type depending on the title tag and the content. Such topics or types could be Cooking, Interior, Art, Education, etc., and Naver is using deep learning technology to identify the different content types.
However, many blogs are not favored by the C-rank algorithm. Only when there are many users interested in the topic (high popularity) and the authority of the blog post is high, it will be ranked at the top spot in the search results.
Yeojin Park has identified all the ranking signals for the C-rank algorithm per content platform. They are the following: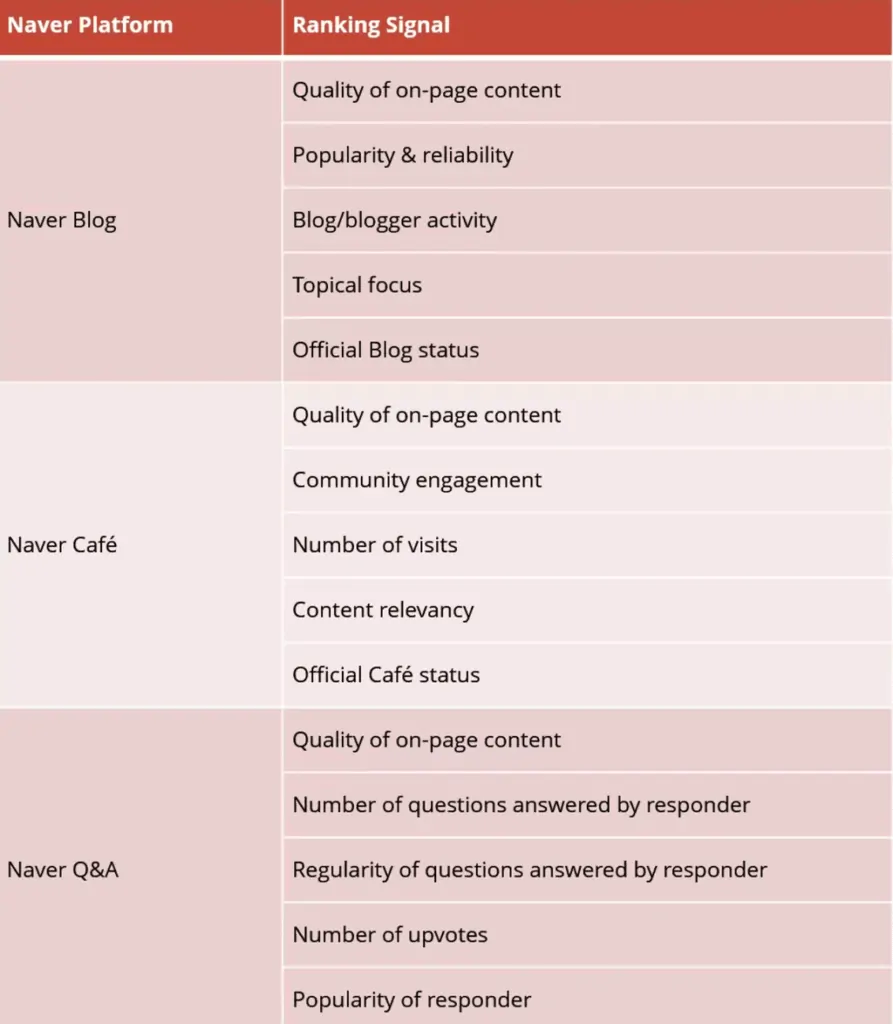 P-rank Algorithm
The P-rank algorithm is intended to work based on similar global web standards that Google has set. The P-rank algorithm looks at certain SEO criteria of a website to determine its quality. There are five ranking signals that Naver uses, which are the following:
Crawling and Indexing of a site by the Naver bot (Pages that can be crawled and indexed by the Naver bot)
On-page optimization (Clear title tag and meta-descriptions)
Site structure (This implies having a clear HTML structure and internal links)
Backlinks (The quality and quantity of backlinks that are present)
Social media usage (It is important to use social media channels for your website which connects to Naver)
D.I.A. Algorithm
The next algorithm of Naver is called Deep Intent Analysis (D.I.A.). Basically, this algorithm identifies the user's search intent based on the content and reflects them in search results ranking.
Various factors can measure a user's intent or preference for a specific blog. Some of these factors can be time spent on a web page, the number of shares of a blog, comments, etc. However, the possibility that Naver will disclose its specific measuring and scoring method is small. But basically, it is becoming more and more important to create the content that satisfies the users.
How To Rank Number One On Naver's SERP?
Naver has never disclosed all its criteria for webpages to rank number one on the SERP. However, they are giving more clues on their criteria, from C-rank and P-rank to the D.I.A. algorithm. In the past, the factors to rank number one on SERP were considered to be up-to-date content, which was mainly created on the blog platform of Naver.
Now, however, Naver's search results show more similarity to Google's SERP. This includes ranking external blogs and webpages that are not created on the blog platform of Naver.
Overall, you need to consider the criteria of Naver's three algorithms for your Naver SEO. Generally, it is advised to generate high-quality content on Naver's platforms such as Naver blog and Naver cafe, which you then optimize for Naver's search algorithms according to the previously listed criteria.
In addition to this, it is recommended to create continuous and relevant content that is helpful to users. If users like your content, the popularity of your article will increase, which can result in higher rankings on the SERP of Naver. But keep your focus on quality over quantity.
To implement your Naver SEO, follow the steps below.
Steps For Implementing Naver SEO
I will now explain a step-by-step plan with elements that are considered necessary for Naver SEO. These elements are the following:
Submit your website or blog to Naver
Operate Naver Blog and Naver Post
Register on Naver Webmaster Tools, Naver Analytics, Naver Smart Place
Take advantage of Naver's Guide To Web Standard Optimization
1. Submit Your Website Or Blog To Naver
It is important to submit your website or blog to Naver. It will be easier to index and rank your website or blog when Naver knows about the existence of it. Naver states that they don't discriminate against external blogs. However, Naver is better at crawling and indexing blogs from their platforms.
2. Operate Naver Blog And Naver Post
Naver has a lot of services available to gain exposure to your content. You can use the Naver Blog and Naver Post services to publish your content from your website. This is a big advantage as you reach more users with the same content. There were around 16 million active blogs on the Blog platform in 2017.
Naver Post has the same format style as Naver Blog but there is usually less text and more dynamic content like images, videos, and links. Don't mention the Naver Blog content in your Post because this will not help you further to rank high.
To elaborate, there is a problem with Naver when you have content on your website, which is site A as an example, and you also published the same content on either of their services. It will result in your blog or post being deindexed by Naver's crawling bot because they contain the same contents. There are two ways you can go about this.
The first case is if you have not enough traffic according to your expectation. In this instance, you can create a robot.txt file to block the duplicated pages to let the bot know what to crawl and what not.
The second case is where you have sufficient traffic. In that case, you can choose not to use these services at all. Or, you can change some elements which are: title tag, some of your content, and mention the source of your content.
Another tip is to use outgoing links in your blog that go to site A to get more traffic to your main page.
3. Register On Naver Webmaster Tools, Naver Analytics, And Naver Smart Place
Now, It is time to register your website domain on Naver Webmaster Tools, Naver Analytics, and Naver Smart Place. These features of Naver are used to measure the performances of your activities and to help you with your SEO.
It is better to use Naver's Webmaster Tools and Analytics combined with Google Search Console and Google Analytics. The reason is that Naver's Tools and Analytics can be outdated in terms of features when compared to the tools of Google.
With Naver Analytics, you can see which articles and blogs are most popular with your users and figure out which search queries they typed in when they visited.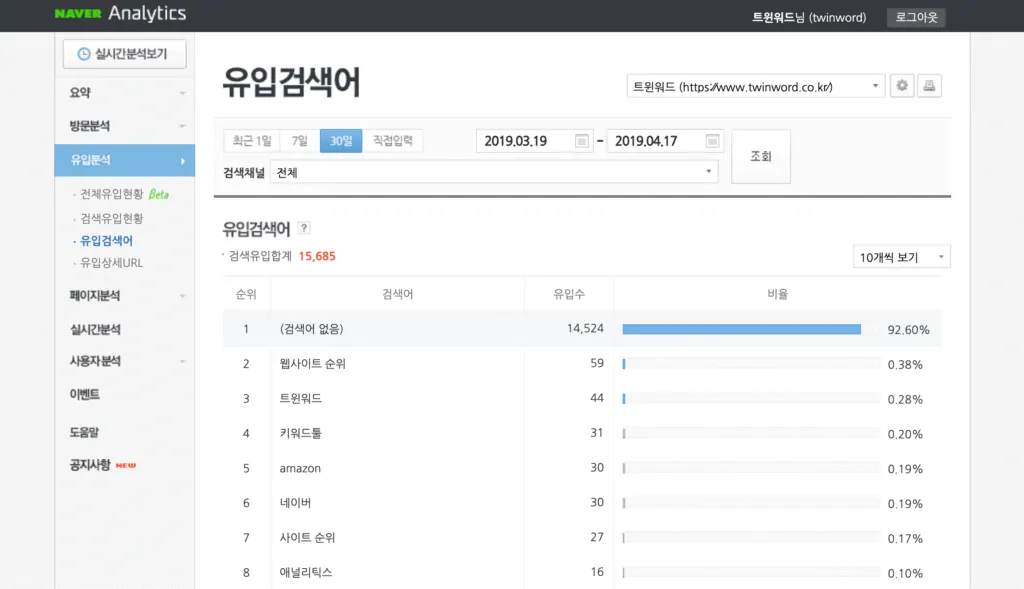 The reason to use Naver's Webmaster Tools is that you can see how the published content is performing. Furthermore, it provides information about indexing and sitemaps.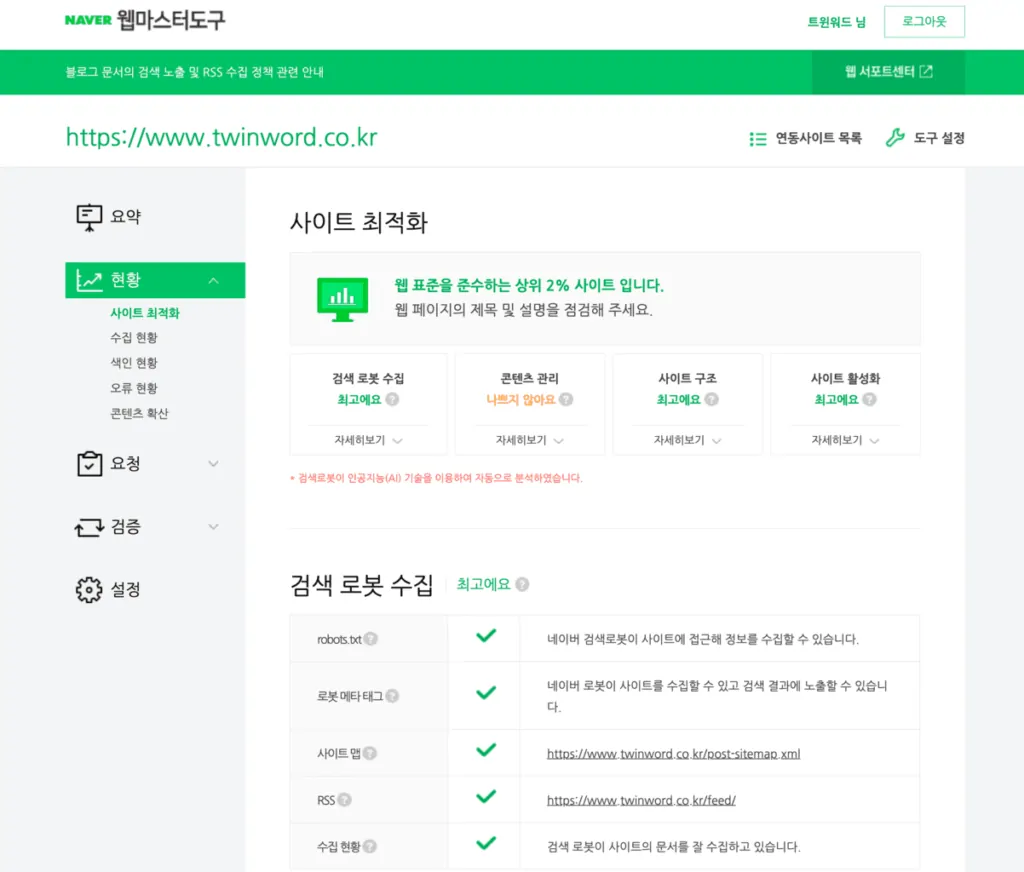 Lastly, if you register your website domain on Naver Smart Place, you can have better results for more exposure on Naver's search map tab and its mobile version.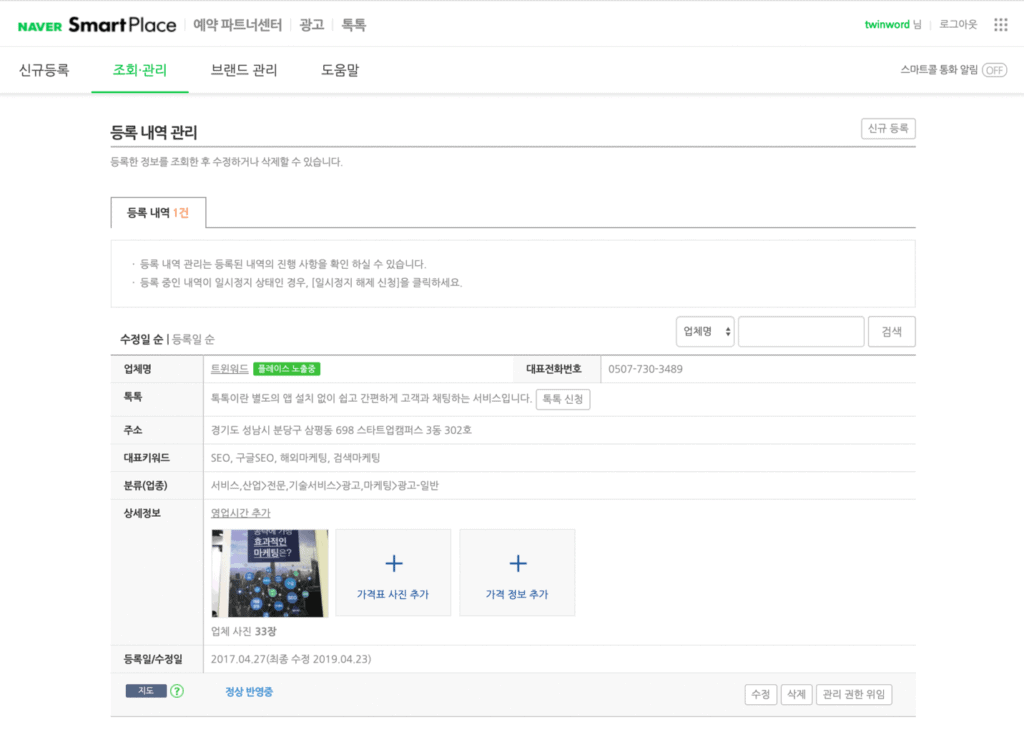 4. Apply Naver's Guide For Web Standard Optimization
The last step to help you with Naver SEO is the "Guide to Web Standard Optimization," that got officially issued by Naver. This guide contains a list of the requirements that a website should fulfill to rank high on Naver.
Thus, if your site meets the requirements of this guide, your site will receive a higher score, which can lead to a better chance of ranking number one on Naver search results. And of course, the opposite will happen when you don't follow the requirements; it can lead to a lower score and ranking on Naver.
Steps In The Right Direction
Naver made big steps towards providing a good SEO environment for businesses. With the implementations of new search algorithms and changes in existing ones, people know what to focus on to reach users. They still have a long way to go to catch up to search engines like Google and Bing, but they are going in the right direction.
It is recommended to follow the step-by-step plan, the Guide to Web Standard Optimization for Naver SEO, and their algorithms. Have fun with Naver's search engine and let us know if you have any problems or questions in the comments down below.
---
Check out these articles on Basic SEO: 
4 White Hat SEO Techniques To Outrank Your Competitors
SEO Best Practices You Don't Want To Miss
Where To Put Keywords In Your Blog Posts For SEO
Easy Backlink Building Methods