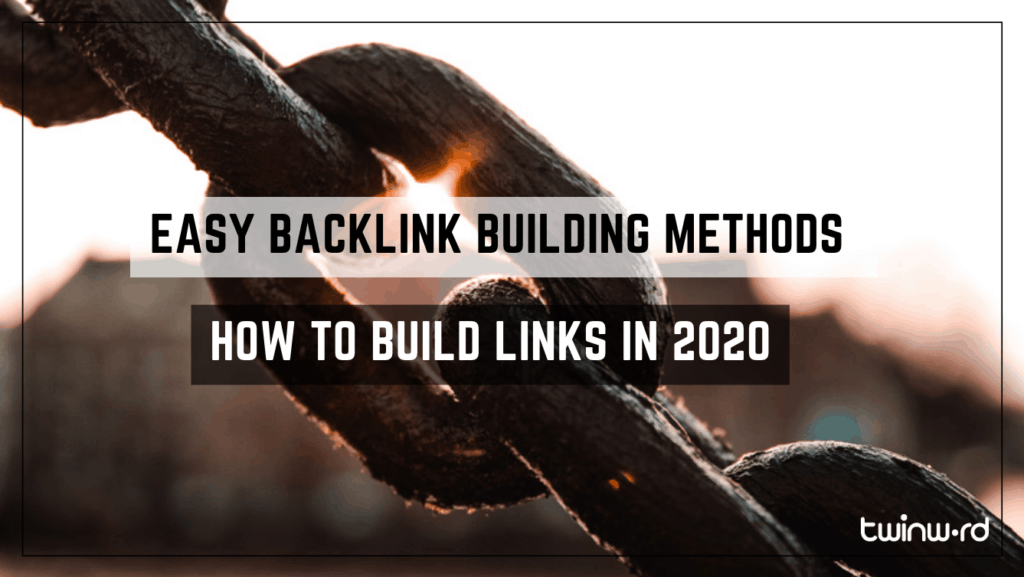 There is no doubt that backlinks contribute to your website ranking on Google's SERP (Search Engine Result's Page). Google's PageRank algorithm is ranking websites according to several factors, but the quality and quantity of backlinks that websites have obtained are regarded as one of the most essential criteria to rank high. Over time, other ranking factors gained in importance, however, backlinks still remain one of the most important factors for website ranking.  
So, what is a backlink and how can we build it?
Backlinks are simply the links that provide connections (links) to the other webpages. Having more incoming backlinks from other webpages will allow your website to get crawled and indexed faster by Search Engine bots, improve its organic ranking, and increase its referral traffic.
The key is to earn high-quality backlinks. High-quality backlinks mean that first, they are from a website with a relevant topic to yours, such as a marketing website linking to another marketing website, and second, that they are preferably from a website with a high Domain Rating (DR). Domain Rating involves the calculation of relative link popularity, which means that if a website has many backlinks, a higher Domain Rating can be expected.
Of course, having high-quality content is essential for earning more and better backlinks. However, next to that, there are other easy backlink building methods that can help you get high-quality backlinks.
1. Backlink Poaching (Learn From Your Competitors)
Even if you created great high-quality content, you may be observing low traffic to your website. You might be struggling to find sites that are willing to give you backlinks, but there are lots of websites out there that will be willing to link to your web content. In fact, there are many sites that are already linking to content similar to yours, so they would probably be willing to link to your content as well, right? You can easily find those websites that might be interested in linking to your page by analyzing your competitor's backlink profiles with tools like Ahrefs or Semrush. Check out the following steps to find out how to do so with Ahrefs!
 Step 1: Search for competitors who have similar content or target similar keywords. Let's assume that we are targeting the keyword: 'keyword tool'.

Step 2: Use Ahrefs to check which websites are linking to your competitors. On the 'site explorer' tab on the top of the page, search by typing the domain name of your competitor's website or product. Go to the 'Backlink profile' section, then click 'Backlinks'.

Step 3: You may set the Link type as 'Dofollow' to sort for only Dofollow backlinks. Further, you can sort for specific platforms and languages as well. This will be helpful if you only want backlinks from websites in specific languages, or only from specific platforms such as blogs or e-commerce websites.

Step 4: You can export and save the backlink list as an Excel file, and afterward you can sort and filter according to your liking. Finally, select those sites that you want to contact.  

Step 5: Contact those websites that are linking to your competitors, and ask them if they would be willing to link to your high-quality content as well.
Remember that you want to have backlinks from websites with a high domain ranking since those backlinks will increase your chances of ranking higher the most.
2. Replace Broken Links
When browsing through the web and clicking on hyperlinks, you may stumble upon some 404 errors.
404 errors occur when pages that a user wants to access no longer exist or can't be found. Those 404 errors, or broken links, are a great opportunity to earn some backlinks for your content.
So, if you find broken links that were originally linking to content that is similar to yours, take that chance! Let the website owner know about that broken link, and ask them if they would be willing to replace that broken link with a link to your own high-quality content. Since 404 errors are not good in regard of user experience, website owners will be more inclined to exchange a broken link with a link to your content.
You can use Ahrefs' Broken links function to find broken links from your competitors. Go to the 'Outgoing links' section, then click 'Broken links'.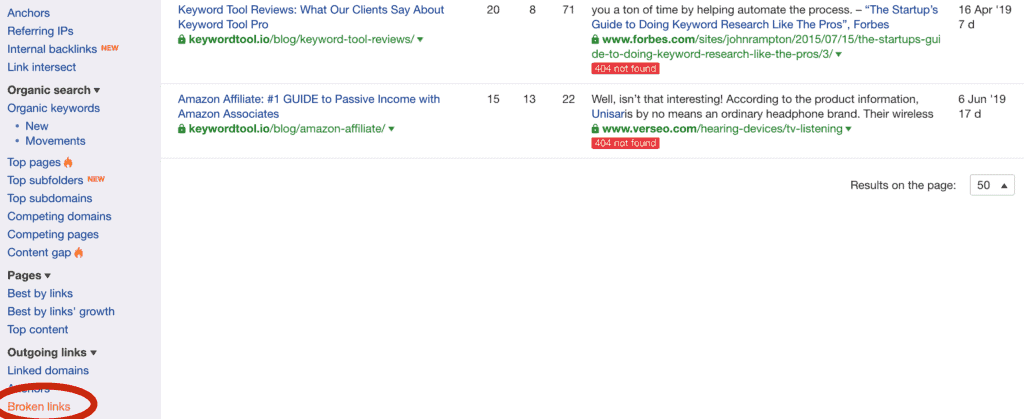 Or, on the Site explorer tab, go to 'Pages', 'Best by Links' and filter for HTTP 404 errors.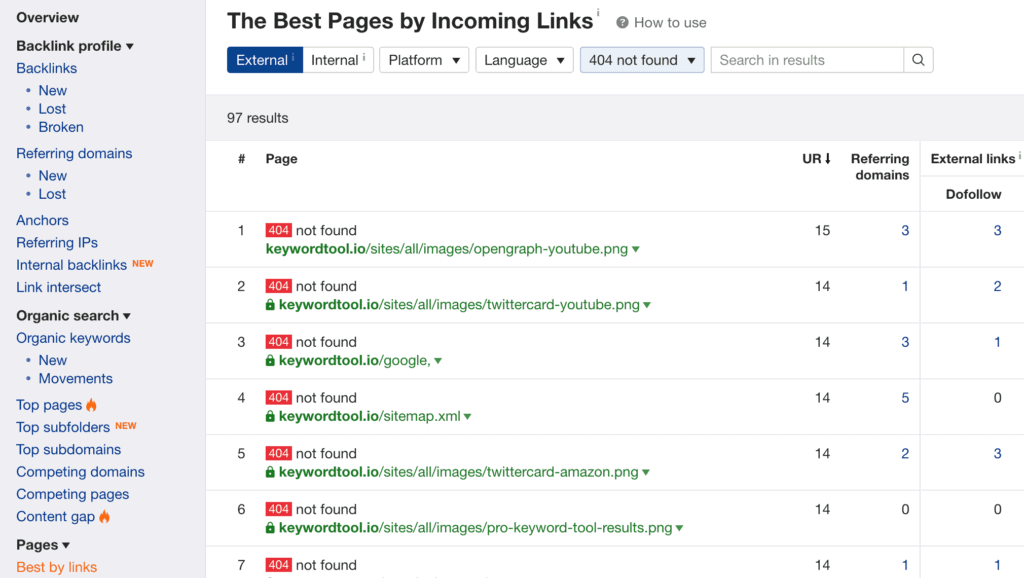 Then, Check the 'Referring Domains'. There will be a list of webpages that provide broken links to your competitor's pages.
After you found a broken link that is supposed to link content that is similar to yours, you can contact the owner of that website that has the broken link. Hopefully, the owner of that website will be happy to change the broken link to a link directing to your content, and there you go, one more backlink!
3. Guest Posting
It is quite common for websites to accept guest posts as well. When writing blog posts for other websites, you can include links to your own blog content or website in that blog post. By doing so you can easily earn a few backlinks for each guest post. You can either contact sites directly and ask if they are interested in a guest post, or you can try finding websites that allow guest posting by searching your '(keyword) + guest-post' on Google.

Find blogs that rank high on Google and then contact them to ask if they are interested in a guest post. 
Guest posts that include links to your own website can not only provide you additional backlinks, but it will also expose your content to a larger audience and can direct more traffic to your own website. If users like what they are reading, they will click on the links in the blog post and hopefully keep on reading on your own blog. 
4. Contact Influencers
Wouldn't it be great if your products or services are mentioned and reviewed by popular influencers in your field? Get their contact address by exploring their blog or social media accounts. Next on, approach them by introducing your product/services and what makes it unique. Make sure that your contact messages are short and clear to make them more attractive. Additionally, you can offer influencers a free trial of your product or service so that they can try it and form an opinion about it for themselves.
5. Internal Links
The easiest way to gain backlinks is probably to link to your own content. While you are writing a new blog post, you can simply link to other related content of yours. Of course, those links need to make sense and add value for the user, meaning that those links should lead to helpful additional information. By doing so, you get additional links but also ensure a longer dwell time on your blog, and increased user engagement. 
However, keep it moderate. Too many internal links may cause your website to seem spammy, so make sure to only include internal links when it adds value to the user. 
6. Affiliate Program
If you have a higher budget to promote your products or services, you may want to try starting an affiliate program. An affiliate program will allow affiliates to earn commission on each user/buyer they have referred to. While the main purpose of an affiliate program might be to drive sales/user acquisition, additional benefits of an affiliate program are lots of backlinks from external websites. The commission you will grant to the affiliate partners will work as a great incentive for them to write reviews and to link to your web pages and contents.
If you are short on resources and can't build your own affiliate program, there are many affiliate program management agencies out there, however, those can be pricey.
By the way, we also have our own affiliate program for our keyword tool Twinword Ideas. If you are interested in becoming our partner and earning recurring commission for each referral, consider becoming an affiliate!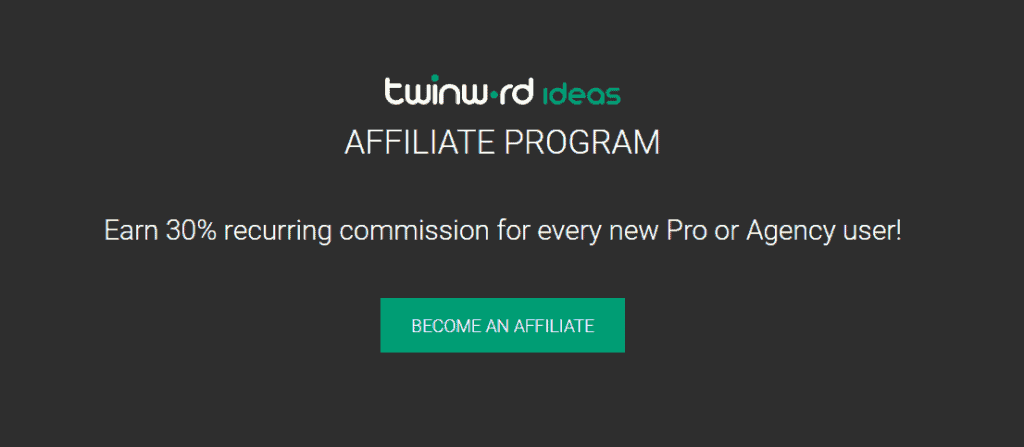 Conclusion
We hope that after reading this post you now know more about backlinks, and how to build more and better backlinks with the goal to direct more traffic to your own website and to increase your ranking. You may get very frustrated at first while sending out all those messages asking for links, but once you gained several backlinks it will be all worth it. Lastly, don't forget to manage your earned backlinks using backlink monitoring tools, and keep on looking for future backlink opportunities.
---
If you would like to read more on basic SEO, check out these related articles: