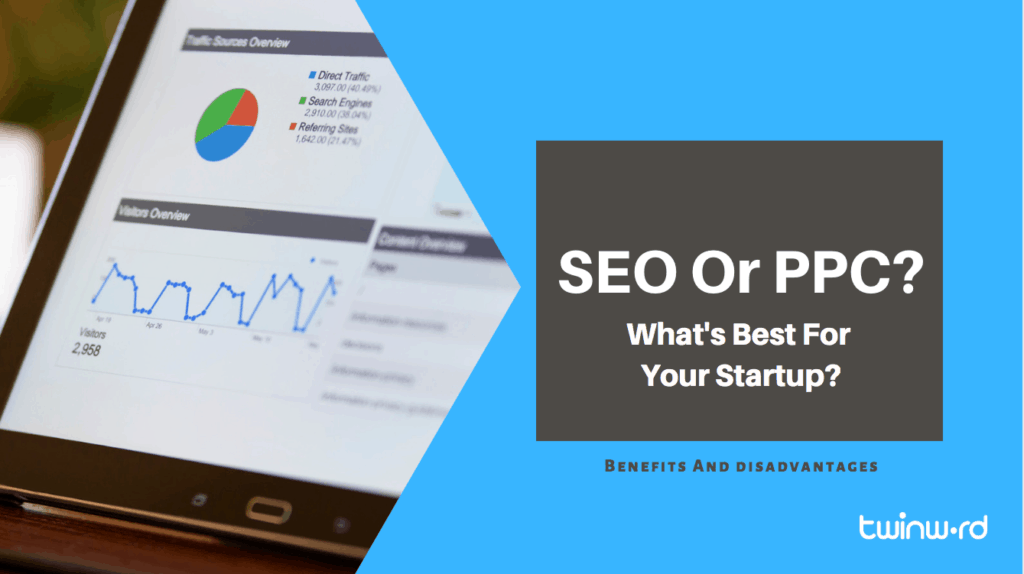 When you work in a startup, you learn how to earn the last ounce of profit from minimal investments. To maximize the profits of your startup, you probably already thought about utilizing SEO or PPC.
While SEO ensures that you get more organic traffic, PPC enables you to kick-start your business endeavors against your competitors. But, which of these two online marketing methods is best for startups? Is it SEO, or is it PPC?
In this post, we'll analyze the advantages and disadvantages of both SEO and PPC before figuring out which one the best for a startup. Apart from this, you'll learn about how your website will benefit from integrating either or both methods.
What Is SEO?
SEO stands for Search Engine Optimization and is a process that helps websites acquire higher organic rankings in search engines like Google, Bing, Yahoo, Baidu, etc.
Every search engine has its own algorithms with which they crawl and index websites. The crawlers of search engines analyze the quality of your content, and then rank it for certain keywords or user queries.
For instance, if you search for 'How to make tea?', Google considers these to be the most relevant results: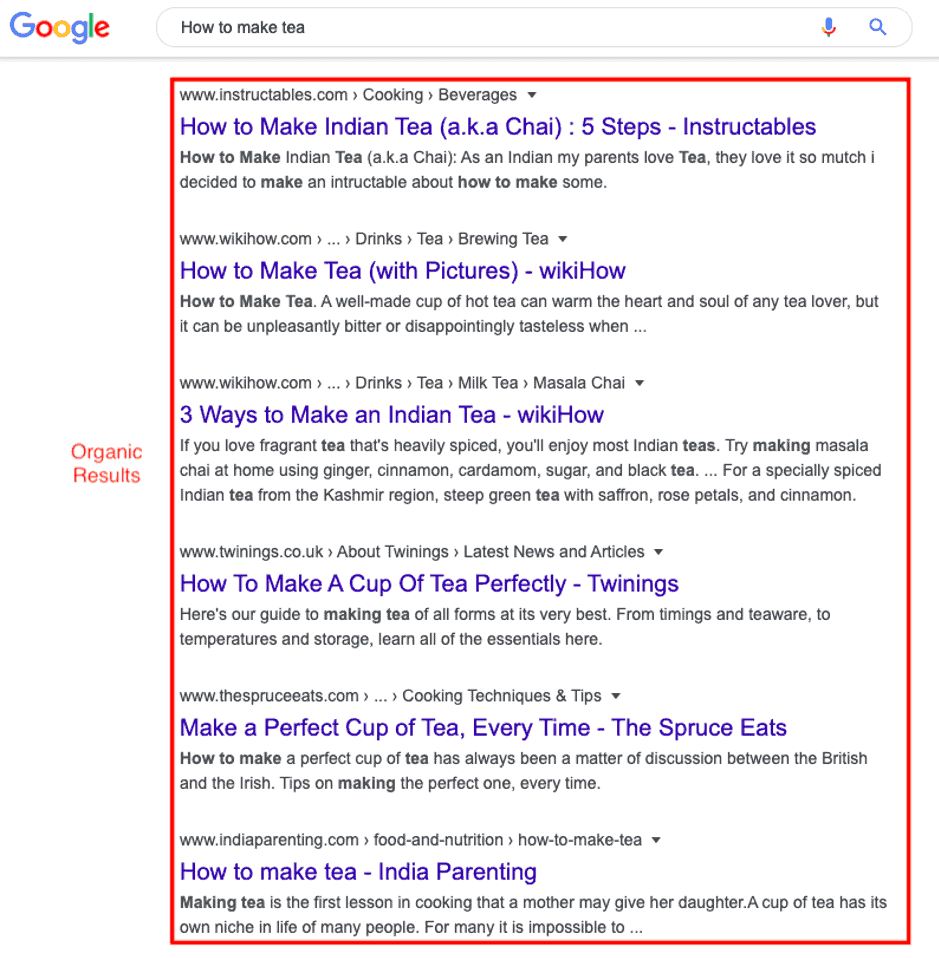 Note: I haven't taken into account the 'featured snippets' and 'People also ask for…' sections. The SEO processes for those sections are different, so if you want to know more about them, refer to this simple guide on featured snippet optimization.
What Are The ADVANTAGES Of SEO?
1. Consistent Traffic
When you acquire high organic rankings, the traffic driven to your website becomes consistent and sustainable. In the case of PPC, traffic can increase immediately, but once your budget is exceeded or you terminate the campaign, traffic will stop at that very moment.
However, it is essential to note that you must continuously do SEO for your high-ranking pages and that you consistently need to update them with the latest keywords. You should do this to ensure that your competitors are unable to outrank your pages.
2. Trust And Credibility
Ranking on page 1 of Google is tough. You must have high-quality backlinks, helpful and informative content, and you need to adhere to Google's webmaster guidelines (for example, you shouldn't use any black hat SEO techniques) to rank on page 1. But, once you do, the perks of such a position are massive – trust and credibility are the most prominent of all.
3. Higher CTR
The higher you rank on the SERPs (Search Engine Result Pages), the higher your click-through rates will be. Studies have shown how the CTR increases and decreases based on your SERP positions.
As you can see in the graphic from Advanced We Ranking below, the top 10 positions receive the most traffic and the pages beyond that are practically invisible.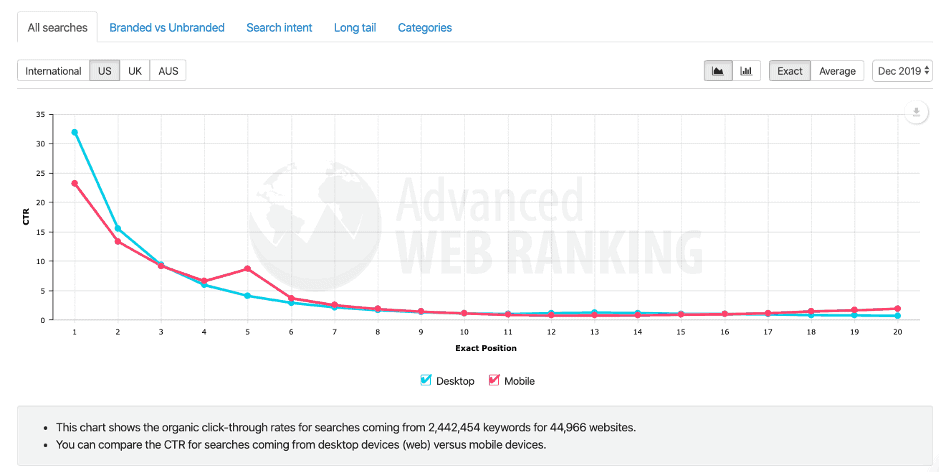 4. Affordable
SEO is affordable. You can do SEO for your site and make it capable of ranking high at technically zero cost. Google provides several tools that can help you excel in SEO, such as:
To create a robust SEO strategy, you can use keyword tools like Twinword Ideas for your keyword research, and SEO tools like RankWatch to audit your website and to explore hidden ranking opportunities; plus, you can conduct a competitor analysis to explore ways to outrank your competitors in the SERP.
What Are The DISADVANTAGES Of SEO?
1. SEO Needs Time
SEO doesn't show results overnight. It takes time for the search engine bots to crawl and index your website – approximately about a week or a month, but no longer than that. You can boost the process by submitting a sitemap on Google Search Console. But it will still take a week before your site starts ranking. And even then, you'll need to continuously adjust and optimize your website to further improve your ranking and to keep on ranking high.
2. More Competitive
Every website is competing for the top SERP position; plus, several high authority websites are probably dominating those positions already. It is tough to outrank such domains! That's when purchasing a keyword tool or an SEO tool becomes necessary to help you make an informed decision and to help you beat your competitors.
What Is PPC?
PPC (Pay-Per-Click) is an online marketing advertising model where advertisers pay for each click their website gets (hence, Pay-Per-Click). Almost every search engine and social media platform has adapted to this advertising model and offers paid ads.
In Google, such ads are displayed on the top of the organic results as you can see in the screenshot below.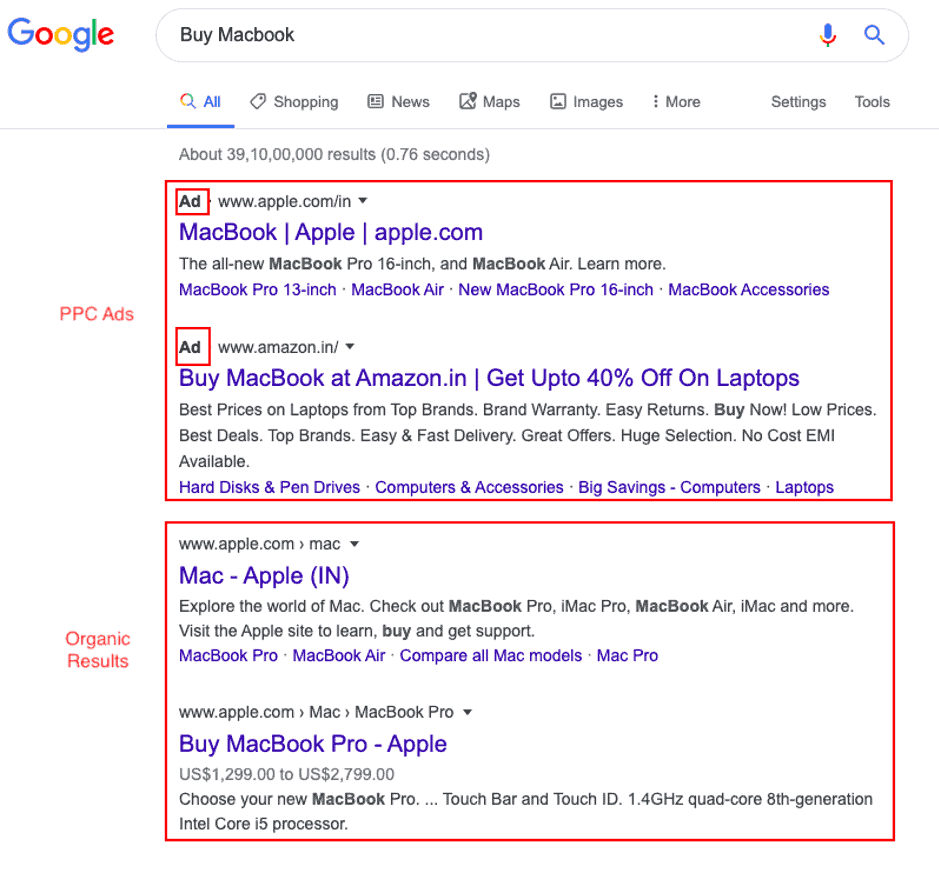 What Are The ADVANTAGES Of PPC?
1. Immediate Execution
When you run a PPC campaign, your website starts ranking in the top results in Google immediately. Of course, you'll need to have a high enough bid and high-quality content as well. But generally, you don't have to wait for results to show like it is the case with SEO.
2. Pocket-Friendly Ads
As you already know, PPC stands for Pay-Per-Click. This means that you only have to pay for the clicks your website gets. So, if your advertisement doesn't receive any clicks, you don't have to pay a single penny.
3. Targeted Advertising
For an enhanced conversion rate, you can target the audience based on demographics and geographical location. This way, only your target customers will see your ad and will visit your website.
What Are The DISADVANTAGES Of PPC?
1. PPC Can Turn Expensive
To run a PPC campaign, you must have a bigger budget because it can turn expensive in a swift second. If the number of clicks keeps on increasing, the amount you need to pay keeps rising as well. You can limit the budget, but campaigns with a low budget might not bring you the results you need.
Furthermore, in PPC, you bid on the keywords that you want to rank for and the popularity and competition of a keyword can increase its cost drastically. Therefore, if you plan to rank for a highly competitive keyword, you'll need to spend a bigger budget.
2. PPC Ads Age Quickly
The effectiveness of PPC advertisements can decrease over time as they start appearing more often in the SERP. Users start to ignore advertisements consciously or subconsciously, which is called Ad Blindness.
SEO Or PPC: Which Is Best For Your Startup?
Answering this question is tough since every startup operates differently, and the same goes for their products and budget as well.
Nevertheless, I'd advise a startup to confide in SEO at all times, but to invest in PPC in two scenarios:
Scenario 1:
In the initial stages, it is evident that you run a PPC campaign to compete with already established and high-ranking websites. It is not easy to rank higher than your competitors in the beginning, so that's when you need a little push, and PPC is a great way to do that!
Scenario 2:
When you have to promote an exclusive offer, then PPC campaigns can come in handy to boost its success rate as well as lead generation.
However, if you don't have a hefty budget, you should stick to SEO. But, if you do have a manageable budget, then it's a good idea to combine PPC with SEO.
How About Using SEO And PPC Together?
Using SEO and PPC together can maximize your success, and can help you achieve your goals faster. Be it traffic, conversions, leads, and so on, using SEO and PPC together will be helpful to achieve sustainable growth.
Here's how an integrated approach of SEO and PPC helps you:
The traffic driven to your website will increase heavily.
You can optimize your content with keywords that you discovered when setting up your PPC ads.
You can use PPC to retarget your website visitors.
You can categorize the keywords with high competition separately, so you can optimize your content for those keywords to outrank your competitors.
Utilizing both, organic and paid search marketing, is a great way to boost your site's performance more aggressively.
Should I Focus On SEO Or PPC?
In my experience, if you have a budget constraint, focus on SEO before using PPC. While it will take time and effort, you can reach great results for low costs. Next to that, you can combine SEO and PPC once you've successfully established your business.
But you don't necessarily need to stick to this formula. Instead, always try to invest your time into learning about different new techniques and use them to boost the online visibility of your domain.
If you have any queries or suggestions, let us know in the comment section below.
---
If you enjoyed this post, read more about SEO: