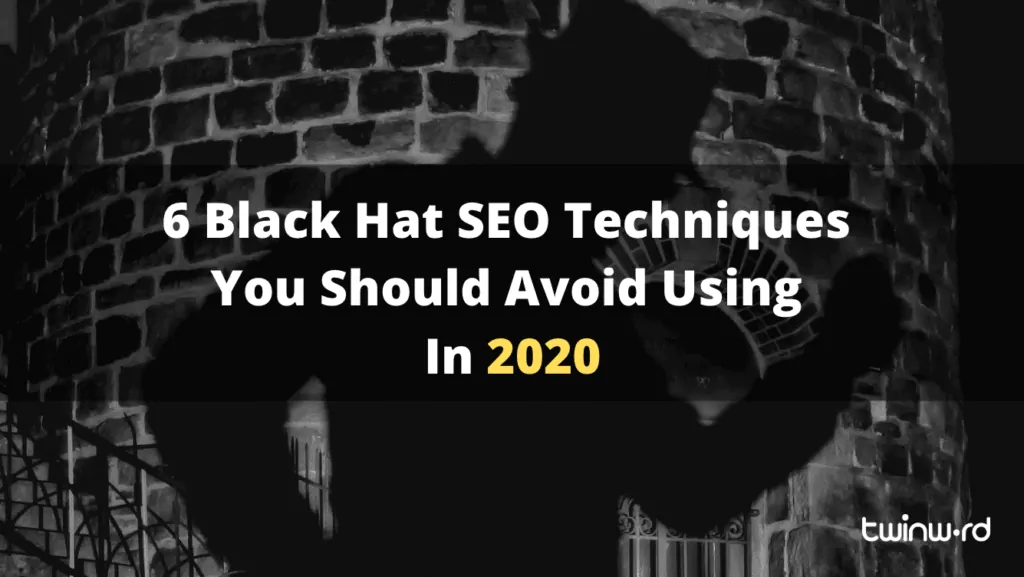 Getting ranked in the top SERPs (Search Engine Result Pages) is a long competitive race. And in every sport, there are those who play it fair and those who cheat to win! In the field of SEO, we call them white hat and black hat SEO, respectively.
White Hat SEO helps in maintaining your top SERP rankings, however, achieving higher rankings following white hat techniques takes time. On the other hand, black hat SEO can boost your search engine visibility quickly, but with the promise of short-term success and high risks.
Here's a little more detail on both SEO techniques:
What Is White Hat SEO?
Every SEO effort that is executed ethically by following the ranking guidelines of Google signifies that the site is using white hat SEO techniques. Guest posting, keyword research, meta tag optimization, internal linking, etc. are some famous examples of white hat SEO techniques.
What Is Black Hat SEO?
Black hat SEO techniques are the complete opposite of white hat techniques. This means that black hat SEO techniques don't follow Google's ranking guidelines. If crawlers identify that your website is using black hat SEO techniques to rank high, then it will de-index your site and prevent your site from ranking on Google.
Now…
If your website has experienced a sudden fall in rankings or received a notification from Google about de-indexing your website, then you should immediately check whether your site is following any black hat SEO techniques. In this article, you will find every significant black hat SEO technique that websites need to avoid using in 2020.
So, without further ado, let's begin with the black hat SEO techniques.
Black Hat SEO Technique No. 1: Cloaking
Cloaking is a technique that websites use to trick users as well as search engine spiders. In this process, two sets of information are delivered: one to the spiders for indexing purposes, and another set of information to the users.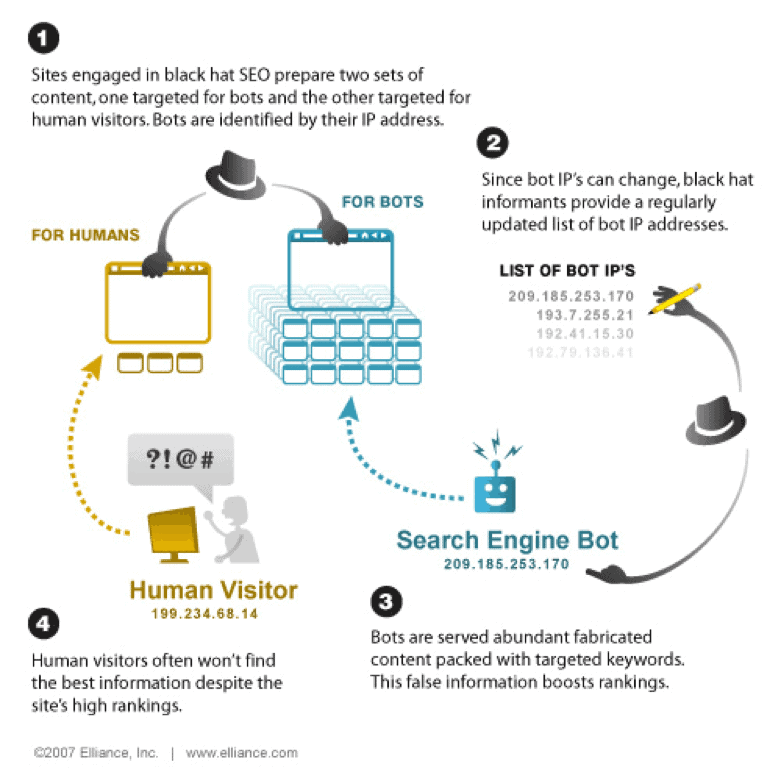 An example of cloaking would be if you clicked on one of the search results for the query 'Labrador Puppies', but instead of leading you to a page filled with images or information about puppies, the result leads you to a spammy movie downloading website. Search engine spiders usually don't index a cloaked site, however, in rare cases they get indexed by accident but will get removed the moment they are identified as cloaked sites. Google penalizes such cloaked websites by de-indexing and de-ranking them.
Advice: Cloaking is not 100% black hat, but you can still use it as a white hat technique. Yes! Cloaking can be used as a white hat technique as well, but only in specific cases and as a light version of cloaking.
Black Hat SEO Technique No. 2: Keyword Stuffing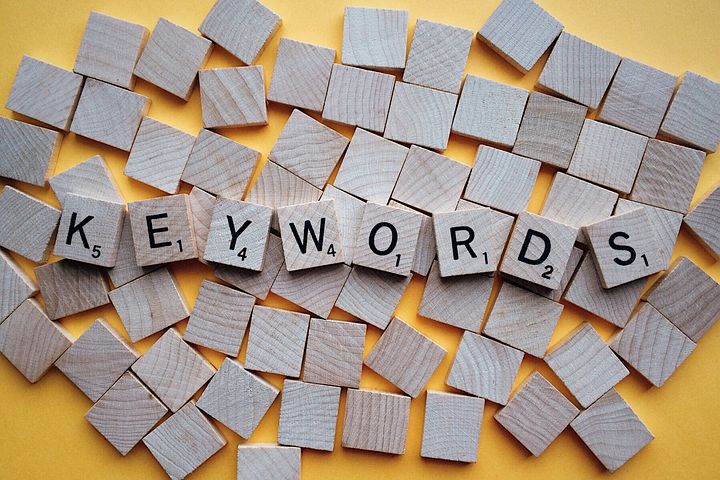 While it is important to use the right keywords on your webpage, many webmasters have a misconception regarding keyword placement. They stuff a page with keywords rather than placing them strategically across their content. By doing so, they hope to generate higher rankings. However, that's when it backfires. Stuffing keywords on a page and harming its readability and context makes it a magnet for a Google penalty.
Here's a quick example of keyword stuffing: "Keyword Research is essential for SEO. If you don't do keyword research, then your site will rank lower in the SERPs. So, you need to do relevant keyword research to rank higher. You can use keyword research tools free of cost to do keyword research."
The content could've been written with a lot less mention of the keyword "keyword research" to make it more sensible. But, just to rank high on SERP, that keyword was placed 5 times in such a short paragraph. Keyword stuffing is against Google's ranking guidelines and if you are still using it in 2020, get ready to see your rankings drop.
What about hidden keywords?
Sometimes, to not disrupt the context and readability of content, websites try to hide the excessive keywords from users. How? They change the text color to match the page's background, making them invisible to the users while still being visible for crawlers.
The idea behind this is that crawlers will be able to find the keywords and rank the content while the content still makes sense to the readers. Many sites consider hiding keywords as a 'sneaky' way to rank higher, but in the end, Google will be able to figure this black hat technique out and will penalize those sites.
Advice: After optimizing your content, calculate its keyword density:
Keyword Density = Number of times a keyword is used / Total number of words in an article.
The ideal keyword density should be between 1 to 3%. Exceeding the percentage signifies that you have stuffed your website content with too many keywords. Plus, make sure to use the right keywords for your web content. A keyword tool can help you to find the best keywords which you can then place across your content in a natural manner.
Find out where you should put keywords in your blog post.
Black Hat SEO Technique No. 3: Duplicate Content

Copying content from other sites and posting it on yours as the 'original' is plagiarism and Google identifies it quickly. And once Google's consistently crawling spiders find the duplicate content, it de-indexes them immediately.
Moreover, there are many plagiarism detectors available on the internet that can check whether your content is plagiarized or not. Most of them also provide the exact source from where particular information has been copied.
Advice: Don't copy whole posts; copy parts and cite the source or add canonical links. You don't have to copy whole posts. If you find that certain information has been explained better in some other article, you can copy that specific part and include it in your post. However, make sure to link back to the original article or add a canonical URL.
Black Hat SEO Technique No. 4: Doorway And Gateway Pages

Doorway and gateway pages are filled with content that holds little or no value to the user, but they are rich in keywords and CTAs. Also, when the end-user clicks on these pages, he/she is lead to a different landing page; therefore, these pages are also considered a modified form of redirects.
However, doorway and gateway pages are still visible to the search engine crawlers, and since they are rich in keywords, they sometimes get indexed and ranked by accident. It takes a while for Google to find them, but once it does, it penalizes them heavily.
For example, BMW has experienced the wrath of Google for using doorway and gateway pages. BMW's German site www.bmw.de was using doorway pages to rank and drive traffic. Google identified the usage of that black hat technique and gave BMW's site the death penalty. It de-indexed every page of bmw.de from its database and reduced the page's domain authority to 0.
Advice: If you still have doorway or gateway pages, you should remove them now! If you are using those kinds of pages, sooner or later Google will find out about them and drop your site's DA (Domain Authority) to 0 and de-index its every page.
Black Hat SEO Technique No. 5: Clickbait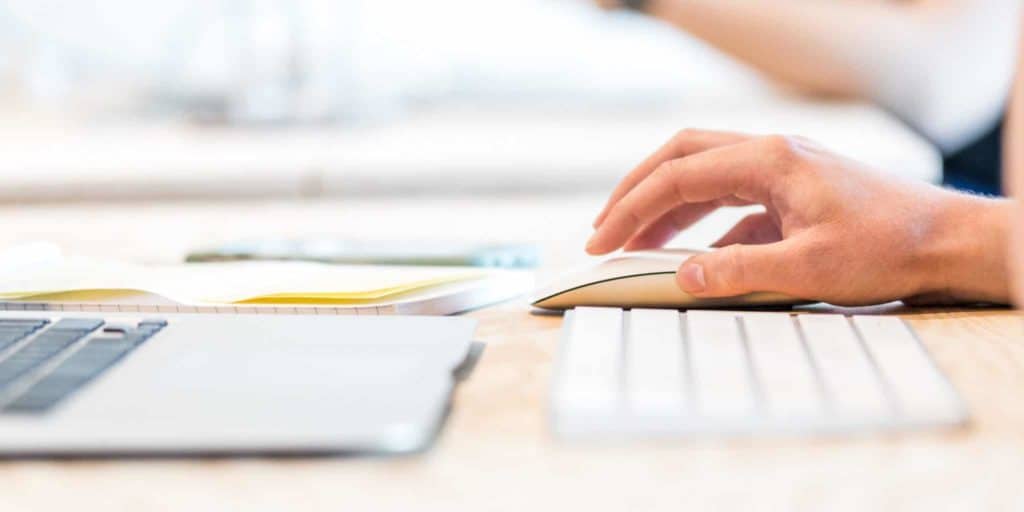 Nowadays, several websites are using clickbait titles to get more clicks and drive more traffic to their domain with the hope of increasing its rankings (That's exactly what clickbait is!).
Clickbait titles and thumbnails make the reader curious and convince them to click on it. However, when the user finds the title to be not at all related to the provided information on the website, they exit the page immediately. Therefore, it reduces the session duration rate and increases the bounce rate – both of which can harm your site's authority.
Advice: Make justified clickbait titles that are not fake! The clickbait titles used for your articles must include related information to your actual article. For instance, if you are using this as a title: 'Using this SEO technique can drop your site's DA to 0', you should include relevant information about this topic in the article.
Black Hat SEO Technique No. 6: Link Buying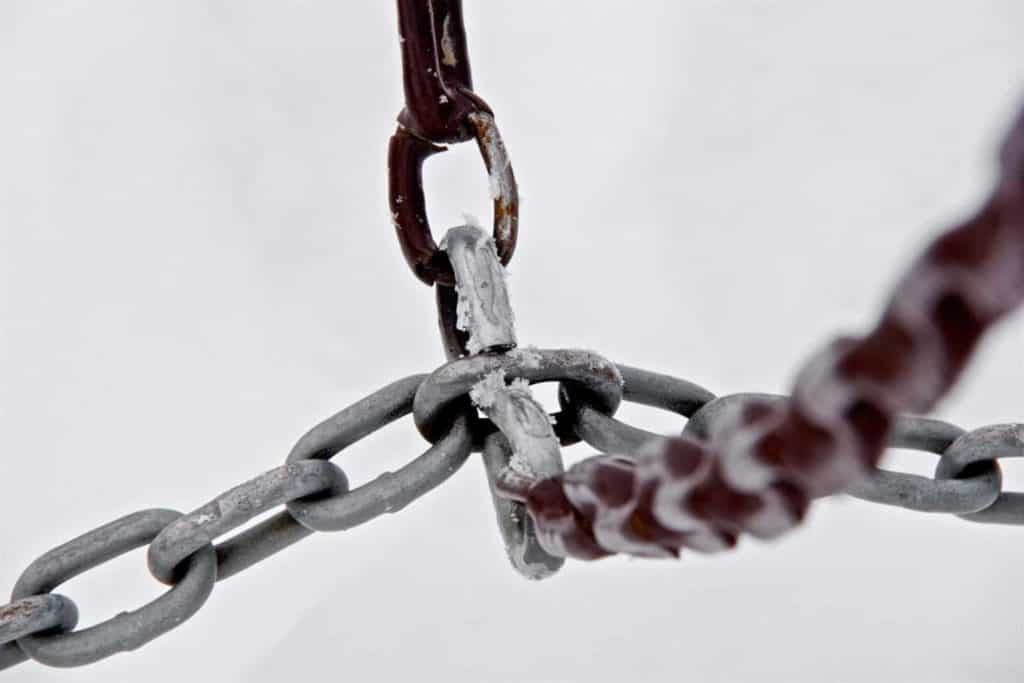 Backlink building is one of the most effective SEO techniques. Inbound links from higher DA sites boost a website's SERP ranking by increasing its DA and online credibility.
But, to achieve these three benefits quickly, websites start purchasing links. They often begin paying a middleman to generate a certain amount of links for them. Those backlinks are not always from good DA sites, and they can either be from a niche unrelated to yours, or domains that promote spammy content. If a site has inbound links from such domains, it actually harms their credibility and backlink quality, which affects the sites rankings and DA massively.
Advice: Stop buying links, but start building quality links
There are several white hat link building strategies that your site should use to build natural inbound links. You can use guest posting, blog commenting, forum posting, etc. Alternatively, you can conduct a site audit of your competitor's website and analyze their backlink data to find good backlink opportunities for your own website.
Conclusion
I never suggest people to use black hat SEO techniques to drive traffic to their domain. I have seen sites which used them and received momentary success, but eventually, each of those websites came under Google's radar and got its penalty.
Moreover, Google is upgrading and improving it ranking algorithm almost every day, and this allows it to identify and penalize sites using black hat SEO in a snap!
So, if you are still using black hat SEO techniques, you must stop right now!
---
If you would like to read more on basic SEO, check out these related articles: